How To File for Larimer County Divorce—DoNotPay Knows
A divorce in Colorado can be costly and long if it involves lawyers and court hearings. It doesn't have to drag on for months and cost you an arm and a leg if you opt for an uncontested divorce. If you live in Larimer County and want a simple divorce, you're in the right place!
DoNotPay will also tell you all about a marital settlement agreement and how you can obtain it via our platform.
Larimer County Divorce—The Essentials
Before you file for divorce in Larimer County, you should get to know all the rules and regulations of marriage dissolution in Colorado. You'll find all about the main aspects of divorce in the table below:
Your Question
Explanation
What types of divorce are there in Larimer County?
The most common types of divorce in Larimer County are:

Contested—Contested divorce implies that you and your spouse can't agree on the terms of the divorce and that the judge needs to make this decision on your behalf
Uncontested—In an uncontested divorce, you and your spouse reach a mutually acceptable agreement on all aspects of your divorce and get an out-of-court settlement without engaging lawyers

What are the grounds for divorce in Colorado?
Colorado is a no-fault state, which means that neither spouse is to blame for the breakup of the marriage.

To get a no-fault divorce in Colorado, you and your spouse need to cite an irretrievable breakdown of the marriage

Which residency requirements do you need to meet?
To meet the residency requirements in Colorado, you or your spouse need to have been a resident of Colorado for at least 91 days before starting the divorce
Should you attend mediation in Colorado?
If you and your spouse can't see eye to eye on all terms of your divorce agreement, you can attend a few mediation sessions to reach a compromise
Do you need a divorce settlement agreement?
One of the vital uncontested divorce papers you'll need is a marital settlement agreement. It is a contract signed between you and your spouse that outlines the following:
What Larimer County Divorce Forms Do You Need?
A marriage dissolution in Larimer County will involve the following forms:
Petition for Dissolution of Marriage
Case Information Sheet
Summons for Dissolution of Marriage
Waiver and Acceptance of Service or Return of Service
Response
Notice of Domestic Relations Initial Status Conference
Petitioner's Verified Motion and Order for Publication
Temporary Orders Agreement and Temporary Orders Form
Notice of Domestic Relations Status Conference
Sworn Financial Statement (Form 35.2)
Decree of Dissolution
Mandatory Disclosure (Form 35.1)
Affidavit for Decree without the Appearance of Parties
Notice to Set Hearing
Separation Agreement
Notice of Hearing
Qualified Domestic Relations Order
Worksheet A—Child Support Obligation: Sole Physical Care
Worksheet B—Child Support Obligation: Shared Physical Care
Support Order
Parenting Plan
Notice to Withhold Income for Support
Notice of Insurance Provider of Court-ordered Health Insurance Coverage
Notice to Employer to Deduct Health Insurance
How To File for a Larimer County Divorce
Once you gather and fill out all the divorce forms, follow these steps to file for your friendly and low-cost divorce in Larimer County:
File the forms at the county clerk's office of your local district court
Serve the divorce papers to your spouse
Create a divorce settlement agreement
Wait for the mandatory 91 days to pass
Appear before a judge to get your Divorce Decree
Ways To Draft a Divorce Settlement Agreement
You can get a divorce settlement agreement by:
Hiring a lawyer—Getting a lawyer to draw up your marital settlement agreement is a safe but costly option. If you're unable to afford a lawyer, you have to do it yourself, which is risky if you aren't familiar with legal terminology
Using an online divorce service—You can download a template from an online service and fill it out, but keep in mind that it won't be tailored to your exact needs
Relying on DoNotPay—If you use DoNotPay, you'll get a perfectly and professionally written document in a few minutes
Get Your Divorce Settlement Agreement With DoNotPay
Your marital settlement agreement must comply with Colorado divorce laws—this is exactly what DoNotPay can help you with. We'll combine the information about your case with the rules and regulations of your state to create a professional and fully customized divorce settlement agreement.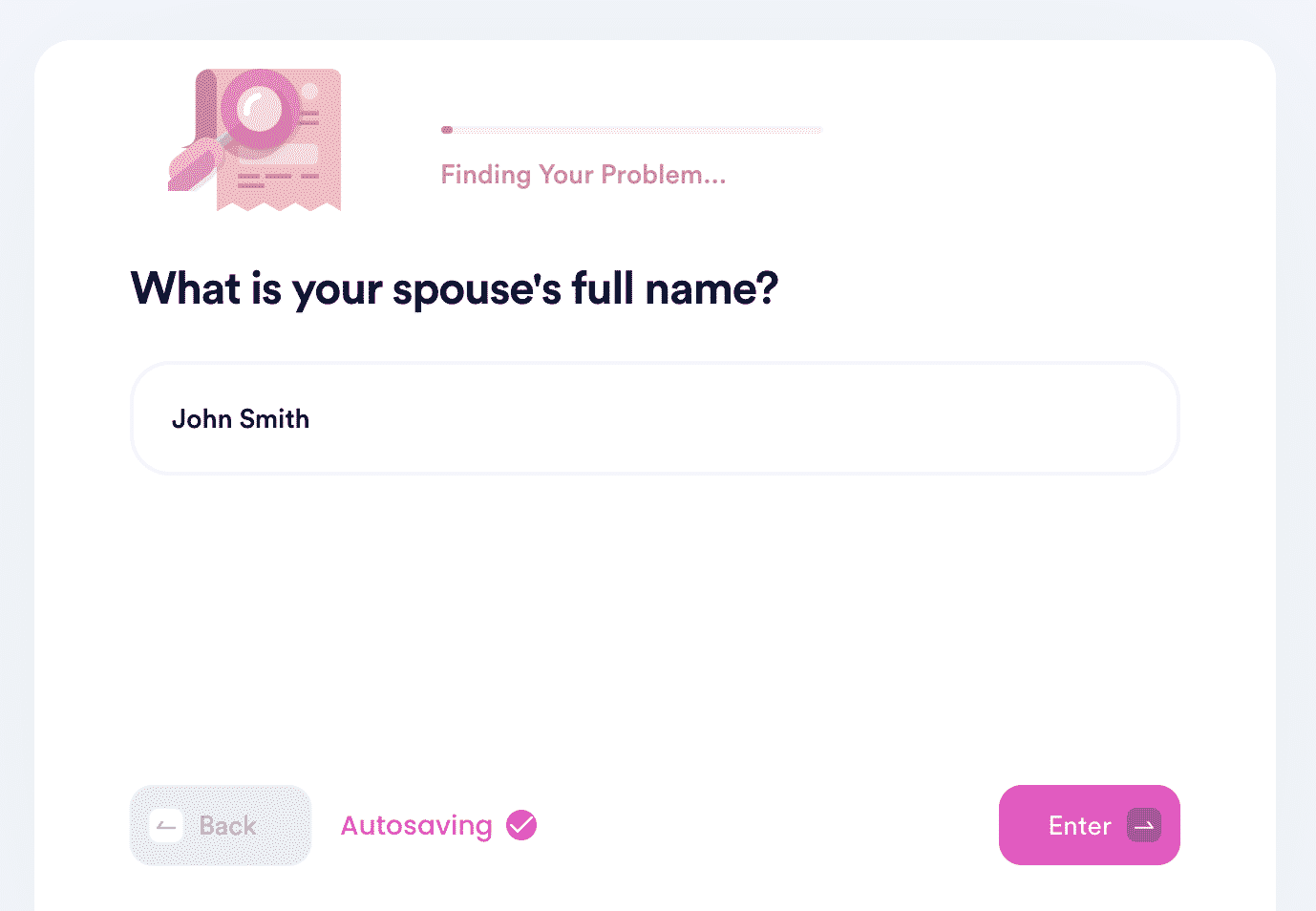 To use this feature, you only need to sign up for DoNotPay and follow the instructions below:
Find our Divorce Settlement Agreement tool
Answer a few questions so we can personalize your document to your needs
Indicate if you need a notary for divorce papers
As soon as you finish entering all the required information, DoNotPay will generate your document and send it to you. If you chose to use DoNotPay to get your document notarized, we'll set up an appointment with an online notary in Colorado who will witness the signing in a virtual environment.
Save Time With DoNotPay
DoNotPay is not done helping you! We offer you assistance in completing a variety of tasks quickly and efficiently, such as:
Canceling Subscriptions Has Never Been Easier!
If you keep getting charged a monthly subscription fee even though you no longer want to use a certain service, don't let your money go to waste! Some companies tend to renew your subscription automatically, but that doesn't mean you have to put up with it—use our app to terminate your membership or subscription in a few clicks!
Do you want to sign up for free trials and create a virtual credit card or a burner phone number to protect your sensitive info? Once you subscribe to DoNotPay, we will walk you through the process of doing all of the above in no time!
You can also count on our assistance if you need to get rid of spam or robocalls.