All You Need To Know About the Laos Tourist Visa
Is your visa application delaying your trip to Laos? With hundreds of online pages containing different information, applying for a Laos tourist visa can require a lot of your time and patience. If you are at your wits' end or want to avoid the hassle that comes with the application process, sign up for DoNotPay to find out how to get a Laos tourist visa the easy way!
Do You Need a Tourist Visa To Enter Laos?
Yes, all U.S. passengers need to bring a valid visa and passport to enter Laos. A Laos tourist visa for U.S. citizens:
Costs $50
Allows tourists to stay in the country for 30 days after they enter it
Is valid for a single entry within two months of issuance
If you want to extend your visa, you can do so two times and stay for a maximum of 90 days. Make sure to notify government officials about your prolonged stay before your visa expires, or you will have to pay penalties for each day you exceed the limit.
Become Familiar With the Laos Tourist Visa Application Requirements
To apply for a Laos tourist visa, you need to prepare:
Your passport (valid for at least six months since your expected entry date) and a photocopy of the page containing your personal information
Two photos of yourself sized 2 x 2 inches
A completed Laos tourist visa application form (two pages)
$50
The Embassy of Laos accepts visa fee payments in the form of:
Money orders
Certified checks
How To Acquire a Tourist Visa for Laos
You can apply for a Laos tourist visa in three ways:
On arrival
By mail
Online
Laos Tourist Visa on Arrival—How To Apply
If you don't have a Laos tourist visa on arrival, approach the counter that issues on-arrival visas at your entry point and submit a request.
Tourist Visas for Laos—Mail Application Process
To apply for a Laos tourist Visa by mail, send all required documents in a return envelope via certified mail to the following address:
Embassy of the Lao P.D.R
2222 S Street, N.W
Washington, D.C. 20008
Laos Tourist Visa—Online Application Process
Visitors who don't plan on staying more than 30 days can opt for the Laos eVisa, which grants them a single entry at seven entry points. Keep in mind that you need to submit your application to the embassy if you want a multiple-entry visa or plan on staying more than 30 days. The processing time for eVisas is usually around three days but can take longer.
Applying for a Laos Tourist Visa During COVID-19
Due to the ongoing pandemic, you cannot apply for a Laos tourist visa at the moment unless the government grants you special permission. The government will allow you to enter Laos and issue you a special entry permit only if you are an expert, technician, or a foreign national required for essential projects in the country.
These rules may change, so make sure to consult the official updates on the embassy's website first.
Other Documents You Need To Enter Laos
Besides your visa, other documents you need to provide upon entering Laos include:
A Certificate of Entry issued by the Ministry of Foreign Affairs (MFA)
A Fit to Fly Certificate issued a maximum of 72 hours before your trip
A completed Health Declaration form
A negative PCR test
Keep in mind that you should arrange a private test rather than get it done using public health services.
Do's and Don'ts in Laos
Lao people are typically friendly and hospitable, but visitors should still try to learn local etiquette to avoid unpleasant situations and enjoy their stay as much as possible.
When visiting Laos, tourists should try to:
Learn some common phrases because Laos see it as you showing interest in their culture
Talk about work, family, and your home country while chatting with Laotians because those are key points of their interest and pride
Wear clothes that cover most of their skin when visiting Lao homes or temples
Avoid contact with monks if you're a woman as they are not allowed contact with the other sex
If you participate in a conversation with a Lao, try not to:
Mention the Vietnam War
Be offended if a Lao makes comments about your weight (it is not taboo for them, but you may insult them if you do the same)
Touch the top of a Lao's head or sit with your feet pointing towards them as they think of it as disrespectful
Compare Laotians with residents of:

Thailand
Cambodia
Myanmar
Vietnam
Let DoNotPay Assist You With Your Laos Tourist Visa Application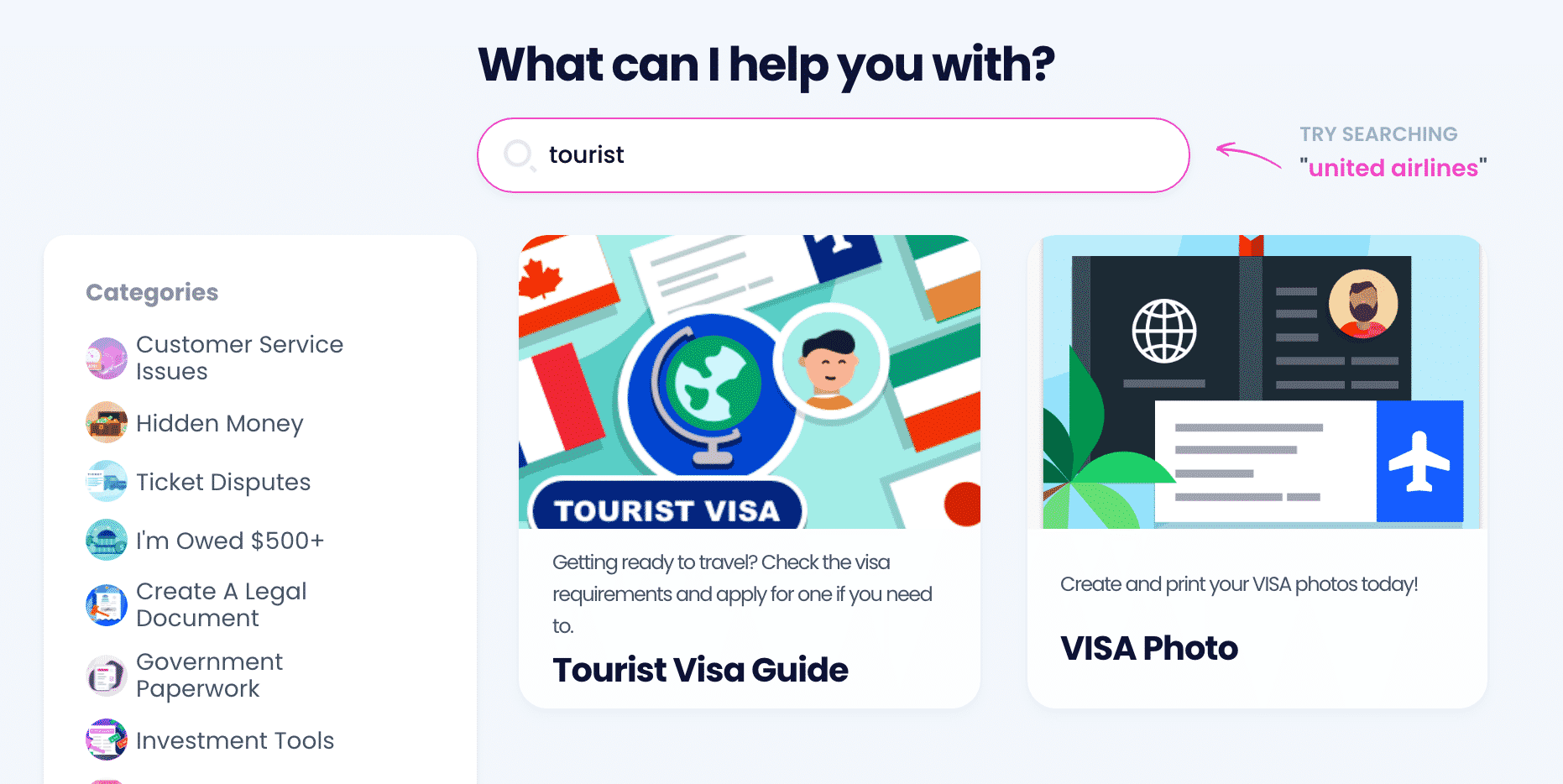 Remembering all visa application requirements can be aggravating and time-consuming, and that's why DoNotPay provides you with all the information in one place.
DoNotPay can help you apply for a Laos tourist visa and save time by:
Checking whether the Embassy of Laos accepts remote applications so you can avoid a trip to the Embassy or post office
Providing you with a direct link to the eVisa application
Generating a comprehensive guide to speed up the application process
To simplify your visa application:
Type Tourist Visa Guide in the search bar
Answer our chatbot's prompts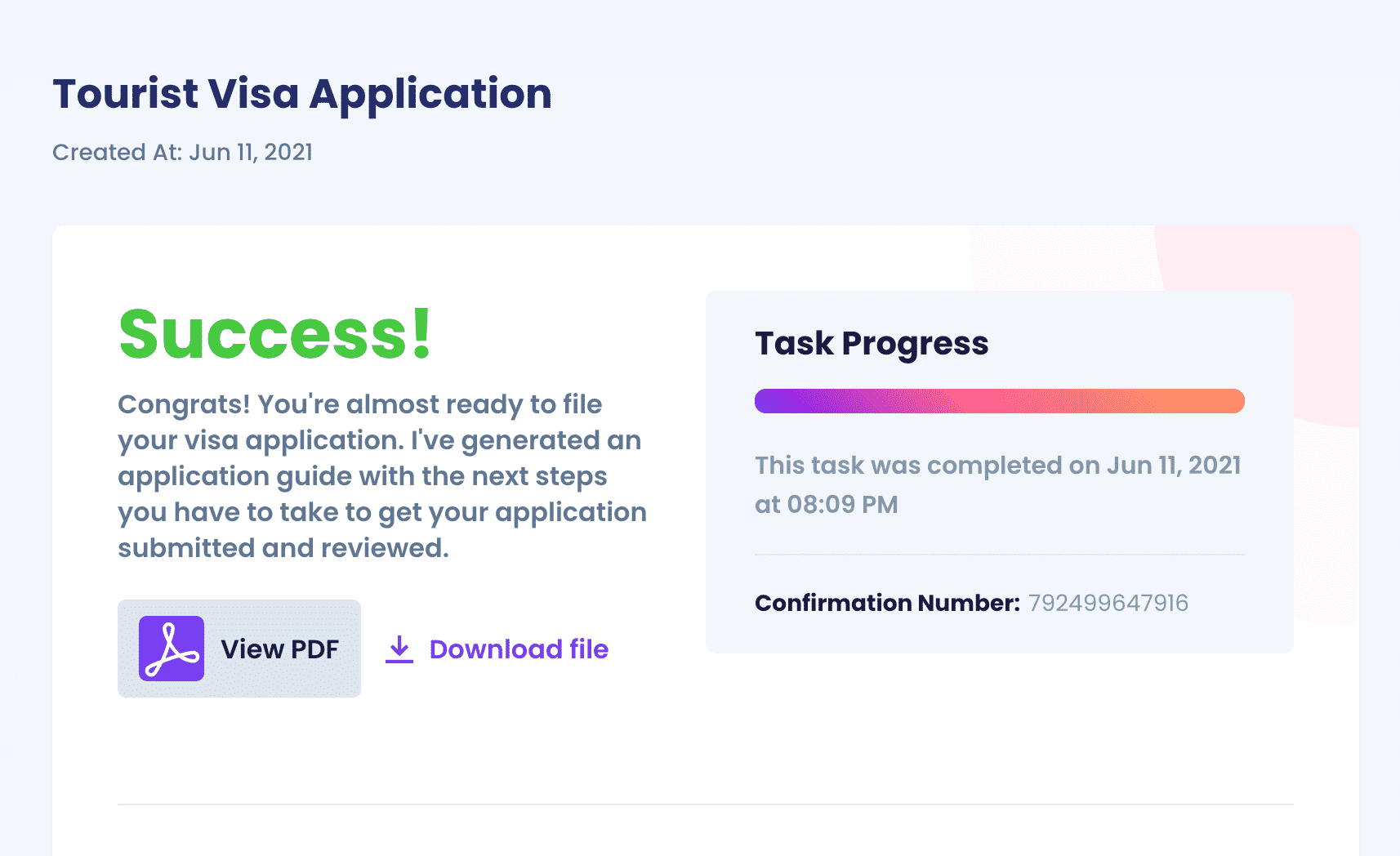 Laos tourist visas aren't the only ones we can help you with! If you want to explore more of Asian cultures and traditions, DoNotPay will guide you through the visa application process for:
DoNotPay Helps You Tackle All Kinds of Problems From the Comfort of Your Home
Are you too busy to go to Target, Walmart, or photo studios to get your passport photos taken? DoNotPay offers you the possibility of taking them yourself and having them edited without going anywhere!
Thanks to our app, you don't need to visit the post office if you want to initiate a return. You can also skip going to a notary office because we'll help you get your documents notarized.
Here are some other tasks you can complete with ease using DoNotPay:
We Help You Get Fuss-Free Subscriptions to Any Service
Interested in a specific service or platform? Make sure to get the best out of your free trial without getting charged and ending up with an unwanted paid membership. Even if you make a mistake, DoNotPay can end your subscription in a few simple steps!
Our system allows you to generate virtual credit card numbers to prevent platforms from getting your real bank details and using them for unauthorized transactions. We also offer burner phone numbers that will help you go through any subscription or verification procedure without disclosing personal details.