How To Find a Professional Landscape Contract Template
As a landscaping contractor, you need to establish a relationship with your clients via a landscape contract. Having a legal document in this business is a must if you want to avoid any misunderstanding and miscommunication with your clients. 
To get a landscape contract, you'll have to hire a lawyer or write one yourself. In this article, we'll show you how to get a landscape contract template quickly and help you generate a plethora of legal documents in a matter of clicks!
What Is a Landscape Contract, and Why Do You Need It?
A landscape contract is a legal document that outlines the terms of payment, party contact information, and types of services provided. The agreement needs to be aligned with your state jurisdiction and the job you'll perform when you get employed by a property owner. 
You need a landscape contract because it:
Describes the specifics of the services you're offering, which saves you a potential disagreement with the client later on 

Provides payment-related terms and conditions so that your clients know what to expect 

Demonstrates that a relationship between you and the client existed

Prevents unnecessary legal disputes because everything is in writing and affirmed by all parties
What Does a Landscape Contract Include?
In a landscaping contract, nothing should be implied or left for open interpretation. It needs to be concise and straight to the point. Here are some elements that must be included in a watertight landscape contract:
| | |
| --- | --- |
| Elements | Details |
| Identification | The document needs to state the date, client's name, your business name, and both your and the client's addresses |
| Services | A landscaping contract must include a detailed description of what you'll be doing on the project. You should also list the materials needed and write the stages in which the features will be installed |
| Cost | You need to provide your client with detailed information on the payment plan. You need to state when the client can pay and how (i.e., whether the payment is made via check, credit card, or cash) |
| Deadlines | Let your client know when you'll start and finish the project. You should also add a force majeure condition that removes liability for unpredictable and unavoidable catastrophes that interrupt the expected course of your work |
Is a Landscape Contract Legally Binding?
If a landscape contract has the signatures of all parties involved, it will be legally binding. It doesn't require notarization unless stated otherwise by the laws of your state, but you can get it notarized for extra safety. 
Should You Rely on Landscape Contract Templates?
Having a lawyer to draft a landscape contract for you can get pricey, and creating one on your own can be tricky. 
Nowadays, you can find a landscape contract template online just by typing the right keyword in your web browser. The downside of online templates is that they contain general terms that can't be applied to specific situations you might encounter. 
Here are some tricks to help you find a landscape contract template:
Be patient

—think carefully whether the contract template you find meets your requirements, and download it only if it's customizable

Choose a contract from a professional website

—avoid amateurish websites because the templates they offer are full of grammatical errors and lack elements that you may need

Check if there are any hidden costs

—there are free websites out there that offer landscape contract templates, but they often have hidden charges that you should look out for
You should personalize the landscape contract template you find and add all of the sections we listed in the table above. Once you're done, you should consider hiring a lawyer to go over it and check if there's anything missing.  
If you need another type of business contract, you can count on DoNotPay to help once you sign up!
Create Business Contracts Effortlessly With DoNotPay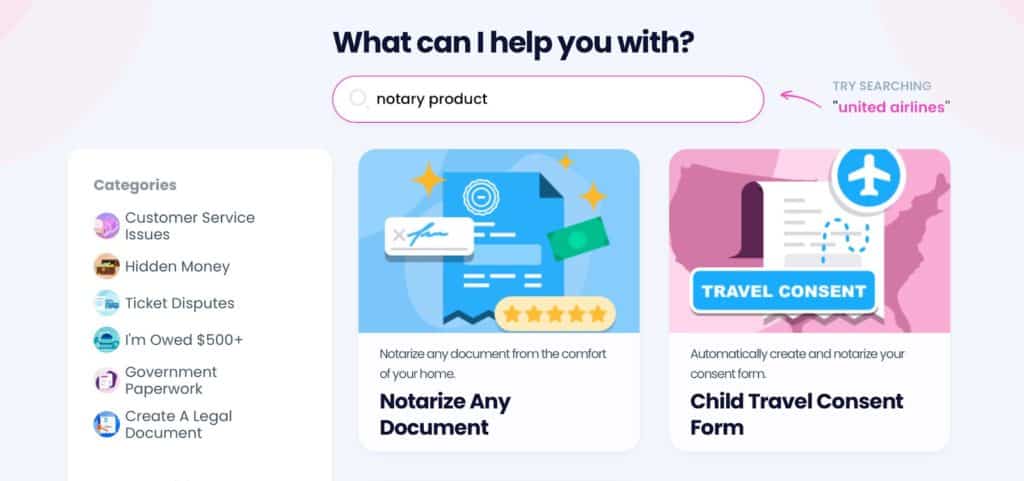 In case you want a solution that won't require you to spend hours of your time or isn't as expensive as lawyers, use DoNotPay! The world's first robot lawyer can create a customizable legal document for you in just a few clicks. 
To use this product, all you have to do is:
Search for the document you need by typing the contract name in the search box

Answer our chatbot's questions to help us understand the details of your document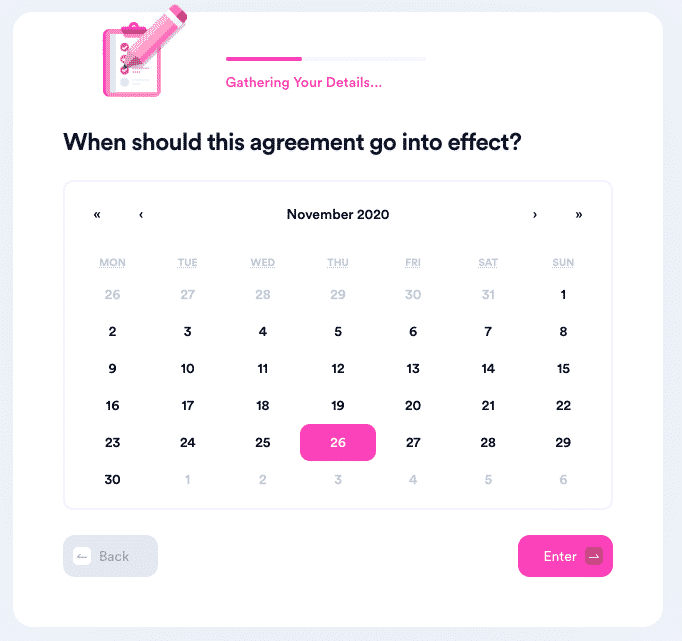 We will draw up a contract for you in just a few minutes! If you need to have it notarized or faxed, DoNotPay can help with that, too, with its Notarize Any Document and Online Fax products.
Our app can generate a plethora of documents, such as:
General Business Contract

Promissory Note

General Affidavit

Child Care Authorization Form

Quitclaim Deed

Intent To Purchase Real Estate
DoNotPay Has the Most Convenient Solution to Most of Your Problems
Whether you want to cancel subscriptions, request refunds for services, purchased items, or late delivery, or enjoy free trials without being charged, DoNotPay has a product for you. 
We strive to help you users solve their issues as quickly and effortlessly as possible. With us, you can enter various raffles and sweepstakes, claim warranties or insurance, report copyright infringement, and reduce your property taxes in less than five minutes. 
Protect Your Privacy With DoNotPay
Protecting your privacy can be challenging nowadays since most platforms require your phone number and email address upon registration. DoNotPay is here to ensure your personal info stays as secure as possible. Choose our Burner Phone product to register for services without phone verification or our virtual credit card if you want to use a randomly generated email address and payment details.
By using a fake phone number and email address, you can also avoid receiving annoying spam emails, text messages, and shady robocalls. DoNotPay can even make correspondence with inmates safer. If you don't feel comfortable sharing your address with an inmate, DoNotPay can receive the letters for you, scan them, and forward them to you risk-free.