Write a Top-Level Landlord-Tenant Utility Agreement With Ease
One of the crucial aspects of any landlord-tenant relationship is dividing utility costs between the parties. It can be regulated by signing a specific legal document that will state all the related agreed-upon terms.
If you need some assistance in writing your landlord-tenant utility agreement, this guide is all you need! Find out what this contract serves for and what elements it should contain. We will also share a tip or two for creating contracts instantly with DoNotPay's practical Standardized Legal Documents feature.
What Is a Utility Agreement Between a Landlord and a Tenant?
A utility agreement is a legal document that usually goes hand in hand with a lease or rental agreement. Its purpose is to determine which party should pay for the utilities related to the leased property or how the costs should be divided between the landlord and tenant. The parties can create the agreement as a separate contract or add a utility addendum to the existing tenancy agreement.
Steps To Take Before Creating a Utility Agreement or Clause
Once the parties decide to enter a utility agreement or add a special amendment to the primary lease agreement, they should:
Discuss the utility costs with the landlord before they sign a lease or rental agreement—The tenant must know what utility services exist on the property and be aware of all specific policies related to expenses and billing. The best bet is to ask the property owner:

What costs the tenant would be responsible for
Which expenses the landlord should pay
What the penalties for late fees would be
If there are any outstanding utility charges
How the landlord calculates the tenant's portion of the utilities

Consider shared utility arrangements when deciding how to divide the expenses—The parties may want to contact a submetering company and have water submeters installed in each unit. The landlord can also install separate gas or electric meters. This type of division is mandatory in some U.S. states
What Parts Should a Utility Agreement Consist Of?
Most state laws don't have specific regulations related to utility agreements or utility clauses within residential lease agreements. These are usually short documents that contain only a few sections, which are described in the following table:
Section
Description
General information
The introductory part of the contract should cover:

Names of the landlord and tenant
Full address of the leased property

Payment details
The middle section serves to describe the way utility bills will be divided between the parties. It should include all types of related costs, including:

Gas
Heat
Water
Internet
Electricity
Cable TV
Telephone
Garbage and waste removal
All other existing utilities

The contract should determine the party who provides the service and the exact percentage of the expenses that each signing entity should pay for all utilities

Conclusion
The parties should leave some space for the signatures and the date of signing at the end of the document
The signers can modify this structure according to their personal needs or add any other section they consider significant to the contract.
Let DoNotPay Assist You With Drafting Various Legal Documents
Writing a lease agreement or any other type of contract can be quite challenging and overbearing. Besides taking care of legal terminology and necessary elements to include, you must ensure your document complies with all governing laws in the state. Online contract templates may seem like an acceptable solution, but they don't always cover all the specific details you want to define.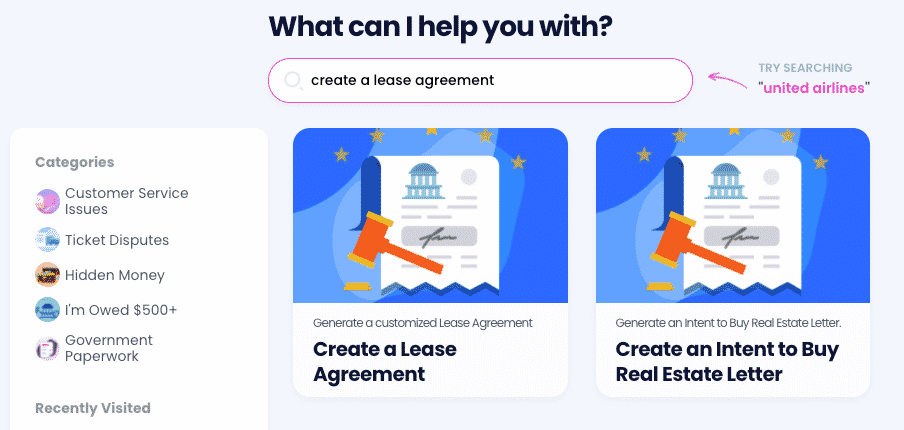 Forget about administrative hurdles and failed drafts—with DoNotPay, drawing up any kind of legal documents becomes a walk in the park! We can help you create an unlimited number of personal, business, or real estate contracts without lifting a finger. Each document we make is personalized to match your needs and based on applicable local regulations!
How To Get a Ready-Made Contract With DoNotPay
To use this service, follow the instructions below:
Sign up for DoNotPay and log in to your account
Enter the name of the document you want to create in the search field
Complete our chatbot's brief questionnaire to help us complete your contract
Our system will generate a customized legal document ready for printing and signing! If it needs to be notarized, you can use the same app to book an appointment with a remote notary. This way, you will complete the procedure fast and hassle-free! The notary will notarize your contract via a video call by providing a digital stamp and signature.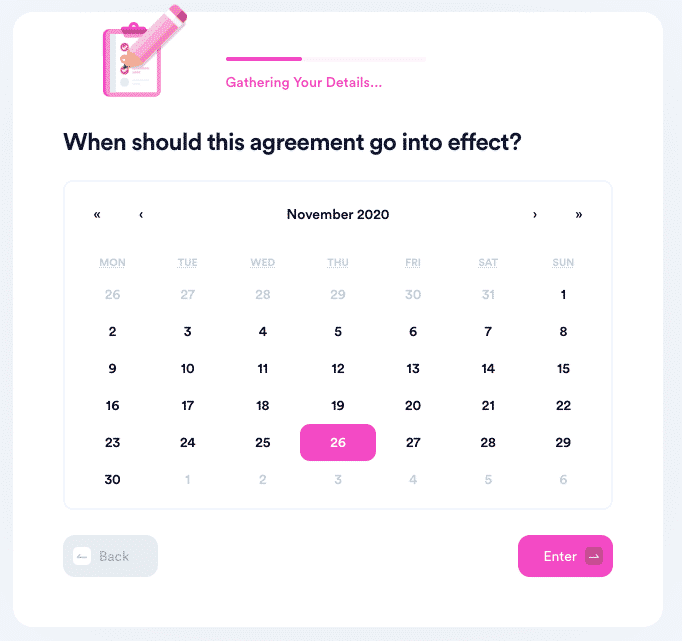 What Contracts Can DoNotPay Help You Create?
If you subscribe to DoNotPay, we will assist you with composing:
Promissory Note
Quitclaim Deed
Intent To Purchase Real Estate
General Affidavit
Residential Lease Agreement
General Business Contract
Child Care Authorization Form
Do you need an agreement that isn't on our list? No worries—our document database keeps growing! In the meantime, you can use our knowledge base to get instructions for making numerous commonly used contracts, such as:
Learn About DoNotPay's Awesome Products!
DoNotPay is a multifunctional app that can solve numerous everyday challenges swiftly.
You can use our app to protect your work from copyright violations, schedule your driving exam or any other appointment with the DMV, reduce your property taxes in a few steps, and similar.
We have created many useful products to help our users take care of their issues through the same app. With us, you can:
DoNotPay Connects You With Your Loved Ones
Sending letters to inmates can be difficult since you have to follow certain rules to a T to avoid having your letter rejected. The situation is even more complicated if you don't know where your incarcerated loved one serves time. DoNotPay's app can help you locate prisoners and correspond with them without worrying whether you're breaking any rules.
Do you want to send a letter, but you don't feel like heading over to a post office? By using our mailing service, you can mail as many letters as you want from the comfort of your home. With DoNotPay, you can also send online faxes in under five minutes!
Email and text spam is something that everyone experiences at least once in their lives. DoNotPay has a solution for that too. Access your DoNotPay account and count on us to help you block spam and get compensation by reporting pesky robocalls.