What You Need to Know About Landlord Carpet Replacement Laws
One area of confusion when it comes to renters' rights is the right to have necessary repairs performed on the property. Sometimes disputes can arise over just what repairs are actually necessary or who was responsible for creating the damage that made the repair necessary in the first place.
One example of an area where confusion might arise has to do with . For example, when is a landlord expected to pay for replacing the carpet, and when is a tenant expected to foot the bill?
These types of questions can be tricky, and renters and landlords often find themselves wishing they could get some better answers. Luckily, now both groups have a resource on their side to help: DoNotPay. 
Is a Landlord Required to Replace Carpets in Their Property?
When it comes to landlord repairs responsibilities, carpet can be a gray area. After all, landlords are required to perform repairs necessary to make a dwelling habitable. In many cases, carpet is considered more aesthetic than a question of habitability.
There could be exceptions to this general understanding, however. If carpet is necessary to make it safe to walk in the home or apartment, or if it has become dirty to the point of being a health hazard, then repairs to the carpet could be considered necessary. A  would then compel the landlord to replace it.
Dealing With Security Deposits When It Comes to Carpets
If you're like most tenants, you probably paid a security deposit when you signed your lease. You want to make sure you know how to get your deposit back from your landlord, even if the carpet needs to be replaced. Here are some considerations that determine whether the cost of replacing the carpet comes from your deposit:
| | |
| --- | --- |
| Unexpected or Severe Damage | When it comes to carpets, it's important to know that if you cause unexpected damage to the carpet, perhaps due to stains or cigarette burns, your landlord can use your security deposit to cover at least some of the cost of replacing the carpet. So if this is the case, you shouldn't expect to receive your full deposit back when you move out. |
| Normal Wear and Tear | On the other hand, if the carpet in your landlord's property is simply showing normal wear and tear, your security deposit should not be withheld to pay for routine cleaning. If your landlord is refusing to return your deposit over normal wear and tear, you may be able to consider suing your landlord for your deposit. |
How long your landlord has to return your deposit will generally vary according to local laws.
How Can I Ask My Landlord to Replace the Carpet in the Property Where I'm Living?
If you believe that your landlord should replace the carpet in your rental house or apartment, it will be important to document this request in a letter. Your letter should contain at a minimum the following information:
Your name
The property address
A description of the problem
A specific request for repairs
The reason the repairs are needed
Your contact information
Documenting the request will be important in the event that you later need to escalate your concerns or pursue your options with the legal system. 
Why Use DoNotPay to Deal With My Issues With My Landlord?
Of course, going the route of the legal system can be a huge hassle, not to mention confusing. Thankfully, DoNotPay is here to guide you through your dispute with your landlord and file your disputes on your behalf. Our Landlord Protection product can help you:
Get back your security deposits.
Learn about your state's eviction laws and what protections apply in your case.
Resolve disputes regarding repairs with your landlord.
Resolve disputes with roommates by filing demand letters or going through small claims court.
Break your lease early.
To use DoNotPay for your rental needs and to create demand letters, simply do the following:
1. Search for and open the Landlord Protection product on DoNotPay.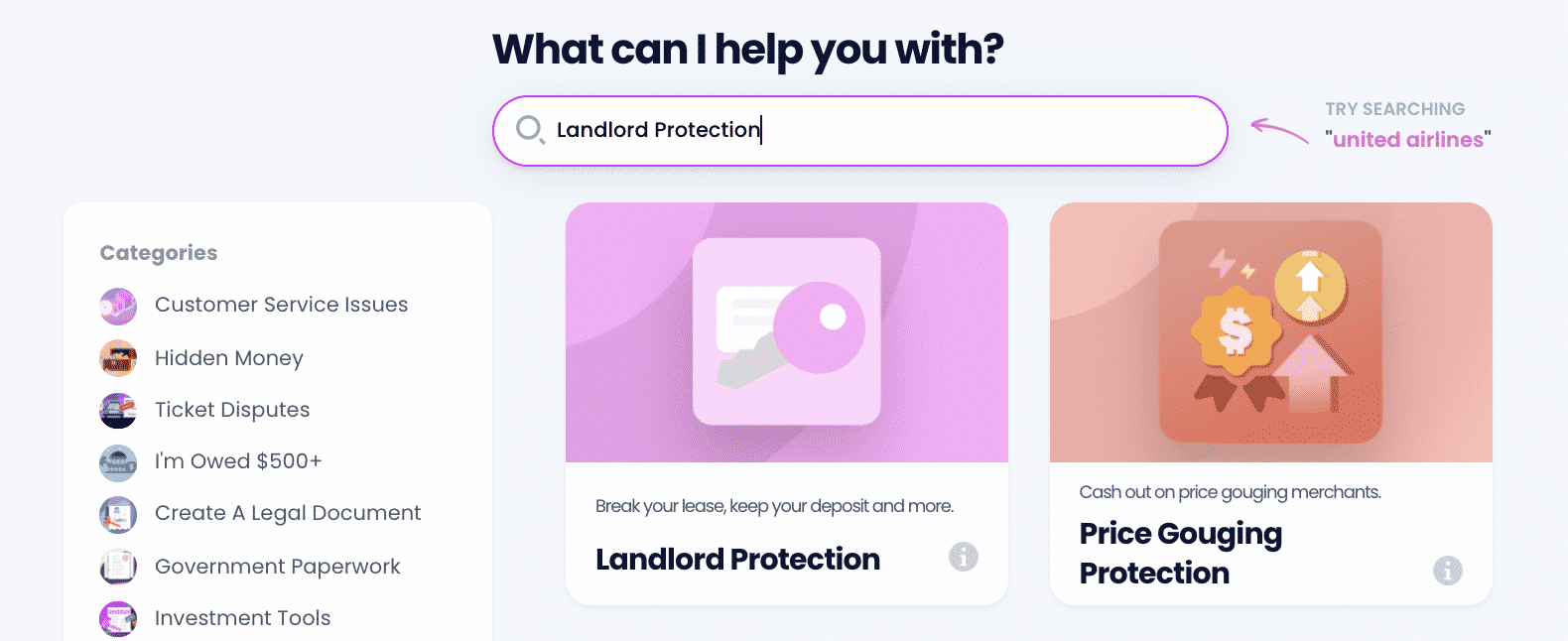 2. Select which issue applies to you.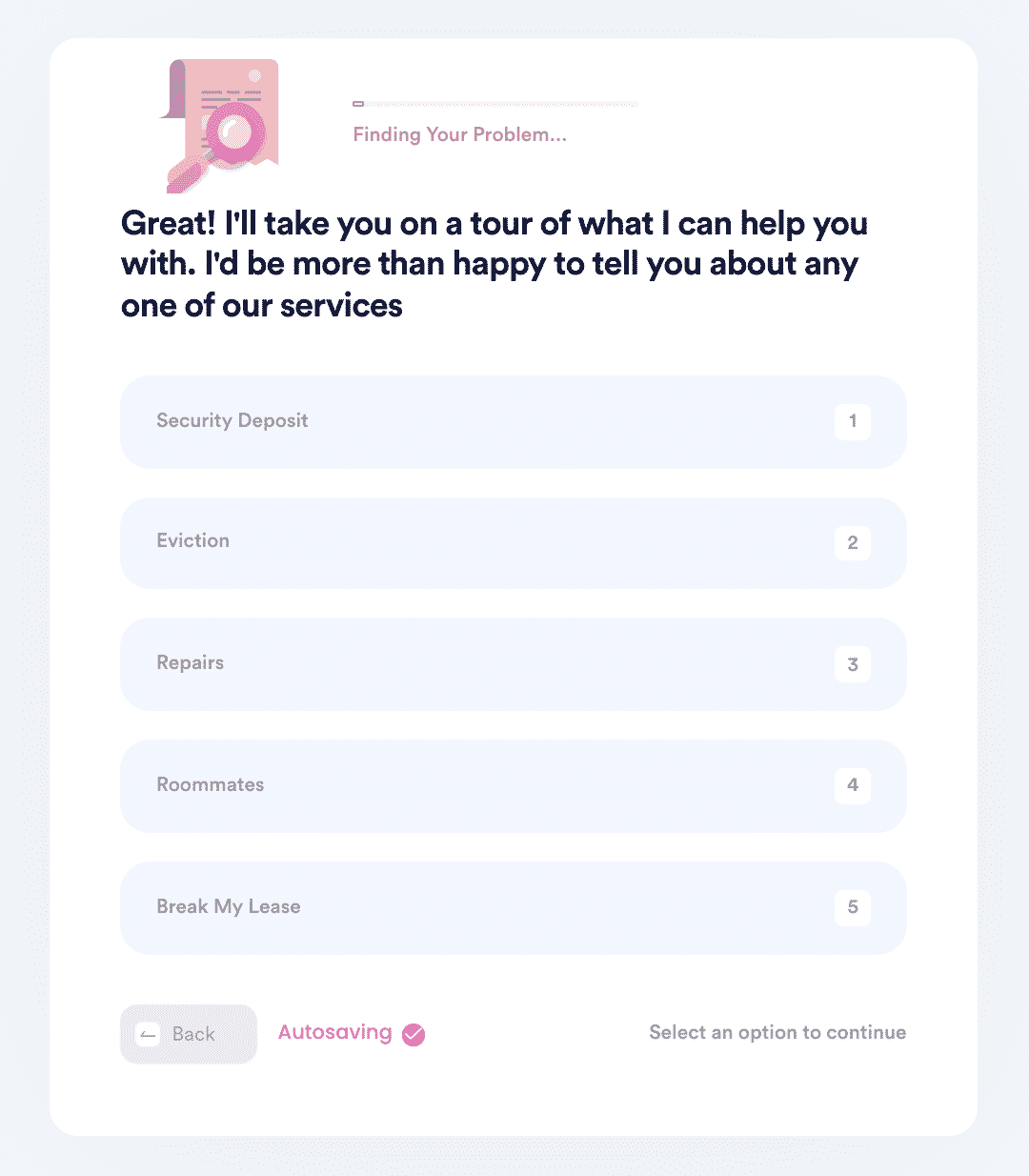 3. Answer a simple set of questions so our chatbot can collect the necessary information to create your demand letter.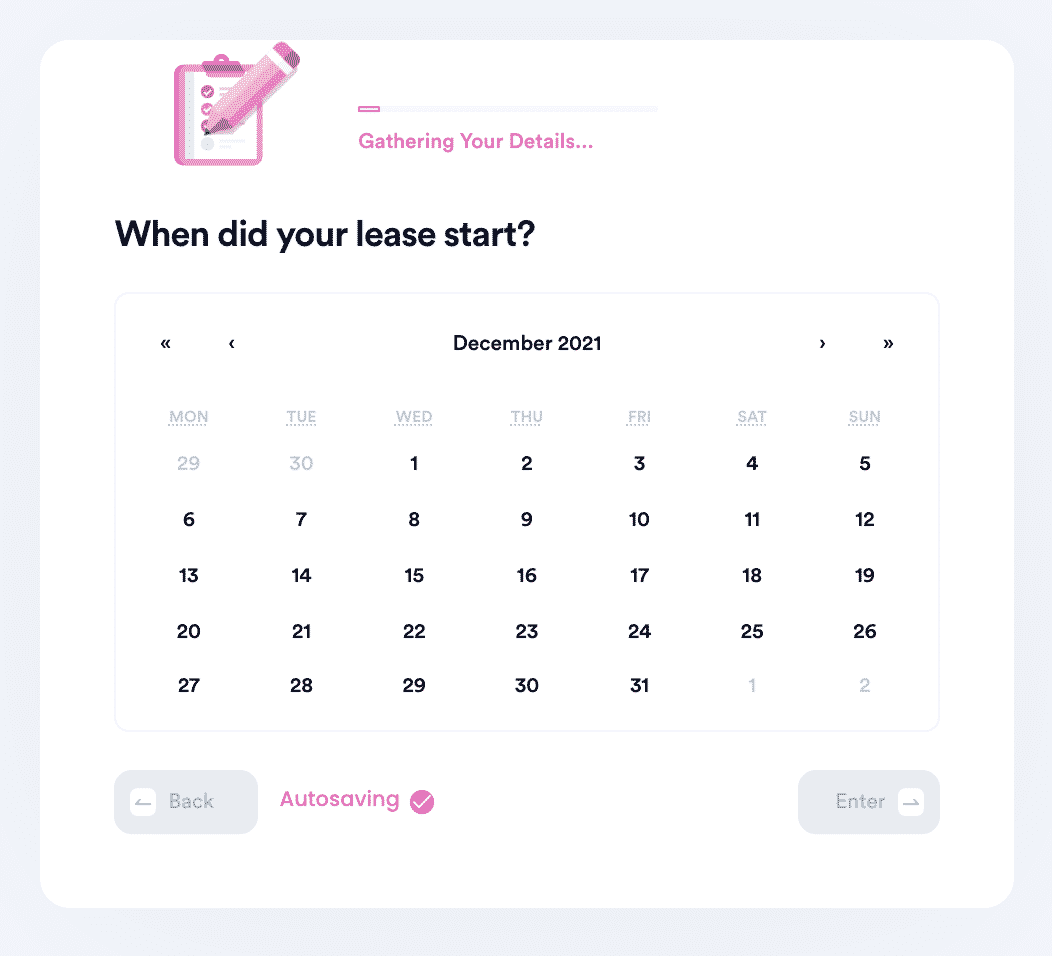 4. Choose whether you want DoNotPay to send the demand letter to your landlord or roommate on your behalf. If you already tried sending a demand letter and it didn't work, we can help you start the small claims court process.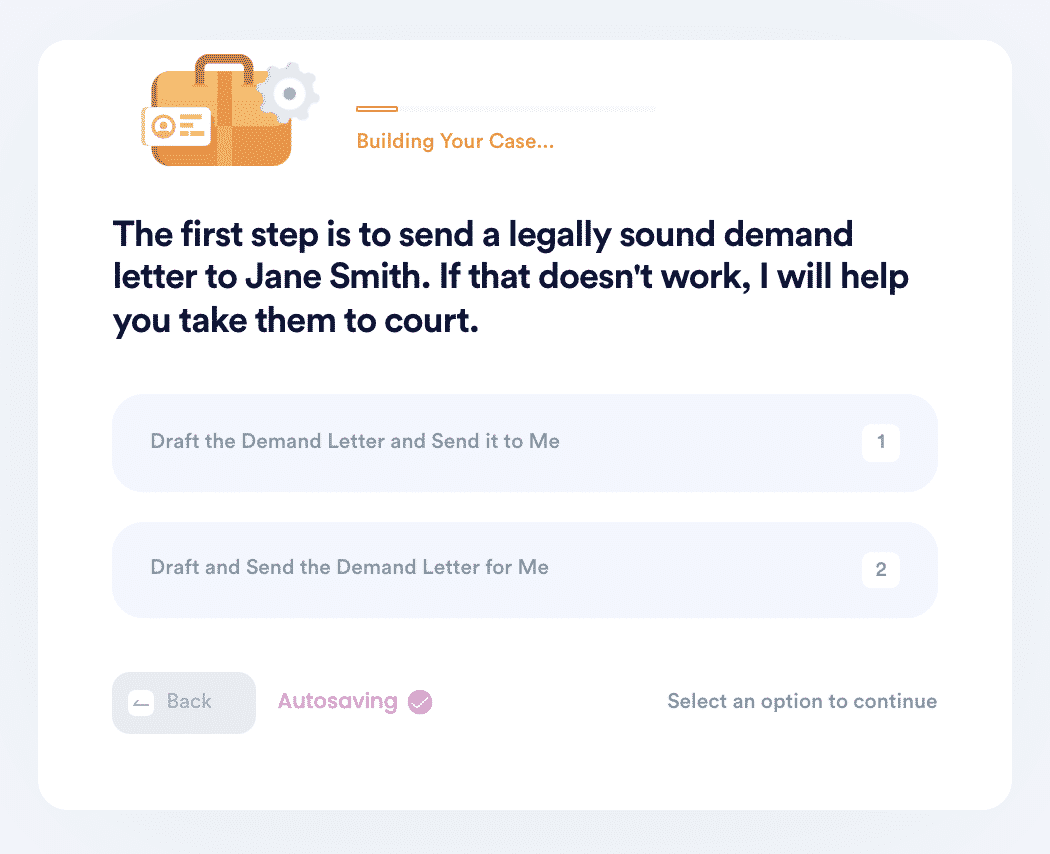 And that's it! You should hear back from your landlord directly once your demands are sent.
Why Use DoNotPay For Your Repair Needs?
DoNotPay is the most efficient way to deal with your landlord when it comes to needed repairs or any other issue. DoNotPay offers many advantages over attempting to use the legal process yourself. These advantages include the fact that DoNotPay is:
Fast—You won't be left hanging while living with the inconvenience of needing repairs.
Easy—DoNotPay is much simpler to figure out than the process of going to court.
Successful—DoNotPay has the experience necessary to help you sort out your repairs claim.
DoNotPay Can Help With Many Types of Landlord-Tenant Issues
As we've explained above, DoNotPay can help with a lot more than issues related to legal requirements regarding repairs in a rental unit. We can also help you sort out your rights as a renter and learn about legal requirements regarding evictions. Below are a few examples of the sorts of questions we can help you answer depending on your state of residence and the sorts of services we can offer: