Land Lease Agreement Explained
If you are a landowner interested in leasing your plot, you must create a land lease agreement. Land-lease agreements can be tricky, so it is imperative to be familiar with their purpose and regulations.
While it may seem that creating a land-lease agreement requires legal expertise, it is not the case! With proper guidance, you can create any legal document by yourself. will show you how to write a legally valid land-lease agreement in no time!
Land Rental Agreement in a Nutshell
A land lease is a type of commercial real-estate lease. The land lease agreement enables the lessee to build property on the leased land. The main difference between a ground agreement and any other commercial contract is that the former focuses on the land itself and the lessee's obligations towards it.
The land lease agreement involves two parties—the lessor and the lessee. Both sides need to agree on the contractual obligations and sign the document once they do. The lessee needs to pay the rent regularly. If the lessee fails to honor their contractual duties, the lessor has the right to evict them.
Types of Land Lease Agreements
Two main types of land lease agreements are:
Subordinated

Unsubordinated land lease agreement
The subordinated land lease agreement allows the lessee to use the property as a leasehold mortgage for the construction loan. That is beneficial for the tenant but not so much for the property owner. If the lessee fails to make mortgage payments, it can result in the owner losing the title to the property. The owner can lessen the risks of this land lease agreement by:
Increasing rental fees

Applying stricter control regarding the lease transactions
With the unsubordinated land lease agreement, the lessor can forbid the lessee to use the land as a leasehold mortgage. If the tenant fails to make construction loan payments, the property owner will take ownership of the land improvements.
The improvements can increase the leasehold market value, which is beneficial for the lessor.
How To Write a Simple Land Lease Agreement
When writing a land lease agreement, you need to present all the conditions clearly. There mustn't be any doubts about how your property should be managed and used during the rental period.
Here is an overview of key land lease agreement elements:
Land Lease Agreement Item
Description

Land details

The description of the property should be as specific as possible, including:

Total acreage of the land

Land portion the lessee will be using

Property boundaries the tenant mustn't cross

Topographical map of the land

Use of property

You should specify how the land can be used and who is responsible for maintenance and improvements

Duration of the agreement

A land lease agreement should have start and end dates, as well as terms for terminating the lease

Financial terms

You need to specify payment terms and the exact amounts in the land-lease agreement. You can ensure extra safety by:

Asking the lessee to provide proof of liability insurance

Having your liability policy

Legal review

Both parties should have their lawyers review the agreement to make sure no legal disputes arise in the future
Can I Write a Land Lease Agreement on My Own?
There are several ways to draw up a land lease agreement without overpaying for services.
The most common methods are:
Using an online

template

Writing a document yourself
While online templates may seem like a simple solution, they come with risks. Most of the land-lease agreement templates available online are far too general. You will have a difficult time applying any of them to your specific situation.
Creating a document yourself and having a lawyer review it is a valid option. You should be aware that the process requires a lot of research. You need to make sure that the legal terminology, your personal conditions, and your state's law requirements are in place.
Create a Contract With the Help of DoNotPay
DoNotPay can help you create numerous legal documents fast and easily! Instead of learning how to write a contract, you can use our amazing new feature. We assist in creating different kinds of legal documents, including:
Promissory notes

Quitclaim deeds

General affidavits

Estoppel certificates

Intent to purchase real estate

General business contracts

Residential lease agreements

Child care authorization forms

Parenting plan (child custody) agreements
With our help, you will end up with a professional and legally valid contract in a matter of minutes!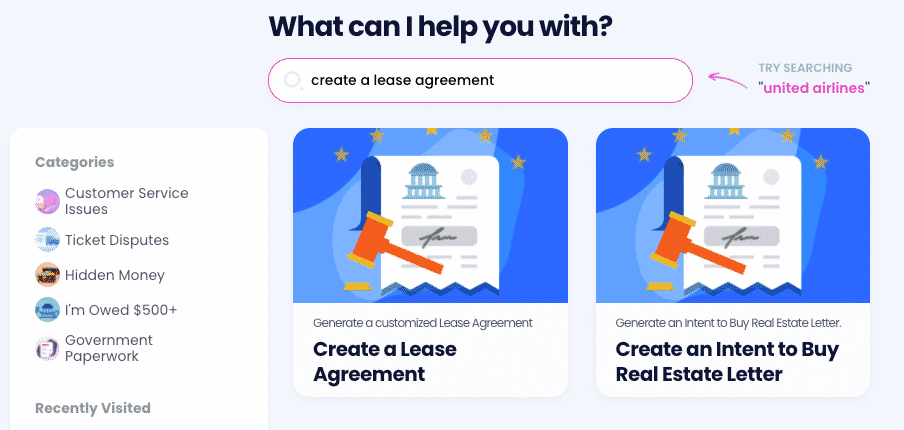 You only need to provide essential info about your circumstances, and we will create a document from scratch. Access our app from any and do the following:
Type in the required keyword in the DoNotPay's search bar

Provide answers to a few basic questions from the chatbot

Wait for DoNotPay to generate a bullet-proof legal document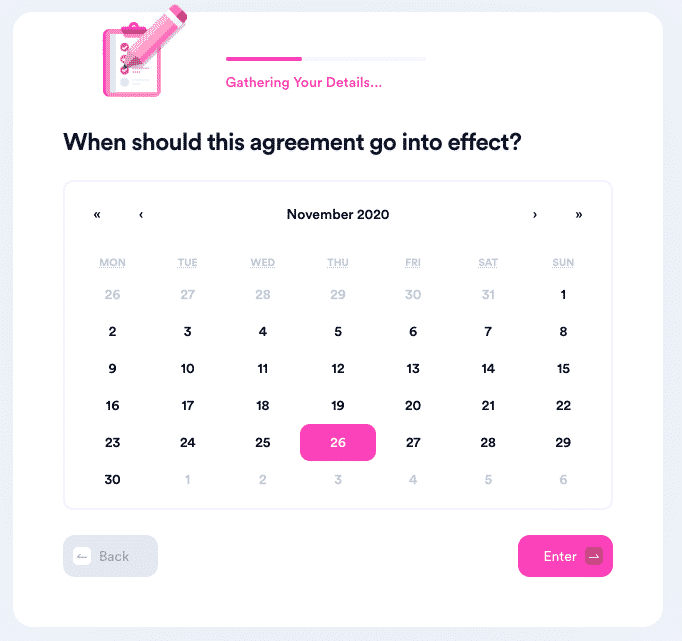 Forget About Bureaucracy With DoNotPay
There's no end to what our app can help you do. From drafting legal documents and asking for bill extensions and reducing property taxes to connecting with an inmate in a federal prison and contesting parking citations, DoNotPay can handle it all and cut through the red tape.
Need to pass a government test? Use our practice tests database to nail it. Looking to file an insurance claim? You've come to the right place. College applications drained your accounts? Request college fee waivers with our assistance.
The DoNotPay app is so versatile that it can easily locate any unclaimed funds under your name or any clinical trials that you're eligible to participate in. We can also schedule DMV appointments and take care of your small claims court documents.
Check Out What Else DoNotPay Has in Store
DoNotPay never stops upping the game. You can explore some of our latest features and see how you can access public records, receive free online fax, submit a warranty claim, or get compensation if you were a victim of a crime.
Alternatively, check out some of our most popular products that aim to reclaim your funds—from getting airline flight compensation and submitting refund and chargeback claims to canceling your unused subscriptions and getting class action cash from email, text, and robocall scammers.