A Land Contract in Wisconsin—Here's What You Need To Know
The traditional way of purchasing a property is through a loan, but what if you have a poor or negative credit rating? How do you finance your property without additional funding?
That's where land contracts and seller financing comes into play! Say goodbye to unfavorable bank loans!
Is this information confusing? DoNotPay is here to help! Find out how a land contract in Wisconsin works, how to write any contract, and how to purchase property without loans in DoNotPay's comprehensive guide.
to draw up any legal document in a snap!
What Is a Land Contract?
A land contract—sometimes known as a contract for deed or a real property installment sales contract—is a written agreement between the buyer and the seller to purchase a piece of land. The property can be a house, apartment building, commercial building, or plain land. 
The land contract comes in the form of seller financing—an option widely used in Wisconsin. A seller becomes the financier of the purchase, so the buyer bypasses banks and other loaning institutions. The contract is convenient for buyers who are unable to get a loan because they have filed for bankruptcy or have a low credit rating. 
With land sale contracts, you purchase the property in installments. You can use the property, but the seller keeps the title until you have paid the entire amount. The last payment is usually a balloon payment—a lump sum you have to pay to complete the purchase. 
Since the balloon payment is usually a significant sum, people often get a loan to source it. If you're unable to make the payment, you risk losing not only your property but your previous payments as well. 
How Does a Land Contract in Wisconsin Work?
Here's how a land agreement works:
The buyer shows interest in a property and meets with the seller to negotiate the purchase terms and conditions

Both parties sign the deal after successful negotiations on the purchase price, interest rates, and other sections

The buyer pays the initial down payment and starts paying monthly installments until the contract duration is complete

The last payment is usually a balloon payment, mostly sourced through another loan

The seller transfers the ownership title once all the terms and conditions are met

The buyer becomes the legal owner of the property
Information Every Land Contract in Wisconsin Should Cover
It is important to ensure that the land contract covers all essential sections. A few crucial ones are mentioned in the table below:
Section
Brief Explanation

Details of both parties

Names, contact information, and addresses of the buyer and seller

Description of the property

The size and location of the property. This section should also include any defects the property might have

Effective date

The effective date of the agreement

Terms and conditions

This part should include the:

Purchase price

Down payment

Interest rate

Balloon payment

Average duration of the contract

Installment amount

Number of installments

Duties and responsibilities

What the seller and buyer are respectively responsible for

Liabilities

What happens if the buyer defaults? What happens if the seller dies? This section should cover all the details

Signatures

Signatures of both parties with dates confirming they have read and understood the terms and conditions
Is a Land Contract Legally Binding?
A land contract is legally binding for both parties in Wisconsin. If a party violates the agreement, they have to face legal consequences, including a lawsuit.
For the buyer, violating the terms of the arrangement can mean a negative credit rating, which could affect future financing opportunities. It could also mean losing the property without a foreclosure sale. As a remedy, the seller can also retain all previous payments as liquidated damages.
If the seller violates the contract, the buyer can file a lawsuit, claim previous payments, and terminate the contract.
DoNotPay Helps With Various Contracts
It would be wise to consult a lawyer before drafting any legal document, but their services can be expensive. Alternately, you can look up contract templates online, but you won't be able to make much use of them if they're not customizable. Not to worry—DoNotPay is here to help you out! 
Here's what you need to do:
Enter the document name 

Provide details to our chatbot to customize the agreement

Print the document and sign it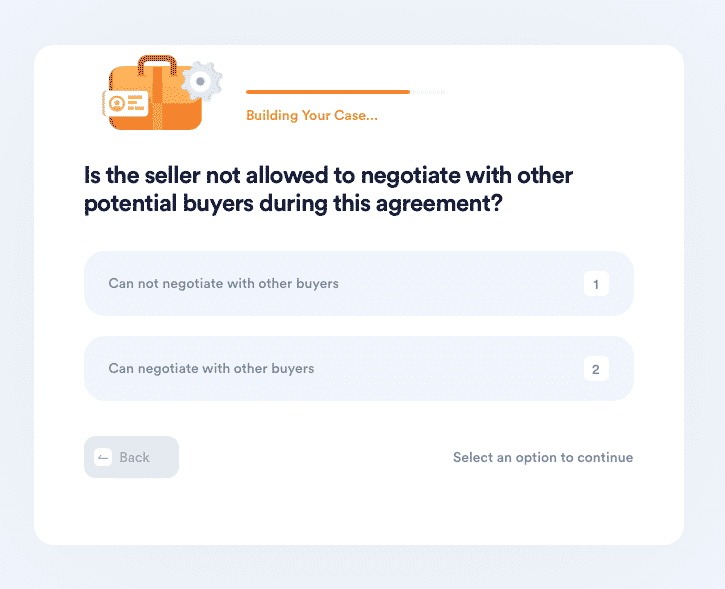 DoNotPay can generate many contracts and agreements, such as:
Property documents

Quitclaim deed

Intent to purchase real estate

Business documents

General business contract

Personal documents

General affidavit

Promissory note
Can't find the document you're looking for? We're working on updating our offer, so stick around to find out more!
More Nifty Solutions to Annoying Problems
If you're dealing with problematic neighbors or coworkers, you're not alone—our app can help you handle these issues with our Neighbor Complaints and Fight Workplace Discrimination products.
No problem is too big or too small for DoNotPay! Check out the best time- and money-saving solutions to different nuisances:
An Array of Hacks To Help You Deal With Greedy Companies
Nobody likes to spend more money than they have to. DoNotPay is here to offer many penny-pinching hacks and also stop companies from taking advantage of you.
Almost every free trial nowadays isn't free. Companies request your credit card info and auto-renew subscriptions. Fight this sneaky practice by using DoNotPay's virtual credit card next time you want to snatch a free trial. We'll also uncover any unwanted memberships you have mooching off of you and help you cancel them in a few clicks.
If you need to contact a company's customer service, avoid wasting your time and money on hold and count on our app to wait in your stead.
Do you need to get your money back, but you don't know how? Use DoNotPay to: