Land Contract in Ohio
—What You Ought To Know
If you were pondering about making a land contract in Ohio, you should learn everything there is to know before embarking on that journey. DoNotPay can answer all your questions about one such agreement and help you create various other legal documents of your choice.
The Important Info About the
Ohio Land Contract
A land contract in Ohio is also known as a land installment contract. This is an agreement between the seller of the property and the person buying it. The important characteristic of this contract is that it is done without a third-party lender.
The buyer in the Ohio land contract agrees to pay installments monthly to the seller until the land is completely paid out. This type of contract is popular among family members because it allows the parties involved to set their terms on the:
Monthly payment amount

Interest rate

Amount of the down payment

Number of months of the contract term

A decision on whether there will be a balloon payment
The Difference Between a Land Contract and Real Estate Purchase Agreements
Land contracts are specific and need to conform to requirements located in Ohio Revised Code, Chapter 5313. Ohio law requires the land contract to be applied to a home and the real property on which the home sits.
Other real estate purchase agreements—like the rent-to-buy and a lease with the option to purchase—are not land contracts. These documents only apply to real estate.
The Info Every Ohio Land Contract Should Contain
According to the Ohio legislation, every land contract needs to have a duplicate signed by both parties. Make sure to include the following information:
Names of both parties

Signatures of both parties

Current mailing addresses of the buyer and the seller

The date of signing the contract

A legal description of the property that is being sold

Fees and charges for services in addition to the contract price

The price of the property

The entire amount to be paid for the property

The amount of money of separate installment payments

Due date of each installment payment

The amount of the buyer's down payment

A statement that the person selling a house will provide a general warranty deed once the contract is completed

Interest rates on the unpaid installments

A copy of the deed

Disclosure of encumbrances, such as liens and mortgages
While these are the crucial statements of land agreements in Ohio, you may be able to add certain changes. Note that land contracts can last for decades, so it would be smart to get professional legal help before adding anything.
What the Buyer Should Know Before Entering the Land Contract in Ohio
Land contracts in Ohio come with numerous obligations, and the buyer ought to know certain information before deciding to sign this agreement. They should make sure to find out:
Who the legal owner of the property is

What the condition of the land and the dwelling is

Who is going to draft the land contract

Whether there are possible claims against the property

Who will be responsible for maintaining the property and the land around it

If there is another land contact currently active on the same property

Whether there will be a grace period for installment payments
Creating Legal Documents With DoNotPay Is Fast and Easy
Land contracts in Ohio may be state-specific and require you to use a lawyer when creating one, but DoNotPay is here to help you with other documents. We can assist you with generating a contract of your choice.
If you want to draw up a legal document in a matter of minutes, follow these steps:
Open DoNotPay in a

web browser

Enter the name of the contract you wish to make

Provide us with the information relevant to your contract
After you complete the simple questionnaire, you will have your legal document ready within seconds. You should still check whether it is necessary to take it to the notary to make it official.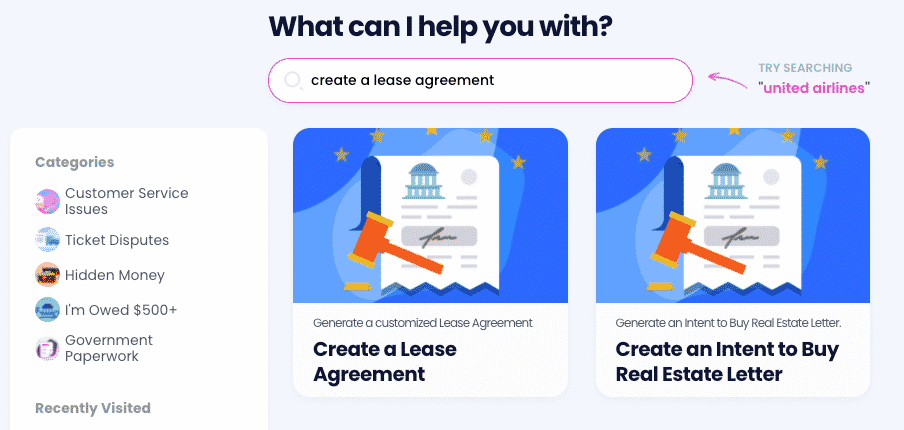 DoNotPay Is the Easy Way of Generating Numerous Legal Documents
DoNotPay has a vault full of contracts ready to be used whenever you need them. The best part is that our way of creating contracts saves you time and money! Check out the table below to learn what legal documents DoNotPay can make for you:
Real Estate
Business
Other

Quitclaim Deed

Estoppel Certificate

Intent To Purchase Real Estate

General Business Contract 

General Affidavit

Promissory Note
Don't stop there! Explore the available contract templates and look for information about legal documents with DoNotPay's help. Learn more about the:
DoNotPay Is Your Pocket-Sized Treasurer 
To pay or to DoNotPay—that is the question! Our nifty app finds money where you didn't even know you had it.
With our app, you can avoid college application fees, cancel unused subscriptions, explore free trials, and get out of paying for unfair parking tickets. 
We can also help you with high bills by composing due date extension letters or reducing property taxes, just as we can locate missing money that you can reclaim in any state you've ever lived. 
To top it all, we'll even assist you in requesting compensation from any airline—whether it is for poor in-flight Wi-Fi, a delayed, or a canceled flight.
Can't Find Your Head in All the Paperwork? DoNotPay Sorts It Out for You!
You no longer have to cash out on pricy legal advisors to do simple paperwork for you—our app can draft legal documents for you in a matter of minutes! 
We can write small claims court scripts, dispute letters for chargebacks and refunds, personalized letters to connect with inmates, DMCA takedown notices for copyright protection, and cease and desist letters for stalking and harassment protection. 
If you need to get a DMV appointment before taking a driving exam or any other government test, we're there to schedule it in your stead!