Landing a Land Contract in Indiana—What You Need To Know
Although most people opt for a bank loan to finance their property purchase, some are not eligible for this type of funding because of bankruptcy or poor credit ratings. Is there another way to buy real estate?
The answer is yes! Seller financing is becoming increasingly popular in the United States, and land contracts regulate the terms of this transaction.
Is the legal jargon making your head spin? Find out what seller financing is, how to draw up a land contract in Indiana, and how to generate contracts and legal documents using DoNotPay.
What Is a Land Contract?
A land contract is an official agreement allowing the buyer to purchase a property from the seller. It is also called a real property installment sales contract or a contract for deed. 
The buyer uses seller financing to finance the property. It is an arrangement in which the seller finances the purchase instead of a financial institution. This option is particularly useful for buyers who have a negative credit rating and cannot secure a loan from a bank. 
Unlike a lease purchase, a contract for deed allows you to buy the property in installments. After an initial down payment, you pay monthly installments for the duration of the arrangement. Once the period ends, you will have to pay the remaining amount all at once. This is referred to as a balloon payment, usually sourced through a loan. 
You can start using the property immediately after the down payment, but the ownership remains with the seller until you have covered the purchase price in full.
How Does a Land Contract Work in Indiana?
A land contract in Indiana works as follows:
The buyer shows interest in a property and meets with the owner to negotiate the

terms of the agreement

The contract is drafted after successful negotiations

Both parties sign the pact

The buyer pays the initial down payment, subsequent monthly installments, and final balloon payment

The seller transfers the ownership title once the buyer pays off the entire debt 

The buyer becomes the legal owner of the property
What Should a Land Contract in Indiana Cover?
Here are the key elements you should incorporate when drawing up a land contract:
Elements

Explanation

Identification of both parties

Names

Addresses

Contact information

The description of the property

Location

Size

Defects (if any)

Other useful information

Effective date

Date when the agreement becomes effective

Terms and conditions

Purchase price

Down payment

Interest rate

Balloon payment

The duration of the contract

Number of installments

Any extra charges

Details of ownership transfer

Liabilities

Steps to take if the buyer defaults

Procedure to follow if the seller passes away or backs out of the arrangement without a valid reason

Responsibilities

Duties of the seller

Responsibilities of the buyer

Signatures

Signatures of both parties, confirming they have read and understood the terms of the agreement
Is a Land Contract in Indiana Legally Binding?
Land contracts in Indiana are legally binding, and the buyer should carry out due diligence to ensure all the terms and conditions are being followed. 
If any party breaches the contract, it can result in legal action. If the buyer defaults, they risk a foreclosure action and a subsequent foreclosure sale. The seller can keep all payments received as liquidated damages. 
In case the seller is in violation, the buyer can claim previous payments, cancel the contract, or file a lawsuit, depending on the severity of the breach.
Get DoNotPay To Draft Legal Documents for You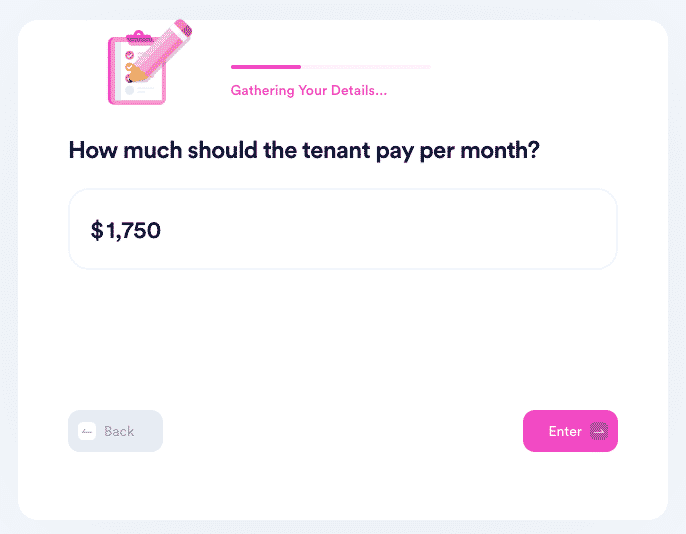 It is advisable to consult an attorney to draft a legal document, but what if you don't have the budget to hire one? 
Searching for contract templates online is another viable option, but stock templates are usually outdated and don't allow you to customize the document. 
If you want to create legal agreements in no time, use DoNotPay! Follow these easy instructions to create a watertight contract:
Enter the name of the document in the search box

Answer our chatbot's questions to personalize your agreement
That's it! Your document will be ready within minutes! All you have to do is print and sign it.
DoNotPay Can Create Numerous Contracts and Agreements
Do you have other contracts you want to make? For a small monthly fee, can create numerous documents for you. 
Check out the agreements we can generate:
Property documents

Quitclaim deed

Intent to purchase real estate

Business documents

General business contract

Personal documents

General affidavit

Promissory note
Can't find the one you're looking for? We're working on adding more documents to the list, so stay tuned!
More Nifty Solutions to Annoying Problems
If you're dealing with problematic neighbors or coworkers, you're not alone—our app can help you handle these issues with our Neighbor Complaints and Fight Workplace Discrimination products.
No problem is too big or too small for DoNotPay! Check out the best time- and money-saving solutions to different nuisances:
An Array of Hacks To Help You Deal With Greedy Companies
Nobody likes to spend more money than they have to. DoNotPay is here to offer many penny-pinching hacks and also stop companies from taking advantage of you.
Almost every free trial nowadays isn't free. Companies request your credit card info and auto-renew subscriptions. Fight this sneaky practice by using DoNotPay's virtual credit card next time you want to snatch a free trial. We'll also uncover any unwanted memberships you have mooching off of you and help you cancel them in a few clicks.
If you need to contact a company's customer service, avoid wasting your time and money on hold and count on our app to wait in your stead.
Do you need to get your money back, but you don't know how? Use DoNotPay to: