Sample Land Contract Form—All You Need to Know
Since lawyer fees seem to rise by the minute, people tend to turn to online contract templates when they need to draft a legal document.
Serious and long-term agreements, such as a land contract, require a more reliable method. If you need to write a contract, turn to DoNotPay because we provide up-to-date contract forms and useful tips on creating enforceable documents.
What Is a Land Contract Agreement?
A land contract is an agreement to purchase real estate, including land, houses, apartments, or commercial buildings. The buyer doesn't have to take a bank loan to pay for the property. They make payments to the seller until the property is paid in full.
For the duration of the contract, the buyer and seller share ownership of the property. 
After receiving the final payment, the seller transfers the property to the buyer via a warranty deed.
A land contract has many advantages for both parties. It allows the buyer to purchase a property when they cannot get mortgage approval. Sellers can get a better price for their property by offering a land contract to potential buyers.
What Should a Land Contract Form Cover?
Before you use an existing land contract form, you must make sure it contains all important sections. Omitting crucial details can cause disputes in the future.
You should also be aware of your state's laws regulating property sales via land contracts. Every state has rules you must follow to a tee. If you don't, the court may rule the contract invalid and dismiss it.
How To Complete Free Land Contract Forms
The table below contains the essential elements of a land contract. You should follow the steps as described:
Land Contract Form Sections

Description

Provide the sale's contract effective date

Use the blank lines at the top of the form to explain the document's purpose and provide the date the agreement becomes effective

Identify the buyer and seller

Provide seller's and buyer's full name, email, address (including city and state), and date of closing the contract in the required sections

Give a legal description of the property

Fill out sections about:

Size of the property

Parcel number

Other descriptions 

Indicate purchase price and terms

Enter information regarding:

Earnest money value

Land cost

Cash offer

Interest rate

The payment amount and how often it needs to be made

Assign the closing costs to one party

Indicate the person responsible for the costs by checking the correct box or writing their name in the required field

Provide additional dates, deadlines, and maintenance information

Use the appropriate sections to:

Verify the closing date and time

Impose the land survey deadline

Start an inspection date 

Determine maintenance responsibility

Add final details

Fill out the final sections referring to:

State law indication

The expiration date of the offer

Governing law disclosure

Signatures

Print out your names and add signatures with dates at the end of the contract
Where To Find Reliable
Free Printable Land Contract Forms
?
One of the ways to avoid sky-high legal expenses is to download a free printable land contract form. You can choose from an array of online contract templates. Download one and adjust the sections according to your terms. 
Be aware that online legal document templates can be tricky. They are generic, and correcting them can take up more time than writing a contract from scratch. The best course of action would be to:
Determine your requirements

—Outline every section you would like your form to have, according to our guidelines

Be patient

—Don't download the first template you see. Search for the one that fits your needs 

Stick to reliable websites

—Don't go for amateurish-looking websites because they don't offer adequate templates
If you want to be sure you covered all sections of your legal document, get a lawyer to give you a professional opinion. Note that the consultations are also quite expensive.
DoNotPay Can Help You Create Various Legal Documents
There are numerous online templates for land contracts, and it may be challenging to discern which are valid and updated. The safest course of action is to use DoNotPay! Our app includes a tool to help you create various legal documents. We assist in drafting any of the following contracts:
General Affidavits

Quitclaim Deeds

Promissory Notes

Estoppel Certificates

General Business Contracts

Residential Lease Agreements

Intent To Purchase Real Estate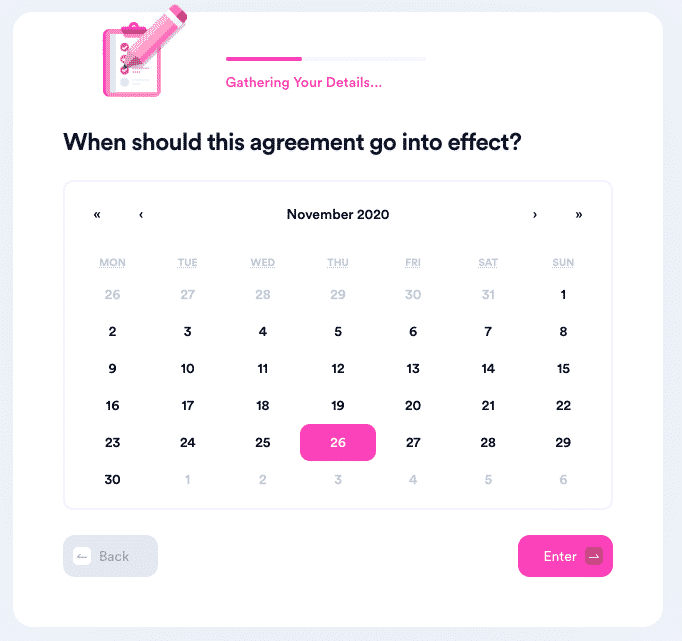 All you need to do is provide the relevant info, and we will create a personalized legal doc for you!
The process goes like this:
Open DoNotPay

in a web browser

Type in

the name of the document in the search bar

Go through a few questions with our chatbot

Wait for DoNotPay to create your tailor-made legal document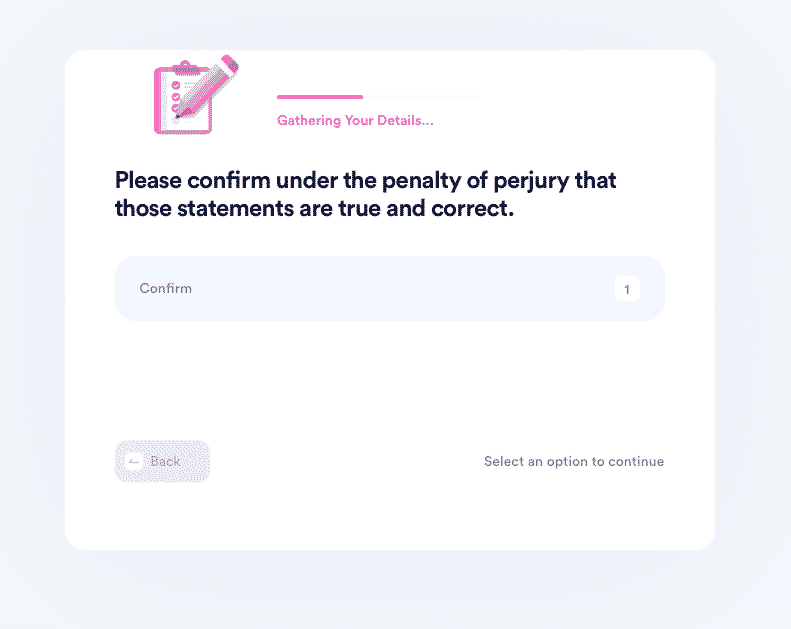 Forget About Bureaucracy With DoNotPay
There's no end to what our app can help you do. From drafting legal documents and asking for bill extensions and reducing property taxes to connecting with an inmate in a federal prison and contesting parking citations, DoNotPay can handle it all and cut through the red tape.
Need to pass a government test? Use our practice tests database to nail it. Looking to file an insurance claim? You've come to the right place. College applications drained your accounts? Request college fee waivers with our assistance.
The DoNotPay app is so versatile that it can easily locate any unclaimed funds under your name or any clinical trials that you're eligible to participate in. We can also schedule DMV appointments and take care of your small claims court documents.
Check Out What Else DoNotPay Has in Store
DoNotPay never stops upping the game. You can explore some of our latest features and see how you can access public records, receive free online fax, submit a warranty claim, or get compensation if you were a victim of a crime.
Alternatively, check out some of our most popular products that aim to reclaim your funds—from getting airline flight compensation and submitting refund and chargeback claims to canceling your unused subscriptions and getting class action cash from email, text, and robocall scammers.