Lake County Property Tax Appeal—Everything You Need To Know
Dealing with property taxes is not a picnic, especially when they are as high as in the state of Illinois. The statewide average property tax rate is 2.16%. Some counties—such as Lake County— have an average effective rate of nearly 3%. 
If you need help paying your property taxes, DoNotPay can show how to lower them by filing a Lake County property tax appeal.
Understanding Property Taxes
Dealing with property taxes is every property owner's obligation and the worst nightmare. Even if you live in one of the states with low property tax rates, paying these taxes can significantly dent your finances.
Every state has its ground rules and methods for regulating property taxes. Even within a state, property tax rates can vary. The reason behind this is that local governments use revenue from property taxes to fund vital local services, including:
Parks and green areas

Recreational facilities

Road constructions

Schools and libraries

Hospitals and health sectors

Law enforcement and fire protection

Other government services
Depending on how much revenue the local government needs, property tax rates will be that much higher or lower.
How Are Lake County Property Taxes Calculated?
Local assessor's offices are in charge of appraisal of properties and collection of taxes, which they carry out every two years. The Lake County Treasurer's office sends out property tax bills in May and then collects and distributes the funds to all Lake County taxing districts.
The assessor will schedule your property tax assessment to determine the value of your property and the land surrounding it. How much will the property be worth depends on several factors:
Size of the property

Land-to-property ratio

Neighboring properties

Location within the county

The general condition of the land and property
Ways To Lower Your Property Taxes in Lake County
Illinois has the second-highest property taxes in the U.S. If the thought of that is stressing you out, you're not alone. Fortunately, there are some strategies you can implement to lower your taxes. Check the following table to get a glimpse of the most popular property tax reduction methods:
Method
Explanation

Avoiding home improvements

Try to avoid any renovations and non-urgent repairs prior to the assessment, as they can increase the value of your property

Monitoring the assessment

Take part in the assessment by calling attention to the property's flaws and defects and make sure the assessor is doing a proper job

Going over your property tax bill

Since tax records are public, you can check them to make sure there are no mistakes or irregularities

Checking the requirements for property tax exemptions

Lake County authorizes several property tax exemptions for eligible citizens, including:

Home improvement exemption

Returning veteran exemption

Filing a property tax appeal

If you are not satisfied with the assessment process or the assessed value of your property, you can file an appeal
How To Appeal Lake County Property Taxes
If you believe your property was evaluated wrongly and you deserve a lower property tax bill, you can file an appeal to the Lake County Board of Review.
Before appealing the assessment, you should contact your local assessor's office to discuss the problems. In some cases, the Board of Review requires you to do so. If you cannot resolve the issues with the assessor, proceed to file an appeal.
There are certain requirements you must meet, like the Lake County property tax appeal deadline, which is 30 days after the assessor's office publicates current property assessments. Once you make sure you are qualified, you can submit an online appeal request.
To learn more about the Lake County property tax appeal requirements and application process, you should consult DoNotPay.
Appeal Lake County Property Taxes With DoNotPay's Help
You don't need to hire a Lake County property tax appeal attorney—DoNotPay can guide you through the whole process.
We created a service that helps our clients deal with annoying property taxes effortlessly. With the custom-made guide, you get access to all the important information and instruction on:
Choosing the best appeal method

Gathering the right documentation

Discussing the problem with the local assessor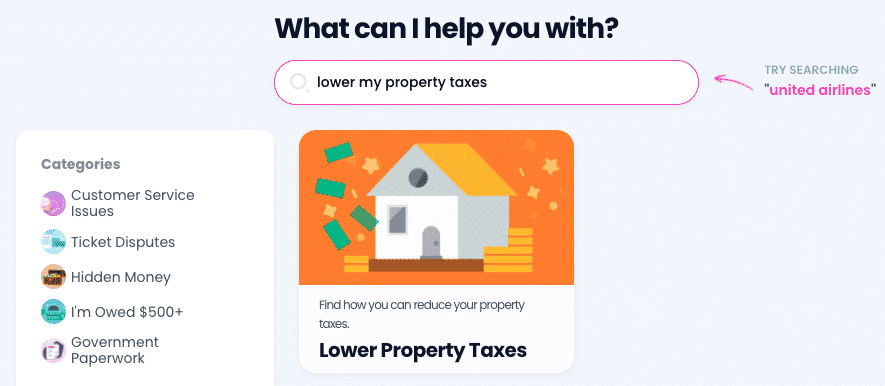 To get a personalized property taxes manual, you should do the following:
Open DoNotPay in a

web browser

Locate the

Property Tax

feature

Answer a couple of questions
You can use the guide we generate to file a property tax appeal with zero hassle.
DoNotPay Can Show You How To Reduce Your Property Tax Bill
Appealing property tax bills is one of many property tax-related issues we can help you with. We use a unique database that allows us to gather every state's and county's laws, rules, and guidelines regarding property taxes.
Use DoNotPay's customized handbook to:
Learn about property tax rules in your state and county

Get important information, like fees, deadlines, and application processes

Check your eligibility for any property tax exemption
Keep Your Money Safe With DoNotPay
Don't let greedy companies threaten your consumer rights by holding back refunds, refusing to cancel your subscriptions, or charging you after your free trial ends.
DoNotPay helps you try out different services without providing your credit card info or phone number—you will never again have to deal with unexpected post free trial charges!
Our app also helps you avoid paying unnecessary parking tickets, delay challenging bills, or waive your college application fees. 
If any company refuses to issue you a refund or an airline won't compensate for canceled flights, we can help you sue them in small claims court.
DoNotPay Is a Time-Saving App
How many customer service reps do you have to deal with only to file an insurance claim or book your DMV appointment?
DoNotPay helps you sort out these tasks and much more in only a few clicks. 
Get your revenge on robocallers, report text scammers, find validated clinical trials, claim your warranties, get in touch with your loved ones in prison, and protect your creative content—all in less than five minutes. 
No more hours-long phone calls, emails, or in-person visits. 
We cover everything from freeing your inbox from spam to providing excellent prep tests for government exams! Save time with your all-in-one app!