All the Lake County, Indiana, Property Tax Assessment Information You Need
Having the average effective property tax rate of 0.81% marks Indiana as one of the states with low property taxes. Residents of one Hoosier State county are not so lucky. Property owners in Lake County pay the highest taxes in Indiana, with an average effective property tax rate of 1.13%.
Fortunately, there are ways to reduce your property taxes, but first, you have to understand how the property tax assessment process works.
In this article, you can find all the necessary Lake County Indiana property tax assessment information you need to lower your property tax bill.
Lake County Property Tax Assessment—From A to Z
The first step to dealing with property taxes is understanding how everything works, and we can help you with that.
How Does Property Tax Assessment Work?
Every state has different rules regarding the property tax assessment process. Depending on the state, the local tax assessors estimate the value of each property every year or less often. They assign the market value and dollar sum for taxation purposes.
Your local tax assessor's office is in charge of scheduling the assessment. The value of your property is based on the factors like:
Location

Age and size of the property

The market value of the properties in the area

Permanent structures on the property

The number of rooms and floors

Inclusion in the

special assessment

district
Lake County Property Tax Assessment Information
Here is everything you need to know about the Lake County property tax assessment process:
The Lake County property tax is ad valorem, which means it's based on the property's value

The property tax assessor's office performs the mass appraisal annually

Through the mass appraisal, the tax assessor evaluate the property based on the size, year of construction, prices of recent sales in the neighborhood, and other general attributes

The assessor determines the gross assessed value of the property and then applies reductions, in the form of reliefs, credits, and exemptions

Once the assessor subtracts the reductions, they get the net assessed value, which is used to

calculate your property tax bill

Property tax exemption application must be filed before April 1 of the assessment year

You must file your application with the tax assessor's office within your jurisdiction
The following table contains important contact information of Lake County tax assessors' offices:
Assessor's Office
Contact Information

Assessor - LaTonya Spearman

Building 'A', 2nd Floor

2293 N. Main Street

Crown Point, IN 46307

219-755-3100

219-755-3022 (fax)

Email: spearls@lakecountyin.org

Calumet Township

Assessor - Jacqueline Collins

501 E. 5th Ave.

Gary, IN 46402

219-885-0555

219-881-2625 (fax)

Email: collijy@lakecountyin.org

Hobart Township

Assessor- Randall Guernsey

1461 S. Park Ave.

Hobart, IN 46342

219-942-7878

219-942-7490 (fax)

Email: guernrx@lakecountyin.org

St. John Township

Assessor- Debbie Walters

9157 Wicker Ave.

St. John, IN 46373

219-365-2777

219-365-1075 (fax) 

Center Township

Assessor - Joe Krnich

213 S. Court St.

Crown Point, IN 46307

219-663-0841

219-663-3656 (fax)

Email: krnicjx@lakecountyin.org

Ross Township

Assessor- Angela Guernsey

7870 Broadway Suite C

Merrillville, IN 46410

219-769-7667

219-769-2643 (fax)

Email: guernax@lakecountyin.org
Lake County Property Tax Exemptions
There are several property tax exemptions you can apply for in Lake County and anywhere else in Indiana, including:
Sign up for DoNotPay to find out whether you qualify for a property tax exemption in Lake County and how to apply.
Reduce Your Lake County Property Tax Assessment Value Fast With DoNotPay
Do you need help paying your property tax bill? Lowering property taxes doesn't have to be challenging—at least it's not with DoNotPay! The problem with dealing with property taxes is that gathering information is complicated, and the government officials don't offer much assistance. 
With DoNotPay, you don't have to worry about that—we can create a custom-made handbook that has everything you need for resolving property tax issues fast.
Follow these steps to acquire your personalized guide:
Choose the

Property Tax

feature

Fill out our questionnaire regarding your property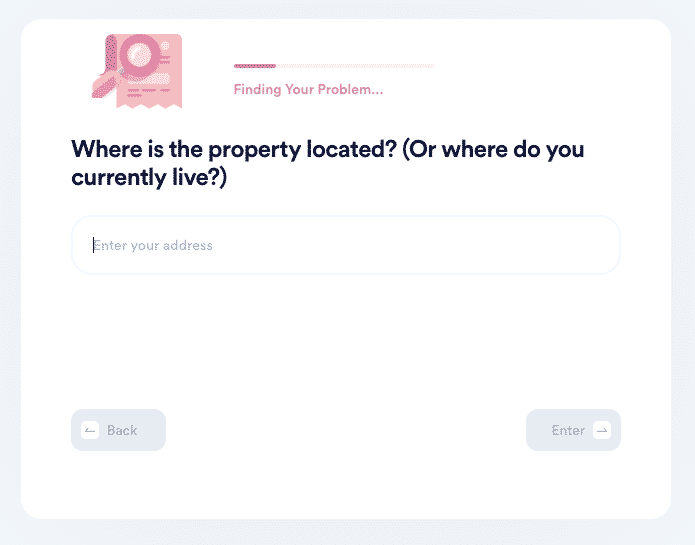 How Does DoNotPay Help With Property Taxes?
Once you complete the questionnaire, we will create a manual where you can find all the necessary information on the most efficient methods to lower your property taxes. With a personalized guide, DoNotPay helps you:
Gather documents and evidence you need for

appealing previous property tax assessments

Determine what property tax exemptions you are eligible for and what the application procedure looks like

Negotiate with your tax assessor
DoNotPay Is a Time-Saving App
How many customer service reps do you have to deal with only to file an insurance claim or book your DMV appointment?
DoNotPay helps you sort out these tasks and much more in only a few clicks.
Get your revenge on robocallers, report text scammers, find validated clinical trials, claim your warranties, get in touch with your loved ones in prison, and protect your creative content—all in less than five minutes. 
No more hours-long phone calls, emails, or in-person visits. 
We cover everything from freeing your inbox from spam to providing excellent prep tests for government exams! Save time with your all-in-one app!
Keep Your Money Safe With DoNotPay
Don't let greedy companies threaten your consumer rights by holding back refunds, refusing to cancel your subscriptions, or charging you after your free trial ends.
DoNotPay helps you try out different services without providing your credit card info or phone number—you will never again have to deal with unexpected post free trial charges!
Our app also helps you avoid paying unnecessary parking tickets, delay challenging bills, or waive your college application fees. 
If any company refuses to issue you a refund or an airline won't compensate for canceled flights, we can help you sue them in small claims court.