Lake County, Indiana, Jury Duty Explained: All You Need To Know
Fulfilling jury duty might seem daunting for most people, but it's a civic obligation of every U.S. citizen. If this is your first time being called as a juror, the experience can be nerve-wracking without the right preparations.
This article will explain all about Lake County, Indiana, jury duty and tell you how to prepare for it by sending a letter to your employer to request jury duty leave with .
What You Should Know About Jury Duty in Lake County, Indiana
The jury system is essential because every citizen has the right to impartial judgment by common peers. As a juror, you are responsible for deciding the right outcome of a case based on the available evidence, witness testimony, and law.
You are eligible to be a juror in Lake County if you meet the following requirements:
Registered U.S. citizen who lives in the State of Indiana
At least 18 years of age
Capable of communicating in English
Not under custody for mental incapacity
Granted a pardon if convicted of a prior felony
The computer will select citizens to be summoned for jury duty at random. This might mean that some people will be summoned more frequently than others.
What To Do if You Receive a Jury Duty Summons in Lake County, Indiana
The court will request you to report for a jury selection. You will be questioned by the attorneys and the judge working on the case to see if you'd be an impartial juror. Should you pass the selection, you'll be informed about the trial date.
How Long Does Jury Duty Last in Lake County, Indiana?
Most trials only last for a day, but they can last longer depending on the case. You are required to be available for a maximum of three months in case of an unpredictable schedule.
How Much Will You Be Compensated for Jury Duty in Lake County, Indiana?
Payments for jury duty vary from one state to another. In Indiana, you will receive:
You will receive the payment in the mail or your bank account within three weeks of completing jury service.
If you are reporting to a federal court, the policy and payment will be different.
What Are Some Valid Reasons To Skip Jury Duty in Lake County, Indiana?
You can respond to your summons with a jury excuse letter if you qualify for an exemption based on any of the following excuses:
| Situation | Excused Without Proof? (Yes/No) |
| --- | --- |
| Military service | Yes (as long as active for duty) |
| Old age | Yes (for citizens over the age of 75) |
| Elected official | No |
| Student | No |
| Breastfeeding mother | No |
| Police | No |
| Medical worker | No |
| Disabled person | No |
| Firefighter | No |
If you can't attend for other reasons not specified in the table (sickness, vacation, extreme inconvenience, emergency, and similar), you may request postponement of duty once by contacting the jury administrator:
Via phone
Via email
In person
In writing
State your reason clearly, attach supporting evidence, and you may reschedule your service within one year of the original date.
Keep in mind that you must not skip jury duty without notice, or you will be charged $100 and/or imprisoned for three days.
No More Hassle—Draft and Send a Request for Jury Duty Leave With DoNotPay!
It's illegal for companies to penalize jurors for missing work. Indiana obligates employers to grant employees serving as jurors unpaid leave, which you can get by submitting a letter with the court summons.
Not sure how to create a letter requesting time off for jury duty? DoNotPay can help you if you complete these steps:
Find the Request Jury Duty Leave product
Inform us about your employer and your juror service schedule
Upload your summons notice and submit the form
You can print the letter and send it on your own or let us email the notice automatically to your employer.
Wondering how jury duty in Marion County works? Rely on DoNotPay to find out!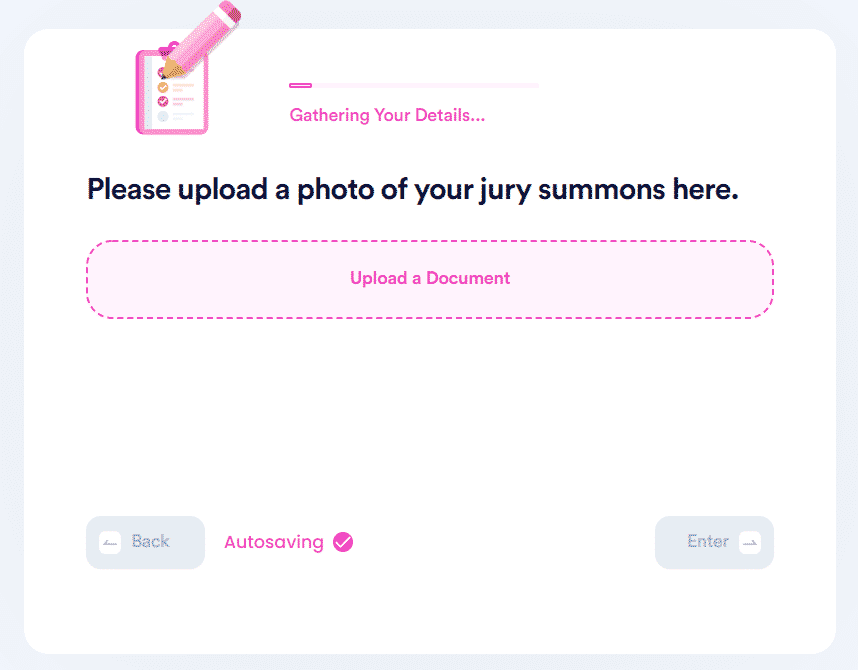 Check Out DoNotPay's Exhaustive Product Range
You can use our app to deal with any issue you could think of—from contesting parking tickets, applying for clinical trials, drafting an affidavit to homeschool, and sending defamation demand letters to contacting government representatives, applying for scholarships, appealing banned accounts, and getting in touch with embassies and consulates.
With DoNotPay by your side, you will never have to worry about how you'll cover your utility bills or property taxes again. Sign up now to discover all the ways in which we can assist you!
DoNotPay Puts Your Fears to Rest
Have you been dealing with workplace discrimination lately but don't know how to submit a complaint to your HR? Do you have a stalker or creepy neighbor who's a registered sex offender and who keeps you up at night? Do you want to put an end to robocalls and email and text spammers once and for all? DoNotPay can help you out!
If you're a victim of crime, we can help you get compensation as well. No matter the issue you're facing, you can count on us for swift and reliable assistance.