How to Contact the Korean Consulate in Dallas 
The Korean Consulate in Dallas supports a hub for transportation, providing the world's leading communication, information and aviation corporations headquarters in the area. 
Dallas has one of the fastest-growing populations in the U.S., having a high rate of economic growth — prospering and evolving into a leading metropolitan.
With more than 75,000 Koreans residing in the Dallas Fort Worth area, many Korean corporations contribute immensely to the exchange with the Republic of Korea.
Jurisdiction Covered by the Korean Consulate in Dallas
As Texas is an increasingly large and growing state, the Korean Consulate in Dallas serves Dallas and Fort Worth, specifically.
If you do not live in Dallas or Fort Worth, other consulates may serve your needs. 
Services the Korean Consulate in Dallas Provides
The Korean Consulate in Chicago offers a comprehensive and diverse variety of services, including:
Visa Services
Short Term Accommodation Visas
Long Term Accommodation Visas
F-4 Visas
H-1 Visas
Military Services
Visa Services Offered at the Korean Consulate in Chicago
Short Term Visa Services
Ordinary Tourist Visa (C-3-9)
This visa is valid for a total of 90 days, with single entry only
To obtain this visa, you must have a passport, flight itinerary, hotel reservations, and a bank statement
Short Term General (C-3-1)
You can apply for this visa if you intend to participate in any events held in Korea, like sports tournaments or academic conferences
To obtain this visa, you must have a passport, a document explaining why you will be entering, a flight itinerary, and specific and detailed hotel reservations
Business Visitor 
If you require a short stay for market research, business, or consulting
To obtain this visa, you will need a passport, a letter from the Korean company that has invited you to work, a certificate of business registration from your Korean company, and a legally notarized dispatch letter of proof of assignment as well as a flight itinerary and hotel/residence proof of where you will be residing
Short Term Employee
You will be performing, advertising, walking in a fashion show, giving a speech, or conducting small research for a maximum of 90 days in total
To obtain this visa, you will need a passport, copy of a service contract, dispatch order from your business or place of work, an invitation letter from your host Korean company, and a verified certificate of business registration as well as proof of research, proof of recommendation from your home branch of the company you intend to work for and other applicable identifying features
Long Term Visa Services
Student Visa (D-2)
You have to be attending a certified Korean school
You will need a passport, a copy of a certificate of admission from your Korean university, as well as a certificate of business registration copy from your Korean university
English Instructor (E-2)
You must be either a current teacher at an English academy with a Visa issuance number OR you must be an applicant with a notice of appointment or invitation letter
You will need a passport, notice of appointment original letter from your place of employment, a copy of your employment contract, and a scholarship letter if applicable
Foreign Government Official (A-2)
You can apply if you are currently working as a civil or public servant for any foreign government or mission in a non-diplomatic manner
You will need a passport, a formal legal document demonstrating your employment status and assignment, or an official letter that has been written by the head of your organization that is requesting or a liaison cooperation
International Agreement (A-3)
You can apply for this if you or any immediate family members are on an A-3 visa
To obtain this, you will require a document demonstrating employment, overseas assignment, a letter from head office requesting cooperation and, a copy of a marriage certificate or a copy of the birth certificate for minors
F-4 Visa
Eligibility
You will receive a multiple entry visa that is valid for 5 years and the sojourn period for 2 years
You must apply for a resident card at the immigration office in Korea before 90 days of your first stay is over
You are prohibited from getting a job in a field of simple labor service (like cashier, simple jobs like farming or technical jobs) or engaging in activities that are against public customs and virtues
Ineligibility
If you are a Korean male between 18-40 who has dual citizenship but formally denounced Korean nationality without performing a military stint or engaging in any military service, you will not be able to get a visa once you've turned 41
If you are an applicant who violated Korean Immigration Law in the past 3 years, you are ineligible for entry
If you were sentenced to jail in the past 5 years, in any nation
H-1 Visas
H-1 Visas are the product of an international treaty between Korea and the United States, intended to provide the ability to work, live and experience Korean culture for US citizens who have no other attachment to the nation itself. It is an extremely limited process, as there are only 5000 visas issued per country per year. To apply for this, you must:
Have been between 18-30 years old at the time of visa application
Enter Korea within 12 months of visa issuance, if it occurs
Pay the $45 visa application fee
Stay up to 18 months
Abide by specific work conditions that are stipulated by Korea itself
Earn and bring enough money to support yourself financially
Have been independent, and currently have no dependents
How to Contact the Korean Consulate in Dallas?
Address
The Consulate General of Korea in Dallas

14001 Dallas Parkway Suite

450 Dallas

TX 75240

Telephone
All inquiries, appointments, and questions:

972-701-0180

Fax
To send documents and other legalities:

972-701-0182

Office Hours
Monday to Friday

9:00 a.m. — 12:00 p.m. and 1:00 p.m. — 4:30 p.m.

Email
koreadallas@mofa.go.kr
How to Get to the Korean Embassy in Dallas?
How to get to the Korean Consulate in Dallas from Dallas Bus Station
Walk 6 minutes from Dallas Bus Station
Enter West Transfer Center
Board the Blue 183 Bus - Addison TC Via Forest
Ride the bus for 30 minutes, 20 stops
Disembark at Dallas North Tollway at Spring Valley
Walk 11 minutes
Enter the Consular Office of the Republic of Korea
Contact The Korean Consulate in Dallas with DoNotPay in Seconds
Due to the COVID-19 pandemic backlog, wait and processing times are extremely long in Dallas, and it might not be convenient to go to the consulate itself, especially if you are coming from out of town.
As a solution to this, discover DoNotPay, a specialized service that sends automated emails to embassies with ease. To get in contact with any Consulate/Embassy, all you have to do is:
1. Type in "Contact Embassy" on DoNotPay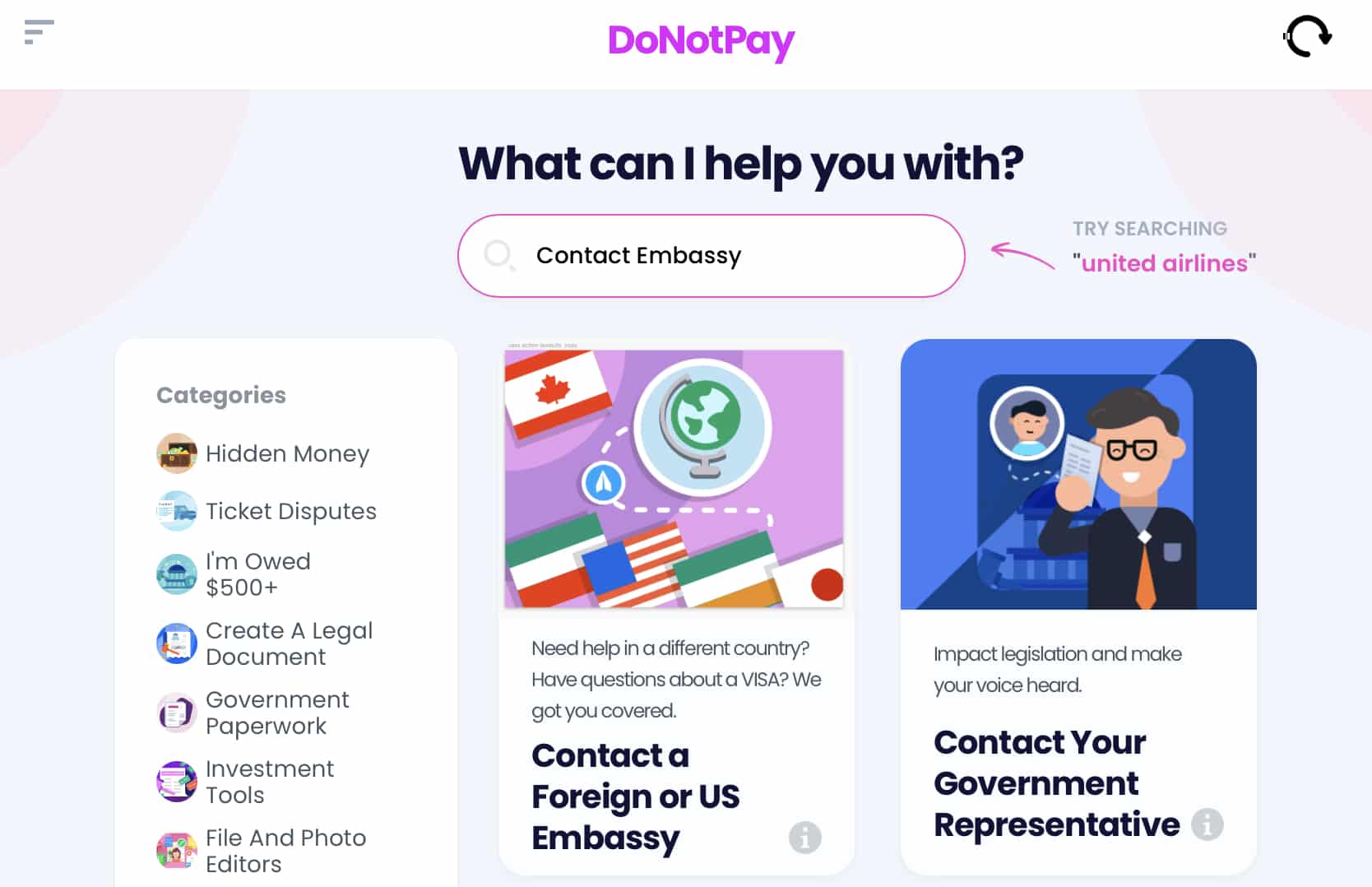 2. Choose to contact a foreign embassy or consulate in the U.S.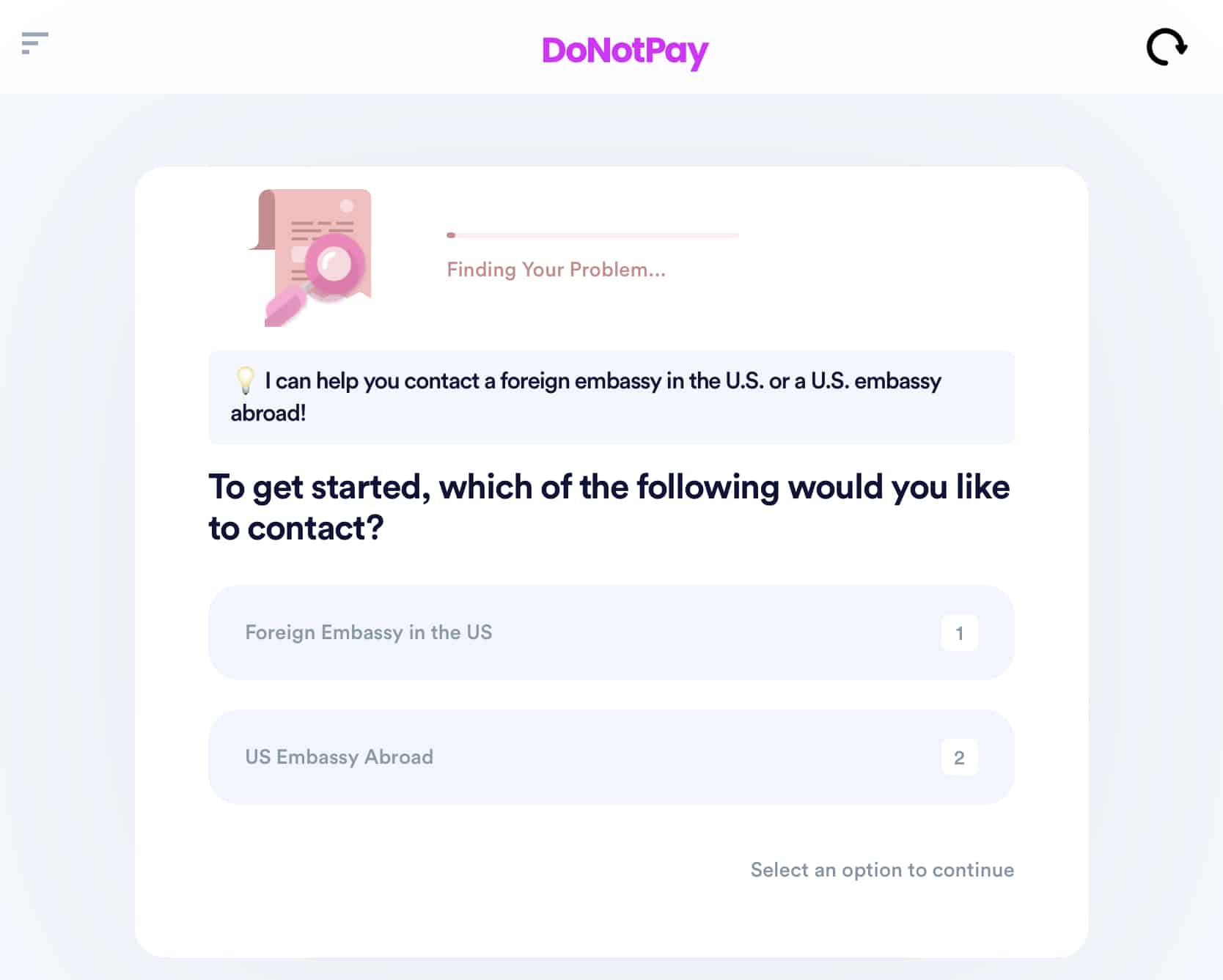 3. Explain your issue and any questions you may have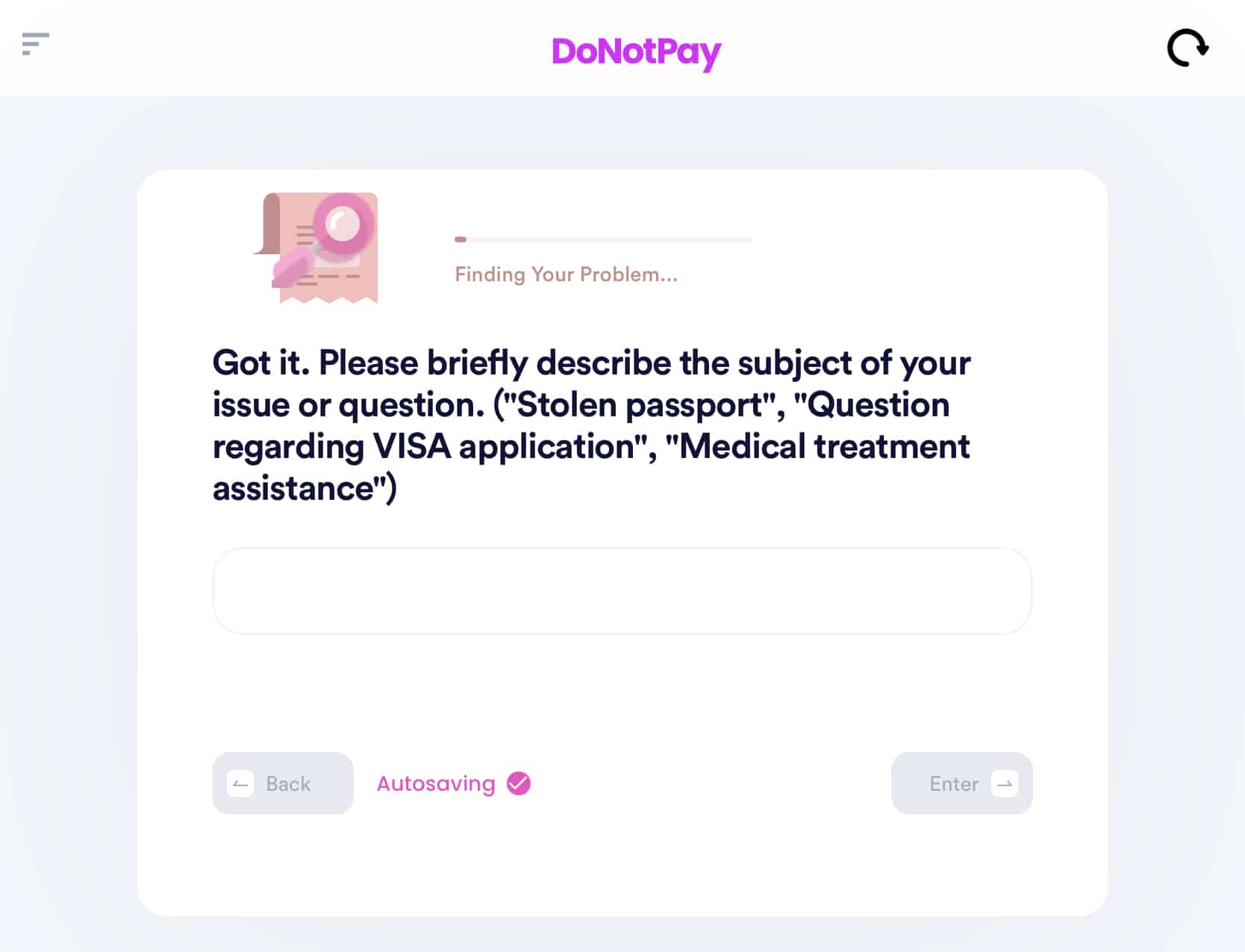 4. Tell DoNotPay which embassy or consulate you want to contact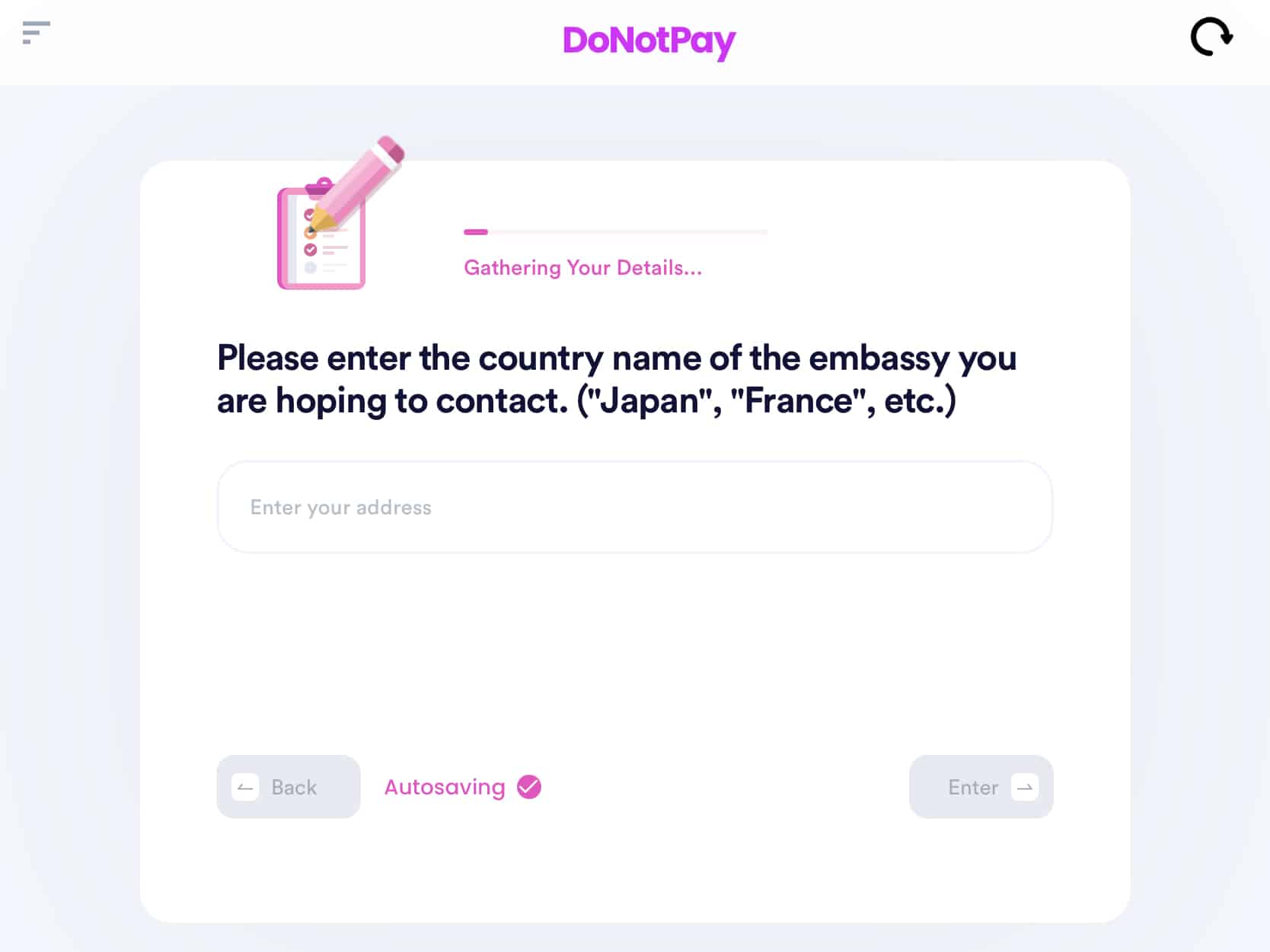 That's it, you're done! You can expect a direct response from the Korean Consulate in Chicago to your issue by email. 
Who Else Can DoNotPay Help You Contact?