How to Sign Up For a Kobo Free Trial Without a Credit Card

Reading e-books can be a great way to pass the time. They don't take up the amount of space a physical bookshelf would take up, and you can purchase books from the comfort of your own home. Kobo is a fantastic app for downloading e-books and is available on both Android and iOS.
You may want to try out the service without committing to purchasing books or a subscription. When people sign up for subscriptions with free trials, they often think that they'll cancel the subscription before paying the cost. That way, they can enjoy the free trial risk-free. However, it's easy to forget all about it until the first charge comes in. With DoNotPay, you can experience a  or any other free trial and not have to worry about paying for a subscription accidentally again. 
Does Kobo Offer a Free Trial?
When you sign up for Kobo, you are given a 30-day credit to purchase your first audiobook for free. After 30 days, there is a monthly subscription fee of $9.99 per month to continue to gain credits for audiobooks. You can also purchase books with money, and even if you cancel your subscription, you get to keep whatever books you acquired. Getting  is made easier with DoNotPay.
In this guide, we'll talk about:
Kobo free trial
Ways to avoid getting charged on your own
DoNotPay's virtual credit card
How Can You Get a Kobo Free Trial?
You can access Kobo through Rakuten, an app designed to help you save money while shopping online. The process for getting a free trial is simple.
Go to Kobo.com and select Audiobooks near the top of the home screen.
Select Learn More About Audiobooks.
Click on Start Free Trial.
Follow the instructions to enter your personal details and payment information.
Download the app and enjoy your free audiobook credit.
Does the Kobo Free Trial Automatically Renew Into a Paid Subscription?
You can purchase your first audiobook and enjoy it for free for the first 30 days of your subscription. After that, you are automatically enrolled into Kobo's current subscription plan. If you don't want to be billed each month, you will have to cancel your subscription before the end of the 30-day period. And if you want to return an eBook or audiobook, you have 30 days after purchase to receive a full refund.
Use the DoNotPay Virtual Credit Card to Avoid Unwanted Subscription Fees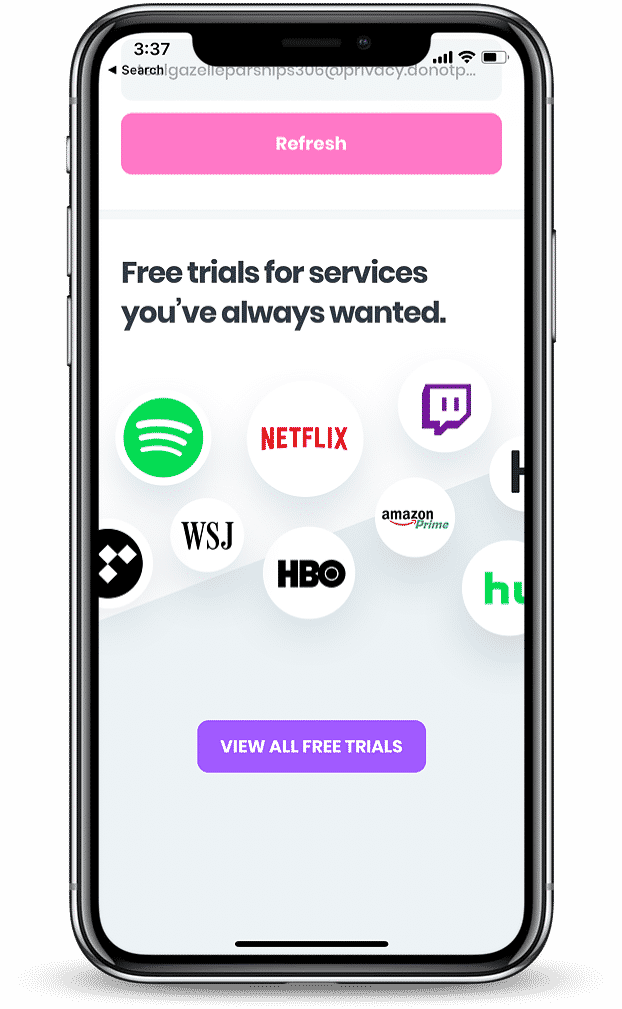 It's easy to get so caught up in a good audiobook that you forget all about the free trial period. Then, after 30 days, you suddenly find yourself being charged almost $10 when you meant to cancel the subscription. Many people experience this hassle, but they don't have to. DoNotPay has the perfect solution with our virtual credit card.
When you give your credit card information to a company as part of signing up for a free trial, you're implicitly permitting them to charge you for their services after a certain amount of time.  A virtual credit card randomly generates credit card numbers that you can use to sign up for free trials instead. While these numbers are linked to your actual credit card, they don't contain your financial information, meaning that companies can't charge your account at the end of the trial period.
The DoNotPay virtual credit card allows you to sign up for a Kobo free trial risk-free. You don't have to worry about setting up reminders to cancel your subscription before the end of the trial period because we'll cancel it for you. And as an added benefit, you can set up a temporary email address through our app that you can input when signing up for free trials. Avoid spam messages and unwanted charges with the DoNotPay virtual credit card.
How Can I Get Free Trial and Avoid Getting Charged on My Own? 
It is easier to forget to cancel your free trial and end up paying for a subscription service you don't enjoy. Here are a few ways you can cancel a free trial and avoid getting charged:
Cancel payment once you sign up for the free trial.
If you cancel a free trial after signing up, you will still use it for the entire trial period without getting charged. It is one of the best and easiest ways to ensure you don't get billed.

However, remember that not all free trials operate in the same manner. Some services will stop your trial immediately you unsubscribe, e.g., Hulu and Apple Music.

Set a reminder a few days before your trial period ends.
Don't wait until your free trial ends to cancel your subscription. That's because you may take forever to find instructions on how to unsubscribe, and this could push you past your deadline.

Another reason why you shouldn't wait till the last minute is that most services will still charge you if you cancel less than 24 hrs before your free trial period ends.

Go virtual.
If you signed up with a free virtual credit card and forgot to cancel your subscription before your trial period ended, you can never get charged.

DoNotPay's Virtual Credit Card works by generating temporary credit cards that expire when you please. Some advantages of virtual credit cards include:

Reducing costs
Increasing security
Managing cash flow better
More convenient than physical credit cards
Protecting you from fraudulent activities
Helping you manage subscriptions

Speak with Customer Support.
Do not disregard how powerful personal appeal can be. If you thought you canceled your subscription before your free trial ended or your request was unsuccessful, you can contact Customer Support to help you out. Just ensure you remain humble and courteous in your request.
Why Use DoNotPay to Avoid Unwanted Subscription Fees?
The cost of that gym membership you don't use, the eBooks you don't read, and the streaming service you don't watch can all add up over time. $10 a month may not seem like much, but it's too much to pay for something you aren't using and don't want. In addition, some companies will make canceling a subscription a frustrating experience with unhelpful customer service, hoops to jump through, and hidden fees or charges.
At DoNotPay, we don't believe you should be stuck with unwanted subscription fees. That's why the services that we offer are:
Fast - You don't have to spend all day searching for a solution to your problem.
Easy - Skip the hassle and avoid getting the run-around from customer service agents who are more interested in charging you than helping you.
Successful - We have a team of experienced professionals who know how to get the results you need.
What Else Can DoNotPay Do for You?

You can use DoNotPay to help you sign up for free trials with no risk of being charged when they end. But that's not all we do. We can help you solve several legal and financial problems, such as:
Want to enjoy the benefits of free trials without worrying about unwanted charges? Contact DoNotPay.
We aim to help you when you don't know where to turn for an easy solution. So if you have an issue and don't know how to resolve it,  with DoNotPay, and let us put your mind at ease.