DoNotPay Is Your Go-To Resource for Your Kitsap County Divorce
Divorce is never easy, but it can at least be kept fast, cheap, and relatively pain-free if you do your homework.
If you are getting divorced in Kitsap County, you need to understand all the state divorce laws to make sure that you don't hit any speed bumps. If you are clever, you should be able to avoid lengthy court proceedings and possibly even dispense with lawyers entirely.
DoNotPay is your guide for your Kitsap County divorce—we have all the info, tips, and watch-outs you need to get your final decree as easily as possible!
How Do Kitsap County Divorces Work?
If you or your spouse are currently residents of Washington State, you are eligible to file for divorce in Kitsap County.
Washington is a no-fault state. This means that the only grounds you need for divorce are irreconcilable differences between you and your spouse.
If you and your spouse are willing to cooperate, you may be able to achieve an uncontested divorce. This can have a significant impact on keeping your costs down and reducing the time your divorce takes.
A contested divorce in Washington can take over a year to finalize, but an uncontested case can be done and dusted soon after the mandatory 90-day waiting period has elapsed.
What Is the Procedure for Divorce in Kitsap County?
There are two ways you can file for divorce in Kitsap County, namely:
Filing jointly is allowed if the two of you fulfill the following criteria:
If you meet all these stipulations, your joint filing will be accepted, and your divorce should be a formality.
If you fall outside any of these criteria, one of you will have to file as a sole petitioner, which involves the following steps:
Filing divorce papers
Drawing up a settlement agreement
Filing Divorce Papers
You need to file the following papers with the clerk of the Kitsap County Court:
| Kitsap County Divorce Forms | Explanation |
| --- | --- |
| Petition for Divorce | This formally requests the court to grant your divorce |
| Confidential Information Form (CIF) | The CIF provides all the details about you, your spouse, and any children or dependents in the marriage |
| Summons | The summons notifies your partner that you have filed for divorce |
| Acceptance of Service | When you have the divorce papers served on your spouse, this form confirms they have been received |
| Certificate of Dissolution | The certificate of dissolution will be stamped and signed by the judge once your divorce is finalized |
| Agreement to Joint Petition | In the case of a joint filing, this form confirms that your spouse agrees with the terms of your divorce |
| Financial declarations | You and your spouse must file complete listings of all your finances |
| Decree of Dissolution | The decree of dissolution summarizes the terms of your divorce and confirms that it has been granted and entered into the public records |
These Kitsap County divorce forms are available to purchase from the county court or can be downloaded from the Washington State court forms website.
The filing fee of $314 is payable when you file your papers.
Serving Your Spouse
Once you have filled out and filed the divorce forms, you must arrange to have a copy delivered to your spouse.
You will need to file the signed acceptance of service with the court before your divorce can proceed.
Drawing Up a Settlement Agreement
The final piece of the uncontested divorce jigsaw is your settlement agreement.
This is a legal document that regulates how your marriage will be split up after your divorce and covers every aspect of your family life and finances, including:
If you and your spouse can agree on a friendly divorce and reach an out-of-court settlement before your first hearing, your uncontested divorce will normally be granted without further ado.
How Can You Draw Up a Settlement Agreement in Kitsap County?
Reaching a settlement and drafting the agreement depend on your willingness to work together to make your divorce happen quickly.
You can call on the following resources to help you put your settlement agreement together:
Settlement Agreement Resources
Explanation
Lawyers
Attorneys can represent you and your spouse to negotiate and draft a settlement agreement, but you should be aware that this can get expensive. Washington lawyers charge by the hour and usually demand an upfront retainer. Your total bill could easily come to $5,000 per spouse.

A cheaper alternative is to use a mediation service to help you negotiate face to face with your spouse. A trained mediator may be able to facilitate a settlement at a fraction of the cost of attorneys

Online divorce service
If you and your spouse agree on the terms of your settlement, you can get an agreement template from an online provider. You should exercise caution, though, as many of these are too generic to cover your exact needs—you risk your agreement being rejected by the judge, in which case your divorce will end up in court
DoNotPay can solve your problems—we can create a settlement agreement for you that fits your exact needs and doesn't cost a cent in lawyers' fees!
DoNotPay to the Rescue in Kitsap County!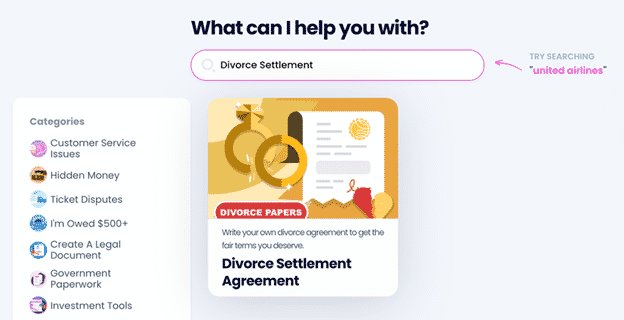 Your Kitsap County divorce should go as smoothly as possible—DoNotPay is here to help make that happen!
Our Divorce Settlement Agreement product is designed to avoid lawyers' fees while giving you a watertight and comprehensive document exactly tailored to your specifications.
Here's what you need to do to set your settlement agreement up:
Select our Divorce Settlement Agreement feature
Give us the details you have agreed on with your spouse
Once everything is filled in, we will generate your document in an instant. All you need to do is sign it together with your spouse and have it notarized.
Even if you don't know where to find a notary in Washington, there's no cause for panic—our online notarization service can get your documents verified online!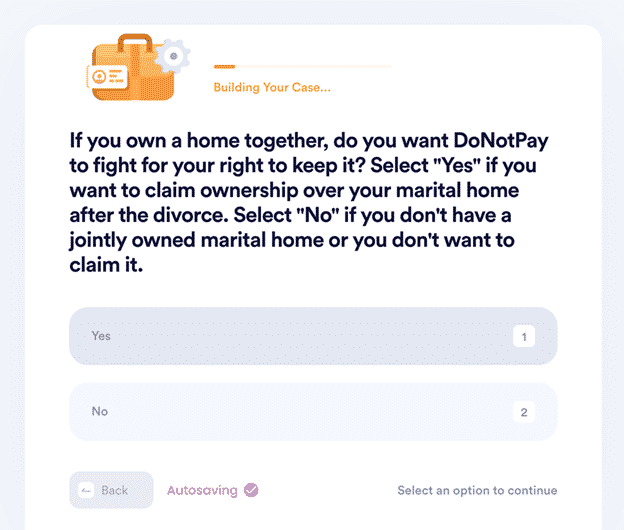 More Washington Divorce Help From DoNotPay
If you need info on other counties' divorce processes, check out these guides:
Use DoNotPay To Complete a Variety of Tasks at Any Time
Why waste time and money completing mundane tasks on your own when you can let DoNotPay assist you? Take a look at the table below to find out what our AI-powered app can do for you:
| DoNotPay Can | Services |
| --- | --- |
| Protect your safety and privacy | |
| Draft legal documents | |
| Help you get your money back | |
DoNotPay Has More in Store for You!
Since communication is key, you'll appreciate our feature that helps you get in touch with customer service reps quickly! We'll also show you how to send faxes online and have your documents notarized by an online notary with ease!
Going on vacation? Use DoNotPay to take a valid passport photo at home or get a tourist visa!