Explaining the King County Property Tax Exemption
Washington doesn't belong on the list of states with low property taxes. Property taxes in King County, the biggest county in the state, exceed $4,600 per year. It's a huge sum for an average citizen.
Since high tax bills cause serious financial difficulties, most states propose special property tax exemptions for particular social groups. Such programs help residents lower their taxes or "freeze" their equalized assessed property value.
If you would like to know whether you qualify for any King County property tax exemption, we have a quick solution. Follow our tips to find out how to rock your tax relief application or appeal an inaccurate property tax assessment. 
Why Do People in King County Pay Property Taxes?
If you own any taxable property—be it a house, land, or building—you must set aside a certain sum of money for the county government. By charging this amount, King County officials collect money for the necessary maintenance of essential public services, including:
Road constructions

Law enforcement

Parks and green areas

Protective services

Recreational objects

Sanitation and garbage pick-up

Hospitals and health care system

Libraries and educational system

General government services
Is
King County Property Tax Reduction
Possible?
Many U.S. states—including Washington—offer ways to help citizens pay less in taxes or check their bills for errors. 
If you believe your taxes are unreasonably high or you want to find a way to reduce them even if all figures match, here are some strategies you can use:
Revise your tax records via eReal Property

—The

King County Department of Assessments

offers an online tool search to help you scan your tax information. Make sure your records don't contain any errors. If they do, report them to the county authorities

Join the assessor while they are evaluating your property

—If you are present while the official is assessing your house or land, the chances are you can detect mistakes and misevaluations 

Appeal a suspicious property tax assessment

—Errors may occur regardless of the assessor's professional skills. If you notice that your property value wasn't adequately estimated, you should submit an appeal letter to the

King County Board of Appeals and Equalization

Find property tax exemptions you may be entitled to

—The Department of Assessment has a list of all available property tax exemptions in King County. Check out the information on their website or use DoNotPay's guide to get personalized results
What Property Tax Exemptions Does King County Offer?
In the table below, you can see some of the property tax relief programs King County provides:
Property Exemption Type
Requirements

Applicants must be 61 or older

Annual household income must be under $58,423

The property in question must be a primary residence of the candidates for at least six months

Applicants must be 61 or older

Annual household income shouldn't exceed $58,423 

Candidates must be retired due to disability

Applicants can be veterans who are at least 61

Candidates can also be surviving spouses of veterans who were entitled to this exemption before they died. They must be at least 57

Their annual household income shouldn't go over $58,423

Candidates' disability must be 100% service-related

Senior Citizens/Disabled Deferral

Applicants must be 60+ or retired due to physical disability

The property in question must be their primary residence for at least nine months

Annual household disposable income shouldn't exceed $67,411

Limited Income Deferral

Applicants must own their properties for at least five years

The property in question must be their primary residence for at least nine months

Annual household disposable income shouldn't exceed $57,000

Candidates must pay the first half of their annual tax so they can use this exemption for the October bill

Applicants must apply for the exemption by September of the current year

Homeowner Improvement Exemption

Applicants must be owners of detached single-family dwellings

Candidates need to apply for the exemption before the construction works are over

Flood and Storm Damaged Property Exemption
Not Sure if You Qualify for Tax Relief? DoNotPay Will Tell You
If finding and applying for the appropriate property tax exemptions seems challenging to you, DoNotPay comes to the rescue!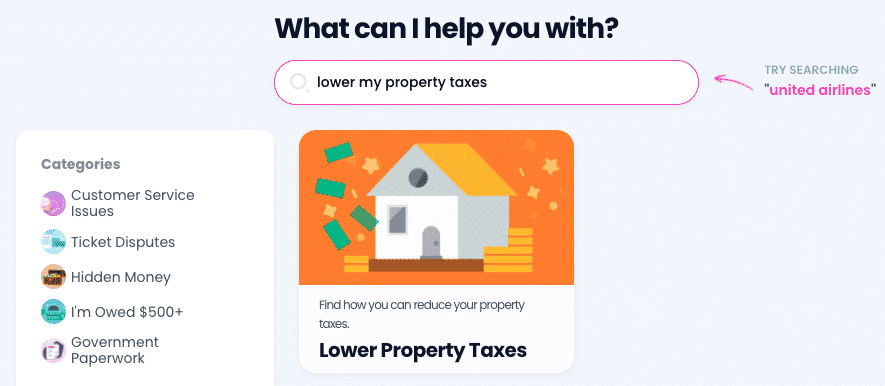 By filling out a short questionnaire on our platform, you get a customized guide to property tax exemptions in your state. Our system detects all tax relief options you can apply for based on your age, income, or property details!
Here are the steps you should follow:
Access DoNotPay from any

web browser

Search for our

Property Tax

service

Enter the necessary information
By accessing our personalized manual, you will get the best advice for obtaining the necessary exemption application forms and documents. We'll explain where to send the request and how long it will take to receive a response!
Do you want to find out how property exemptions work in other U.S. states? Use our useful guides to get familiar with tax relief options in: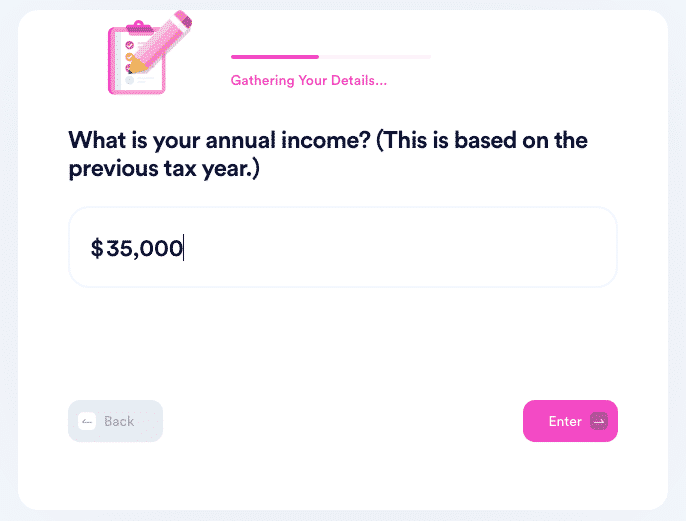 Rock Your Property Tax Appeal Letter With DoNotPay
Application instructions aren't the only reason to use DoNotPay's guide. Not only do we help you get the property exemptions you deserve, but we also provide the most relevant info on property tax appeals. 
Disclose your property info and find out how to write a great appeal letter and report suspicious tax assessments.
Discovering DoNotPay Will Make Your Day
If you feel overwhelmed by tons of paperwork flooding every area of your life, you can finally breathe out and let go of that stress. DoNotPay is the world's first robot lawyer that handles your bureaucratic chores for you. 
Some of the benefits that come with our service include:
Why Get a Lawyer When You Have DoNotPay?
Our agenda has one major goal—provide easy legal access to anyone who needs it. Every new feature we come up with relies on AI technology that simplifies bureaucratic procedures and saves you time and money. 
If you're wondering how to navigate tasks like contacting imprisoned friends and family members or reducing your property taxes, DoNotPay has the answers. Our service cuts through the red tape even if you need to deal with stalking and harassment, claim forgotten assets the proper way, or secure compensation for crime victims.