Understanding
King County Property Tax Assessments
However high or low your state's property taxes are, expecting a tax bill is always quite dreadful. Residents of King County, Washington, pay an average of $4,611 in property taxes per year. What if we told you that you could pay less?
This article provides the most useful tips on lowering property taxes and insight into King County property tax assessments. Continue reading to learn how DoNotPay can help you apply for King County property tax exemptions or file an appeal.
Property Tax Assessments in a Nutshell
A property tax assessment is a professional estimation of a property's value. Each state and county have a tax assessor's office that is assigned to schedule and perform these evaluations. Appraisers carry out property tax assessments once a year or less regularly. Most often, they are part of the regular mass assessment, but they can also be conducted after recent sales or because of outdated records.
The point of assessments is to establish the property's fair market value and assessed value for taxation purposes.
While evaluating the property, tax assessors take into account factors like age, size, location, permanent structures, and the overall condition of the property.
King County Property Tax Assessment
Process Explained
The assessor's office in King County performs property tax assessments of commercial and residential properties once a year. Assessors estimate properties at their full market value—a price that a buyer, willing but not obliged to buy, would pay to a seller, willing but not obliged to sell. Fair market value is defined after the analysis of recent sales of similar properties in the neighborhood.
King County tax assessors:
Establish the land value

—The land is estimated as if it's vacant, with prices compared to other bare lands

Determine the total market value

—After studying recent sales and market trends, the assessors use sales analysis to establish the total market value of the property based on its size, year built, improvements, construction quality, and added permanent structures
How To Lower Your Property Tax Bill
There are several strategies of lowering property taxes that you might want to explore:
Examine your tax bill

—The

King County Department of Assessments

has an online search tool that anyone can use to inspect their tax bills. You should use

eReal Property

to check your records for errors and incorrect information

Avoid home improvements

—To avoid paying the earth when the tax bill comes, you should refrain from renovations. Repairing, painting, or installing items like solar panels increase your property's value

Be present during the assessment

—There is always a chance of your assigned assessor making a mistake. If you stay with them during the process, they will be more focused, and you will be able to detect any potential mistake

Allow interior inspection

—Interior inspections are not mandatory. You can choose to decline them, but you can benefit from letting the assessor inspect the inside of your home by pointing out all the relevant problems 

Find property tax exemptions you are eligible for

—Washington, like all the other states, offers several property tax exemptions to help eligible residents pay their taxes

File a property tax appeal

—Whether you discovered irregularities or you're unsatisfied with the assessment for other reasons, you should file an appeal. Filing a property tax appeal can be a challenging process, but it doesn't have to be.

Fire up DoNotPay

and learn how to appeal assessments within minutes
DoNotPay Can Help Reduce Your
Seattle Property Tax Assessment
Value
Many homeowners need help paying property taxes and dealing with them in general, which is why DoNotPay created the Property Tax product. Our practical service uses a short questionnaire to collect information regarding your property and manufacture a personalized guide specifically for you.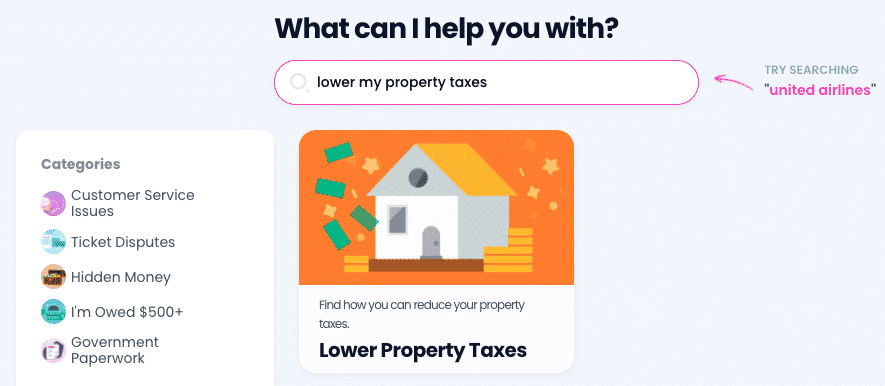 The process of getting a custom-made manual is simple:
Locate the

Property Tax

feature

Answer our chatbot's questions about the property you own
That is it! We will immediately create a handbook on dealing with your property taxes. Here's what our personalized handbooks contain:
Who Is Eligible for Property Tax Exemptions in King County?
Applying for property tax exemptions—provided you are eligible for any—is the best option for lowering a property tax bill. By using DoNotPay's personalized guide, you can easily determine whether you qualify for an exemption or not. 
The following table provides a brief overview of King County property tax exemptions:
Property Tax Exemption

Who Can Apply?

Veterans exemption

Veterans who are 61 years old or older

Veterans with a 100% service-related disability

Surviving spouses of veterans who were qualified for this exemption

Senior citizens exemption

King County seniors who:

Are 61 years old or older

Have an annual household income below $58,423

Occupy the property as their primary residence

Disabled persons exemption

Residents who:

Are 61 years old or older

Are retired because of the disability

Have an annual household income below $58,423
Your Online Safety Is Our Priority
The benefits of the internet are numerous, but so are the opportunities for scams of all kinds. DoNotPay can help you fight scammers left and right with easy-to-use features, highly customizable to match your needs. 
Our app can provide invaluable resources for fighting:
If you're an avid online shopper, we have your back. In case something goes wrong, we will help you contact customer service without holding, request a refund, or even sue the company in small claims court.
Diversity Is Our Middle Name
DoNotPay doesn't stop at online safety. Do you need to set up an appointment at the local DMV, but keep procrastinating because you know how awful the lines are? Are you a prospective college student trying to save on application fees? Have you lost track of all unnecessary subscriptions and memberships that keep draining your bank account?
If the answer is yes, DoNotPay is the right platform for you. Whether you're preparing for government-issued tests or looking for ways to lower your bills, our app will be of assistance.