File Your King County Property Tax Appeal in a Flash!
Property taxes in King County are among the highest in the state. If the property tax amount turns out to be too much for you to pay, there are ways to reduce it. Filing an appeal if you think that your tax assessment was incorrect is also a valid option. Luckily, DoNotPay provides you with easy ways to both reduce your property taxes and file a King County property tax appeal!
Understanding Property Taxes
Property taxes are essentially the amount of money that home or property owners pay based on the value of their properties. These taxes are enforced by the government, and paying them is mandatory. 
The laws and regulations differ depending on the state. Still, the property tax rate is usually calculated by an assessor who multiplies the property tax rate by the current market value of the state in question.
Common Ways To Lower Property Taxes
There is more than one way to lower your property taxes. If you are looking for the most convenient ones to do it, give these methods a try:
| | |
| --- | --- |
| Method | How It Works |
| Don't do any home improvement project | Improving your home or property will result in your tax bill going higher. Make sure you leave all home improvement projects for after the assessment is done |
| Check your tax bill for any errors | Making certain to check your property tax bill for inaccuracies is important—they are easily made and happen often. If you find any errors, you may be able to appeal the assessment |
| Apply for each property tax exemption you are eligible for | Finding out what exemptions and relief you are qualified for and applying for all of them will help you lower your taxes greatly. The most common exemptions in King County are: |
| Keep the assessor company when he or she comes to evaluates your property | Being present when the assessor evaluates your home or property will give you a chance to keep an eye on them and make sure the job is being done, as well as provide any useful info if necessary |
| | Appealing your property tax bill doesn't have to be hard! DoNotPay will provide you with a streamlined way of filing an appeal so that you can avoid all unnecessary hassle of doing it all by yourself |
How To File King County Property Tax Appeals?
If you believe a mistake has been made and want to file the King County property tax appeal, we will show you how.
You should contact the Department of Assessments before you decide to file a property tax appeal to see if an assessor can resolve your issue. They will inform you whether your issue can be resolved without filing an appeal or not. You can contact them by calling (206) 296-7300 or sending an email to assessor.info@kingcounty.gov. 
If they are not able to resolve the issue, you can file a King County property tax appeal in two ways:
Online

By Mail
Filing the King County Property Tax Assessment Appeal Online
To file your appeal online, go to the eAppeals website and follow these instructions:
Click on

Start Appeal

Create an account

File your appeal
You should receive an email confirmation in the next 24 hours, and the Board of Equalization (BOE) will start reviewing your appeal request.
File the King County Property Tax Appeal by Mail
If you want to file your appeal by mail, you will have to gather two BOE petition forms and any additional evidence or documents and send it to this address:
King County Board of Equalization
500 Fourth Avenue, Room 510
Seattle, WA 98104-2306
When Can You Appeal Property Taxes in King County?
The King County property taxes can be appealed by July 1 of the year of assessment or during the two months after the mailing date stated on your property's value notice.
Filing the King County Property Tax Appeal With DoNotPay Is a Piece of Cake!
What if we told you that you don't have to go through the appeal process on your own and that there is an app that can help you file an appeal in a snap?
DoNotPay can help you appeal past assessments in only a few clicks. We present you with an easy-to-follow guide that contains simple instructions on negotiating with your local assessor and collecting evidence to reduce your home's assessment value.
All you need to do to access this guide is:
Visit DoNotPay from the

web browser

of your choice

Find and tap the

Property Tax feature

Supply the required info about you and your property
When you complete the above-mentioned instructions, DoNotPay will provide you with a guide that includes all the details on how to lower your property tax and file an appeal.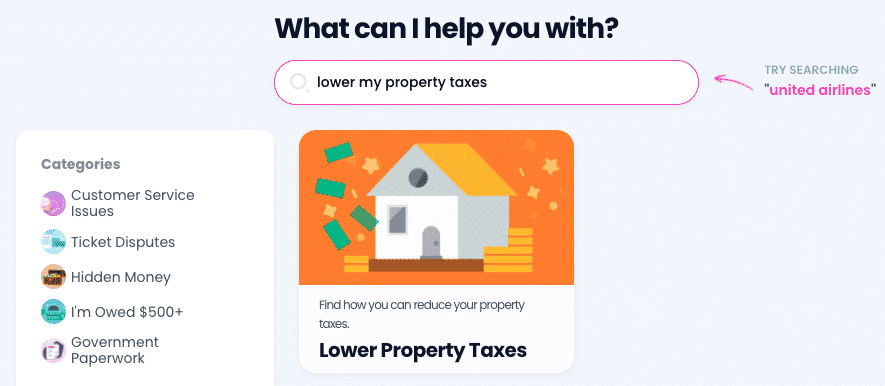 Can't Afford a Lawyer? DoNotPay Will Jump In!
Did you know that you don't have to waste money on expensive legal help just to get rid of some minor bureaucratic issues? DoNotPay is here to save you hundreds of dollars with ready-to-use solutions that require mere minutes.
Our AI-powered bots gather the most important information via short questionnaires, draft required legal documents, and provide you with online fax services. If you need specific public records to support your case, we'll point you in the right direction.
With our virtual lawyer's help, you will be able to:
Spend Your Time on More Enjoyable Activities
With DoNotPay's help, you're bound to have more free time. If you're considering a new streaming platform subscription, make use of its free trial without worrying about unwanted charges. Need to get rid of other subscriptions? Use DoNotPay to cancel them without contacting customer support centers.
Don't worry about phone number identification at the signup. With our Burner Phone feature, spam text messages won't be bothering you ever again!