King County Divorce Forms—How and Where To Get Them
If you're looking for a quick and cheap way to end your marriage in King County, a do-it-yourself divorce might be the best option. This marriage dissolution method is less expensive, demanding, and time-consuming, but it requires in-depth preparation.
Luckily, DoNotPay can guide you through the whole process—from checking the requirements to preparing the necessary King County divorce forms.
All About the DIY King County Divorce
Getting a divorce without a lawyer can save you a lot of money, but you need to make sure you're the right candidate for the do-it-yourself method. Consult the table below to learn about important aspects of a DIY King County divorce and determine if it's the most suitable option for you:
Key Aspects of a DIY Divorce in King County
Explanation
Residency requirements
To file for divorce in King County, you or your spouse must be a Washington State resident. You can prove residency by:

Maintaining a permanent home within King County
Showing the intent to make it your primary residence

The divorce court in King County might also check your voter registration, driver's license, or mailing address to determine residency

Legal reasons
Washington is a no-fault state for divorce, which means that neither party has to take responsibility for ending the marriage. You can file for divorce in King County based on the grounds of marriage being irretrievably broken without any chance of reconciliation
Eligibility criteria
Your divorce must be uncontested if you want a DIY option. To request an uncontested divorce in Washington State, you and your spouse have to reach an agreement regarding all of the following matters:

Child custody
Parenting plan (visitation time and schedule)
Division of:
Any other issues specific to your case
Which King County Divorce Forms Do I Need?
To start the divorce process in King County, you need to gather and fill out the necessary paperwork. In the following table, you can find the required forms for an uncontested divorce:
Mandatory Divorce Forms
Additional Forms for Marriages With Minor Children

Case Assignment Area Form and Case Information Cover Sheet
Certificate of Dissolution-Vital Statistics Form
Confidential Information (FL All Family 001)
Petition for Divorce (FL Divorce 201)
Proof of Mailing or Hand Delivery (FL All Family 112)
Declaration in Lieu of Formal Proof Without Kids
Findings and Conclusion About a Marriage (FL Divorce 231)
Final Divorce Order—Dissolution Decree (FL Divorce 241)

Parenting Plan—Proposed (FL All Family 140)
Declaration About Public Assistance (FL All Family 132)
Declaration in Lieu of Formal Proof With Kids
Parenting Plan—Final (FL All Family 140)
Child Support Order (FL All Family 130)
Child Support Worksheets (WSCSS-Worksheets)
Child Support Schedule & Instructions
How Can I Acquire Washington State Divorce Papers in PDF?
Having a DIY divorce means you're going through the whole process on your own, including finding and filling out the paperwork. You can find nearly all of the necessary documents—mandatory and optional—and download them in PDF from the following government websites:
One of the more important uncontested divorce documents is a marital settlement agreement. It is a complex document, and writing it on your own can be tricky. To have it drawn up and customized, all you need to do is !
How Much Does It Cost To File King County Divorce Forms?
The cost of filing divorce papers in King County is $290. If you cannot afford to pay the filing fee, you can request a fee waiver from the court.
You also have to pay an additional $30 when presenting final documents at the hearing.
How To File for a DIY Divorce in King County
Once you prepare the paperwork, it's time to start the process. Here's how to file for a friendly divorce in King County:
Make several copies of each document:

One for your records
Another one for your spouse
Third copy if you have children who have received public assistance at any point

File the forms at your local clerk's office
Serve divorce papers to your spouse
Attend the hearing at court
Use DoNotPay To Draft One of the Most Important King County Divorce Forms!
Do you need a divorce settlement agreement but want to avoid sky-high attorney's fees and unreliable contract templates? DoNotPay has a perfect feature for you!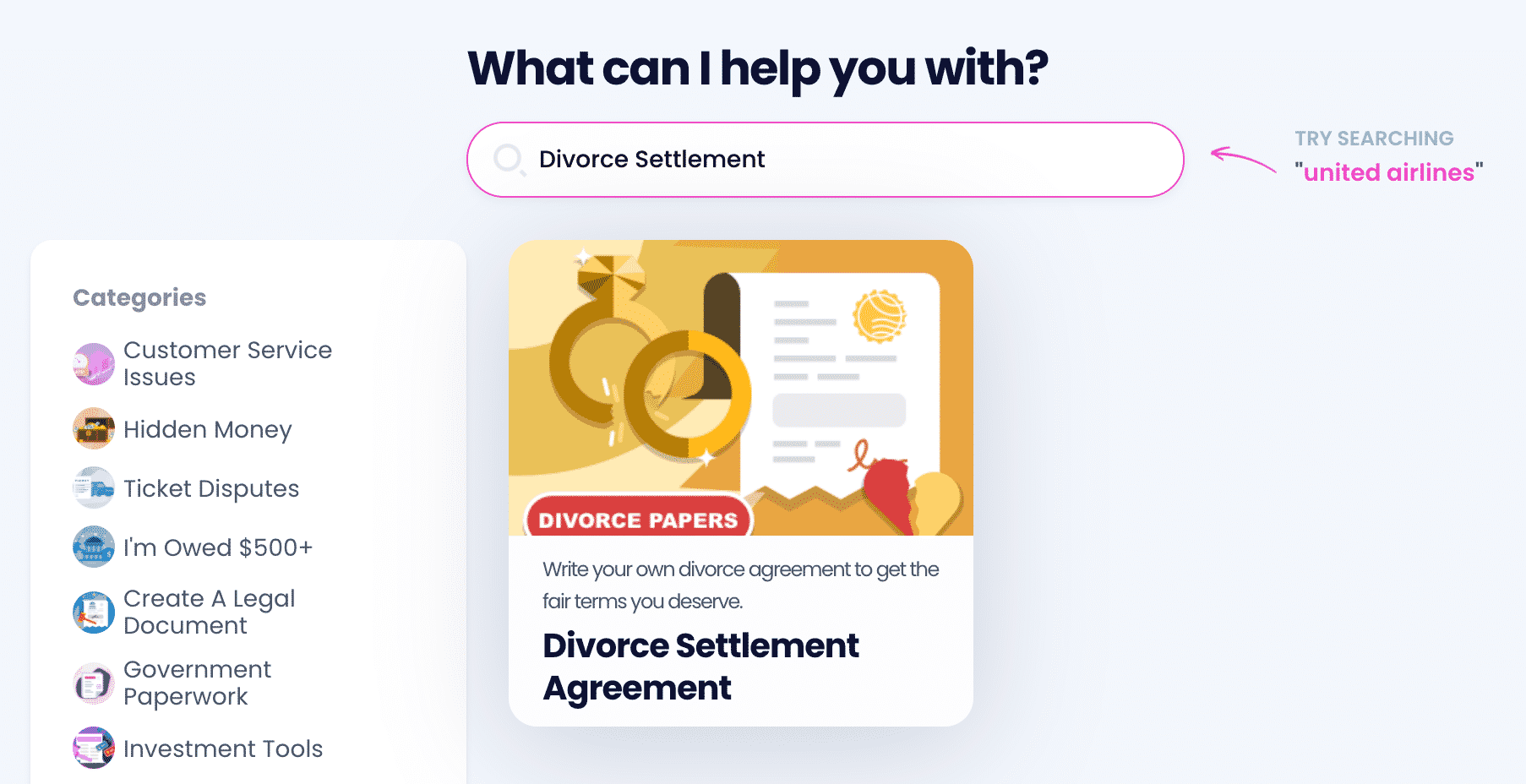 Our extensive divorce laws and regulations database and the case-specific information you provide enable us to create ironclad divorce settlement agreements in minutes!
All you need to do is and do the following:
Open the Divorce Settlement Agreement tool
Answer a few questions about your spouse and children (if any)
Tell us how you want to allocate your assets
Inform us if you need a notary
You'll receive a customized divorce settlement agreement in a flash!
Visit our learning center to find answers to numerous divorce-related questions, such as:
Deal With Your Problems Like a Pro With DoNotPay
Looking for an app that's got enough features to solve any issue you're facing? Look no further—DoNotPay has got your back! Whether you can't sleep from your noisy neighbors or you want to connect with your locked-up relatives, we'll be able to help. We'll bring justice to any person or company that has wronged you and take them to small claims court for you.
The robot-lawyer app can generate numerous legal documents in your name, including:
Once you receive the documents, we can set you up with an online notary so you can get your agreements notarized from the comfort of your home.
Possibilities With DoNotPay Are Endless
DoNotPay stands out not only by the quality of products it offers but by the sheer amount of features it boasts. Check the table below out to see only some issues we can help you resolve: