How to Obtain a King County Divorce Certificate Without the Hassle
When a couple decides to get divorced, they go through a lot of changes. One of the biggest changes is getting a divorce certificate copy to prove that the marriage has ended.
In King County, there are several ways to get a copy of your divorce certificate. The process can be time-consuming and complicated. However, that doesn't have to be your case. There's a way to get a King County divorce certificate quickly and easily. Read on to find out how.
Who Can Get a Divorce Certificate Copy in King County?
Divorce records in King County are considered public records and can, therefore, be viewed and accessed by anyone. However, the only people allowed to get a certified copy are:
The two parties involved in the divorce
The attorney of either divorced party
How Much Does It Cost To Get a Divorce Certificate Copy?
In King County, the cost of obtaining a first certified copy via the vital check website is $8.50. For any additional copies, you'll need to pay $3 per copy. Other charges are also applicable depending on the ordering method.
How Long Does It Take to Get a Copy of a Divorce Certificate in King County?
It usually takes 10 minutes to apply online. Immediately after you've completed filling out the application, the order is sent to the government agency for processing by the following business day. From there, it can take from a few days to a few weeks to receive a copy of your divorce certificate in the mail.
What Information do I Need to Get a Copy of a Divorce Certificate in Marin? 
To get a copy of your divorce certificate, you will need to provide:
Your full name
The name of your spouse
Relationship status with the divorced parties
The date of the divorce
The case number
The county where the divorce was granted
Your mailing address and your telephone number
Your credit card information for payment
Getting a Copy of a Divorce Certificate in King County by Yourself
To get a copy of a divorce certificate in King County for a divorce that occurred from 1968 to the present, you may request a copy in two ways:
How to get a Divorce Certificate Copy in King County With DoNotPay
If you need a copy of your divorce certificate but don't want to go through the hassle of getting it yourself, DoNotPay can help. We are the world's first and largest AI-powered legal assistant. We will walk you through some questions, verify your identity and generate a request form to send to the state record office for processing.
To get started, follow these 7 easy steps:
1. Go to the Certificates of Divorce product on DoNotPay.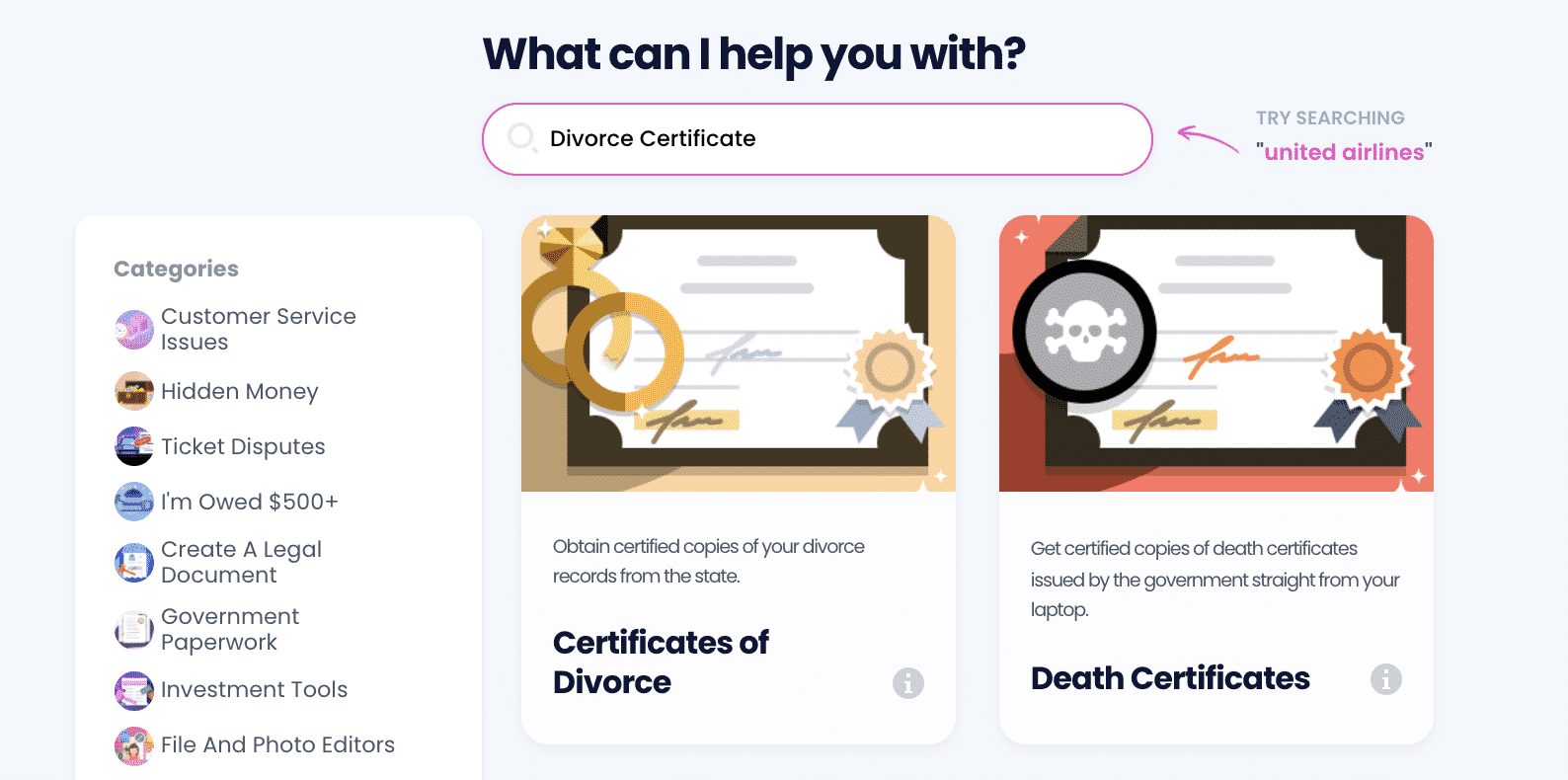 2. Select whether the certificate belongs to you or a relative/loved one. If it belongs to someone else, enter the details of both people on the certificate and select/upload evidence that proves your relationship with them. If the certificate is yours, enter the details of your spouse.*Please note: some states only allow people named on the certificate to apply.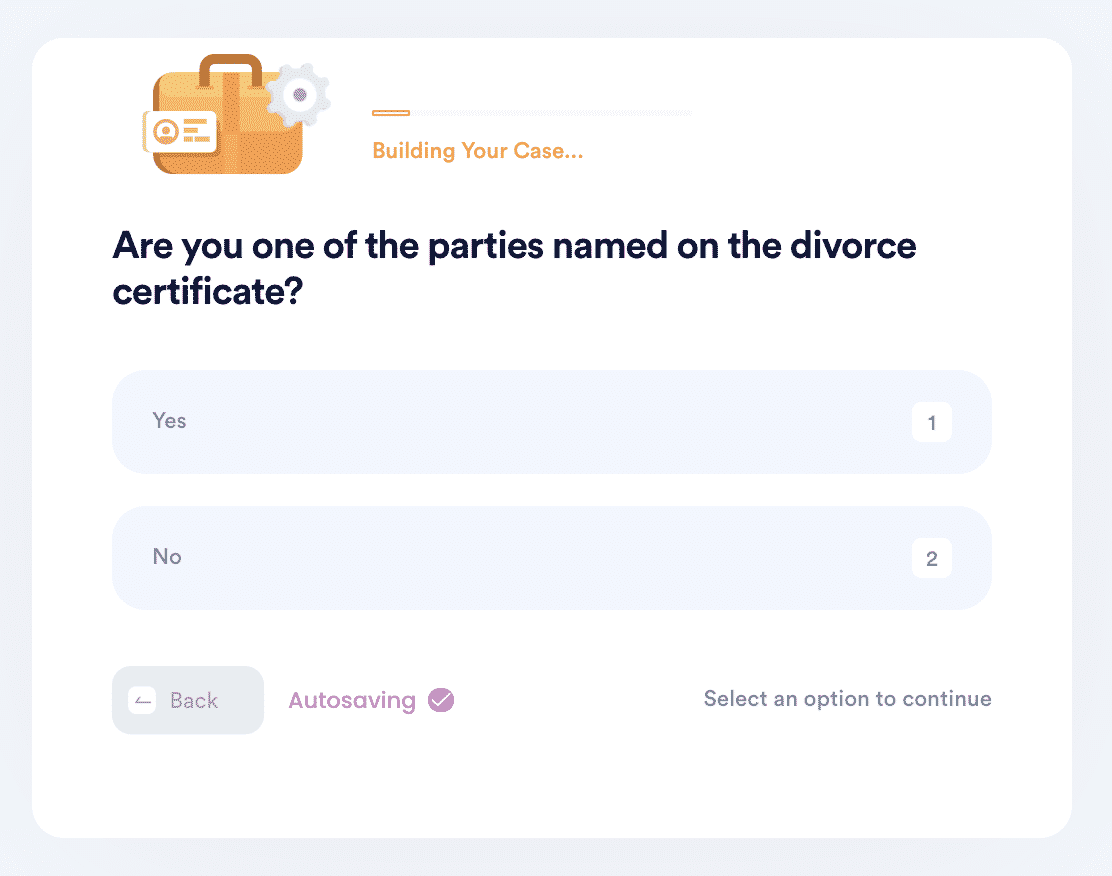 3. Enter the city, state, and county where the divorce certificate and original divorce certificate were issued as well as the dates they were issued.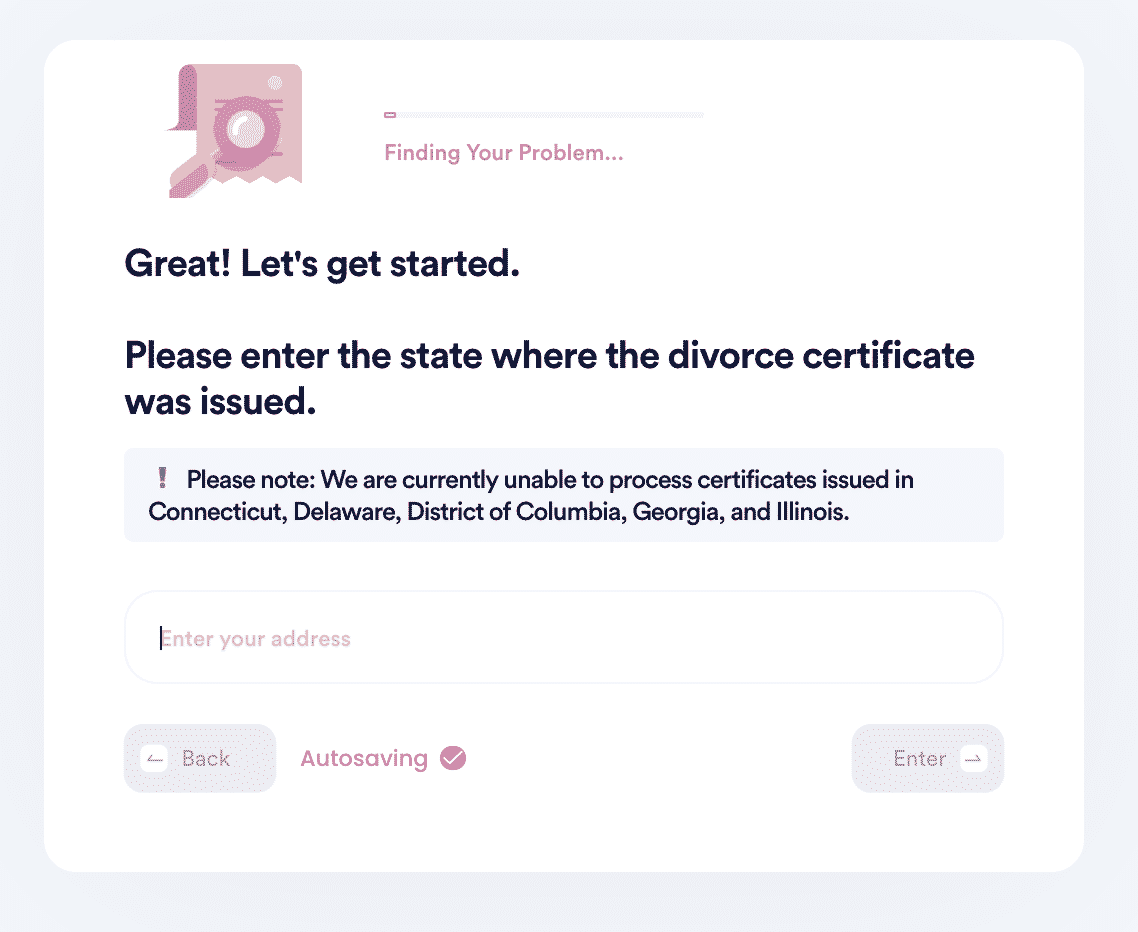 4. Indicate what you will be using this certificate for, and choose whether you need an authorized or certified copy.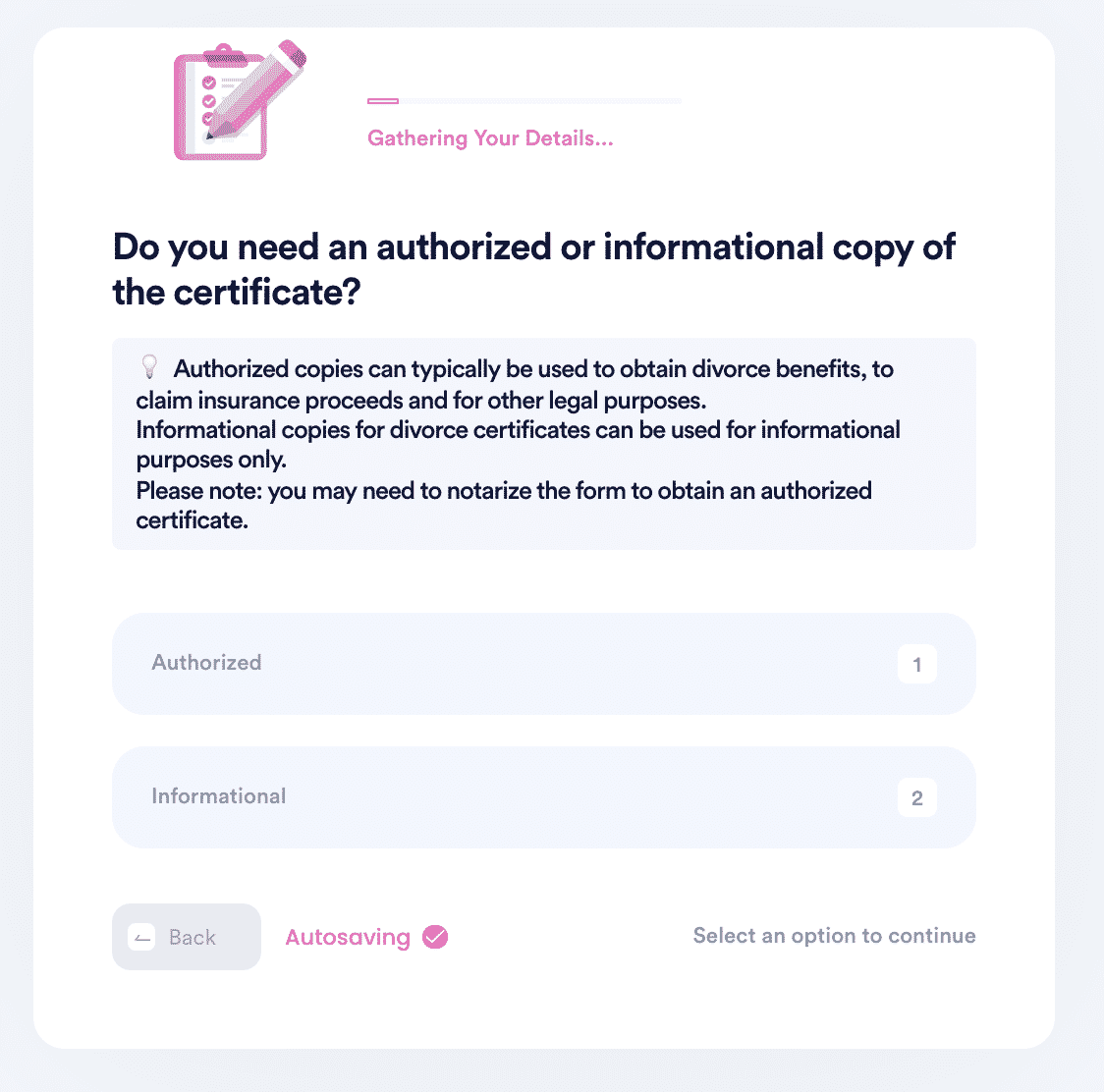 5. Enter your contact information and shipping address. Upload copies of your government-issued identification, such as a driver's license.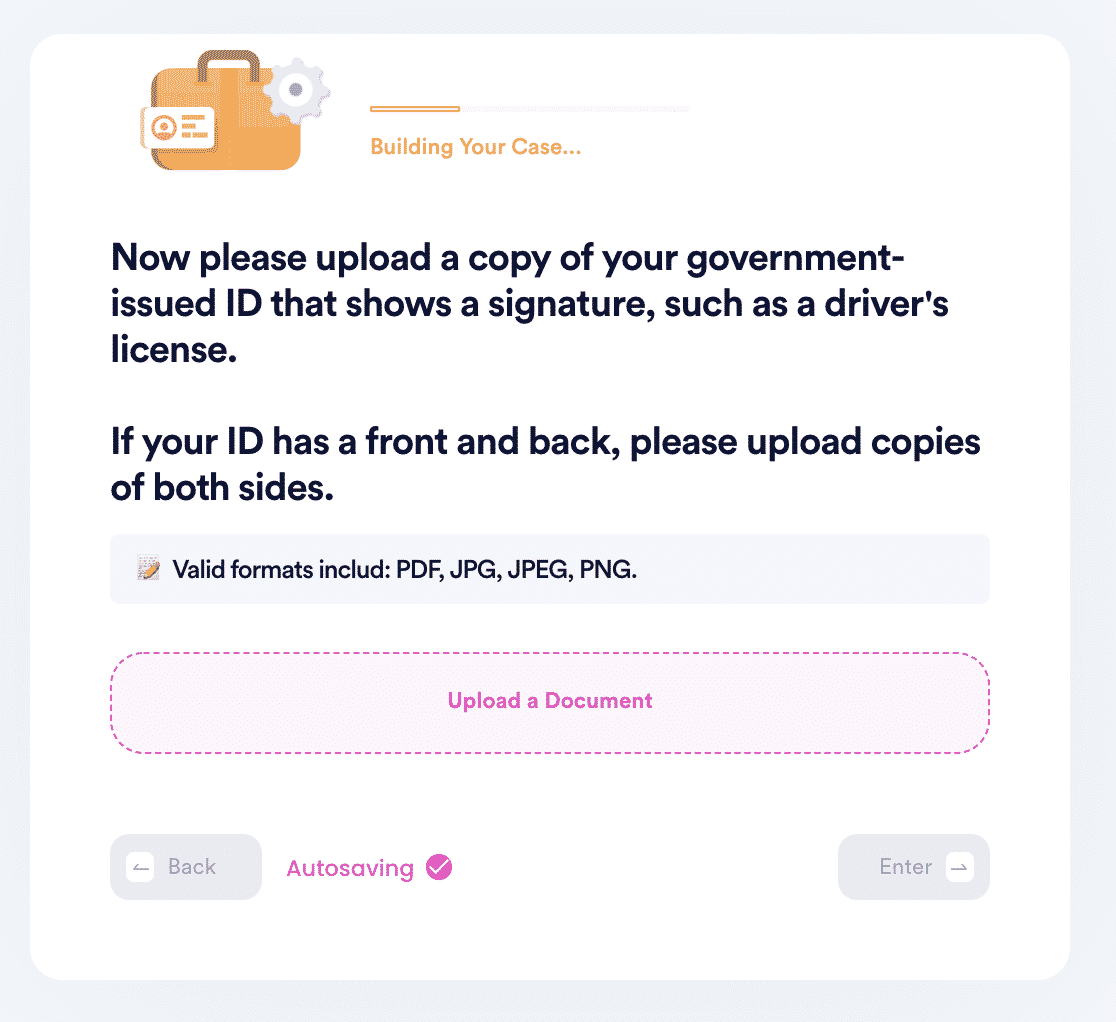 6. Choose whether you would like to electronically sign this form or not. Once we generate the form, verify that all of the information is correct.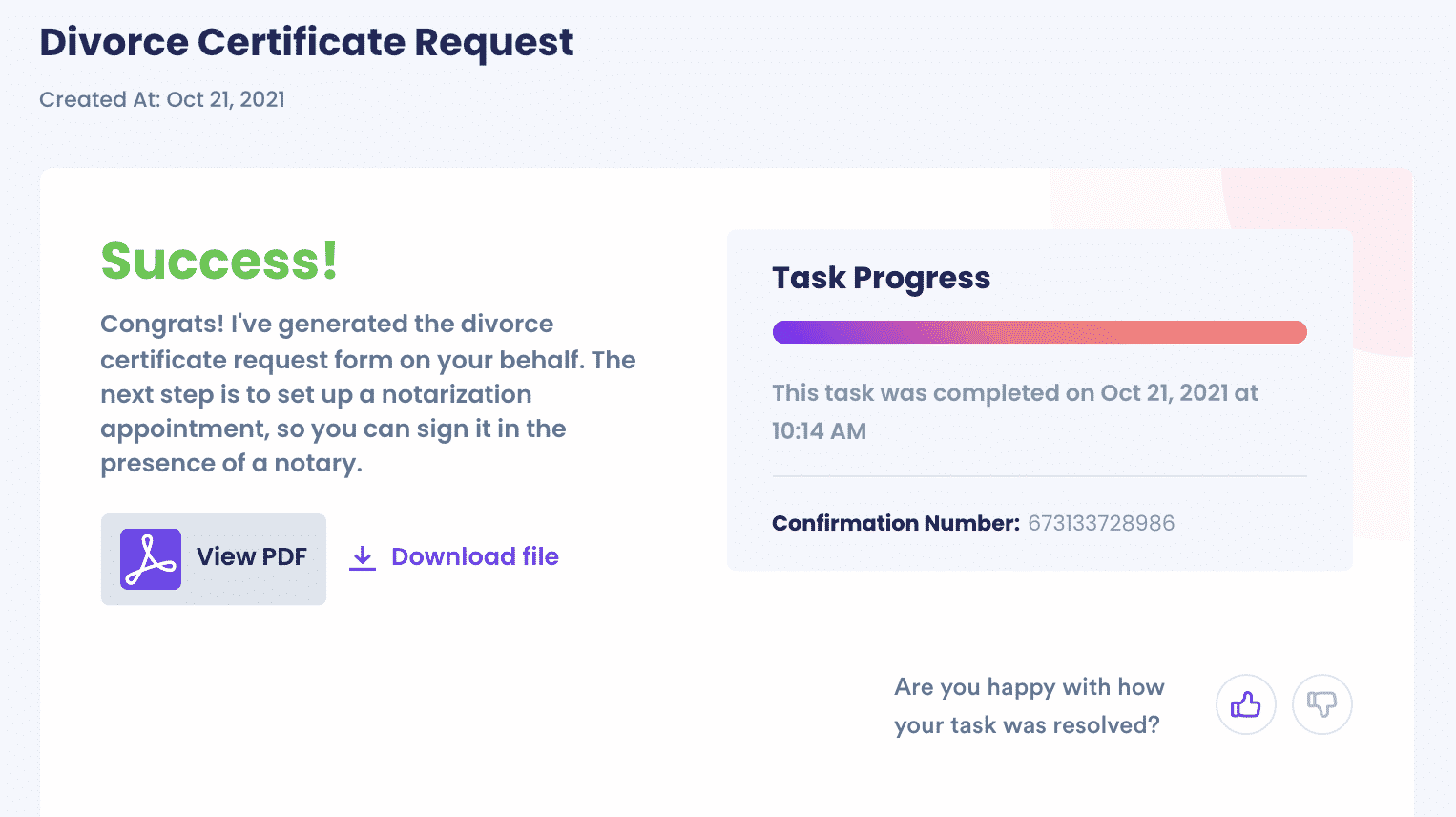 7. If you need the document to be notarized, schedule a notarization appointment using our Notary product. Otherwise, proceed to our Mail Checks product and let DoNotPay mail in your request form with a check on your behalf.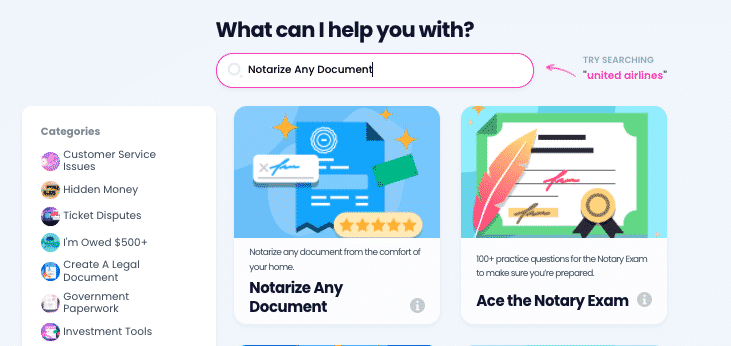 What If I Need to Get a Divorce Certificate In another State?
If you're in need to get a certified divorce certificate in another state, we still got you covered. We can help you obtain divorce certificate copies in other states, including:
Wondering What Other Things DoNotPay Has In-Store?
Aside from helping you acquire a copy of your divorce certificate, DoNotPay can also help you with a lot of other services like:
Applying for and receiving a copy of your divorce certificate in King County is easier than you may think. You can use DoNotPay's convenient Certificates of Divorce product to have us do it for you! We are fast, reliable, and automated. Join us today, and let's get your King County divorce certificate in no time.