How To Start Your Kindergarten Homeschool—DoNotPay Has the Answers!
As a parent, you want the best for your child from the word go.
For some, this means choosing to homeschool rather than putting your child into the public school system.
If you are looking at the possibilities of a kindergarten homeschool for your child, DoNotPay has the info, advice, and watch-outs that you need!
Why Homeschooling?
Homeschooling involves taking your child out of public or private school and taking over the responsibility of educating them yourself.
Images of children studying in isolation are a thing of the past, and modern homeschooling can be highly interactive, imaginative, and enriching, with a wide range of teaching approaches used.
Parents who choose to homeschool do so for a variety of reasons, such as:
Religious convictions
Dissatisfaction with the schools in their district
The cost of homeschooling versus private schools
Worries about the health of their kids
Whatever your reasons for opting for this route, homeschooled children can enjoy a personalized education that the traditional school environment can't offer.
How To Homeschool Kindergarten
Kindergarten schooling usually takes place between the ages of five and six, although some states allow children of four to enroll if their birthday falls close to the start of the school year.
The idea of kindergarten is to give your child a grounding in:
Language arts
Math
Other subjects
Language Arts
Kindergarten children should be able to express themselves well by the time they transition to elementary school. Their skills should include:
| Language Arts Skills | Explanation |
| --- | --- |
| Speaking | Kindergarten kids should learn to express themselves clearly and understandably, with a wide vocab that includes being able to articulate emotions, ask questions, and build complex sentences |
| Reading | Age-appropriate books should present no problem to kindergarten children, and they should be able to read aloud and understand the meaning of some written material |
| Writing | Most kindergarten children should be able to write both upper and lowercase letters, as well as understanding basic sentence structure |
Math
By the end of kindergarten, children should be able to:
Count in sequence
Understand the basics of addition and subtraction
Recognize common geometrical shapes
They should be able to name all the numbers and understand their relation to one another.
Other Subjects
Kindergarten isn't solely about hard skills—it is also there to give children a basic grasp of:
Social interaction with peers
How science works
Music and art
The importance of physical exercise
Most importantly, homeschooling kindergarten should enable children to understand the subjects, behaviors, and social standards they will need when they progress to elementary school.
How Can You Prepare a Kindergarten Curriculum?
Kindergarten is the first step in your child's education, so you need to make sure that the curriculum you use gives them a solid foundation for their later schooling.
To set up a kindergarten curriculum, you have the choice of:
Preparing Your Own
Building your own teaching program is not easy and relies on your ability as a teacher and planner.
Your own curriculum can be as varied as you want, though, meaning you can employ a variety of teaching approaches on top of traditional classroom teaching, such as:
If you choose to develop your own program, you should make sure to check the homeschooling laws in your state, particularly regarding the reporting, timetabling, and record-keeping requirements your school district imposes.
Some states need you to submit a detailed curriculum in advance of starting homeschool, and many require you to keep detailed records of attendance, lessons taught, awards received, and achievements reached.
This should all figure in the preparation of your own homeschool kindergarten curriculum.
Purchasing a Ready-Made Package
Off-the-shelf kindergarten curriculums are common, and you can benefit from the convenience they offer.
Most pre-packaged curriculums include subject overviews, as well as all the lesson plans, teaching material, and extra activities that you need—your sole task lies in preparing adequately.
They are a sensible choice if you are unsure of your teaching abilities, but a store-bought curriculum may limit you in your choice of teaching approaches.
You may find you need to supplement the lesson plans provided with:
Practical projects
Trips to farms, museums, or historical sites
Other ways to illustrate the material
Kindergarten is also a formative time for your child and one in which you can discover your loved one's preferred learning styles. This can be crucial in helping them develop a love of learning.
How To Get Started With Your Kindergarten Homeschool
If your child has reached the starting age for school in your state—normally five—you will have to make sure you fulfill your local requirements before you begin homeschooling.
These usually include:
Your teaching qualifications—some states require you to be a certified teacher and demand the same qualifications of anybody else who teaches your child
The curriculum you intend to teach—depending on the state you live in, you may have to provide details of your proposed curriculum in advance
Your notification of intent to homeschool—most states need you to tell them in advance about your plans to homeschool your child
DoNotPay can help with the last point—let us and take the administrative burden off your plate!
DoNotPay Gets Your Kindergarten Homeschool off to a Flying Start!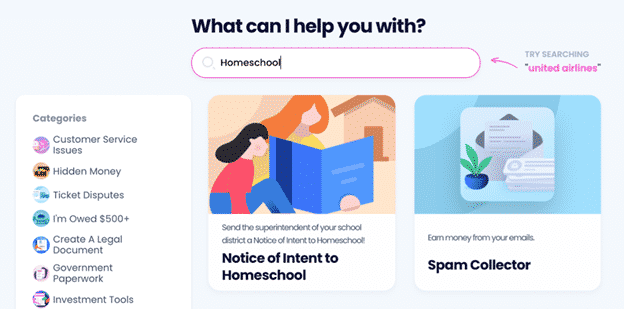 We are committed to making your homeschooling journey easier, and our Notice of Intent to Homeschool product ensures you are legally ready to start your homeschooling adventure.
We create the letter of intent you need to send to your school district, including all the details the authorities require, and within the stipulated time frame. One less thing for you to worry about!
Here's what you need to do:
Navigate to the Notice of Intent to Homeschool product
Fill out a short questionnaire with the required homeschool information
Your letter will be ready in a few minutes, and you can either print it out or let us send it on your behalf.
If your state needs it to be notarized, we can even take care of that with our online notarization service!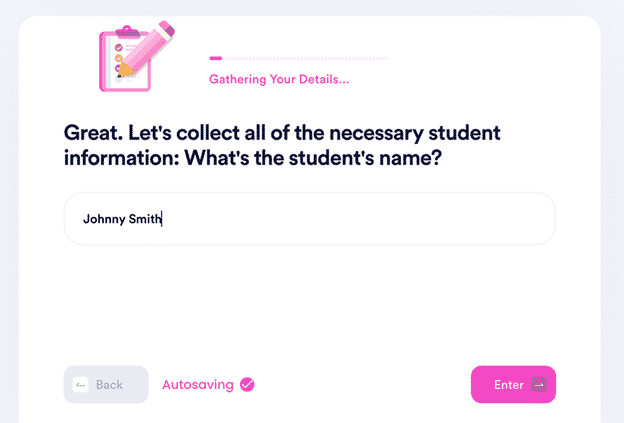 Don't Let Admin or Legal Issues Wear You Down—Hand Them Over to DoNotPay
Do you believe you may have some missing assets? Use DoNotPay's nifty product before the government claims them! Have you ever wanted to enter sweepstakes without purchasing anything? Our app will sign you up for them quickly! Trying to figure out how to reduce your property taxes or utility bills? DoNotPay can show you the way. Want to avoid getting charged for free trials that never fail to auto-renew into paid subscriptions? We'll help you cancel them before they expire.
Anything else you may need? Check out how our app can:
Check Out Our Other Robust Products
It doesn't stop there—DoNotPay can help you send a defamation demand letter, create passport photos, get gift card cash back, get any document notarized, request access to public records, claim insurance and warranty, request a college application fee waiver, appeal parking tickets, and much more.
Sign up now to get access to any of our products for one low monthly fee!