Choosing a Kindergarten Homeschool Curriculum for Your Child
Homeschooling a child in kindergarten can set a solid educational basis for your kid and help with future endeavors. To get started with homeschooling, you must gather info about the process by exploring subjects, hours, and available curriculums.
If you're not sure how to pick a kindergarten homeschool curriculum and what to teach your child, this article helps you resolve your dilemmas.
How To Prepare a Child for Kindergarten Homeschool
Here's what you can do to prepare your kid for homeschool kindergarten:
Set up a designated learning room at home
Allow your child to choose supplies to get them excited about the process
Establish a:

Fixed bedtime every night
Morning routine to prepare your child for learning

Provide healthy and regular meals
Take breaks for meals, walks, and rest
Select suitable extracurricular activities, e.g., sports
You should first set a homeschool budget since a homeschooling curriculum for kindergarten together with specific books, resources, supplies, and activities can be costly.
What To Teach in Kindergarten Homeschool
While not all U.S. states mandate that children go to kindergarten, starting education at that age brings numerous benefits. Your child should begin developing basic skills in kindergarten homeschool as it helps with understanding more complex concepts in their adult years.
If you've decided to homeschool your kindergartener, here's a list of fundamental skills and areas your child should get familiar with:
Skills To Acquire
Areas To Develop

Social
Cognitive
Behavioral
Academic, including:
Fundamental math skills, including:

Counting
Basic addition and subtraction

Learning:
Working in teams
Recognizing shapes
Sitting and paying attention
Focusing on an activity or task
How To Research Kindergarten Homeschool Programs
Homeschool parents should go through different homeschool programs for kindergarten before selecting one for their child. When analyzing a program, you should keep in mind that a good one needs to:
Provide:

A comprehensive curriculum that fulfills state requirements
Lots of opportunities for children to practice and master skills and concepts
Various activities to help kids shape critical thinking and develop problem-solving skills

Cover fundamental concepts from all core subjects
Assess your child regularly to check the understanding of covered coursework and content
Permit flexibility for a child to work at their pace and adopt introduced concepts clearly
Homeschool laws vary by state, so you must make sure the chosen curriculum meets all requirements before starting to teach your child at home.
Homeschool Kindergarten Curriculum
A good homeschool curriculum for kindergarten needs to help your young homeschooled student establish a foundation in:
Math
Language
Science
Art
Music
Physical education
To ensure your kid gets a sound basis for their future elementary education, you—as a homeschool teacher—should try to choose a kindergarten homeschool curriculum that is comprehensive, but at the same time:
Motivates your kid
Stimulates their thinking and learning skills
When To Begin Homeschooling for Kindergarten
The mandatory age for kindergarten depends on the state you live in. In most states, the compulsory age is between five and seven.
Your kindergarten homeschooling can start at:
The entrance age, i.e., when your child turns five (in most states)
A later age, i.e., you can withdraw your child from regular kindergarten if they started it at any time (even in the middle of the year)
How To Start Homeschooling
Most U.S. states require parents to notify a local school district of their intent to homeschool their child.
The first step to take is to draw up a letter of intent to homeschool and file it with your:
School district—The superintendent is usually the person you need to notify
Child's current regular school—To take your child from school, you should also inform the principal
to create a quick yet efficient notice of intent to homeschool and start your journey smoothly.
DoNotPay Helps You Prepare a Notice of Intent To Homeschool
Home-based education, even at a very young age, brings about extensive paperwork. Besides teaching your child, you'll usually have to play the role of the homeschool administrator. Since it's not the most exciting part of the process, you can delegate the initial administrative chores to DonotPay.
We can help you draft and send the notice of intent to homeschool in a few clicks. You should provide the info on your specific situation, and we'll ensure it fits the legal framework.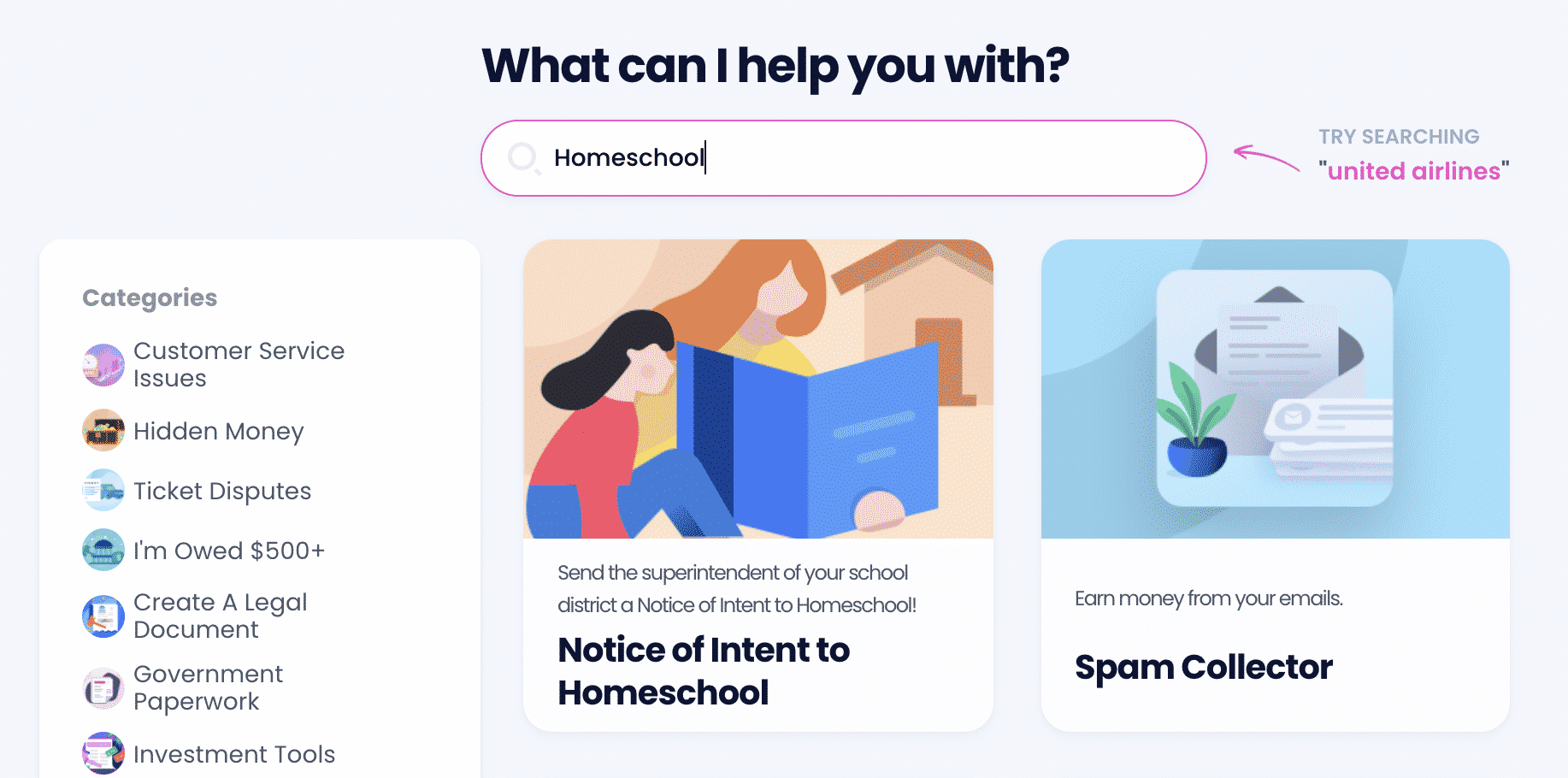 and:
Access the Notice of Intent to Homeschool product
Enter the relevant information about your kid
Choose if you'd like DoNotPay to:

Help you get the notice notarized
Send the letter on your behalf
Deliver a PDF file you can submit yourself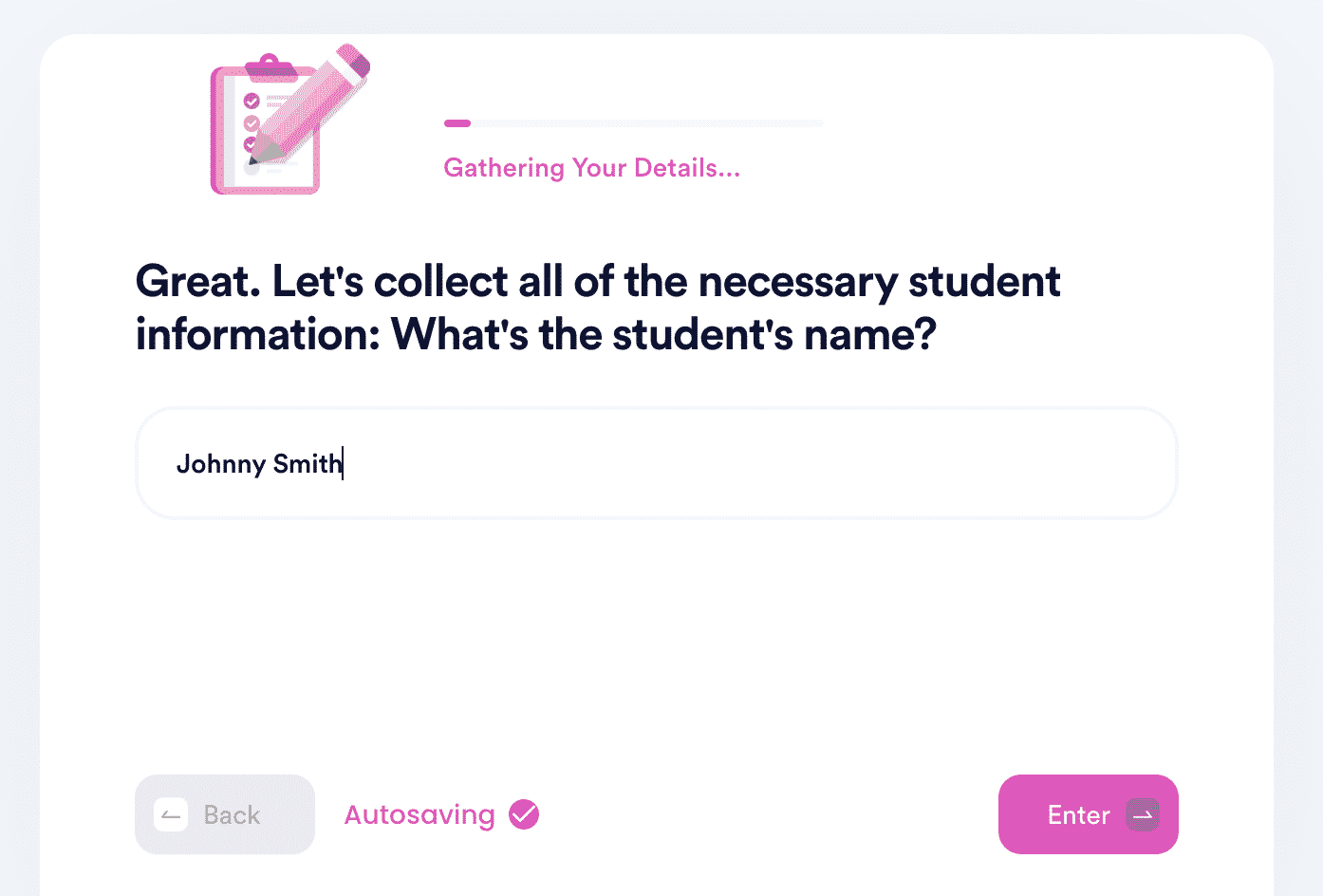 Want To Research Homeschooling Further?
If you'd like to widen your knowledge of homeschooling across the USA, our learning center is an excellent starting point. Here are some burning questions we can answer:
To find out everything about homeschooling regulations in different states, check out the following table:
Can DoNotPay Help Me With Any Other Admin or Legal Issue? You Bet It Can!
DoNotPay's robust products can assist you in fighting companies, individuals, and institutions that have wronged you in any way. Once you subscribe to our platform, we'll ensure that you never have to deal with any of the following again:
Our Product Range Offers So Much More
Subscribing to DoNotPay will bring you peace of mind as you won't have to go through tedious task completion on your own anymore. With our AI-powered app, you can get what's rightfully yours in the blink of an eye.
If you want to claim warranty or insurance, find your missing assets, get compensated for a canceled flight or a violent crime that you were a victim of, track your missing parcel, or draw up a child travel consent form, divorce settlement agreement, power of attorney, or any other legal document, you can count on us to lend you a helping hand.
Sign up today to get access to the entirety of our product range and forget about dealing with time-consuming and energy-draining chores!