Start Your California Divorce With the Right Kern County Divorce Papers
Getting a divorce in California can be a costly and lengthy process, but you can make it easier by opting for an uncontested divorce. If you can work together with your spouse on your divorce terms and agree on all aspects of your divorce, you may not need to hire a lawyer and attend court hearings. All you need for this type of divorce are Kern County divorce papers.
DoNotPay will explain all about the Kern County divorce papers, including how to create a marital settlement agreement—one of the most important uncontested divorce documents.
Sign up for our platform to draw up your divorce settlement agreement in a snap!
Kern County Divorce Process Explained
To file for divorce in Kern County, you'll need to familiarize yourself with residency requirements and available grounds for divorce. You can check out the details in the table below:
Main Aspects of Kern County Divorce
Explanation
Citing the appropriate grounds for divorce
California recognizes only no-fault grounds for divorce, which means that you can base your divorce on:

Irreconcilable differences (this means that you and your spouse can't get along enough to make the marriage work)
Incurable insanity, which needs to be proven by a medical professional

Meeting the residency requirements
To meet the residency requirements, you or your spouse:

Must have lived in California for at least six months before filing for divorce
Need to have been a resident of Kern County for at least three months prior to divorce
Must reside within Kern County at the time of filing
What Kern County Divorce Papers Do You Need?
The list of divorce papers necessary to start the divorce process—along with an explanation of each form—are in the table below:
Divorce Form
Explanation
Petition for Dissolution (FL-100)

The divorce proceedings start with this document. A Petition for Dissolution enables one spouse to notify the other that they're seeking a divorce

Summons (FL-110)

Summons is a legal document that informs the respondent (the spouse who receives the divorce papers) that the divorce case is filed

Declaration Under Uniform Child Custody Jurisdiction and Enforcement Act (FL-105)

If you have children, you will be required to fill out this and potentially the following forms:

Optional Custody and Visitation Attachments (FL-311)
Request for Child Abduction Prevention Order (FL-312)
Children's Holiday Schedule Attachment (FL-341(C))
Additional Provisions—Physical Custody Attachment (FL-341(D))
Joint Legal Custody Attachment (FL-341(E))

Property Declaration (FL-160)

Property declaration serves to outline all the property in a divorce case. To complete this form, you'll need to list community and quasi-community property and debts on one FL-160. You should use another FL-160 form to list your separate property and debts (the assets acquired before marriage)

Marital settlement agreement

A divorce settlement agreement outlines the terms of the divorce. You and your spouse should draft it to document your understanding regarding:

Proof of Service (FL-115)

After you serve your partner, you'll need to obtain Proof of Service of Summons. You can do this by signing a statement that the papers were served under oath
You can acquire California divorce papers at the Facilitator's Office or on the court's website.
How Much Does Kern County Divorce Cost?
If you opt for an uncontested divorce, it will cost way less than a contested divorce would.
To start the divorce proceedings, you'll need to pay a filing fee of $435. After that, you may only have to cover some additional court fees. You can request a fee waiver if you're unable to pay.
How To File for Divorce in Kern County
After you gather all the necessary paperwork, you can start your marriage dissolution process. Here are the step-by-step instructions on starting divorce proceedings in Kern County without a lawyer:
Attend mediation (optional)—You can attend a few mediation sessions in CA if you and your spouse don't see eye to eye on all aspects of your divorce. It is a process where a trained professional guides you and your spouse towards reaching a mutually acceptable solution for your divorce issues
Draw up a divorce settlement agreement—You can find plenty of online services that offer templates for this document. The only downside is that the forms are generic and might not comply with California divorce laws. You won't have that problem if you sign up for DoNotPay as our platform will fully customize the document
Obtain copies of each document—You'll need to make copies of your divorce forms because you'll file the original documents with the court
File the forms—You have two options to file the forms:

In person—You can file the forms with the county's clerk of the court
Online—Visit the Superior Court of California—County of Kern website to file your documents online

Serve the divorce papers—Anyone who's not involved in the case and is over 18 can serve the divorce papers. It can be a relative, coworker, friend, or a professional process server
Draft Your Divorce Settlement Agreement With DoNotPay Effortlessly
DoNotPay is familiar with state-specific divorce laws and will consider them when creating your divorce settlement agreement. You only need to provide details specific to your case, and we will personalize your document according to them!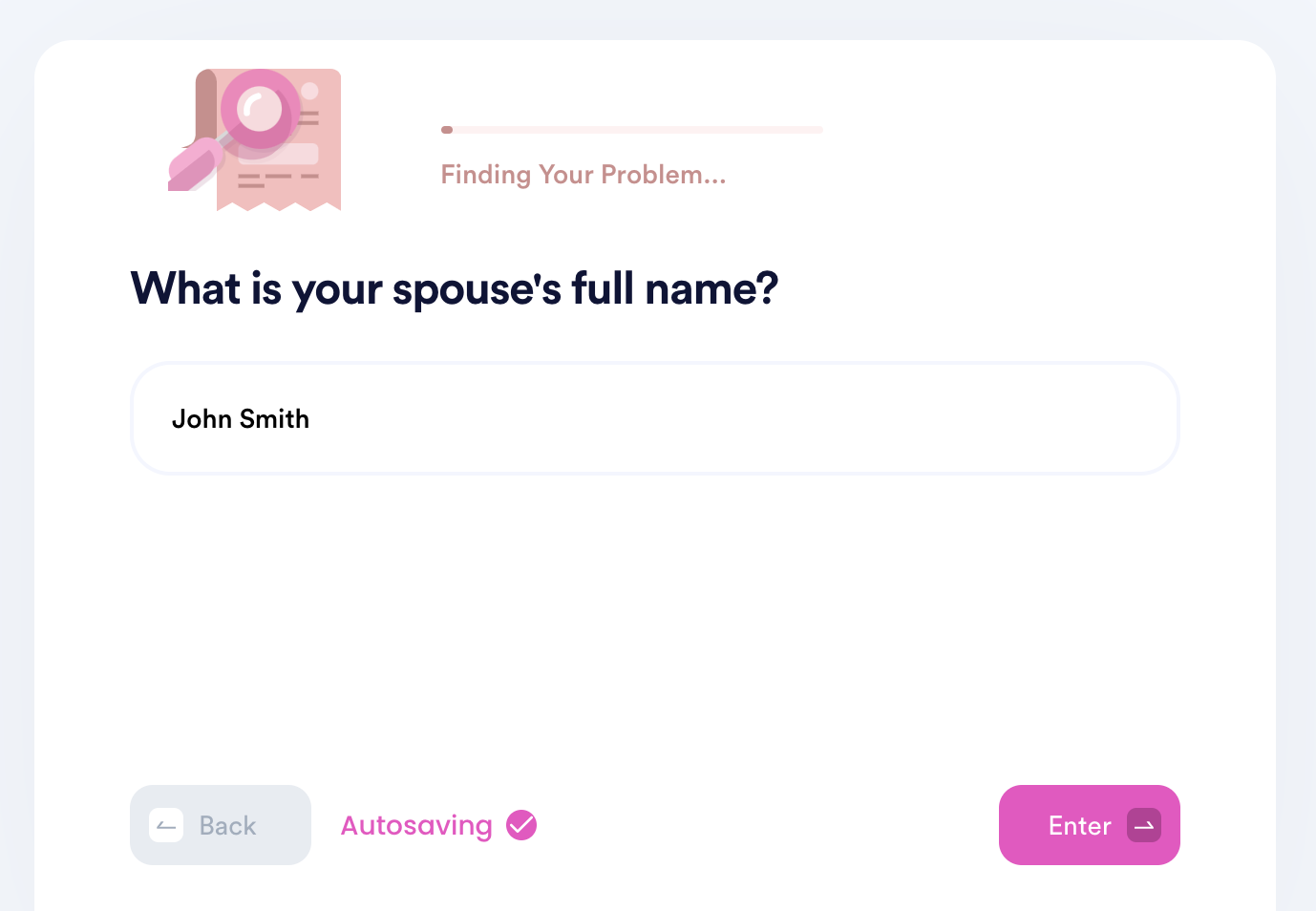 Register for DoNotPay and follow the steps below to create your marital settlement agreement immediately:
Enter Divorce Settlement Agreement into the search bar
Complete the questionnaire about your case
Indicate how you want to split your assets
Notify us if you need a notary
DoNotPay will generate and send you the document in the blink of an eye. All that's left to do is for you and your spouse to sign it and get it notarized. We can schedule an online video meeting with a notary so that you can complete the process from the comfort of your home!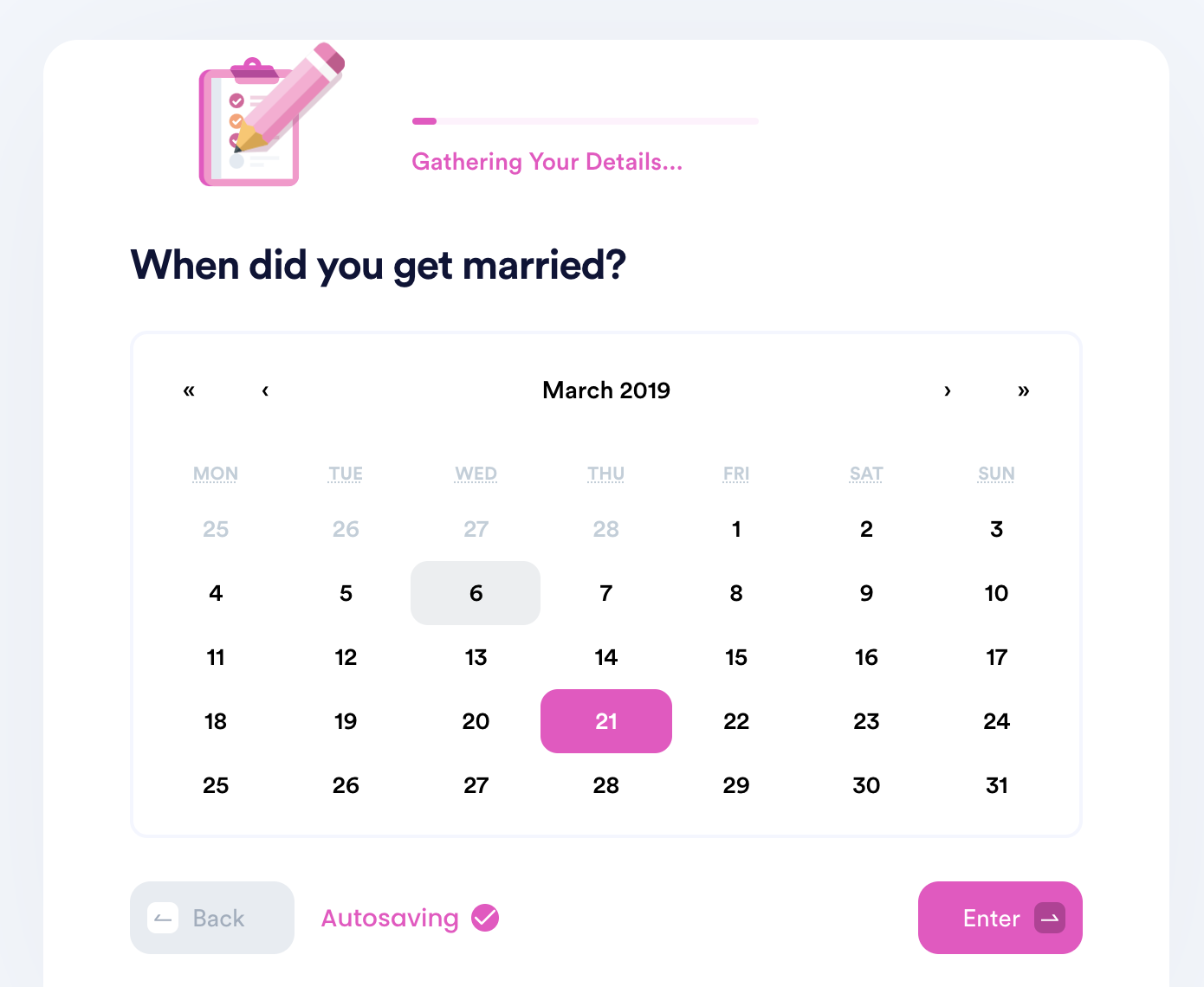 Visit DoNotPay's learning center to discover answers to various divorce-related questions, like:
We also have guides to divorce proceedings in several California counties, including:
Save Time With DoNotPay
DoNotPay is not done helping you! We offer you assistance in completing a variety of tasks quickly and efficiently, such as:
Canceling Subscriptions Has Never Been Easier!
If you keep getting charged a monthly subscription fee even though you no longer want to use a certain service, don't let your money go to waste! Some companies tend to renew your subscription automatically, but that doesn't mean you have to put up with it—use our app to terminate your membership or subscription in a few clicks!
Do you want to sign up for free trials and create a virtual credit card or a burner phone number to protect your sensitive info? Once you subscribe to DoNotPay, we will walk you through the process of doing all of the above in no time!
You can also count on our assistance if you need to get rid of spam or robocalls.