How To Obtain a Kenya Tourist Visa Without a Hitch
There are only a few destinations around the globe where you can find such rich wildlife, great tea, or exciting African music festivals as in Kenya. For this reason, the country is one of the rising stars of African tourism and welcomes an increasing number of visitors.
If you are impatient to explore a bunch of hidden beauties of this destination but are confused by the complicated Kenya tourist visa requirements, we can help! Read our guide and discover how signing up for DoNotPay can help you file a visa application hassle-free!
Tourist Visa for Kenya in a Few Words
The government of Kenya categorizes all countries into three groups:
Category 1—nations that aren't required to apply for visas to visit Kenya
Category 2—nations that must apply for visas to enter Kenya
Category 3—nations that require referred tourist visas
The United States belongs to Category 2, which means that getting a visa is mandatory if you want to visit Kenya for tourism or recreational purposes. This rule applies to all travelers except for minors under 16 years of age.
The only way to obtain this type of permission is by filing an online application in the appropriate embassy or consulate portal.
The duration and permitted stay period depend on the type of visa you opt for.
Types of Tourist Visas for Kenya You Can Apply For
Kenya offers four types of tourist visas to U.S. citizens:
Single-entry visa
Multiple-entry visa
Five-year multiple-entry visa
Below is a table presenting more details about each category, along with the prices:
| Type | Validity | Price |
| --- | --- | --- |
| Single-entry visa | Three months from the issuance date | $51.00 |
| Multiple-entry visa | Three to 12 months from the issuance date | $101.00 |
| Five-year multiple-entry visa | Five years from the issuance date | $201.00 |
| East African tourist visa | Three months from the issuance date | $101.00 |
Can You Get a Tourist Visa for Kenya on Arrival?
Unfortunately, getting a Kenya tourist visa at the airport upon arrival isn't an option at the moment.
Kenya Tourist Visa Application Requirements
To apply for any type of Kenya tourist visa, you should:
Have a valid passport with at least six months of remaining validity
Provide at least two blank passport pages for appropriate stamps
Prepare a passport-size photograph
Present:

Proof of accommodation booking
Return air ticket or a basic travel itinerary
Letter of invitation from your host—for family visits

Have a Yellow Fever vaccination certificate
How To Apply for a Kenya Tourist Visa Online—A Full Guide
Once you collect all the requested paperwork, you can proceed with your e-application. You should submit it at least a week before traveling, even though most requests get processed within 48 hours.
Here's how to file your application:
Go to the official Kenya e-Visa application portal
Click on Create Account and sign up for eCitizen
Log in to the new account with your credentials
Select Department of Immigration Services
Click on Submit Application and select Kenyan Visa
Pick the desired visa type
Read the instructions and complete the e-form
Proceed to the payment page and provide your bank details
Submit the form
Upon sending your application, you will receive an email confirming that your e-Visa is ready. Download it from your eCitizen profile and print it out so that you can show it to the officials at the airport.
Are There Any Active COVID-19 Entry Restrictions in Kenya?
Yes, there are health-related requirements you must comply with when visiting Kenya during the COVID-19 pandemic. The immigration authorities of Kenya will allow you to enter the country only if you meet the following criteria:
Your body temperature isn't higher than 37.5°C at the moment of entry
You have:
The good news is that, as a U.S. citizen, you won't have to quarantine upon arrival in Kenya. There's a general curfew in Kenya starting from 10:00 p.m. to 4:00 a.m, to which you must adhere, but there are no intercity or interstate travel restrictions.
DoNotPay Helps You Apply for a Tourist Visa to Kenya the Easy Way
Filing a tourist visa application entails many burdensome tasks, such as:
Checking the newest visa application requirements
Gathering the additional documents and forms
Searching for application forms yourself
Traveling to the nearest embassy or consulate to submit your application in person
With DoNotPay, you can skip all these hurdles and make your visa request a no-brainer. We will provide you with everything you need for a successful application and check if you can do it via email, saving you time and nerves!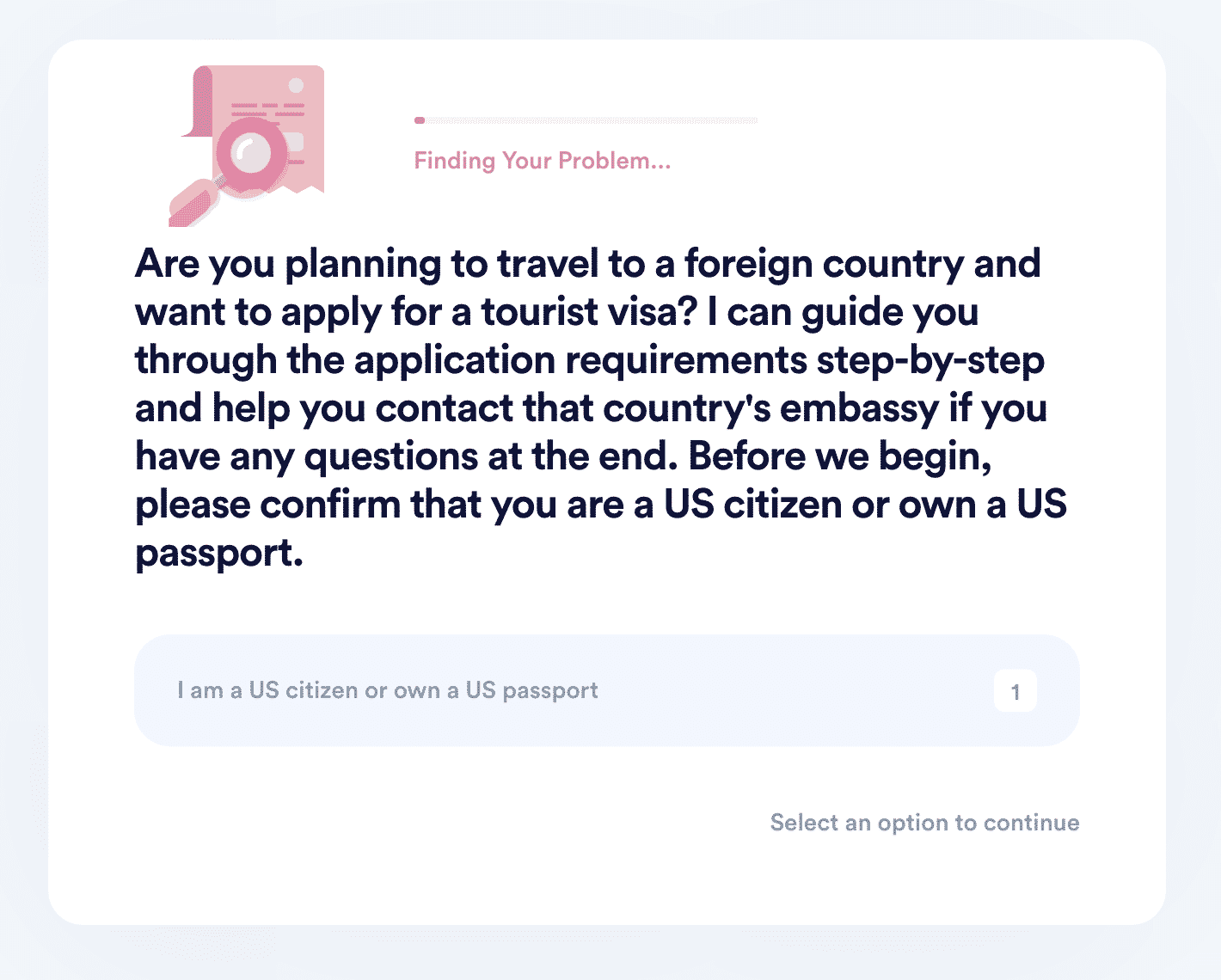 Here's the drill:
Open DoNotPay and log in
Choose Tourist Visa Guide
Confirm your U.S. citizenship or passport ownership
Provide us with the name of the country you are traveling to

Check out the list of other African countries you can visit with the tourist visas we help you create:
DoNotPay Is the Best Solution for Your Bureaucratic Problems!
A wide range of handy features DoNotPay offers can assist you in resolving administrative issues without breaking a sweat! Our app provides the easiest way to:
Get What You're Owed in a Few Taps!
Shopping is fun, but retailing companies can sometimes be difficult to negotiate with, especially when things go wrong. With DoNotPay, you can reach their customer service without spending hours on hold and get a refund fuss-free! Should the merchant refuse to collaborate, we can help you get justice by suing them in small claims court.
Our app can also file an insurance or warranty claim in your name, request gift card cash back, or initiate returns for dissatisfying products.
If you want to check whether you have any unclaimed money in old bank accounts, using DoNotPay is the easiest way to do it!