How to Connect With an Inmate in Kentucky State Reformatory
Kentucky State Reformatory is committed to preparing inmates to return to society by reforming their minds, bodies, and spirits. The facility provides several ways for inmates to connect with the outside world and connect with family and friends. Unfortunately, the existing methods to locate and connect with inmates are tedious, lengthy, and time-consuming. If your loved one is currently held at Kentucky State Reformatory, DoNotPay offers an easier way to locate and connect with them. Through our newly integrated mailing technology and encrypted database, you can now send letters to any inmate from our app or website at the comfort of your couch. You can also use our new search tool to quickly locate a loved one, whether held in a federal, state, or county facility.
Where Is the Kentucky State Reformatory Located?
The Kentucky State Reformatory is situated in LaGrange, Kentucky. It is a medium-security facility with a 1051 bed capacity. The following are the contact details of the facility:
How to Contact Inmates At Kentucky State Reformatory 
Kentucky state reformatory provides various methods to contact inmates at the facility. These include:
Visitation
Inmates are encouraged to receive visitors during their stay in the facility. You can visit your loved one at the reformatory from Friday to Sundays between the hours of 8:30 am to 3 pm. The following are some of the things to keep in mind if you are planning to an inmate visitation:
The visit schedule is determined by the end digit of the inmate's ID. Inmate IDs ending in odd numbers receive visitors on Saturday, and those ending in even numbers receive visits on Sundays. This schedule alternates next week.
You must adhere to a dress code that doesn't allow some clothing like revealing or provocative clothing.
You need to fill an application and be screened before booking a visit
Carry your government ID when visiting the facility
Sending Mail
Inmates at Kentucky State Reformatory are allowed to receive mail, including letters and packages. Keep in mind all mail is screened by jail staff for security reasons. When writing a letter to an inmate, ensure your message is free of any offensive, violent, or graphic language. If you wish to write a letter to the inmate, include the inmate's name and their ID number.
You can also write to prison pen pals.
Phone Calls
Inmates can only make outgoing calls during the daytime while at the facility. There are no incoming calls or phone messages allowed at the facility. The inmates leverage a prepaid third-party account, and calls last anywhere between 20 and 30 minutes.
How to Send Money to Kentucky State Reformatory Inmates
You can send money to a loved one at Kentucky state reformatory, so they use it to purchase extra items from the commissary. The inmate can also use the cash to top up their prepaid phone call accounts. An easy and quick way to send money to an inmate is via Jpay. The platforms are available online through your mobile device and PC.
Steps to Take Before Writing to a Prisoner
The following are the steps to take before calling/ writing to a prisoner in Kentucky state reformatory Inmates:
Research the mailing address of the facility
Find out the inmate ID number and Unit number
Find out the facility's rules regarding letters to prisoners
Review your letter to ensure it complies with all the rules
The DIY steps to send letters to inmates in Kentucky State Reformatory are tedious. Researching the address, inmate ID, and the general rules take much of your valuable time. Besides, typical mistakes such as using the wrong envelope, forgetting the inmate ID, or adding the wrong unit number can lead to a letter being rejected.
Fortunately, DoNotPay provides an easier way to send letters to a loved one in the facility. Through our new prison product, we make the process of locating an inmate and sending letters as easy as writing a text or an email.
DoNotPay Can Help You Locate Your Imprisoned Friend
Knowing how to address a letter to an inmate and get it accepted is hard, but DoNotPay can help. Get started by following the easy steps outlined below:
1. Locate the Connect With an Inmate service on DoNotPay.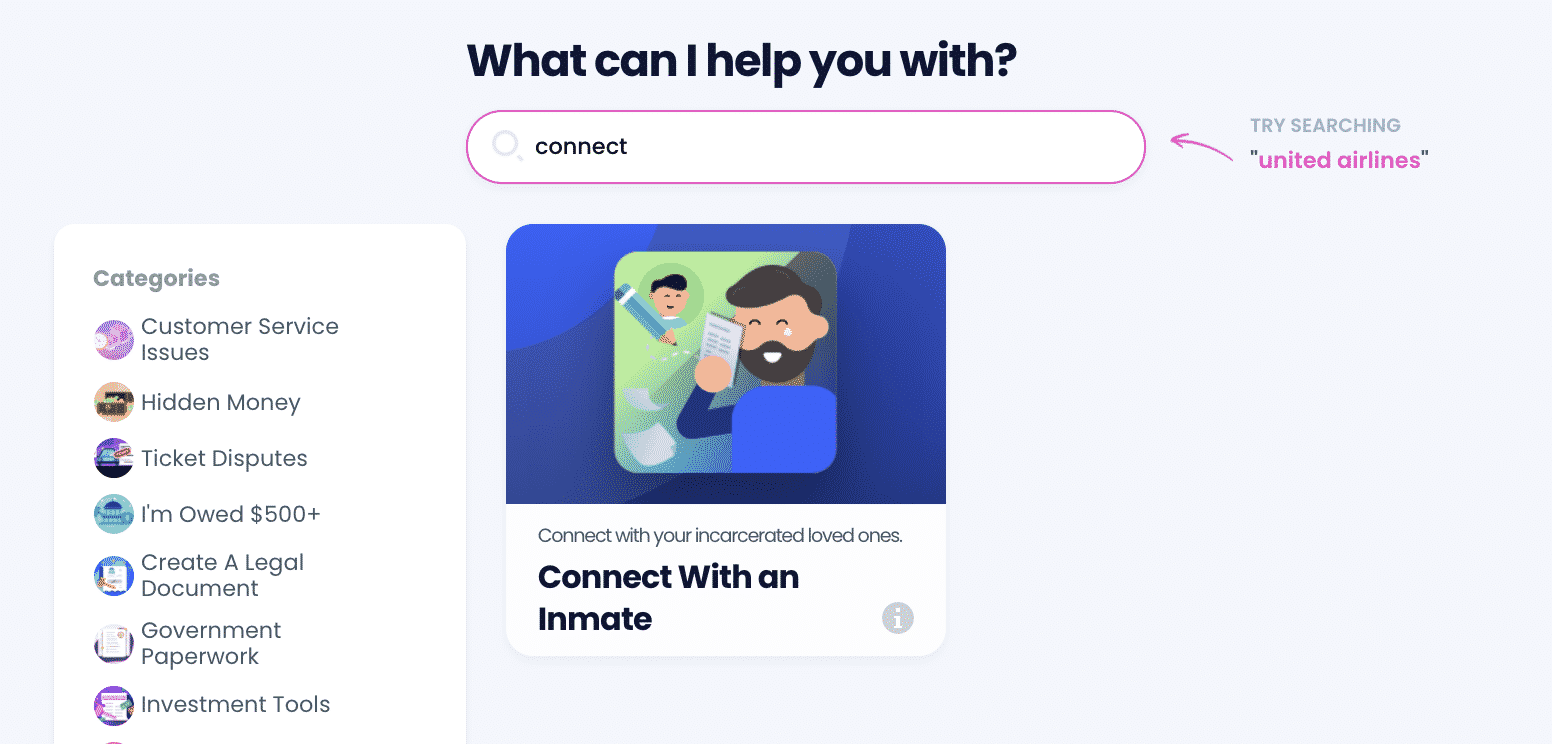 2. Choose whether you want to locate a loved one, create a virtual mailbox, or send a personalized letter.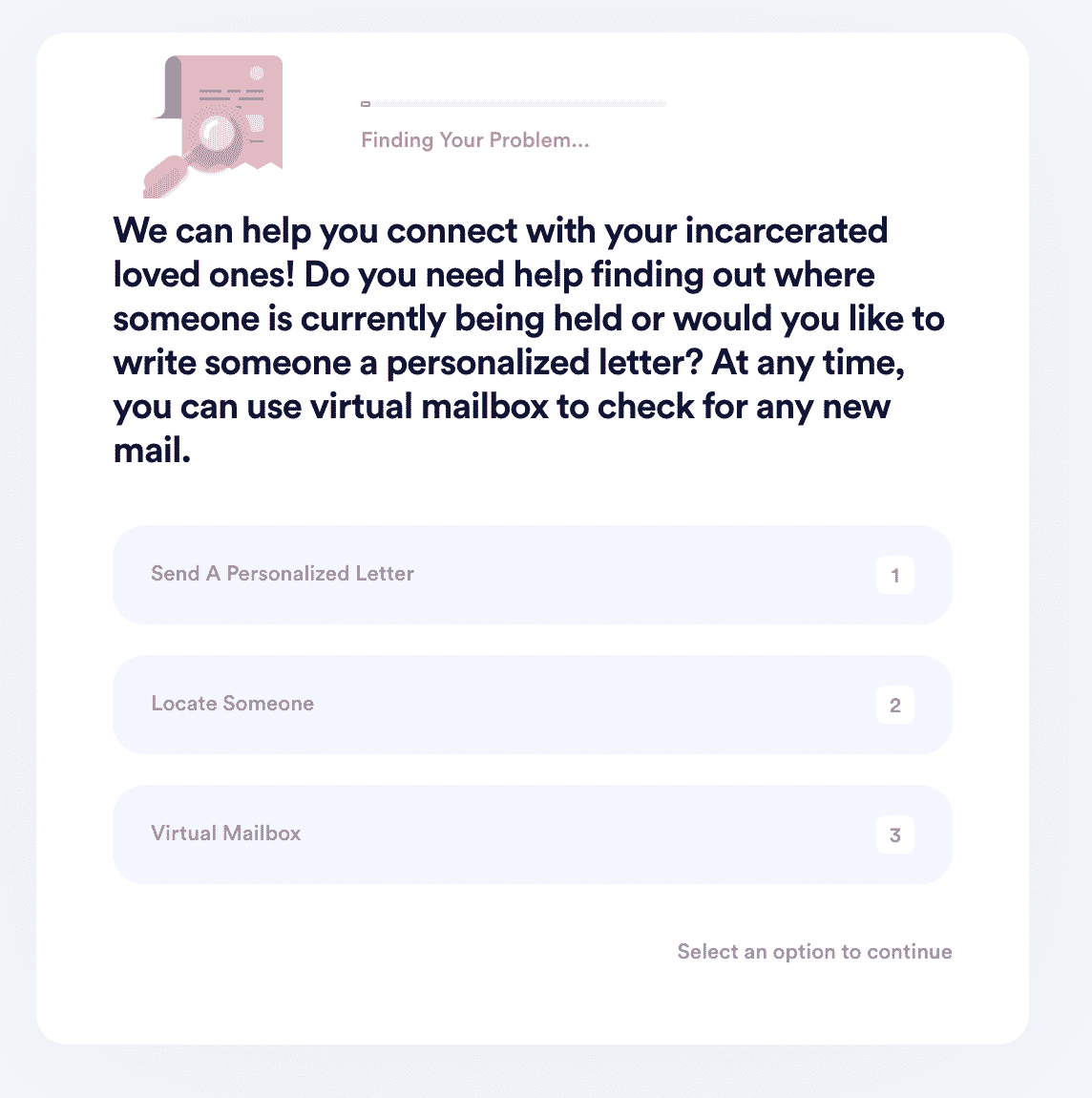 3. If you want us to find your loved one, provide his or her personal details and the state they are located in. We'll then conduct a search on the appropriate state database.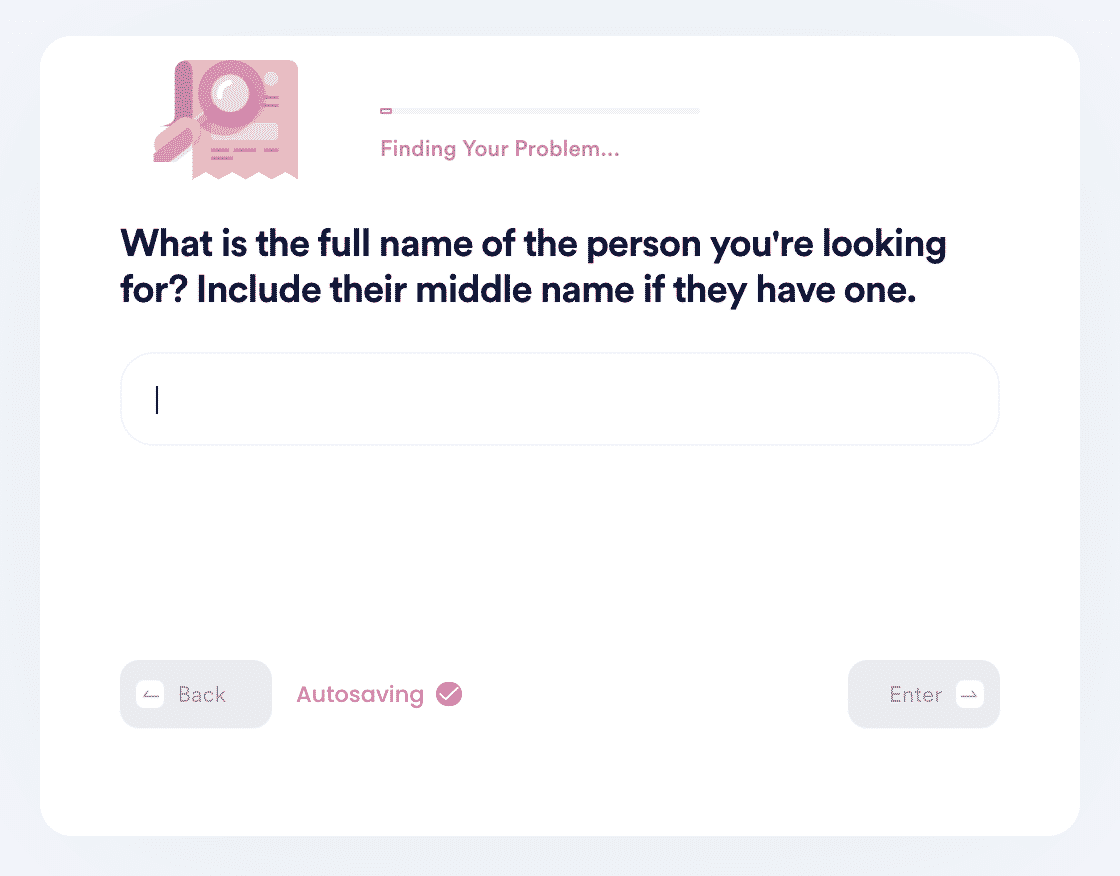 4. If you want to create a virtual mailbox, just provide your full name! We'll set one up for you so you can easily receive incoming mail from your loved one.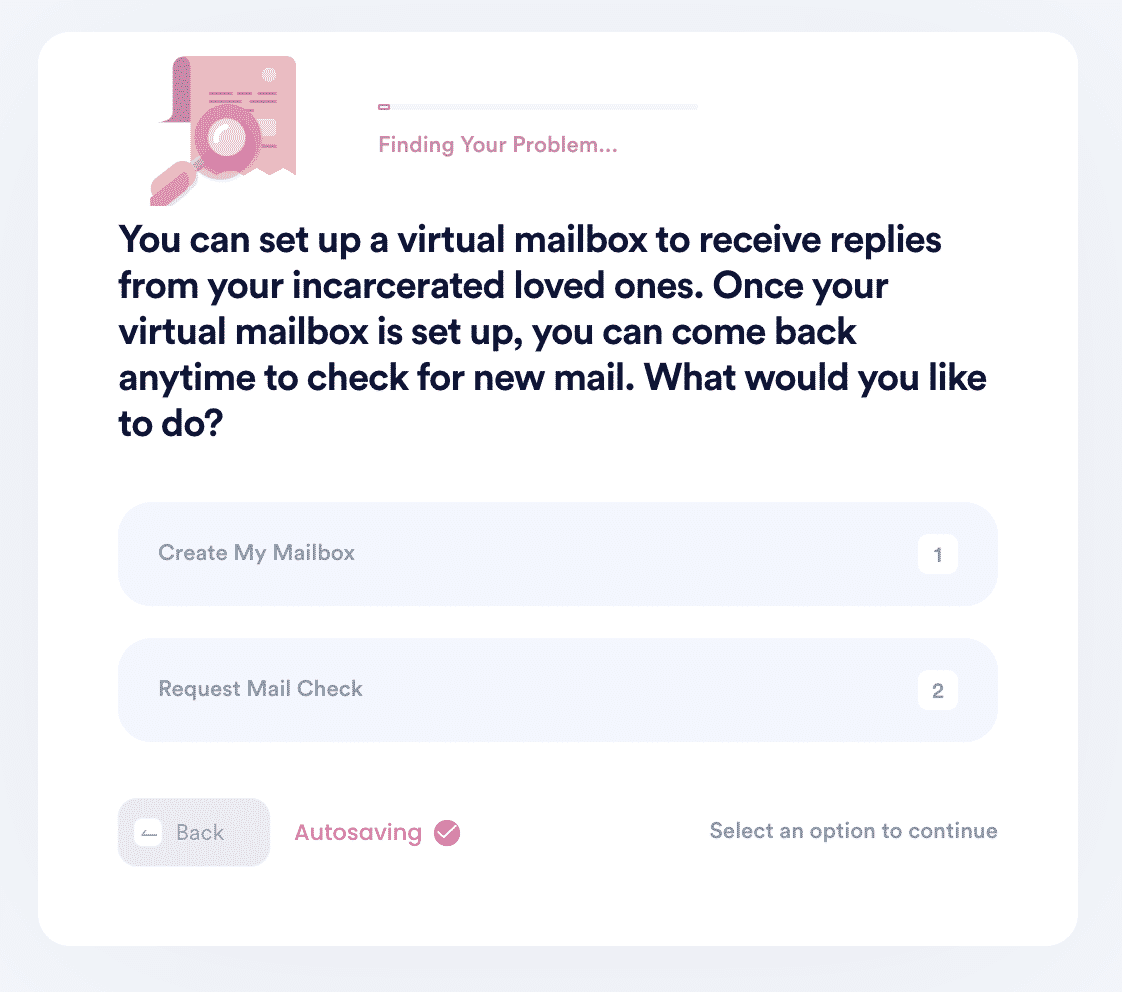 5. If sending a personalized letter, tell us which facility your loved one is located in and what you would like to say to them. You can even include a photo! Your letter will be delivered automatically - just wait 10 days for it to arrive to your loved one!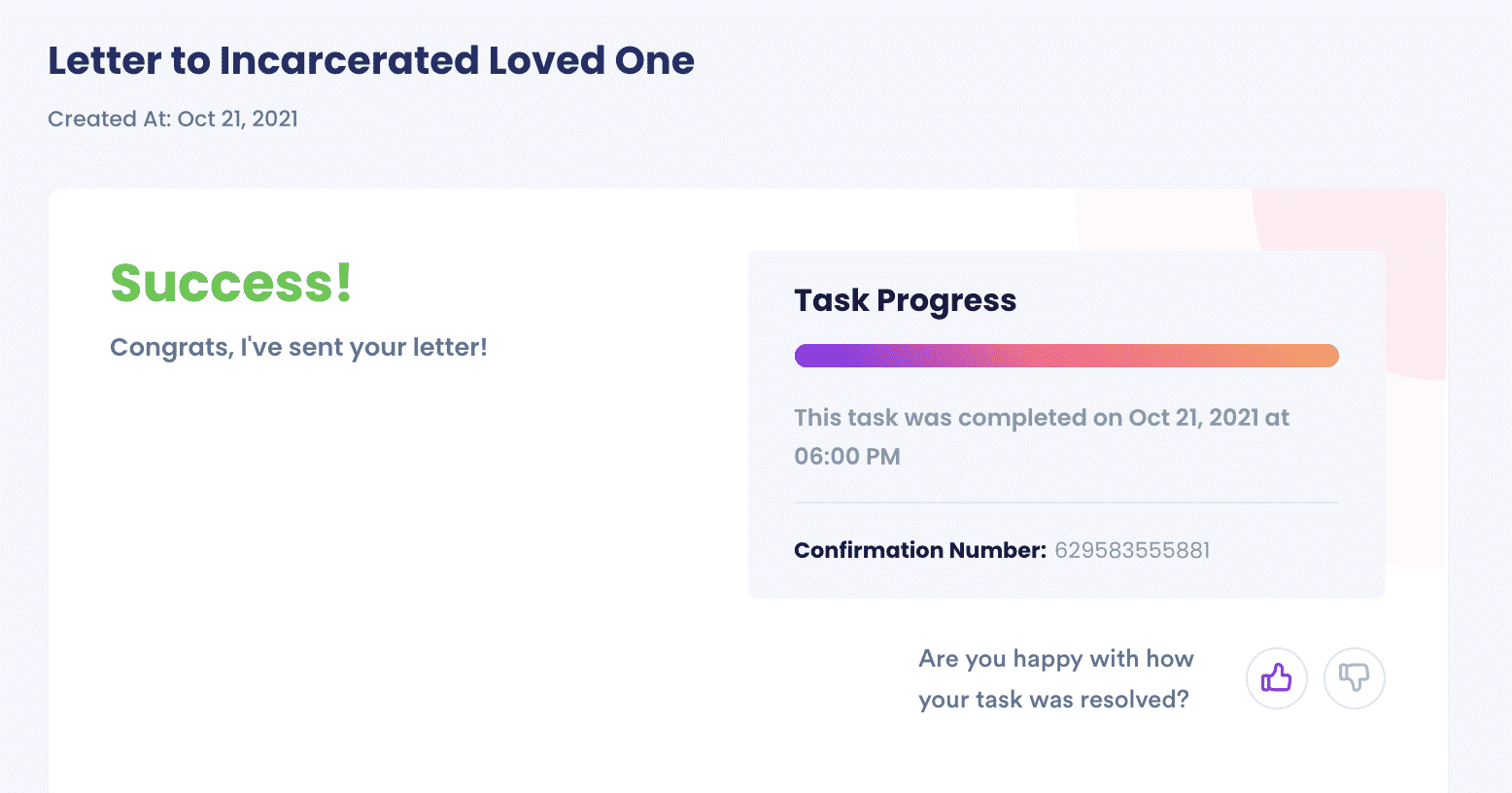 What Else Can DoNotPay Do?  
DoNotPay can also help you with the following:
Let DoNotPay Help You Locate and Send a Letter to a Loved One In Prison
It can be challenging to keep in touch with a loved one in prison, especially if you don't know where they are located or their inmate ID number. DoNotPay can help you overcome these challenges. Through our new prison product, we make the process of sending letters as easy as writing a text or an email. You can leverage our newly integrated mailing technology and encrypted database to send letters straight from our app or website to any prison. The inmate can also send responses to you, so you maintain healthy two-way communication. Contact us today to learn more about our product.