Kentucky Property Tax Exemptions—A Money-Saving Guide

The property tax rate in Kentucky is 0.83%, which falls below the national average of 1.07%. It may seem that Kentucky property owners dodged a bullet there, but the annual property taxes in KY are still high.
This article will show you some of the most effective ways of lowering property taxes, including qualifying for Kentucky property tax exemptions.
Property Taxes—From A to Z
Every property owner is obligated to pay specifically calculated taxes for each property they own. Rules and regulations can vary from one jurisdiction to another, but the state government is usually in charge of calculating the amount.
Property tax rates can vary depending on the state the property's in.
In the table below, you can see what the states with the lowest and highest property taxes are:
| | | | |
| --- | --- | --- | --- |
| States With the Lowest Property Tax Rates | Tax Rate | States With the Highest Property Tax Rates | Tax Rate |
| Louisiana | 0.18% | New Jersey | 1.89% |
| Hawai | 0.26% | New Hampshire | 1.86% |
| Alabama | 0.33% | Texas | 1.81% |
| Delaware | 0.43% | Nebraska | 1.76% |
| District of Columbia | 0.46% | Wisconsin | 1.76% |
Where Does the Property Taxpayers' Money Go?
The local government collects the money and decides where it will go. Property tax money usually goes towards funding the government services and departments. Here's what the local governments usually set aside property tax money for:
Providing public safety by funding the fire and police departments

Improving the local school district

Maintaining streets and roadways

Supporting public libraries
How Is Kentucky Property Tax Calculated?
The Kentucky government typically assesses the property through a mass appraisal, for which they use special software. 
They use data on sales in the marketplace and property details, like home size and construction date. The assessors then input these variables into the software and calculate the market value for each property.
Property owners are not always satisfied with the results of the property tax assessment, and if that's the case, they can file a property tax appeal with the county administrator.
Useful Tips on How To Reduce Property Tax Bills
If you need help with paying property taxes, these tips can help you lower them:
Avoid any renovations on the property before the assessment

Join the assessor during the evaluation to ensure everything is estimated correctly

Look for the possible inaccuracies in your tax bill

See if you qualify for a Kentucky property tax exemption
Learn About Property Tax Exemption in Kentucky
The state of Kentucky authorizes exemptions from property taxation in these cases:
Owner is qualified for a homestead exemption

Property is in the ownership of a qualified organization
You can see who can qualify for a homestead exemption in the following table:
Homeowner Exemption
Explanation

Based on age

Must be 65 years old or older

Has to provide proof of age—an ID, birth certificate, driver's license, or other approved documentation

Based on disability

Must be classified as disabled under a program authorized or administered by the U.S. government or any retirement system in Kentucky
If qualified, these types of organizations can become exempt from paying property taxes:
Public libraries

Religious institutions

Educational institutions

Government-owned property

Institutions of purely public charity

Cemeteries not held for private or corporate profit
Reduce Your Kentucky Property Taxes With DoNotPay's Help
The average American pays more than $2,000 in property taxes per year.
There are useful strategies for reducing property tax bills, and anyone can try them. Unfortunately, local and federal governments are reluctant to help property owners lower their taxes. Lacking the information and professional guidance makes people want to give up and pay the full property tax amount. If you hit the wall trying to get useful information about lowering your property tax bill, don't quit yet—DoNotPay has a solution!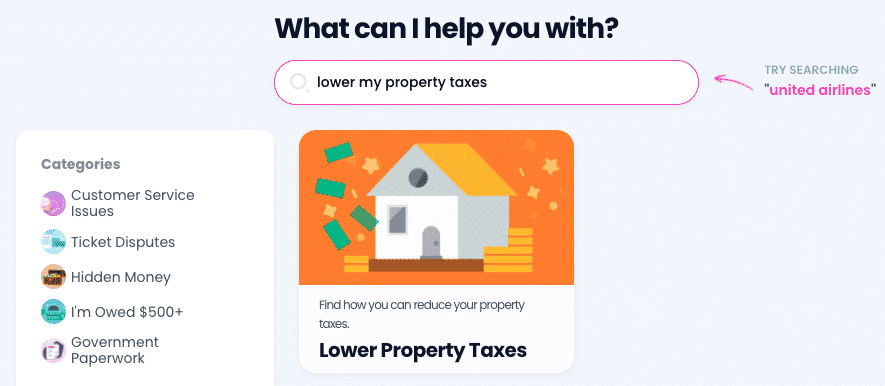 Based on the information you provide, we can determine which exemption you are eligible for:
Homeowners exemption

Persons with disabilities exemption
Here is what you have to do:
Access our app from a

web browser

Choose the

Reduce Property Tax

feature

Add some information about the owner and property, such as age, income, and property location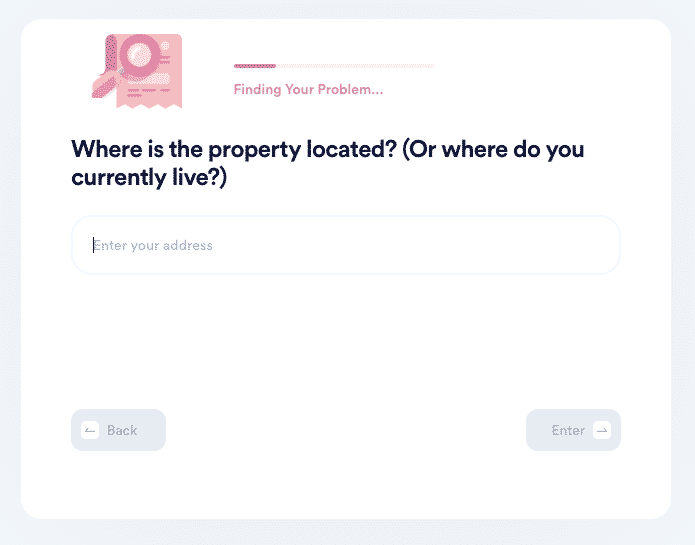 Once we gather the necessary information, DoNotPay will generate a detailed, property-specific guide for reducing property taxes.
This personalized guide will assist you every step of the way, and you can consult it whenever you need to.
Our service works anywhere in the U.S., and it will help you lower your property taxes in any state, including:
DoNotPay Can Show You How To File Tax Appeals
You can deal with high property taxes by filing a tax appeal. The way this works in Kentucky is that you file a property tax appeal with an assigned official. It seems easy, but it's not.
Without the proper information and instructions, your property tax appeal is worthless. With DoNotPay's guide, you will have the instructions made especially for your case.
To consult the guide about appealing past assessments, you have to follow these steps:
Access DoNotPay from your usual

web browser

Open the

Reduce Property Tax

service and follow the instructions to get your guide

Consult the guide on how to file a property tax appeal
Keep Your Money Safe With DoNotPay
Don't let greedy companies threaten your consumer rights by holding back refunds, refusing to cancel your subscriptions, or charging you after your free trial ends.
DoNotPay helps you try out different services without providing your credit card info or phone number—you will never again have to deal with unexpected post free trial charges!
Our app also helps you avoid paying unnecessary parking tickets, delay challenging bills, or waive your college application fees. 
If any company refuses to issue you a refund or an airline won't compensate for canceled flights, we can help you sue them in small claims court. 
DoNotPay Is a Time-Saving App
How many customer service reps do you have to deal with only to file an insurance claim or book your DMV appointment?
DoNotPay helps you sort out these tasks and much more in only a few clicks. 
Get your revenge on robocallers, report text scammers, find validated clinical trials, claim your warranties, get in touch with your loved ones in prison, and protect your creative content—all in less than five minutes. 
No more hours-long phone calls, emails, or in-person visits. 
We cover everything from freeing your inbox from spam to providing excellent prep tests for government exams! Save time with your all-in-one app!