The Ins and Outs of a
Kentucky Property Tax Assessment
With the state average effective property tax rate of 0.83%, Kentucky is one of the states with low property taxes. This fact makes the Bluegrass State one of the best states for property owners.
Even though the state average property tax rate is relatively low, it's not a guarantee that your property tax bill will be low as well—that depends on the evaluation of your property.
In this article, you can find all about the Kentucky property tax assessment and property tax appeal process.
What Is a Property Tax Assessment?
The Property Valuation Administrator (PVA) is the official in charge of the evaluation of most real properties in Kentucky. The PVA office revalues each property every year and physically inspects each property once every four years through a mass appraisal.
When the assessors come to your home, they estimate its value considering the:
Square footage

Neighborhood

The market value of neighboring homes

Number of floors

Number of rooms

Permanent installations on the property, including sheds, pools, fountains, gazebos, or solar panels
How Does
KY Property Tax Assessment
Work?
The Office of Property Valuation (OPV), alongside the Property Valuation Administrator, uses three methods to determine the estimated monetary value of all the property in Kentucky:
Cost approach

—The estimated amount it would cost the property owner to replace any installment on the property or other improvements subtracted by the estimated amount of the depreciation

Income approach

—The assessors use this approach when assessing properties that generate income. The value is based on the estimated income the property should produce during its lifetime

Sales comparison approach

—The so-called market approach uses the value of recently sold properties similar to predict the value of the one they're assessing
The following properties are exempt from property taxes and assessment in Kentucky:
Federally owned property

State-owned property

County-owned property

City-owned property

Property owned by a non-profit organization

Property in possession of a religious institution

Cemeteries

Property owned by charities
Useful Tips for Lowering Your
Kentucky Property Tax Assessment
Value
While you cannot avoid your property's assessment, there are some methods you can implement that can help lower your property tax bill:
Research the neighboring properties

—Information about property tax assessments are available to the general public, which means that you can look into the assessments of the properties around yours. This will give you a clear idea of what your property's assessment is going to look like and the market value it is going to be compared to

Avoid making home improvements before the assessment

—Any constructional changes, renovations, and additions to your property—like sheds, pools, or fountains—increase the value of your property, making your tax bill higher. You should postpone any home improvements to after the assessment takes places

Follow the property tax assessor during the assessment

—You can avoid potential irregularities and mistakes that can raise your tax bill by accompanying the evaluator during the process

Show the interior of your property to the assessor

—Property evaluation is not done on the house's interior unless the property owner allows it. The assessor can mistake your high-ceiling one floor for a two-floor house or overlook some interior damages, which would increase your property's value. It's in your best interest to allow the assessor to inspect the inside of your property 
Besides using these methods, you can also:
Am I Eligible for Any Property Tax Exemption in Kentucky?
If you need help paying property taxes, the best option is to check your eligibility for property tax exemptions the State of Kentucky offers.
The following table displays the descriptions of the property tax exemptions in Kentucky:
Property Tax Exemption

Description

Homestead Exemption

Citizens that are 65 years old or older are eligible for homestead/

senior citizen property tax exemption

in Kentucky. If you fall under this category, you have to provide proof of age in the form of an ID, birth certificate, driver's license, or other approved document

Disability Exemption

Kentucky residents that are classified as totally disabled under a program authorized by the U.S. government or any public or private retirement system are eligible for property tax exemption. If you are eligible for this exemption, you should provide a birth certificate or driver's license and a document that verifies your disability
If you're uncertain about the eligibility criteria, sign up for DoNotPay, and we will easily identify all the ways to lower your property taxes in a few steps.
Not Satisfied With Your
KY Property Tax Assessment
? File an Appeal With DoNotPay's Help
Managing property taxes is demanding, even if you have experience with it. Gathering information from various sources, checking whether you meet the eligibility criteria for property tax exemptions, and appealing your assessments can be too much for one person.
Luckily, you have DoNotPay's assistance. We created the Property Tax product that puts your efforts to a minimum and offers a solution to all your worries regarding property taxes.
Here is how our service works:
Choose the

Property Tax

feature

Answer our chatbot's questions about your property and yourself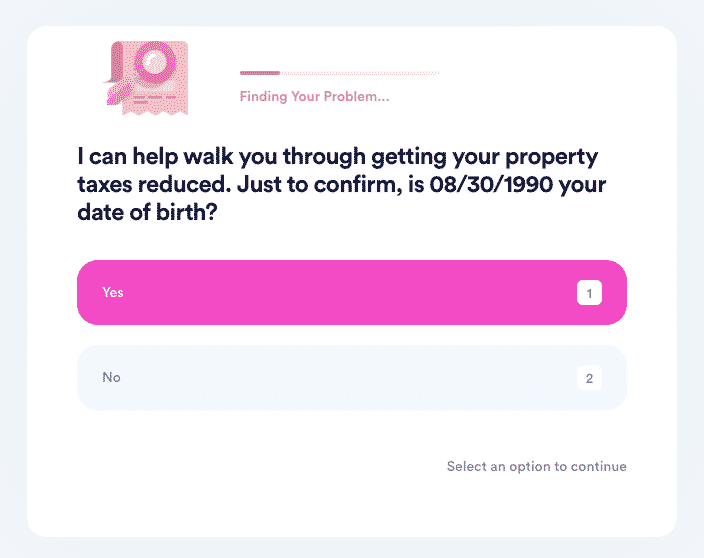 We will create a customized guide that contains all the information you need with regard to your property and location. 
The customized manual will show if you qualify for an exemption and how to get it and provide instructions and deadlines for appealing the property tax assessments.
Keep Your Data Safe With DoNotPay
Do you love free trials but are reluctant to disclose your credit card details, phone number, or email address?
Our app lets you try out different subscriptions in a risk-free way!
Use DoNotPay's Burner Phone feature to sign up for services without providing your phone number! We'll make sure robocall scammers and text spammers cannot harass you!
With our virtual credit card, you can sign up for any free trial and not worry about canceling it! Since the card is not linked to your bank account, no one will be able to charge you once the trial expires. An additional perk is that the card comes with a free email address, which means no spam emails from the company. 
DoNotPay Helps You Fight for Your Consumer Rights
Did you know that companies often reject first-time warranty claims?
You're probably familiar with how complicated the process of appealing parking tickets is. Trying to get a refund for an unsatisfactory purchase or a delayed flight has likely made you mad at least once.
Not anymore! DoNotPay makes all these issues go away in less than five minutes, and that is not all we can do for you!
You don't have to deal with customer service reps of any company on your own anymore—we do it all for you!
DoNotPay bypasses any bureaucratic obstacle for you—scheduling DMV appointments, delaying bill payments, getting in touch with your incarcerated loved ones, filing lawsuits in small claims courts, and claiming insurance policies.