A Complete Guide to Getting Kentucky Divorce Forms in PDF
Lawyers, mediators, and other professionals are what make marriage dissolution an expensive endeavor. If you're getting a divorce in Kentucky, you can avoid most of these expenses by opting for a DIY option. As you can gather from its name, a do-it-yourself divorce requires you to get familiar with the whole process—laws, rules, papers, filing methods, and other crucial aspects.
Not sure where to start? DoNotPay can show you how to get Kentucky divorce forms in PDF and which ones you need.
Do-It-Yourself Divorce in Kentucky—From A to Z
DIY divorces are not the right choice for everyone. Before collecting the paperwork for the process, you need to check if you're the right candidate and if it's the most suitable option. The questions you need to answer before petitioning for divorce are:
Are you meeting the requirements?
What legal grounds are you basing your divorce on?
Do you qualify for an uncontested DIY divorce?
Requirements
Here are the requirements you have to meet to file for divorce in Kentucky:
You have been separated for at least 60 days
Either you or your spouse meet the residency requirements—one of you must have lived in Kentucky for at least six months before petitioning for divorce and:

Is registered to vote in KY,
Pays state taxes in KY,
Has a KY driver's license, or
Is in the army and has been stationed in Kentucky for at least six months

The wife is not pregnant—If she is, the divorce cannot happen before the pregnancy ends
You have to file the divorce papers in the county you live in
Legal Grounds
Kentucky is a "no-fault" state, which means that neither of the spouses has to take the blame for the termination of the marriage.
You can file for divorce in Kentucky based on the following legal reasons:
The marriage is irretrievably broken
There is no chance for reconciliation
Eligibility for a DIY Divorce
The requirements you must meet and the legal grounds you're basing your divorce on apply regardless of the divorce type. To get an uncontested divorce in Kentucky, you and your spouse have to make decisions regarding certain important matters without the court.
According to Kentucky laws, you qualify for a friendly divorce if you agree on the following issues:
Division of debt
Child custody
Parenting plan
Division of marital property
Which Kentucky Divorce Papers Do I Need?
If you're getting a DIY divorce in Kentucky, you need to gather, fill out, and file the necessary documents on your own. In the table below, you can find the divorce forms you need to start the divorce process:
Mandatory
Optional

AOC-105 Civil Summons
Form 1A or 1B (if you have children) Petition for Dissolution of Marriage
REDACTED Form 1A or 1B Petition for Dissolution of Marriage
AOC-FC-3 Case Data Information Sheet
AOC-FC-3 REDACTED Case Data Information Sheet
VS-300 Certificate of Divorce or Annulment
AOC-238/239 Simplified Verified Disclosure

Form 7 Affidavit for Warning Order Attorney
Form 8 Motion To Proceed Without Paying Costs
Where Can I Obtain Free Kentucky Divorce Forms in PDF?
You don't have to hire a lawyer to gather and help you fill out the necessary divorce papers—you can do it on your own! The Kentucky Court of Justice offers self-help packages of forms on their website for anyone who chooses a DIY divorce option.
All of the documents come in PDF format, and there are often instructions included.
I Prepared the Required KY Divorce Forms—What Next?
After preparing the documents, you can commence the dissolution of the marriage. Here's how to file for divorce:
File the forms at a clerk's office in your county—Make two copies of each document (for you and your spouse) and file the original with the court
Serve divorce papers to your spouse—You have 45 days to inform your spouse about the divorce, and there are two ways to do that:

Via certified mail
By having a person older than 18 years deliver them personally
If you reach an agreement with your spouse, you'll have to file the following uncontested divorce papers with the court once you both sign them:
Form 2—Entry of Appearance and Waiver
Form 3A or 3B (if you have children)—Marital Settlement Agreement
AOC 238.3 Acknowledgment of Preliminary/Final Verified Disclosure Statement
Form 4—Deposition of Petitioner
Form 5A or 5B (if you have children)—Finding of Fact and Decree of Dissolution of Marriage
Form 9—Motion for Final Decree
You can fill out most of these forms by yourself. What might be a problem is creating a marital settlement agreement. This legal document has to outline the terms of the agreement you have with your spouse regarding the most important aspects of the divorce. It is a legally binding contract, so there must not be any mistakes. To obtain an ironclad settlement agreement, sign up for DoNotPay, and we'll draft it in minutes!
Use DoNotPay To Draft a Settlement Agreement and Complete Your DIY Divorce in KY
Drawing up a divorce settlement agreement is a piece of cake with the world's best virtual assistant.
Everything you need to do is open DoNotPay and follow these steps:
Locate the Divorce Settlement Agreement tool
Answer our chatbot's questions regarding your spouse, children, and marriage
Inform us how you want to allocate your finances
Indicate whether you need a notary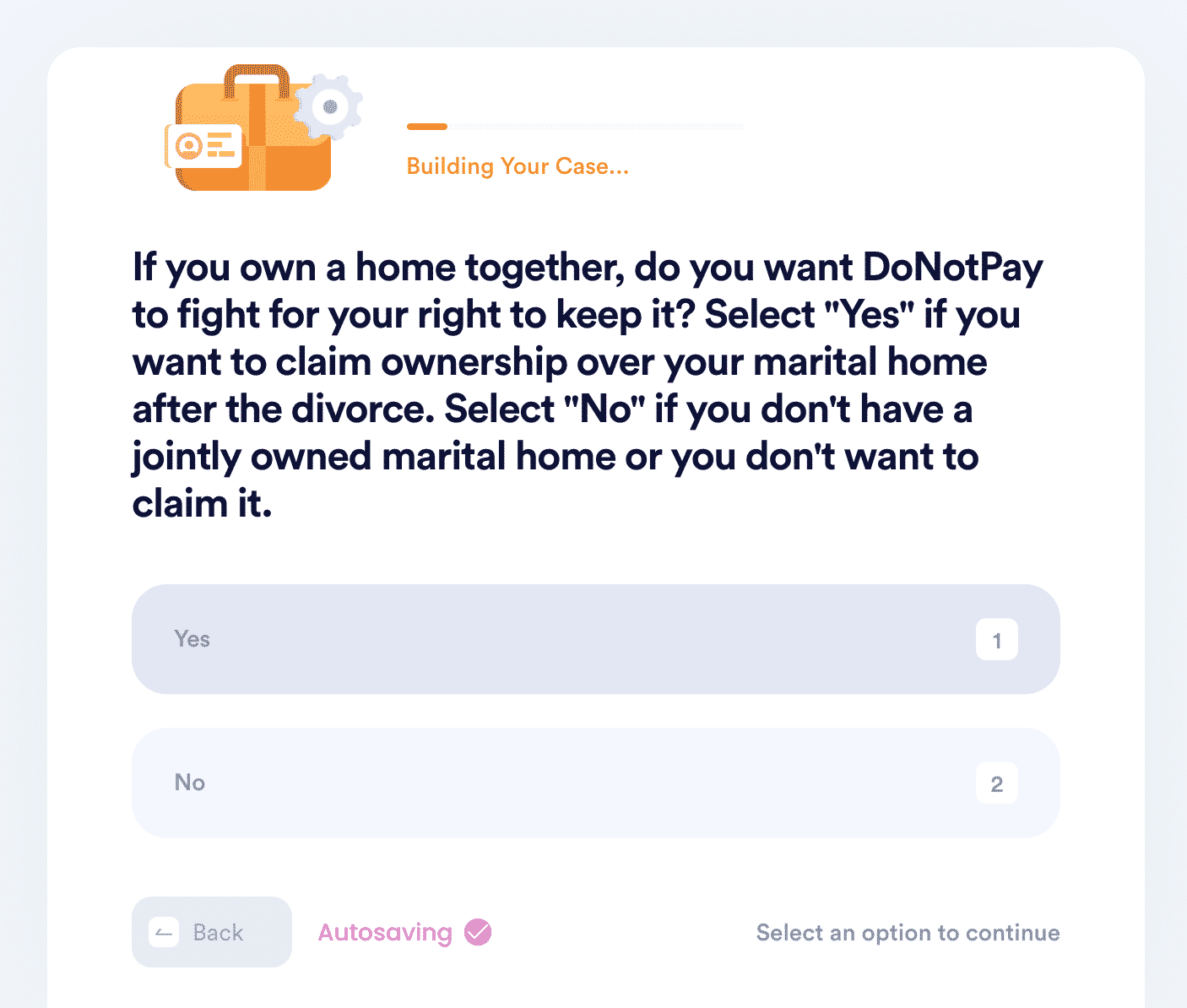 DoNotPay will customize the document and send it to you right away!
Are you curious about other divorce-related matters? Check out our learning center and discover:
DoNotPay Is Righting Wrongs Left and Right
DoNotPay is a platform that puts its subscribers' safety in the first place. We can keep you safe from sex offenders, stalking, and harassment. In case you're a victim of a crime, we can help you get compensation.
Fight for discrimination at your workplace with the world's first robot lawyer or sue any company or person in small courts if you feel like you've been wronged.
Is There Anything DoNotPay Can't Do?
The short answer is no, and the list of our AI-based app's features keeps growing by the day. We offer professional assistance with issues that no other platform can help you with. Sign up now and: