How To File Your Kemper Insurance Claims Hassle-Free
Kemper Corporation is an insurance company based in Chicago, Illinois. The company offers four types of insurance:
Vehicle

Property

Lifestyle

Additional
If you want to file a Kemper insurance claim without any inconvenience, turn to DoNotPay and let us help you get your money in a jiffy!
What Does Kemper Insurance Cover?
Each Kemper Insurance plan covers a different set of items, so to better understand everything you can insure or claim from Kemper, check out the table below:
Insurance
Coverage

Vehicle Insurance

Auto

Commercial auto

Boat

Property Insurance

Home

Renters

Condo

Personal valuables

Collectibles

Lifestyle Insurance

Additional Insurance

Personal catastrophe

Identity fraud

Package
If you buy both vehicle and property insurance from Kemper, you may be able to get a discounted bundle that includes replacement cost coverage and other benefits. Kemper may give you a discount on one of their plans if you:
Have a hip roof with slopes on all four sides in some coastal states

Are claim-free

Purchase three or more coverage upgrades

Insure a home less than 15 years old

Install safety features like fire alarms, smoke detectors, and burglar alarms

Have storm or hurricane shutters in hurricane-prone areas

Are a loyal Kemper customer

Bought a home within the past two years

Have updated wiring, heating, and plumbing systems, and your house is older than 25 years

Hold multiple policies with Kemper

Are a mature homeowner

Married or in a legally recognized civil union or domestic partnership
How Can I File
Kemper Insurance Claims
?
You can file your Kemper insurance claims using several methods, but keep in mind that most companies will drag the process on for as long as possible and sometimes even deny your claim altogether. Luckily, DoNotPay will help you resolve any of these issues fast and easily!
Here is how you can file your Kemper insurance claim:
| | |
| --- | --- |
| Can You File Your Insurance Claim Via | Yes/No |
| DoNotPay | Yes |
| Phone | Yes |
| Email | No |
| Letter | No |
| Company Website | Yes |
| In Person | No |
File Your Kemper Insurance Claim via Phone
To file your claim over the phone, please take the following steps:
Call

866-536-7376

Report your claim
A Kemper representative will handle your claim and provide you with instructions on what to do next. Their claims center is available 24/7.
Filing a Kemper Insurance Claim Online
If you want to avoid calling the company, you can file your insurance claim on the Kemper website.
Here is how it works:
Visit the

website

Choose your claim type

Click

Start Online Now

Provide all the required information

Hit

Submit
File Your
Kemper Insurance Claims
Effortlessly With DoNotPay!
DoNotPay offers you the most convenient way to file insurance claims to Kemper or any other company! We streamlined the process to a tee so that you can relax and get it done in no time! Here are the steps you should follow to file your Kemper insurance claim with our app:
Go to your

and visit DoNotPay

Choose the type of insurance

State your

contact details, provider, and policy number

Explain the reason for filing your claim and give any useful details about the case
DoNotPay will cover the rest of the work, and Kemper should reach out to you by phone or email with further information.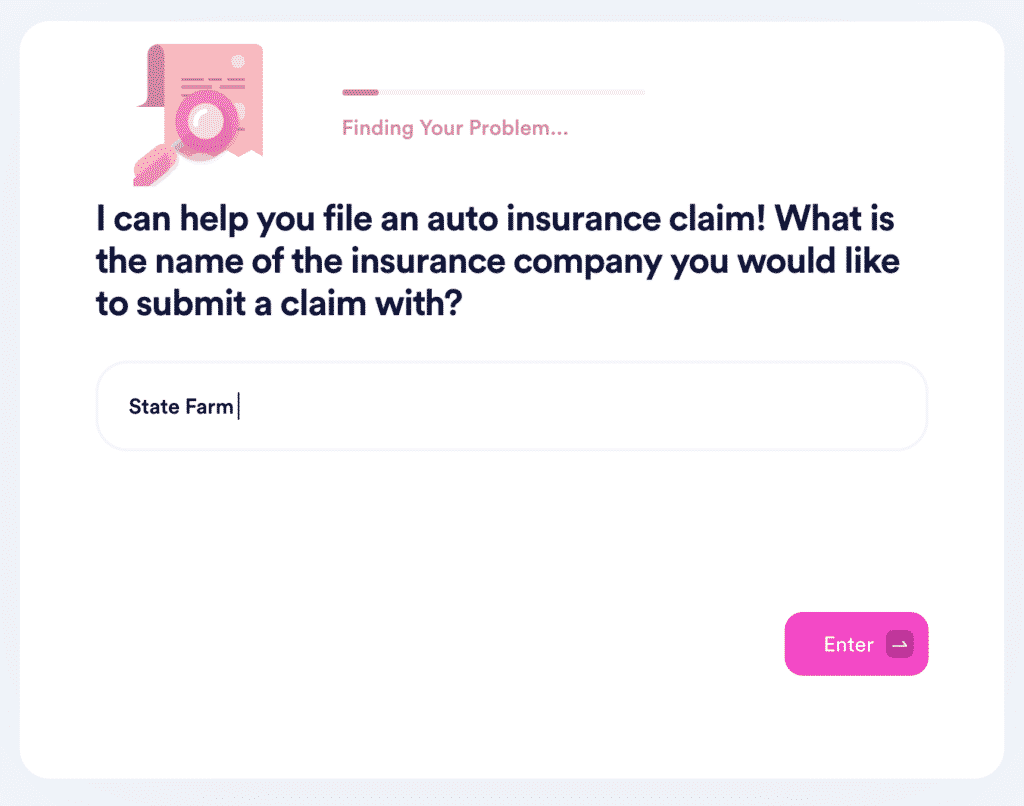 That is not all! DoNotPay assists you in filing unemployment and accident insurance claims as well.
Let DoNotPay Help You Appeal a Denied Insurance Claim
If your insurance claim gets rejected, you can ask your insurer to explain why it was rejected and ultimately appeal it. We offer you an easy three-step guide to get it done without breaking a sweat!
This is how it works once you open your and visit DoNotPay:
Find the type of insurance that you need

Tap the

Appeal a Denied Insurance Claim

Follow the instructions to complete the appeal process
Our app will assist you by sending an insurance appeal letter on your behalf! We can also help you file insurance claims from other companies, such as MetroPCS, Allianz Travel, and Amica.
You Can Sue Kemper if They Refuse To Help
If you experience issues with Kemper and they refuse to provide adequate service, you can use DoNotPay to sue them! The process is simple! All you need to do is open our app and use it to take the company to small claims court.
Here is what DoNotPay can do for you:
Check whether your case against Kemper is acceptable for small claims court

Show you how to file your complaint against Kemper to the court

Write a demand letter

Advise you how to serve the required documents to Kemper

Complete the needed court forms

Make a tailored script for your court appearance
Get Back at Greedy Corporations With DoNotPay
How many times have you tried reaching out to an airline regarding your canceled flight? Did you ever spend hours trying to contact customer service reps only to be refused your refund request?
Big companies tend to make certain processes complicated for their customer in hopes they would give up on pursuing their goals.
This is why your warranty claims often get denied the first time or why canceling a gym membership can be an administrative hell.
Our AI-powered app is here to help you sort these problems out.
Whether you're trying to file an insurance claim, schedule your driving test, start a free trial without disclosing your payment info or a phone number, or get access to public records, we've got you covered.
DoNotPay Is the Virtual Assistant You Need
DoNotPay is the first robot lawyer in the world created to simplify complex tasks. We can help you with anything from appealing your parking citations to filing lawsuits in small claims court.
In case you need to save up some money, our app will show you how to get an extension on your bill payments, sign up for paid clinical trials, or avoid paying your college application fees.
DoNotPay can also report robocallers, text spammers, and email phishing attempts, and real-life stalkers with a few clicks.