How To Get a Kazakhstan Tourist Visa
If you are looking for an adventure in Central Asia, you won't go wrong with Kazakhstan. This country is home to breathtaking scenery with the famous Kazakh steppe and Altai mountains. You will also have the privilege of staying in a cultural melting pot—as many as 131 ethnicities coexist there.
Do you need a Kazakhstan tourist visa to enter the country? Use DoNotPay to find the answer to this question and the essential info about the travel requirements!
Is a Kazakhstan Tourist Visa Necessary for U.S. Citizens?
Traveling to Kazakhstan without a visa is not possible at the moment. The Government of Kazakhstan has prolonged the suspension of visa-free travel for U.S. citizens to Kazakhstan until December 31, 2021.
Before the COVID-19 global pandemic, U.S. citizens were allowed to stay in this country for 30 days without a tourist visa.
If you plan a longer trip, you will need to apply for a ten-year Kazakhstani visa allowing you to stay 30 days for tourism and 60 days for business within six months.
To get a visa, you must have a passport valid for three months after entry. No additional documents are required.
How To Apply for a Kazakhstani Visa
Since July 2019, Kazakhstan visa applications need to be submitted in person at the consular section. Besides the Embassy of Kazakhstan in Washington, D.C., there are two Kazakhstan consulates in the United States. You can get the relevant application info by contacting the staff.
The relevant details are presented in the table below:
Embassy of Kazakhstan in Washington, DC
Consulate General of the Republic of Kazakhstan, New York City
Consulate General of the Republic of Kazakhstan, San Francisco

Address—1401 16th St NW Washington, D.C. 20036. The Consular Section entrance is on O St.
Phone—202-232-548
Email—washington@mfa.kz

Address—535 5th Avenue, 19th FL, New York, New York 10017
Phone—646-370-6331
Email—consul.newyork@mfa.kz

Address—456 Montgomery Street, Suite 950, San Francisco, CA 94104
Phone—628-236-1030
Email—qazconsulsf@gmail.com
You should note that the Embassy of Kazakhstan is closed every Wednesday.
Traveling to Kazakhstan During the COVID-19 Pandemic
Even though U.S. citizens are permitted to enter Kazakhstan, strict limitations apply. Due to the COVID-19 pandemic, the Department of State has issued a Level 3 Travel Advisory, which urges people to reconsider travel. Kazakhstan borders are currently open only to:
Diplomats
Direct-family members of Kazakhstani citizens
Residency permit holders
Some employees of designated companies in critical industries
Citizens of countries with which Kazakhstan has resumed direct flights
Even if you are a U.S. citizen who meets the criteria, you must have a visa to enter the country.
Kazakhstan Fun Facts and Useful Info
Before you go to Kazakhstan, you should inform yourself about the country and the customs. Here is what you need to know:
Kazakhstan is the world's largest landlocked country
The most widespread language is Kazakh, while Russian is also an official language. Kazakhs also speak a Turkic language of the Northwest or Kipchak (Qipchaq) group
The majority of Kazakhstan residents are Muslim. The second-largest religion in the country is Orthodox Christianity
The country has a nature reserve with around 1,300 species of flowering plants
You may be taken in for questioning if you take pictures of certain buildings or other sensitive infrastructure
Most hotels, retailers, and restaurants in major cities accept debit and credit cards, but smaller vendors and businesses in rural areas accept only cash payments
It is an earthquake-prone country
Oh, and you might get to drink fermented horse milk since it is Kazakhstan's national drink.
Use DoNotPay To Get the Tourist Visa Information You Need
Understanding the travel and visa requirements can be challenging. The information is usually scattered in multiple places, and finding the correct sources can be time-consuming.
Using DoNotPay is a simple way of figuring out whether you need a tourist visa to enter the destination country. If there is no need for an entry permit, we will let you know how long you can stay at your destination.
If you do need a tourist visa, DoNotPay will:
Make sure you have all the required documents for your application
Get you a direct link to the online application. If it's not available, we will provide you with a PDF guide with detailed instructions
To avoid the ordeal of finding the necessary tourist visa information yourself, proceed as follows:
Find the Tourist Visa Guide product
Let us know if you are a U.S. passport holder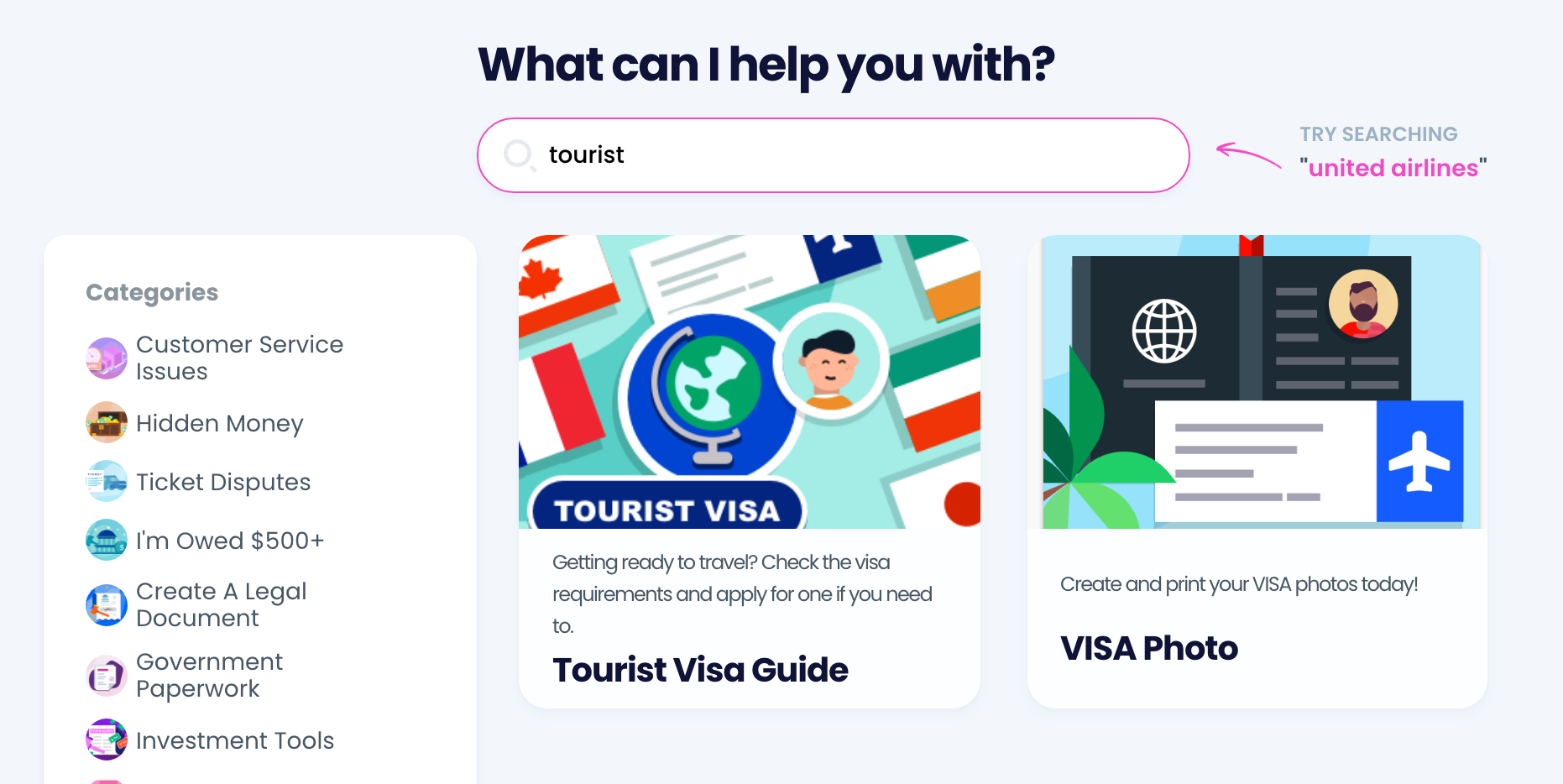 See More of Asia While on the Continent
You can use DoNotPay to see what other Asian countries mandate to travelers planning to visit. Take a look at the table below for our helpful guides:
DoNotPay Is the Best Solution for Your Bureaucratic Problems!
A wide range of handy features DoNotPay offers can assist you in resolving administrative issues without breaking a sweat! Our app provides the easiest way to:
Get What You're Owed in a Few Taps!
Shopping is fun, but retailing companies can sometimes be difficult to negotiate with, especially when things go wrong. With DoNotPay, you can reach their customer service without spending hours on hold and get a refund fuss-free! Should the merchant refuse to collaborate, we can help you get justice by suing them in small claims court.
Our app can also file an insurance or warranty claim in your name, request gift card cash back, or initiate returns for dissatisfying products.
If you want to check whether you have any unclaimed money in old bank accounts, using DoNotPay is the easiest way to do it!