Use a Kansas Living Will To Express Your Wishes
Planning your health care ahead is a good option to prevent confusion and disputes among your loved ones. You could indicate your wishes regarding medical treatment in a living will, medical power of attorney, and advance directive to ensure everyone respects them.
Since states have different rules concerning these documents, this article explains what to pay attention to when drafting a Kansas living will.
Why Should You Have a Living Will Form in Kansas?
A living will—also called a Kansas advance directive form—is a legal document that allows you to provide explicit instructions to doctors and health care providers in case you get:
Unconscious
A terminal illness
You should draft a living will to inform your:
Doctors that you:

Wouldn't like to receive life-sustaining procedures
Would like to die naturally

Family members and close people of your preferences for the end-of-life situation
Keep in mind that according to Kansas law:
Two doctors need to confirm that you won't recover from a terminal illness for your living will to become effective
You will receive medicine and treatment for pain relief even when your living will goes into effect
What Is an Advance Directive in Kansas?
A Kansas advance directive is a document that includes the following forms:
Kansas Advance Directive Forms
Details
Durable power of attorney for health care decisions
A Kansas medical power of attorney (POA) is a form that lets you:

Name a person—your agent or a health care proxy—to make decisions about your medical treatment in case you're unable to make them for yourself
Specify the powers you grant your agent
Limit your health care agent's authority

Living will
Keep in mind that you shouldn't complete a Kansas living will form if you'd like to receive life-sustaining procedures in case you:

Have a terminal illness
Cannot make your own medical decisions

Organ donation
An organ donation form could follow a Kansas living will if you:

Would like to make an anatomical gift upon your death
Have not authorized your health care agent to communicate your organ donation wishes on your behalf
Keep in mind that a:
Medical POA is different from a:
Living will is not the same as a (last) will
How To Draft a Kansas Living Will and Advance Directive
If you are not sure how to create a Kansas advance directive, living will, or medical POA, take a look at the following list:
Consult a lawyer—Any lawyer can draw up a legal document for you if you're ready to settle high attorney fees
Use an online template—While you can access lots of different forms online, you need to inspect them closely since some might not:

Be suitable for your specific case
Fulfill the necessary legal requirements

Register for DoNotPay—We will:

Make sure your wishes fit the legal framework
Generate the document in a matter of minutes
Create a Rock-Solid Living Will With DoNotPay
Our AI-powered app uses relevant state laws as the basis for your living will, advance directive, and medical power of attorney.
Not only will you receive a watertight document, but we can also help you get it notarized online.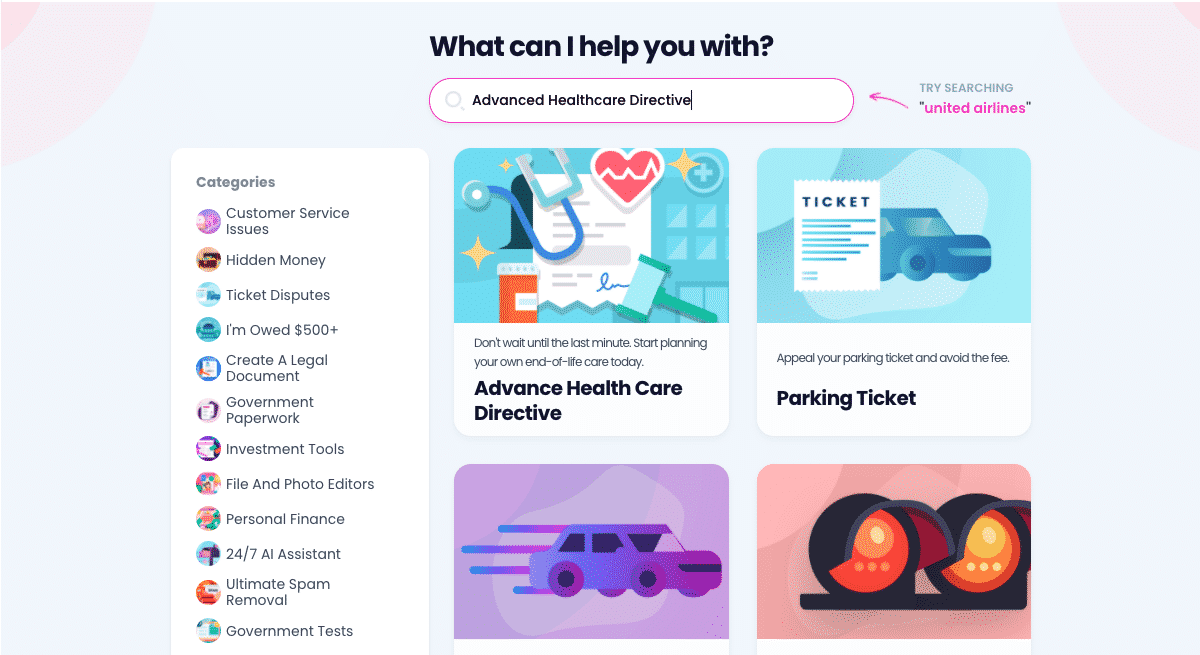 Log in to DoNotPay and take these steps:
Open our Advance Health Care Directive feature
Name your health care agent
Answer a few questions to indicate your wishes regarding medical treatment and end-of-life care
Choose if you'd like to get the document notarized or provide the names of witnesses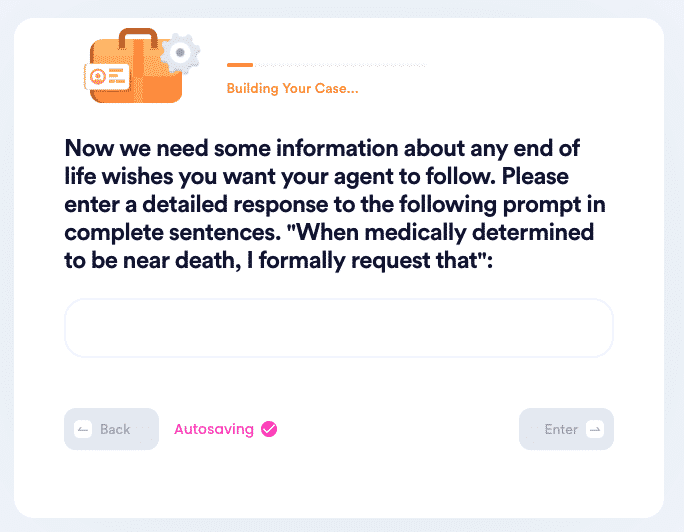 Can You Terminate a Living Will Form in Kansas?
You can revoke your living will at any time, but make sure to:
Put the termination in writing
Inform all people—who have your living will—of the termination
Destroy all copies of your living will to avoid misunderstanding and prevent problems
Our Platform Makes Your Life Simpler
DoNotPay offers a vast spectrum of life-changing services, including the ones listed below:
| Services | With Our App, You Can: |
| --- | --- |
| Eliminating spam and harassment | |
| Saving and getting more money | |
| Providing other useful services | |
DoNotPay Helps You Get the Necessary Paperwork in a Heartbeat
Do you need to compose a power of attorney, revocable living trust, or a health care directive but don't know how? No worries—DoNotPay can do it for you! If you need comprehensive and valid legal documents tailored to your wishes and needs, there's no better way to get them than subscribing to our app!
We can also draft personalized FOIA requests, divorce agreements, homeschool notices of intent, and various complaints.