Confused by Kansas Divorce Laws? Alimony and Other Rulings Explained by DoNotPay
When filing for divorce in Kansas, you should be aware that the consequences could be long-term.
If a judge has to rule on your contested case, there is a likelihood that alimony will figure in the imposed settlement.
DoNotPay will be your guide through Kansas divorce laws—alimony doesn't have to be a worry if you follow our advice!
The Kansas Divorce Process From A to Z
Divorce in Kansas is possible as an at-fault or a no-fault case.
This means you can file for divorce as a result of your spouse doing something wrong or because the marriage has broken down irretrievably.
The choice is yours, but you should remember that you will have to prove any allegations you make—a no-fault divorce is likely to involve considerably less hassle.
In an at-fault divorce, you will inevitably have to go to court to win your case. A no-fault divorce can also be uncontested, meaning that you stand a chance of:
In any case, you must start the process by:
Filing divorce papers
Filing Divorce Papers
You can get the required forms for a Kansas divorce online from the Kansas Judicial Council—the pack you need depends on whether you and your spouse have children.
After you have filled out the forms, you should file them with the clerk of your county court and pay the filing fee of around $400.
Serving the Forms
Once they have been filed, you have to serve your spouse with the divorce papers by having them delivered by a deputy sheriff or professional process server.
Your spouse will have to confirm receipt by signing an affidavit of service. At this point, the mandatory 60-day waiting period required by Kansas law begins—your first divorce hearing will only take place after this period has elapsed.
What Is Alimony, and How Does Kansas Handle It?
If you decide to file for a contested divorce, the process will consist of a series of court hearings in which the judge will find out about your circumstances.
Once all the relevant information has been gathered, the judge will make a ruling on your settlement, including any provisions for alimony payments.
Alimony is a payment made by one spouse to the other to cover necessary expenses the other spouse cannot cover on their own.
Kansas law allows for three types of alimony, as follows:
Alimony Type
Explanation
Temporary
Temporary alimony can be awarded during the divorce process to make sure a spouse can pay bills while the case is ongoing. It will automatically come to an end when the divorce is finalized
Short-term
If one spouse needs time to find employment or retrain to get a job, the court can award temporary alimony as a lump-sum payment to cover the associated costs.

The spouse receiving the temporary alimony may have to draw up a plan to show how they intend to use the money and will have to show that they have put the plan into effect

Long-term
If a spouse can't work after the divorce—due to age, disability, or other valid causes—the court may award long-term alimony. This will normally take the form of monthly payments from the higher-earning spouse and may be the subject of garnishment to make sure the payments are made.

Long-term alimony cannot be ordered for longer than 121 months, but a judge can review the case after that time and extend the alimony order if necessary
How Is Kansas Alimony Calculated?
In calculating the amount of alimony to be paid, the judge will take into account:
How much each spouse currently earns
What your and your spouse's employment history and earning potential are
What reasonable expenses you have
How long you have been married
What your standard of living as a married couple was
Kansas does not have fixed guidelines for the amount of alimony that should be paid, so a judge can exercise discretion when awarding payments.
The judge can also determine how payments should be made, with the choices being a:
Once-off lump sum payment
Monthly fixed amount
Percentage of the paying spouse's income
The court will also often require the payments to be made to the Kansas Payment Center rather than the spouse directly. This allows for a greater level of control over whether payments are maintained.
How Can You Avoid an Alimony Ruling in Kansas?
If you and your spouse work towards a friendly divorce with an out-of-court settlement agreement, you can normally avoid the judge imposing alimony on you.
A settlement agreement sets out how your married life will be split up after your divorce and covers:
In your first hearing, after the 60-day waiting period has elapsed, the judge will look through your settlement agreement to check that it is:
Comprehensive, covering every aspect of your married life
Legally acceptable and written as a valid contractual agreement
Within state guidelines
Fair to both parties
If this is the case, the judge may grant your divorce without any further hearings.
Where Can You Get Your Settlement Agreement Drafted?
Your settlement agreement is a matter of negotiation between you and your spouse, and you can use the following resources to help you set it up:
Lawyers
Online divorce service
DoNotPay
Lawyers
Many couples engage attorneys to draw up their settlement agreement, but this can quickly become expensive.
The average cost of a Kansas uncontested divorce is over $8,000, most of which goes on lawyers' fees.
A cheaper option is to use mediation to reach a settlement. In this process, a trained mediator helps the two of you negotiate towards a mutually acceptable resolution.
If you and your spouse agree on everything, there is no legal requirement to use any third-party help.
Online Divorce Service
Various online providers claim to be able to get your divorce done and dusted at minimal cost and in no time.
While these offers can seem attractive, you should be careful—much of the work will have to be done by you, and you will often find that the templates provided are too generic to cover your exact circumstances.
DoNotPay
DoNotPay offers the best of both worlds—a watertight and comprehensive settlement agreement with not a cent to pay in lawyers' fees!
DoNotPay Gets Your Kansas Settlement Agreement Sorted!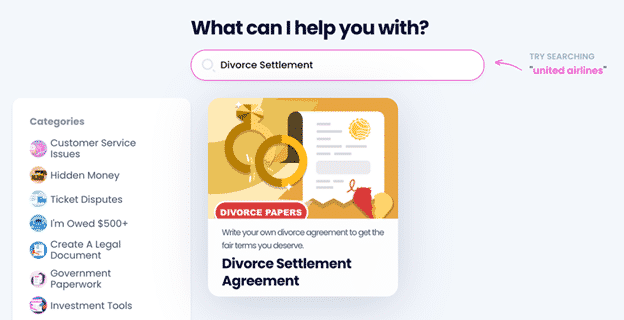 When it comes to your Kansas divorce settlement agreement, DoNotPay is the only partner you need!
We are committed to taking the hassle out of drawing up your settlement agreement since we create a document that:
Reflects the exact terms you and your spouse have agreed on
Uses the correct format for your jurisdiction
Passes muster with your Kansas judge
Here's what you need to do to set your agreement up:
Search for our Divorce Settlement Agreement feature
Answer a few questions on the details of your settlement
Your document will be ready to print in a few seconds, and you and your spouse can sign it in front of a notary.
Not sure how to find a notary in Kansas? No problem—DoNotPay can help you get your settlement agreement notarized online in a few clicks!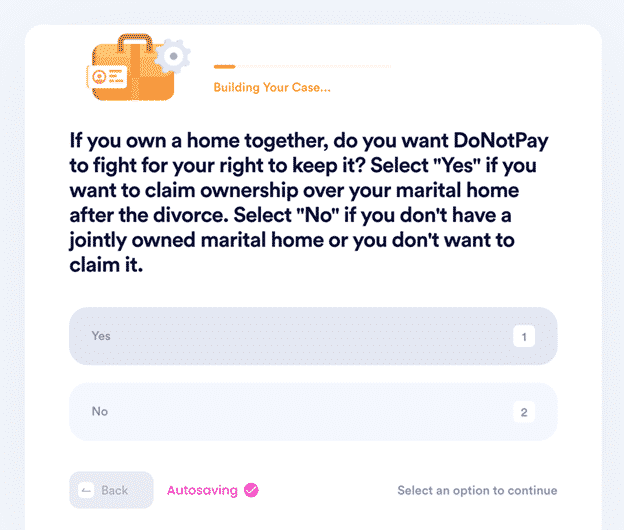 Use DoNotPay To Complete a Variety of Tasks at Any Time
Why waste time and money completing mundane tasks on your own when you can let DoNotPay assist you? Take a look at the table below to find out what our AI-powered app can do for you:
| DoNotPay Can | Services |
| --- | --- |
| Protect your safety and privacy | |
| Draft legal documents | |
| Help you get your money back | |
DoNotPay Has More in Store for You!
Since communication is key, you'll appreciate our feature that helps you get in touch with customer service reps quickly! We'll also show you how to send faxes online and have your documents notarized by an online notary with ease!
Going on vacation? Use DoNotPay to take a valid passport photo at home or get a tourist visa!