Get the Crucial Kansas Divorce Form With DoNotPay
Kansas, like any other U.S. state, imposes specific rules regarding divorce. Are you and your spouse on the same page about ending your marriage? If so, you can file for an uncontested divorce and speed up the process significantly.
The one form that makes all the difference during Kansas divorce proceedings is a marital settlement agreement. In this article, DoNotPay will explain how to obtain this Kansas divorce form and what other documents to prepare for a friendly divorce!
Requirements for a Kansas Divorce
Before gathering the necessary documents, you and your spouse need to ensure all Kansas requirements for divorce are met, more specifically:
Living in the state for at least 60 days before filing (that can apply to only one spouse)
Citing the appropriate reason for the divorce, such as:

Incompatibility (no-fault divorce)
Failure to perform marital duties or mental illness (fault-based divorce)
Fault-based divorces last long, cost a lot, and involve revealing private information in court. That's why couples seeking a quick divorce typically decide to claim incompatibility as the reason for splitting up.
What Constitutes an Uncontested Divorce in Kansas?
Uncontested divorces imply that the involved parties have settled all divorce-related matters, most notably regarding:
Children—custody, support, visitation rights, and medical and dental insurance
Alimony—if there will be any and if so, how much
Property division—including who will get the marital home and how the joint debts and assets will be distributed
Any other issue you deem significant
If you and your spouse can't agree on these items straight away, you can seek help from a divorce lawyer or a professional mediator.
Which Kansas Divorce Forms Should I Prepare?
Every step of a Kansas divorce requires you to prepare a specific set of divorce papers. Take a look at the table below for a detailed description of the uncontested divorce process and the necessary forms for every stage:
Steps
Description
Key Forms
Initiating the process
The first step in filing for divorce in Kansas involves finding suitable forms on the Kansas Judicial Council website. Kansas offers two sets of forms—one for couples with children and the other for spouses without kids. The spouse filing for divorce (petitioner) submits the documents at the proper courthouse

Petition for divorce
Response to the petition
Summons
Civil Information Sheet
Domestic relations affidavit

Serving your spouse
The petitioner serves the papers to their spouse via official means (a sheriff's deputy or a process server)

Request for service form (petitioner)
Voluntary entry of appearance (respondent)

Going through a waiting period
Once the papers are filed, the spouses have to wait 60 days before the final hearing. The process involves preparing additional documents

Notice of hearing (from the petitioner to the respondent)
Parenting plan (if applicable)
Marital settlement agreement

Preparing for the final hearing
At the final hearing, the judge may ask questions about the divorce settlement agreement. You will have to prepare and bring other documents as well

Proposed decree of divorce (three copies)
Property division agreement
Copies of:

Child support worksheet
Parenting plan
Domestic relations affidavit

Kansas Payment Center information sheet (for child support)
Vital statistics form
Bear in mind that the above-mentioned documents are meant for simple divorces and can't be applied to every situation. If your circumstances are complicated or you have additional questions, you shouldn't hesitate to hire an attorney.
How To Create a Marital Settlement Agreement in Kansas
One of the most important documents in any divorce is a marital settlement agreement (also known as a divorce settlement agreement). It outlines the details of your joint resolution of the essential divorce-related issues. You can create the agreement by:
Hiring an attorney—Lawyers will make sure the agreement is enforceable, contains all necessary sections, and works in your best interest. The only downside is the high price of their services, which not many people can afford
Using online divorce services—They provide state-specific forms and offer to guide you while completing them. While online divorce services are significantly more affordable than lawyers, they are often unreliable, and their forms require multiple adjustments
Subscribing to DoNotPay—Our app combines the attorney's professionalism with the affordability of online divorce services. We will draw up the agreement according to state-specific legislation and deliver it to you in minutes
Use DoNotPay To Prepare Your Divorce Settlement Agreement
Creating a marital settlement with our app is simple. You provide the details of your arrangement, and we incorporate them into a professional, law-compliant document tailored to your specific needs!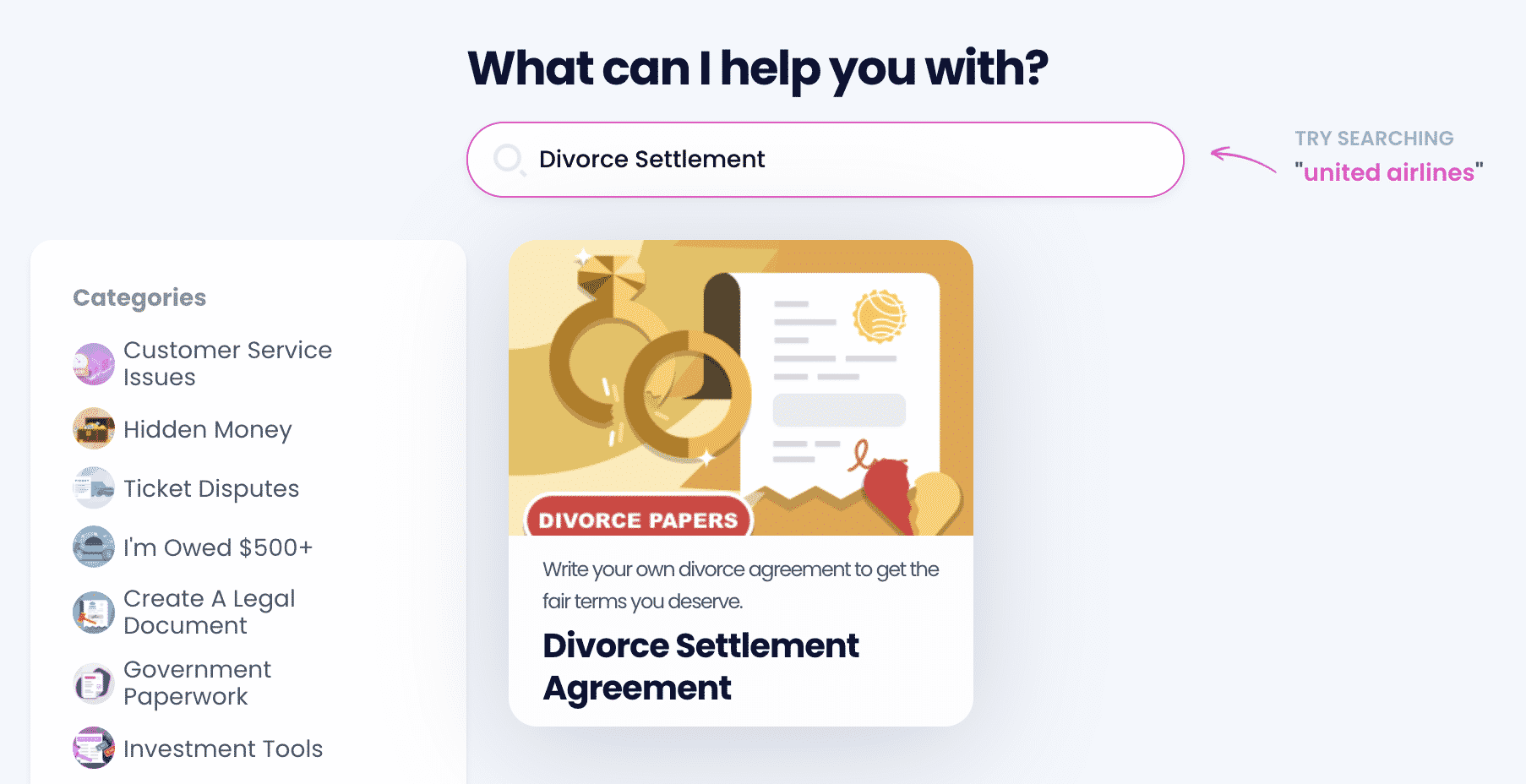 Here is what to do to get the document in record time:
Open DoNotPay in a web browser
Type in Divorce Settlement Agreement in the search box
Provide relevant information about your:

Spouse
Income
Other details of your agreement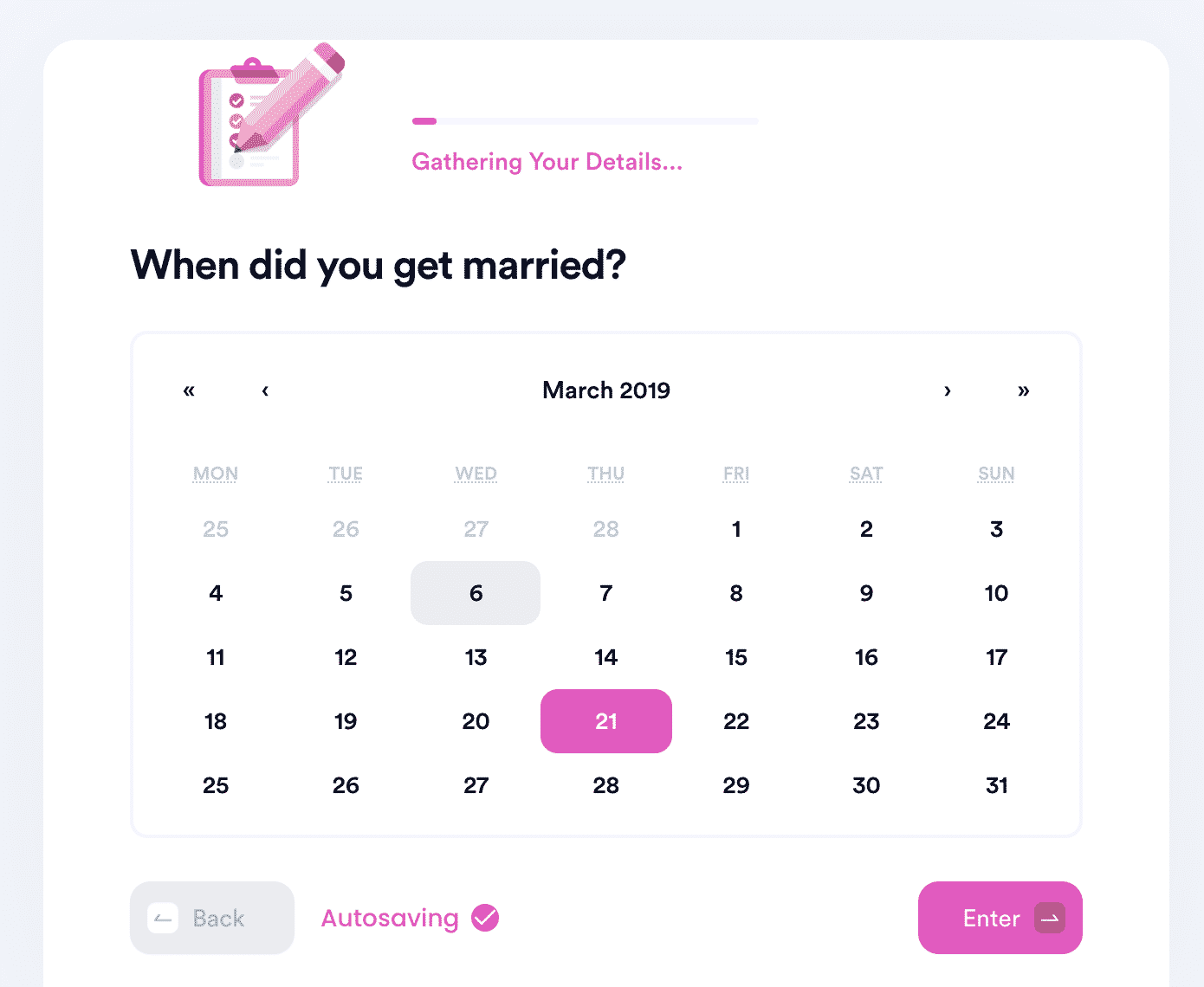 Once you enter the required info, we will generate the agreement and send it to you. Do you want to get the document notarized? We facilitate the process by enabling you to access a 24/7 online notarization service!
If you have more questions regarding the divorce process, access our learning center to find out more about getting an out-of-court divorce settlement, lowering the costs of your divorce, and preparing uncontested divorce papers.
Get an Extra Buck or Two With DoNotPay
Besides being able to assist you with almost any legal issue, DoNotPay can also help you get some extra money! We can cancel any unused memberships and prevent you from being charged after free trial periods are over with our virtual credit card.
Can't claim a warranty or get cash back for a gift card? Subscribe for DoNotPay and consider it done! We can also help you return items to almost any company or even help you get a refund in a few clicks!
Helping you jump the customer service queues is also not a biggie for us, as well as taking the company that wronged you to small claims court!
No Problem Is Unsolvable for DoNotPay
By subscribing to our platform, you get access to a plethora of handy features that can help you with: