Sign Up For a Kajabi Free Trial With a Virtual Credit Card

Kajabi is a premium web-based product that you can use to create and market diverse digital products, including online courses, podcasts, newsletters, and coaching programs. Afree trial allows you to use different creative tools for your online project so you can gauge its reliability and excellence.
The downside to a free trial, however, is how quickly you may forget to cancel the service before the trial ends. If you are sure that you won't remember to cancel the subscription, use . This special card allows you to subscribe to Kajabi without .
Does Kajabi Offer a Free Trial?
Yes.  so you can take a test drive and find out if its functionality fits your creative taste buds. There are promotional 28-day and 45-day free trials that pop up at different times every year, and you can always check for updates on their website.
Kajabi Free Trial Features
The features depend on the plan of choice, but they generally include:
1.  Website building 
With the attractive themes and templates available, you can create a website that is fully integrated for all your business needs.
2.  Product development
There are ready-to-use templates, a code editor, unlimited marketing emails, pipelines, the ability to take out Kajabi branding, and other tools to create your digital product of choice. You also get access to Kajabi University, where you learn new strategies that are easy to implement for your business. 
3.  Webinars
You can join their Monday - Friday customer training webinars that cover your areas of interest. You get to interact with other entrepreneurs and experts and get all your questions answered in real-time.
4.  Chat Support
The free trial also gives you access to customer support. For any queries, help is only a click away.
5.  No transaction fee
By signing up for a Kajabi free trial, you get to enjoy 0% transaction fees on your income.
How Can I Get a Kajabi Free Trial?
It's easy to get a Kajabi free trial. Follow these simple steps:
Visit the Kajabi homepage
Click on the "Start Free Trial" button
Follow the sign-up prompts to create an account
Select your plan of choice to start your 14-day free trial
The prompts will require you to leave your credit card information as well.
Does the Kajabi Free Trial Renew Automatically Into a Paid Subscription?
Yes. To avoid charges on your card, you should cancel the service within 14 days. However, if you forget to cancel and the paid plan starts to roll out, you can get a refund if you cancel any of the plans within 30 days of the purchase date.
Avoid Automatic Renewal With DoNotPay Virtual Credit Card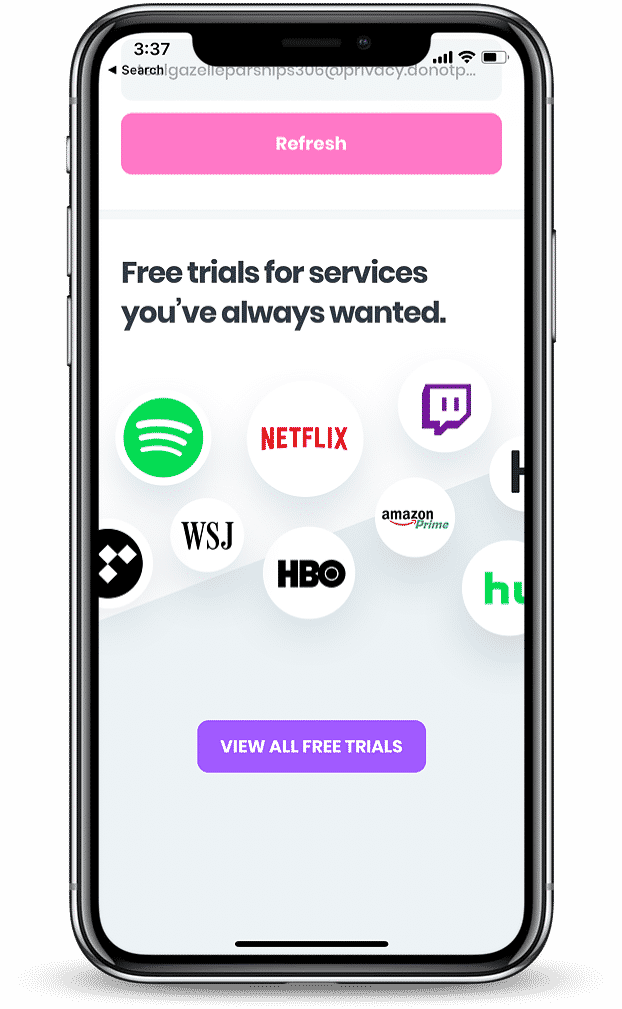 It's hard to remember to cancel a subscription and you may find yourself paying for a service you don't need. If this describes you, don't worry. DoNotPay's Virtual Credit Card  will save you the hassle.
It's simple. The card generates credit information and a random number that you can use to subscribe to a service. Once the free trial is over, there are no charges accrued because there is no money on the card, and the service is automatically terminated.
If you would like to sign up for a paid plan later, you can use your real card, but this virtual card will prove handy when trying out a product like Kajabi for the first time.
How Much Does Kajabi Cost After the Free Trial?
Kajabi offers three paid plans, and you can also enjoy a 20% discount if you opt for annual billing.
| | |
| --- | --- |
| Plan | Cost/month |
| Basic | $149 |
| Growth | $199 |
| Pro | $399 |
What are the Most Popular Alternatives to Kajabi?
Some alternatives to Kajabi include
It's a popular tool that's easy to use if you want to create online courses. They offer 3 affordable plans, a 30-day free trial, and a 20% discount on annual billing. The basic plan costs $49/month, the pro plan is $99/month, and the premier plan costs $499/month.
Teachable is an affordable alternative to Kajabi and it provides professional tools for building and delivering online courses. They offer a 14-day free trial, 3 paid plans, and friendly rates if you choose annual billing. The basic plan costs $39/month, the Pro plan goes for $119/month, and the business plan costs $299/month.
What Else Can DoNotPay Do?
Apart from finding a Kajabi free trial, DoNotPay can also help you with almost anything including:
Now you can subscribe to any service, including Kajabi, without the fear of getting charged. With DoNotPay's virtual credit card, you can enjoy your free trial and forget about it if you don't need it. Try it today and enjoy free trial freedom that's only a click away.