A Complete Guide to the Kabbage Small Business Loans
In recent years, alternative and online lenders, like Kabbage, have been on the rise. This is primarily due to the ability of alternative lenders to utilize technology and offer more readily accessible small business loans. They also have flexible eligibility requirements, especially in terms of credit scores and annual cash flows.
In this guide, we will break down the Kabbage small business loans to help you determine if their loaning options are good for your business. DoNotPay can help you increase your chances of loan approval by creating a concise and convincing loan request letter for you.
What Type of Small Business Loans Does Kabbage Offer?
Kabbage provides small business loans in the form of lines of credit, which are funded by the American Express National Bank.
With a line of credit, your business is assigned a loan limit that you can draw from whenever you need the money. This means you can obtain any loan amount at any time, provided that you do not exceed your credit limit.
There are different types of lines of credit, for instance:
Secured line of credit—Requires you to put an asset as collateral in case you fail to pay the loan
Unsecured line of credit—Does not require collateral for you to secure a loan
Revolving line of credit—Works just like credit cards. All purchase amounts are deducted from your approved credit limit, while payments restore it
Non-revolving line of credit—Allows you to borrow once, and you cannot use the limit once you pay off the loan
Kabbage provides only revolving lines of credit for small businesses. This makes it possible to use the funds for different purposes, such as:
Kabbage Small Business Loans Eligibility Requirements
As with any other type of small business loan, you have to meet certain requirements to qualify for Kabbage funding. Your business needs to be operational for at least 12 consecutive months and have a valid business checking account. The entity also needs to have had an American Express business card for at least two months or to have been approved for Kabbage funding in the past.
Terms of Kabbage Small Business Loans
The terms of Kabbage loans, such as interest rates and loan amounts, are determined case by case—but the interest rates are generally higher than those of other funding opportunities, like SBA loans.
Kabbage uses the following information to determine your maximum credit limit and fees:
Financial data from the accounts you link in your application
Monthly business revenue
Time in business
Personal and business credit history
Once you apply, Kabbage will inform you of the terms they find appropriate for your business. The table below provides a summary of the usual Kabbage terms:
| Loan Term | Specifications |
| --- | --- |
| Loan amount | Up to $150,000 |
| Term | Six, 12, or 18 months |
| Loan fee | Varies |
| Annual and monthly maintenance fees | None |
| Approval time | Same day or in a few days |
Kabbage Small Business Loan Application Process
Kabbage funding applications are submitted online within a few minutes. To get a loan, you must complete the online application form on their website. The required information includes:
Personal and business name
Home and business addresses
Home and business phone numbers
Business tax ID and Social Security number
Business industry
You must also allow Kabbage to make a hard inquiry on your personal and business credit reports. If your loan application is approved, the funds are sent to your bank account, which can take up to three business days, depending on your bank.
A Kabbage line of credit is not permanent. It is subject to occasional reviews and can be suspended or eliminated if need be.
Making Repayments for a Kabbage Small Business Loan
The first bank account you verify in your application process is regarded as your primary account. This account serves for depositing funds and withdrawing payments. When you accept the loan agreement, you permit Kabbage to automatically withdraw funds from the primary account for loan repayments. This is done automatically on the monthly due dates. You can check the due date and amount in the Funding Overview section of your Kabbage account.
Increase Your Chances of Getting a Loan by Using DoNotPay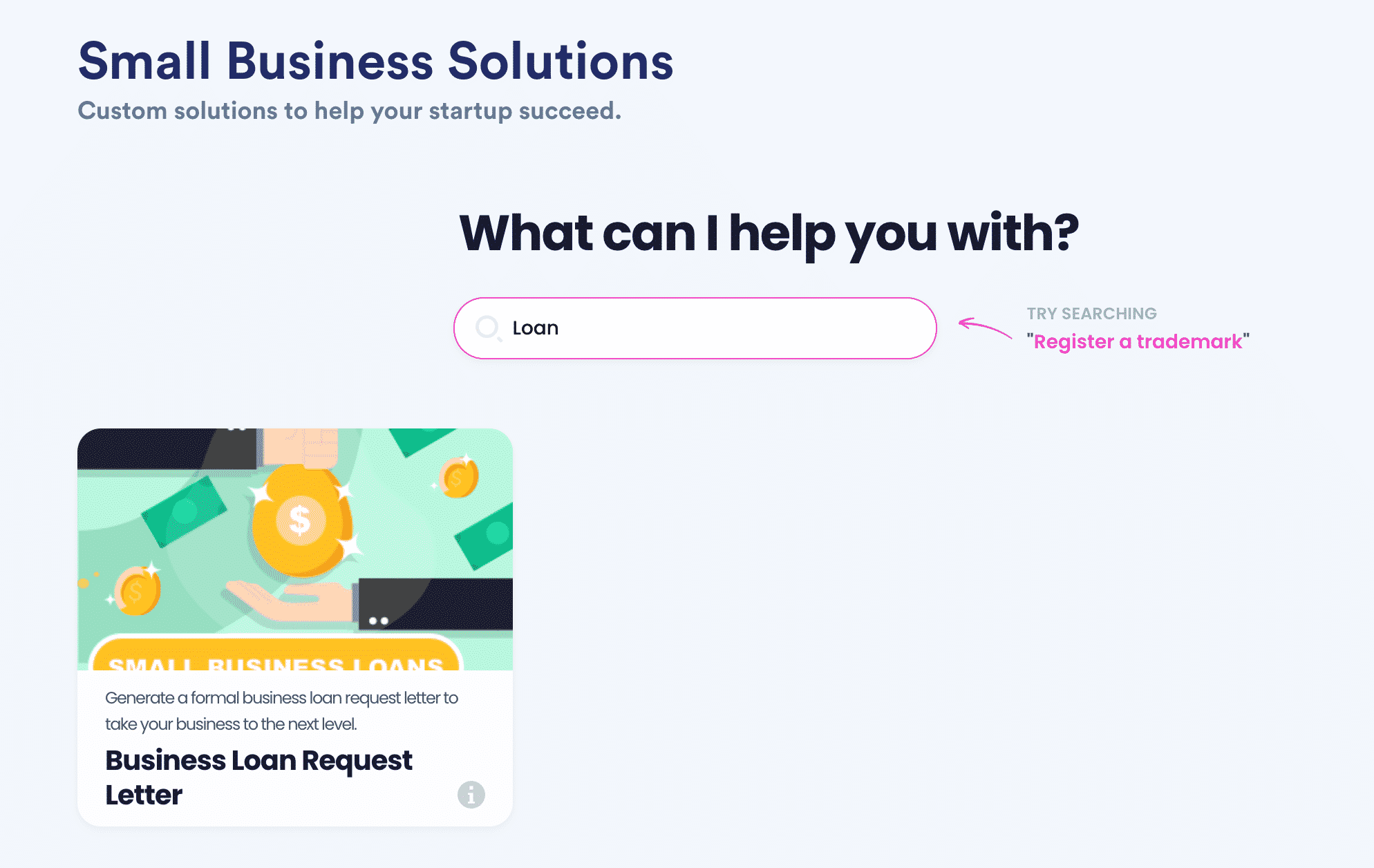 The first step in securing small business loans is understanding how they work. After that, you must ensure your application documents reflect what lenders look for.
One of the most important documents is a loan request letter. It tells the lender concisely why they should fund your small business. We can help you draft a convincing loan request letter within a minute. Follow these simple steps to get your letter right away:
Go to the Business Loan Request Letter product
Answer our chatbot's questions
Upload the required documents
After you hit Submit, DoNotPay will generate your letter and forward it to your chosen lender automatically.
If your search for the best small business loans does not end with Kabbage, you can consider alternatives to cover your budget, such as:
We can help you find the available online lenders fast and stress-free. Open DoNotPay and locate our Find Online Business Loan Lender tool to make it happen.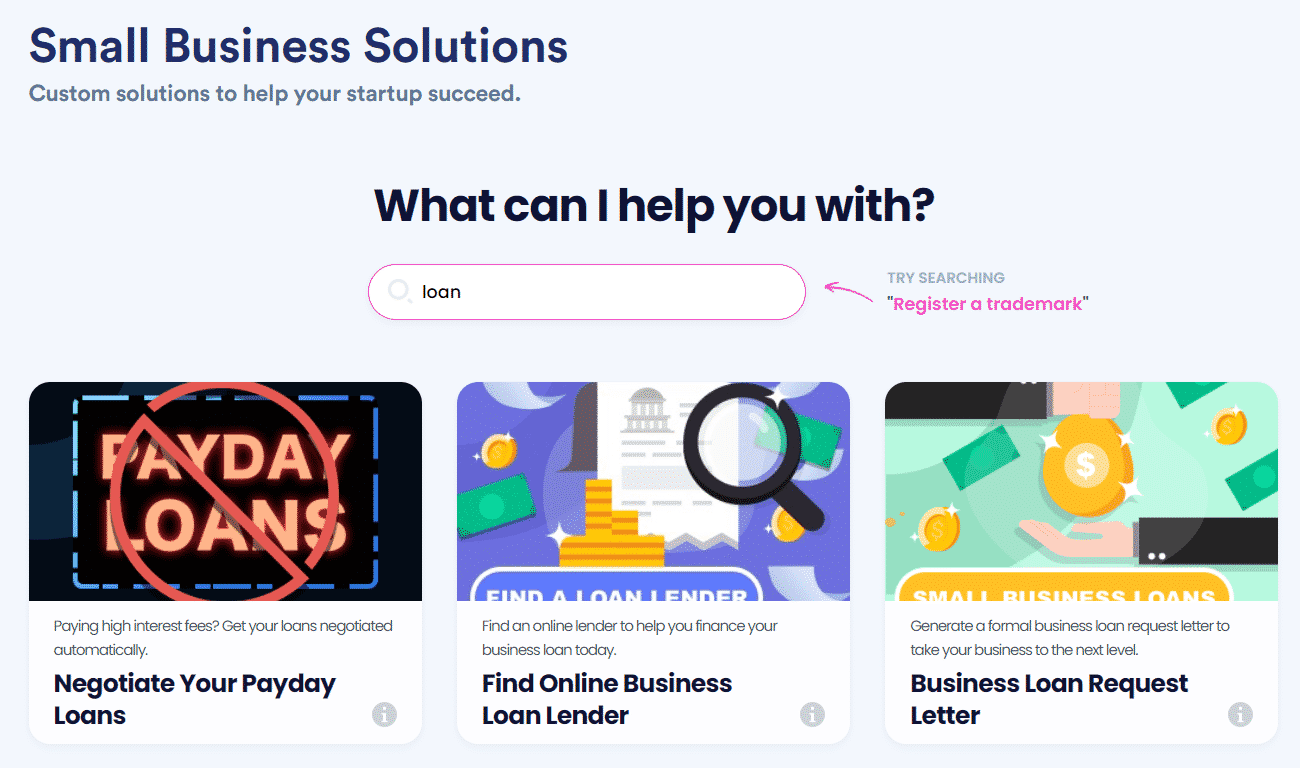 Protect Your Brand Name and Build Trust With Your Users!
One of the most challenging aspects of every business is building a trusting relationship with the customers and maintaining a good reputation. That is why it is crucial to protect your business name, logo, and slogan legally by registering it as a trademark. DoNotPay is here to help you do that hassle-free with our Trademark Registration tool. Need help checking for trademark violations once you register? There is no need to fret as we have a tool that can help you with that as well!
Now that your trademark is taken care of, you should consider complying with data protection requirements to take care of your users' privacy. You can do so by using our Privacy Shield Self-Certification product.
Are you dealing with fake negative online reviews that are harming your business? DoNotPay can help you by analyzing the reviews and reporting them until they are taken down!
Time Is Money, and DoNotPay Can Help You Save Both!
DoNotPay offers an array of time-saving features that you can use when you do not feel like dealing with business-related challenges on your own. We can help you:
Apply for your Employer Identification Number (EIN) Registration in a few clicks
Help your employees lower their taxes by filing 83(b) election forms from the comfort of their offices
Enjoy free faxing and mailing services and save time by not having to go to the post office
Complete a DMCA agent registration process to avoid dealing with copyright violations
Write a convincing letter when filing for a small business loan
Do you need help dealing with clients who do not want to pay for your services? Use DoNotPay's Breach of Contract product to send a letter of demand in a matter of minutes! Not sure what to do with unfair chargeback requests? We can help you by creating a chargeback rebuttal document for you to send to your payment processor.