The Ins and Outs of Jury Duty in Virginia
Jury duty is a fundamental part of the American judicial system because it ensures a fair and just legal process. You are required to do jury service.
If you have been summoned for jury duty in Virginia, you need to understand how it works and how to prepare for it.
Learn about the jury duty selection process and get answers to all your burning questions in this article. DoNotPay also helps you with writing a leave request letter to send to your employer.
The Basics of Virginia Jury Duty Laws
Before the selection process, you need to know the eligibility criteria for Virginia jury duty. Check out the table below for information on eligible and non-eligible persons:
Eligible Person Must Be:
Non-Eligible Person Could Be:

A U.S. citizen above 18 years of age
A resident of Virginia for at least a year
Fluent in English, both written and verbal
Clear from any felony or misdemeanor records for at least a year

People above 70 years
Members of the fire and police department and the armed forces
Active members of the government
Mentally or physically unwell people
Sole caregivers of a mentally or physically ill person
Spouses of a juror serving on the same panel
Parents or legal guardians of a child below 16 years
The Jury Selection Process
Jury candidates are randomly selected by computer software. If you are selected, the court will send you a jury summons, requesting you to appear in court at a scheduled date and time. The clerk will ask you to fill out a questionnaire to determine whether you qualify for jury service. If you do, lawyers from both sides will interview you to confirm that you have no conflict of interest.
Jury Duty Pay in Virginia
Jury members throughout the country are compensated for appearing in court to fulfill their duty. While the court pays $30 per day to state jurors in Virginia, federal jurors are paid $50 for each day of service.
Length and Frequency of Duty
Jury duty usually lasts between one day and one month. If you served as a juror in the last three years, you are exempt from jury duty and can request it in writing.
Additional Jury Duty Info
You cannot skip jury duty without a solid reason—doing so is a punishable offense. If you fail to appear in court without providing notice, you can be fined anywhere between $50 and $200.
Employers in Virginia are not obligated to compensate you for the days you take off to attend jury duty. They are obligated to offer time off for fulfilling your civic duty. Employers are not allowed to do any of the following:
Discourage or intimidate you
Cut off your insurance
Force you to take paid time off
Threaten to fire you
If an employee does any of the above-mentioned, they are guilty of a Class 3 misdemeanor and can get a fine of up to $300.
Get Time Off With the Help of DoNotPay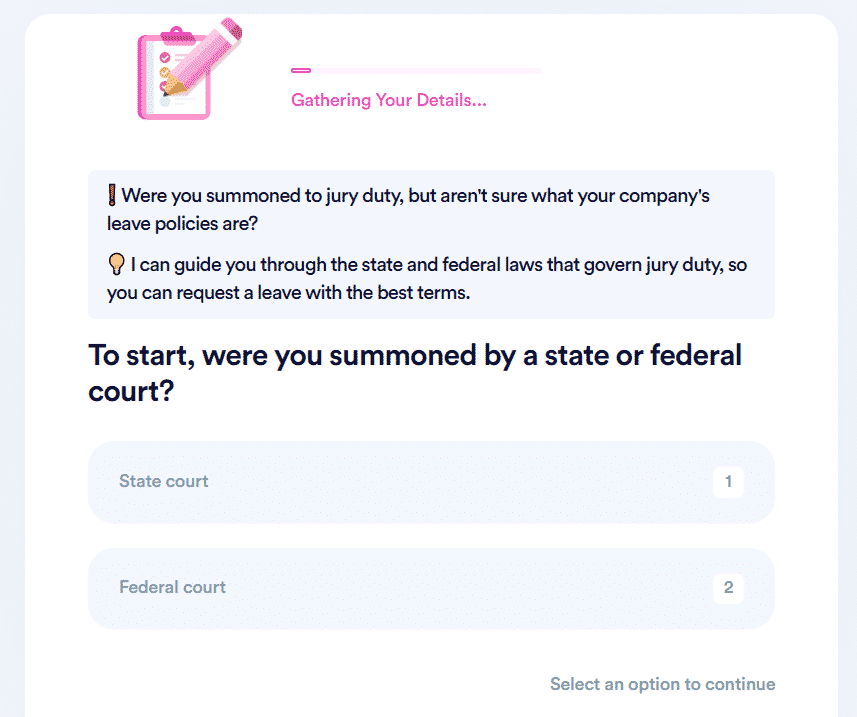 If you are worried about losing your job due to time off for jury duty, look no further! DoNotPay can help you create a professional leave request letter with all the relevant Virginia jury duty laws and verify your jury service. All you need to do is follow these instructions:
Select the Jury Duty Leave Request Letter tool
Answer a brief questionnaire and attach a picture of the jury summons
Notify us if you want us to forward the letter to your employer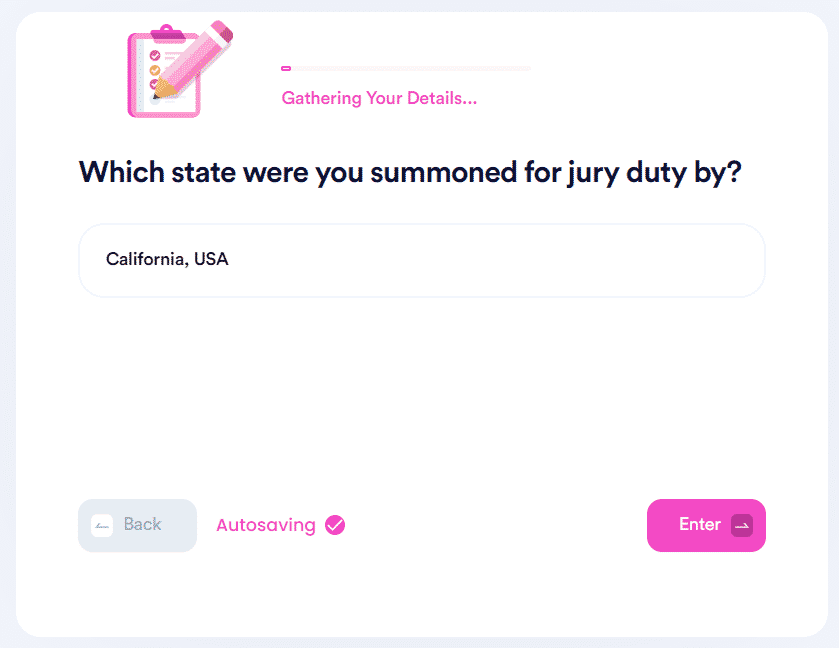 DoNotPay Has More Products in Store for You!
Our app is adept at solving numerous issues and completing various tasks in your stead.
You may want to use DoNotPay to protect your work from copyright infringement, reduce your property taxes, send defamation demand letters, or file FOIA requests.
Through the same app, you'll be able to skip many bureaucratic hurdles. Here are more tasks DoNotPay can help you with:
Use DoNotPay To Keep in Touch
If your friend or family member is in jail, we can help you locate them and send and receive letters with ease. Do you need to send other letters but hate going to the post office? You can use our Mailing Service product and save time.
We can also help you send online faxes, reach customer service, and contact embassies or government representatives.
In case you're drowning in email and text spam, our app can end it for good. Even if robocalls are bothering you, we have a solution!