What You Should Know About Jury Duty in South Dakota
Jury duty is one of the most important elements of the U.S. judicial system as it assures everyone receives a fair and unbiased trial. For regular citizens, it's an obligation most try to get out of—that's why there are laws in place for those who try to skip it.
When you receive a summons, you'll need to take time off, prepare for being a juror, and behave according to your state's law.
In this article, we'll explain the rules of jury duty in South Dakota and show you how you can to inform your employer about being absent in no time.
Who Is Eligible for Jury Duty in South Dakota?
In South Dakota, jury duty exists for both state and federal courts. While federal jury duty has its own rules regarding eligibility, both types compile a database of available people based on DMV and voter registration lists.
To be eligible for jury duty in South Dakota, you need to:
Be a U.S. citizen
Turn 18 before January 1st of the year you're summoned in
Be of sound mind
Reside in the jury district or county from which the court that summons you is
Understand, read, and write English with ease
Not be convicted of a felony—unless the court has restored your civil rights
South Dakota Jury Duty Exemptions
You can submit an excuse letter by responding with it to your summons. You can be exempt from service only if you have a valid, statutory reason for it. Valid reasons are as follows:
Breastfeeding a child
Being over 80 years old
Having religious beliefs that conflict with jury service
If you fail to appear in court without the judge accepting your excuse, they may find you guilty of contempt of court. The penalty can be a fine between $50 to $100. If you repeat the offense, the judge may sentence you to ten days in county jail.
You Received a Summons—Now What?
Getting a summons doesn't make you a juror—you need to go through a selection process first. From receiving the summons to finishing with your duty, there are three steps you need to complete:
Show up in court on the date specified in the summons (dress accordingly)
Answer questions from lawyers to show that you have no conflict of interest
Appear in court during all proceedings
Once you're done, they won't call you up again in the next two years.
How Much Does South Dakota Jury Duty Pay?
The money you receive for being on a jury will vary depending on the type of court that summons you. Federal courts pay differently to state courts, as seen in the table below:
| Type of Court | Pay per Day | Pay Increase | Travel Compensation |
| --- | --- | --- | --- |
| Federal courts | $50 | $60 if it lasts longer | $0 |
| State courts | $50 | No | $0.37 |
Jury Duty Leave Request—How To Handle Your Employer With DoNotPay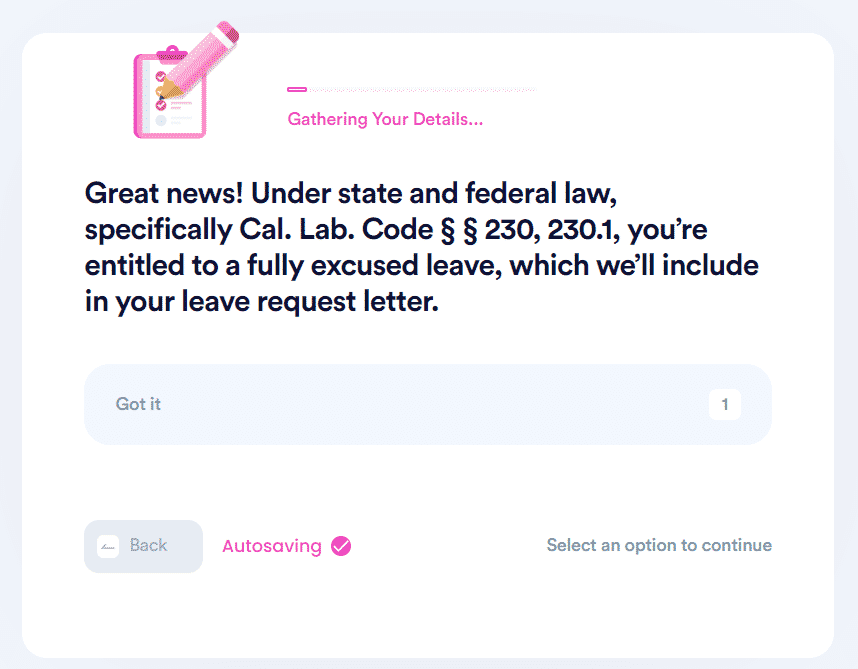 Fulfilling your jury duty in South Dakota is not a reason for your employer to demote, fire, or threaten you with any other job-related repercussions. The law protects you from such actions and lets you sue your employer if they try to dissuade you from doing your civic duty.
To stop that from happening in the first place, you can formally request jury duty leave, and the employer will have to accept it. DoNotPay can help you draft a request letter.
Our app will generate a professional jury duty leave request letter with the information you give us. All you need to do is:
Use your browser to
Navigate to the Request Jury Duty Leave feature
Answer a few questions from our chatbot
Upload a photo of your jury summons
When you complete these steps, you can instruct our app to email the letter to your employer. If you don't want that, you can download it and submit the letter in your own time.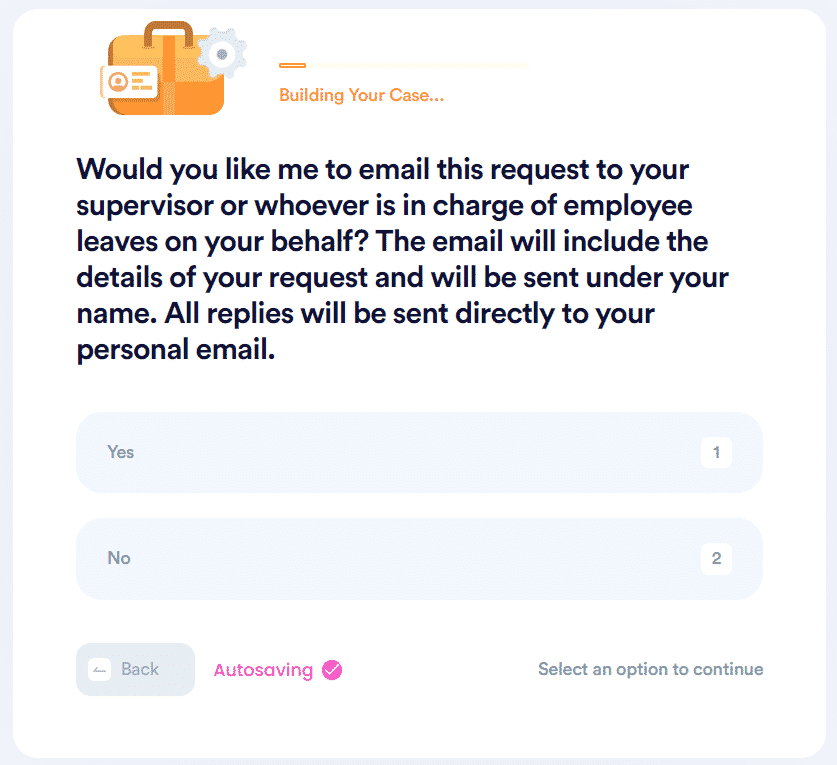 Solved Your Issue? Check Out More of Our Product Range
DoNotPay's forte is its versatility—you can use the app to resolve any problem of legal or bureaucratic nature!
As soon as you subscribe to our platform, you'll be able to:
Our App Helps You Both Save and Earn Money
Want to get more familiar with our extensive product range? Check out how, for one low monthly fee, we can help you both save and earn money by: