How Much Does Jury Duty Pay in Ohio?
If you've received the jury duty summons, and you find it inconvenient, you're not alone! Many people don't like being called for jury duty, but the truth is that you must show up—you'll be harshly penalized if you don't attend, especially in Ohio.
The biggest problem, for most people, is that they won't be paid for their time off—unless you live in a state that obligates employers to pay wages to their employees during jury duty. Fortunately, the government pays jurors for their service, and the amount of compensation varies from state to state. If you want to learn how much the jury duty pay in Ohio is, you're in the right place. DoNotPay will not only provide information, but we'll also tell you how to inform your employer about jury duty by .
Do You Get Paid for Jury Duty in Ohio?
Yes, you will get paid for being on a jury in Ohio. The following table contains information about usual compensation for petit and grand jurors:
Type of Jury
Compensation
Petit

$40 per day
$80 per day after the tenth day of service
$20 if you're dismissed before noon and aren't a part of a jury

Grand
$40 per day in all circumstances
The amounts can differ based on your county.
Federal jurors will receive $50 for each day of attendance, but federal employees don't get compensation unless they are postal employees.
Check out the following guides to see how much jury duty pays in your city or county:
Who Gets Compensated?
Being summoned for jury duty doesn't mean that you'll get to sit on a jury, which means that you might not be compensated if you don't qualify during the selection process. You will need to appear in court adequately dressed and participate in the voir dire selection process, where you will have to answer a set of questions.
The purpose of voir dire and questions that the judge and the attorneys ask you is to determine whether there's any conflict of interest—whether you're able to provide a fair and unbiased verdict. If you don't get selected, or you find a way to be exempt, you won't be paid.
When Can You Expect the Payment?
You may expect the payment by check, and you'll get it within one month following your service.
Ohio Jury Duty Pay—How Does Jury Duty Affect Your Wages?
In Ohio, your employer isn't allowed to fire, demote, or penalize you for serving your civic duty—they are obligated to provide you with time off. You should also know that you cannot be exempt from jury duty because of your work—unless you can prove that serving jury duty will create undue hardship either for you or your employer.
Unfortunately, Ohio law doesn't obligate your employer to pay you for the time off necessary for jury service. Even though your employer isn't obligated by law to pay you, they might be willing to do it. Check your company's policy to see whether you might end up getting paid while on leave.
How To Request Leave With DoNotPay Effortlessly
Since jury duty is important, you'll have to do it, but don't forget to tell your employer about it during your preparations. They will probably want to know how long you'll be absent—the judge will give you a rough estimate of how long your jury duty will last.
DoNotPay offers a handy feature that can assist you with informing your employer by:
Collecting all the necessary information about your service
Combining it with Ohio jury duty laws to create a professional leave request letter in minutes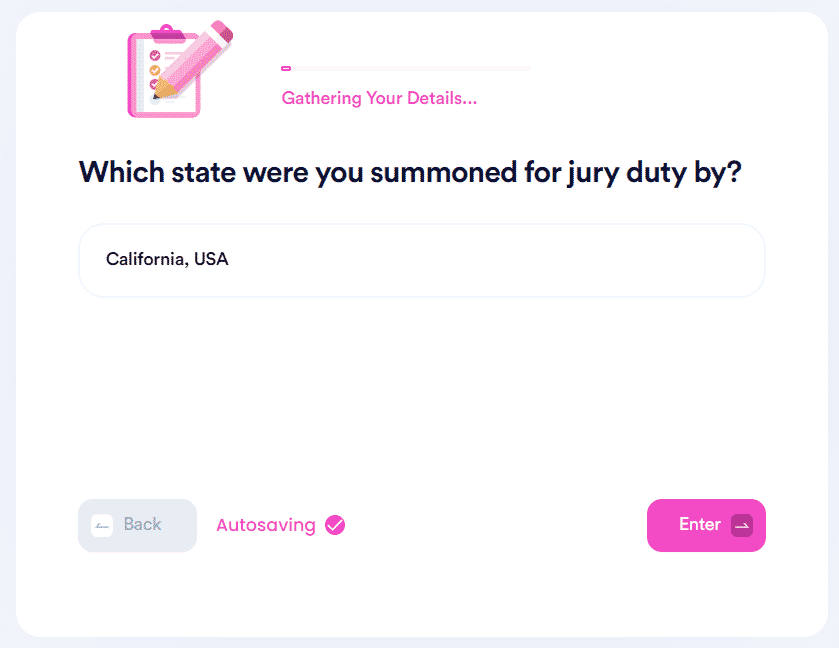 and draft your letter now by:
Opening Request Jury Duty Leave tool
Providing the required information, such as:

Type of court
State where you live
Your company's name
Date when you have to report for jury duty
Court's name and location

Uploading a picture of your summons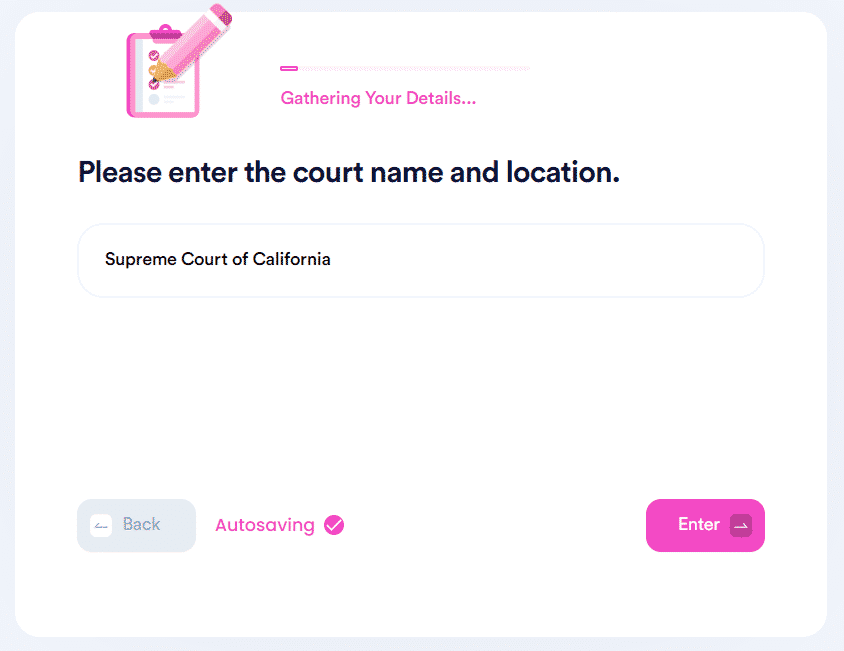 What Else Can DoNotPay Do for You?
Our vast collection of products simplifies various everyday tasks, including:
Various mailing issues by:
Applications for:
Traveling tasks, such as:

Getting tourist visas the easy way

Appeals of:
Other tasks, such as:
Get More Money the Easy Way With DoNotPay
Is a tight budget a constant problem in your household? DoNotPay is here to reduce your expenses and help you get the money others owe you. Our app helps you get refunds from companies, find unclaimed money, cash out old gift cards, and terminate unused subscriptions in a jiffy!
You can also request violent crime compensation, demand chargebacks from airline companies, or claim your warranty or insurance without paperwork.