How Much Does Jury Duty Pay? Laws by State
For the U.S. justice system, jury trials are an essential aspect of how courts work. For an individual, jury duty is a civic obligation you need to fulfill to avoid penalties for not showing up.
When you receive a summons, you'll need to notify your employer about your duty, take time off, and prepare for the whole ordeal.
Luckily, the government offers to pay jurors as a motivating factor. In this article, we'll cover jury duty pay laws by state and on a federal level, and we'll also explain:
What happens to your salary
How to get off work hassle-free if you use DoNotPay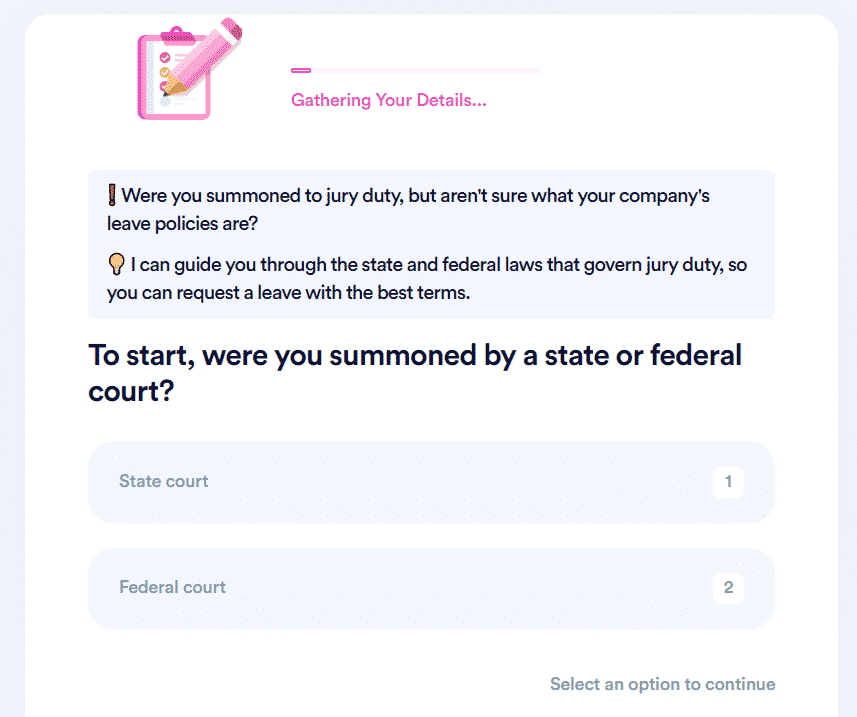 Jury Duty Pay Laws by State
State jury duty laws differ from one another. Some states don't offer any reimbursement to their jurors, which means you have to pay any expense that might occur on your own. In other states, you might receive up to $50 per day.
Take a look at the following table to see jury duty pay laws by state and the amounts you can expect per day:
Federal Employee Jury Duty
When you get summoned for a federal-level case, the court will pay you $50 per day. If the case drags on, the pay will increase to $60 a day after:
Does Your Employer Have To Pay You for Jury Duty?
Outside of basic pay per day, state jury duty laws also define travel reimbursement packages and employer obligations to jury-duty employees. While the federal court doesn't regulate any of the two, only a handful of states don't offer travel reimbursement.
In most cases, the employer doesn't have to pay salary to the absent employee and may force them to take unpaid time off. The District of Columbia and the following states have a law that requires employers to pay salaries to employees on jury duty leave:
Alabama
Colorado
Connecticut
Louisiana
Massachusetts
Nebraska
Tennessee
Employer and Jury Duty Leave
Employers who are reluctant to let their employees leave often threaten with:
A decrease in salary
Demotion
Health benefit removal
This is why many potential jurors, when filling out a jury questionnaire, use employment as an excuse for not attending the court. Unfortunately, this is not a valid reason.
Most people aren't aware that the jury duty law protects them from any form of mistreatment regarding jury duty leave. If you hand in a formal jury duty request letter, the employer has no choice but to let you leave without any repercussions.
DoNotPay Can Help You Draft a Formal Jury Duty Letter
The jury duty law enforces employers to allow employees to go on a jury duty leave, regardless of how many times they were summoned. To receive leave approval, you'll need to submit a formal request—you can do that effortlessly with DoNotPay.
Our app will generate the request letter on your behalf—all you need to do is:
Navigate to the Request Jury Duty Leave product
Answer a few questions
Upload a photo of your jury summons
You can download the letter or instruct our app to send it to the employer directly.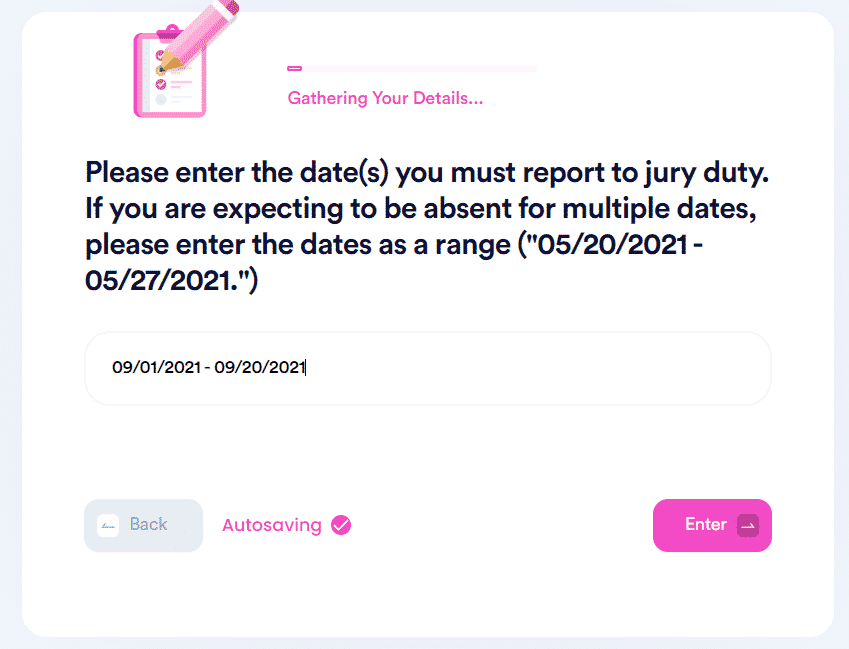 Solved Your Issue? Check Out More of Our Product Range
DoNotPay's forte is its versatility—you can use the app to resolve any problem of legal or bureaucratic nature!
As soon as you subscribe to our platform, you'll be able to:
Our App Helps You Both Save and Earn Money
Want to get more familiar with our extensive product range? Check out how, for one low monthly fee, we can help you both save and earn money by: