A Comprehensive Guide to Jury Duty Pay in Illinois
Jury duty is an essential civic obligation of almost all citizens above 18 years of age. If you have been summoned, you might need to skip a few days of work and not be able to earn your daily wages.
For this reason, most states offer compensation to jurors for missing work. Wish to know more about jury duty pay in Illinois?
In this article, DoNotPay gives you all the details about how jury duty works, explains the selection process, and helps you prepare for jury duty by drafting a leave request letter in your stead.
An Overview of Illinois Jury Duty Laws
You are required to serve as a juror if you are a citizen of the United States. If you skip jury duty without an acceptable reason, you risk being held in contempt of court and paying a fine or facing jail time.
Potential jurors are chosen through a random selection. When you're summoned, you are required to submit a completed questionnaire to the clerk's office so the court can confirm that you have no conflict of interest.
Jury duty can last anywhere between one day and two months. If you are selected for trial, you need to serve as a juror until the trial is over. You can be summoned to serve once a year.
Do You Get Paid for Jury Duty in Illinois?
Courts offer nominal fees to all jurors as compensation. While the federal jury rate is set at $50 per day, the pay rate of Illinois jurors varies by county. Here are some examples:
County
Compensation per Day
Adams County
$12.5 plus $0.25 per mile for travel expenses
Cook County
$17.5
Lake County

$5 for the first two days
$7.5 for the next three days
$10 for every day after that

Ogle County
$15 plus travel allowance
In addition to the daily compensation, jurors can also request reimbursement for various expenses, such as:
Tolls
Parking fees
Accommodation (if they have to stay overnight)
In most cases, the court provides refreshments to jurors—in case it doesn't, you can bring your food and drink and ask to be reimbursed for the cost.
Do Employers Have To Pay for Jury Duty in Illinois?
Employers do not have to pay you for time off for jury duty. Their only responsibility is to give you unpaid time off and ensure that all your tasks have been delegated to other team members. They cannot:
Force you to take paid vacation
Intimidate you into not going
Demote you
Threaten to fire you
In case they do any of that, they are liable for any damage or loss of wages and other benefits. If your employer fires you, you can file a civil claim against them for wrongful dismissal.
When you get called for jury service, you have to let your employer know that you will be unavailable within ten days of receiving the summons. Your employer will then verify your jury duty by reviewing the letter and your summons. Under no circumstances can they force you to skip jury duty. If they do, you should submit a complaint to the clerk's office to protect your rights.
Draft a Leave Request Letter With the Help of DoNotPay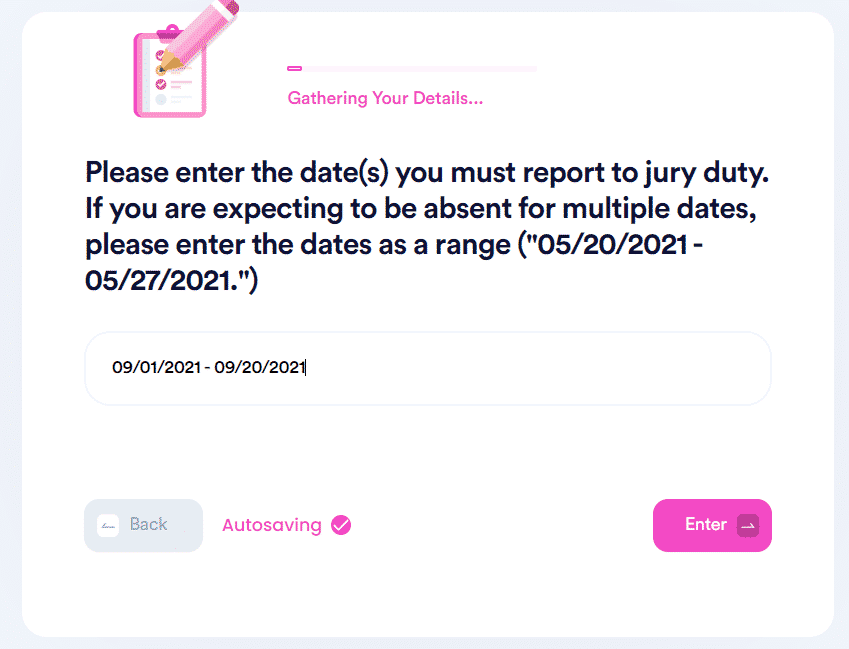 Are you worried about asking your employer for time off? We can help you streamline the process by creating a custom-made leave request letter with all the relevant state laws in mind.
Here is what you need to do:
Search for the Request Jury Duty Leave tool
Answer our questions
Upload a picture of your jury summons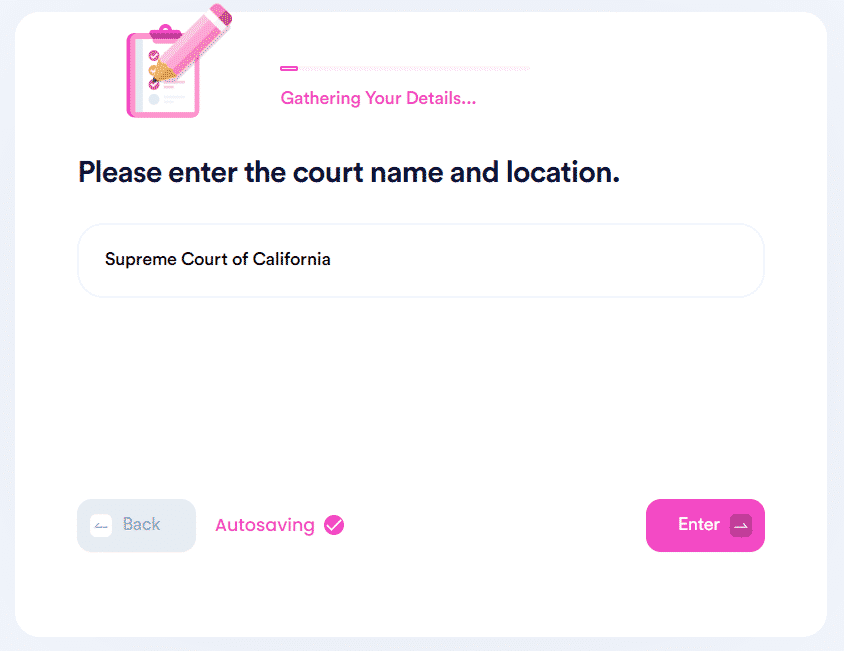 Once you have completed the steps, we can send the letter to your employer. You can also send it yourself by downloading the PDF document.
DoNotPay Has More Products in Store for You!
Our app is adept at solving numerous issues and completing various tasks in your stead.
You may want to use DoNotPay to protect your work from copyright infringement, reduce your property taxes, send defamation demand letters, or file FOIA requests.
Through the same app, you'll be able to skip many bureaucratic hurdles. Here are more tasks DoNotPay can help you with:
Use DoNotPay To Keep in Touch
If your friend or family member is in jail, we can help you locate them and send and receive letters with ease. Do you need to send other letters but hate going to the post office? You can use our Mailing Service product and save time.
We can also help you send online faxes, reach customer service, and contact embassies or government representatives.
In case you're drowning in email and text spam, our app can end it for good. Even if robocalls are bothering you, we have a solution!