How Much Does Jury Duty Pay in Colorado? Find Out Here!
Jury duty is mandatory for every citizen in the U.S.—it is important because it ensures a fair and just trial for all. Since you'll have to spend some time off work in case you get selected, you will want to know whether jury duty pays. This article will cover all about jury duty pay in Colorado so that you know what you're getting yourself into. If you don't know how to inform your employer about your leave, and solve this issue quickly.
Jury Duty Laws in Colorado—Frequently Asked Questions
The table below contains answers to the most common questions about jury duty in Colorado:
Questions
Answers
How did I get selected?
Prospective jurors are selected from the:

Registered voters lists
Driver's license records
Adult Colorado ID holders lists

Prospective jurors must complete a questionnaire so the court can determine whether they qualify. If they do, prospective jurors attend orientation on their first day, during which they are asked series of questions that help the court find jurors who are impartial to the case

Who qualifies for jury duty in Colorado?
To qualify for jury duty, you need to be:

A citizen of the U.S. and resident of Colorado and the summoning county
At least 18 years old
Able to read, write, and understand English

You cannot serve on a jury if you have:

Pending felony criminal charges
A conviction of a felony
A permanent physical disability that prevents you to serve

How long does jury duty last?
The duration of your jury service depends on how long it will take to complete the case
What happens if I skip jury duty?
If you miss your jury duty, you will be brought before a judge to explain why you skipped it. Not providing a good cause will result in:

A fine of no more than $1,000
Imprisonment up to three days

How frequently can I be summoned?
You may be called for jury duty once every two years
Colorado Jury Duty Pay
The court provides the following compensation for jury service:
Attendance fee—$50 per day
Transportation expenses—$0.56 per mile
Parking costs—$15 a day
These fees apply to both state and federal juries.
Can Your Employer Fire You for Doing Jury Duty?
According to Colorado law, your employer doesn't have the right to fire you for serving jury duty. You have employment protection rights as a state or federal juror.
Your employer isn't required by law to pay you salary during your service, though. Some employers do pay their employees, so you should check with your employer what the company policy entails.
Notify Your Employer About Your Jury Duty With DoNotPay
One of the most important parts of preparing for jury duty is informing your employer about it. You should tell your employer in a timely manner that you've been summoned.
If you don't know how to approach your employer about this, DoNotPay can help you. Our app will create a professional leave request letter that complies with all the Colorado jury duty laws and send it to your employer. This letter will tell your employer that, by law, they don't have the right to penalize you in any way for fulfilling your civic duty.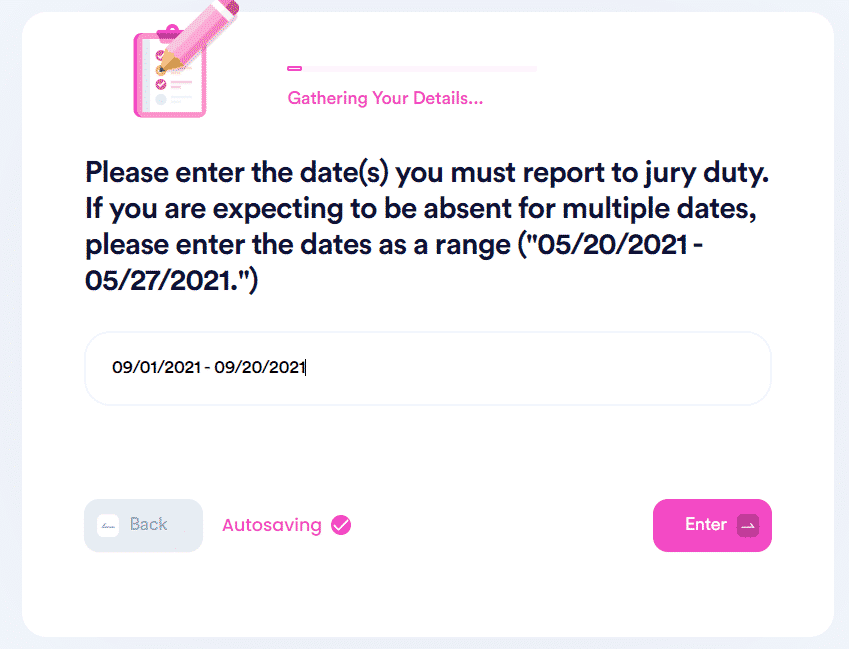 To draft your letter, follow the instructions below:
and open the Request Jury Duty Leave tool
Answer a few questions regarding:

Your place of residence
The company where you work
The date when you must report for jury duty
The summoning court

Upload a picture of your jury summons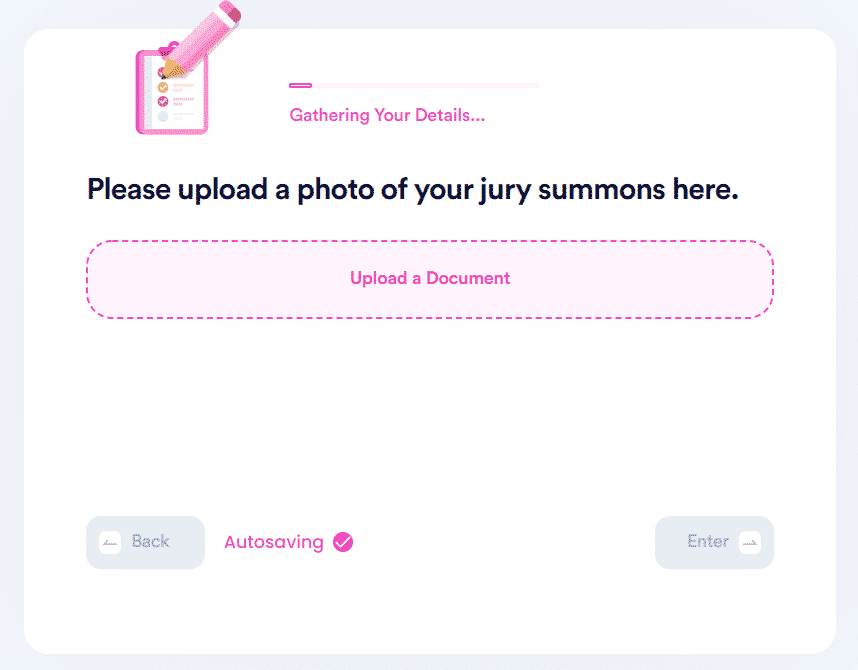 DoNotPay has more information about specific rules in different cities and counties of Colorado:
Deal With Administrative Issues With Ease
Drafting contracts and agreements, getting your documents notarized, disputing parking tickets, and creating passport photos will become a breeze once you sign up for DoNotPay.
We can also help you:
DoNotPay Helps You Protect Your Consumer Rights
Don't let companies take advantage of you! With our help, you'll be able to cancel any subscription or membership and request a refund.
As a consumer, you may be overwhelmed with endless steps and piles of paperwork you need to go through to get what you're owed. This is where DoNotPay comes in—let us be your assistant and fast-track the following:
Have you forgotten about a free trial you signed up for? Avoid being charged by using our app! With DoNotPay's virtual credit card, you'll get unsubscribed automatically without the company taking any money from you.
Are you getting spammed via email or text? Get rid of spam for good with our nifty app!