How Does Jury Duty in Oregon Work?
Jury duty is an essential civic service in the U.S. because it ensures a fair trial for everyone. Have you been called for jury duty in Oregon but don't know how it works? This article will tell you everything you need to know about jury duty, including how to prepare for it and what questions they ask at jury duty selection.
If you need to inform your employer of your jury duty, turn to DoNotPay and draft a leave request letter within minutes.
Oregon Jury Duty Laws
To understand how the jury duty process works in Oregon, you should know the answers to these commonly asked questions:
Who is eligible for jury duty?
How long does jury service last?
Can you skip jury duty?
How frequently can you be called for jury duty?
Eligibility for Jury Duty
You qualify for jury duty if you:
Are between 18 and 70 years of age
Aren't a primary caregiver of a sick person
Are fluent in English, both written and verbal
Haven't been convicted of a misdemeanor within the last five years
If you are not eligible for jury duty, you must inform the court by filling out the Juror Eligibility Form.
The Length of Jury Duty
The duration of your service depends on the following factors:
The length of the trial
The duration of the jury selection
Jury duty typically lasts for a maximum of one week. The hours of service are usually from Monday to Friday at the following times:
9 a.m. to 12 p.m.
1:15 p.m. to 5 p.m.
Frequency of Jury Duty
You cannot serve as a juror more than once during 24 months.
Oregon Jury Duty Pay
If your employer is paying you for time off, the court will mandate you to waive off the juror fee provided by the government. While federal jurors are paid $50 per day, the pay for jurors on state courts is as follows:
| Days of Duty | Amount per Day |
| --- | --- |
| One to two | $10 |
| More than two | $25 |
You may also get paid $0.2 per mile for travel expenses. The mileage is calculated based on the total distance from your home to the courthouse and back.
What Happens if You Miss Jury Duty in Oregon
Jury duty is mandatory for all eligible residents of Oregon. You can request to be excused from jury duty if you:
Are experiencing financial hardship
Are mentally or physically ill
Have a critical deadline at your college or workplace that you cannot miss
Plan to go on vacation on the scheduled dates
Are breastfeeding
According to state law, you can only defer your jury duty once. To get exempt from service, you must send a detailed letter to the court explaining your circumstances. You also need to provide additional documentation as proof of your unavailability.
If you miss jury duty without a valid reason, the court can penalize you or charge you with a Class B violation.
Can My Employer Stop Me From Doing Jury Duty?
Employers are not allowed to fire or intimidate an employee into skipping jury duty. They should ensure a smooth transition by delegating all your pending tasks to other team members. If you feel your employer is trying to coerce you into skipping the service, you should:
File a complaint with the Bureau of Labor and Industries (under ORS 659A. 820)
File a civil action lawsuit in circuit court (under ORS 659A. 885)
Use DoNotPay To Write a Leave Request Letter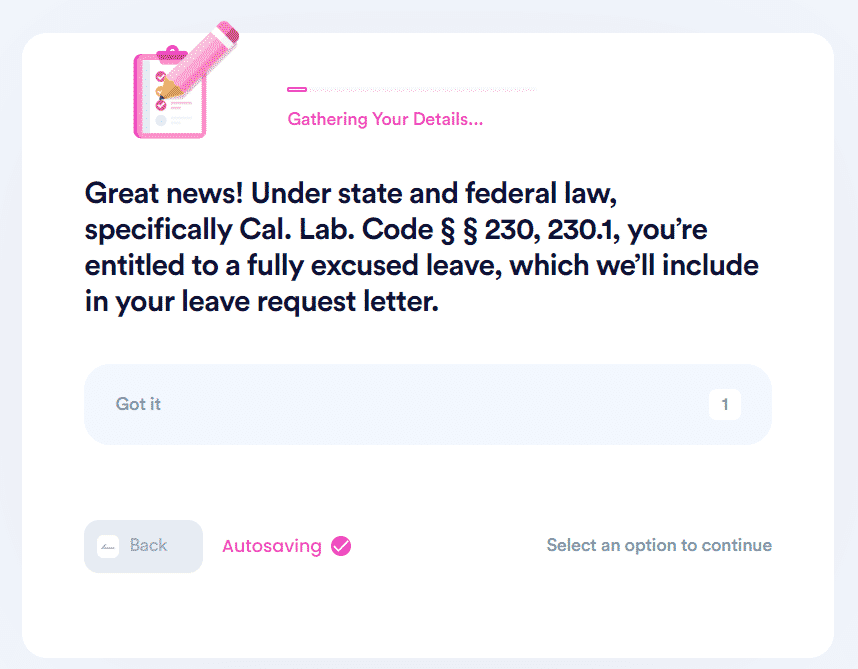 Whether you have been summoned once or you get called for jury duty frequently, that may cause friction between you and your boss. While they aren't allowed to fire you, your employer must be informed about your plan to take time off in advance. DoNotPay can help you fulfill your civic duty by:
Keeping you up-to-date with the state laws
Writing a leave request letter on your behalf
Adding evidence of the jury summons to convince your employer
Sending the letter to your employer
Here is what you need to do:
Search for the Request Jury Duty Leave product
Provide details about the court summons
Upload a photo of the summons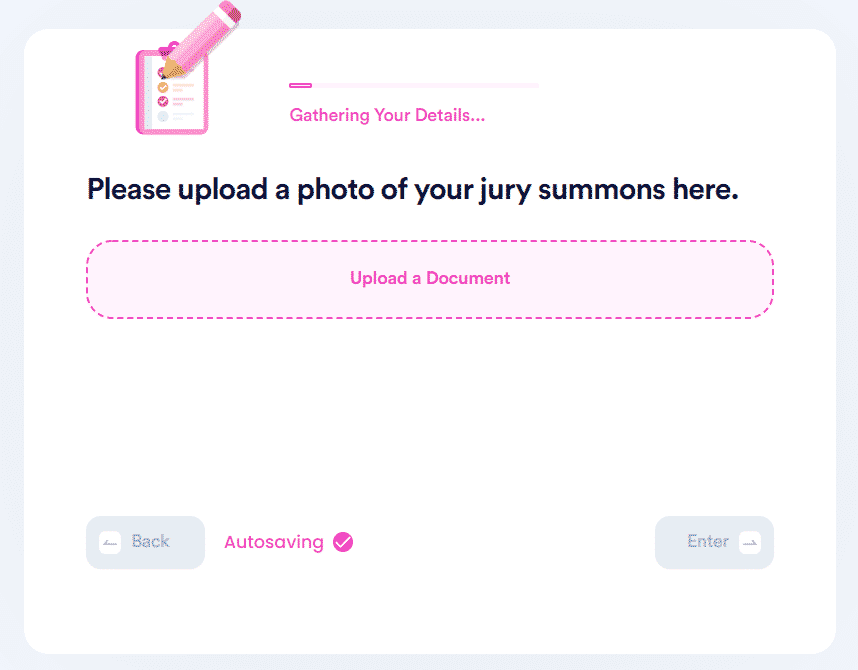 If you are looking for county-specific information, DoNotPay's knowledge base has helpful guides on jury duty regulations in:
Let Our App Assist You With Paperwork
You don't have to deal with bureaucratic tasks on your own! DoNotPay is here to help you cancel your memberships, appeal parking tickets, discover unclaimed funds, and get any document notarized online.
If you need help covering your bills or you'd like to get extra cash by signing up for clinical trials, we are your go-to!
We can also assist you in drawing up and sending out the following documents:
Keep Your Online Safety Intact
Staying anonymous is almost impossible these days, but with DoNotPay's help, your contact and payment details will remain private.
Thanks to our Burner Phone product, you'll be able to keep your phone number to yourself and get a temporary one you can use when you register on various platforms.
If you want to avoid getting charged and revealing your personal info when signing up for free trials, we can help you kill two birds with one stone. Get our multifunctional virtual credit card and skip submitting your name, email address, and payment details.
With our app, you can also handle stalkers and harassers, fight workplace discrimination, and block spam.