Essential Information About Jury Duty in Oklahoma
Have you been summoned for jury duty in Oklahoma? This is a key responsibility for all Americans and should not be taken lightly.
While the prospect of missing work may be stressful, keep in mind that Oklahoma offers a daily rate for jurors and that legal protections ensure you cannot lose your job due to jury duty.
Just because your boss is required to give you time off for jury duty, that doesn't make it easy to ask for it. DoNotPay can help you draft a professional and detailed letter to get you the work leave you need to be a juror.
Oklahoma Jury Duty 101
Jury duty works by selecting citizens to hear the details of a legal case and rule on whether the accused is innocent or guilty. Serving on a jury is a civic duty that supports the legal system.
You are a prospective juror as determined by a random lottery of state residents. Eligible jurors must be:
U.S. citizens
Oklahoma residents
Qualified Oklahoma electors
Deemed mentally and physically competent
While it may seem like you keep getting called for jury duty, Oklahoma laws ensure citizens are not summoned more than once every two years. Oklahoma jury duty usually lasts 2–3 days but can take longer for more complicated cases.
Juror compensation ranges from state to state. Oklahoma jurors are entitled to $50 per day for the first ten days. After that, they can receive up to $200 per day in replacement wages.
Federal jury duty follows different standards and offers a $50 daily wage.
How To Get Out of Jury Duty in Oklahoma
Skipping jury duty will result in contempt charges and additional fines. Oklahoma courts grant exemptions for some of the following commonly cited grounds:
| Reasoning | Exemption (Yes/No) |
| --- | --- |
| Active duty military | Yes |
| Breastfeeding mother | Yes |
| 70+ | Yes |
| Physical or mental disability | Yes |
| Served as a juror within past five years | Yes |
| Teacher | No |
| Law enforcement officer | No |
| Firefighter | No |
If you have cause for an exemption, you can contact the court to request an excuse ahead of time or declare your reasoning during questioning in the jury selection. Potential excuses include:
Illness
Childcare (for legal custody of children up to 10 years of age)
Disability due to permanent or chronic condition (with a doctor's note)
If you are not granted an excusal, you can apply to postpone your jury duty instead. This is a viable option for prospective jurors that have a short-term or immediate conflict with their jury duty.
What To Do if Oklahoma Jury Duty Conflicts With Work
The first step in preparing for jury duty is to ensure you have booked the time off at work. Employers can verify jury duty by retaining a copy of the summons letter.
In your request letter, you will need to detail the court at which you will be serving and the timeframe in which the case will be considered.
DoNotPay Can Simplify Your Time Off Request
If you're not sure how to begin drafting your time off request for jury duty, DoNotPay will help. We offer a tool explicitly designed to walk you through this process step by step, ensuring that you don't omit any necessary details.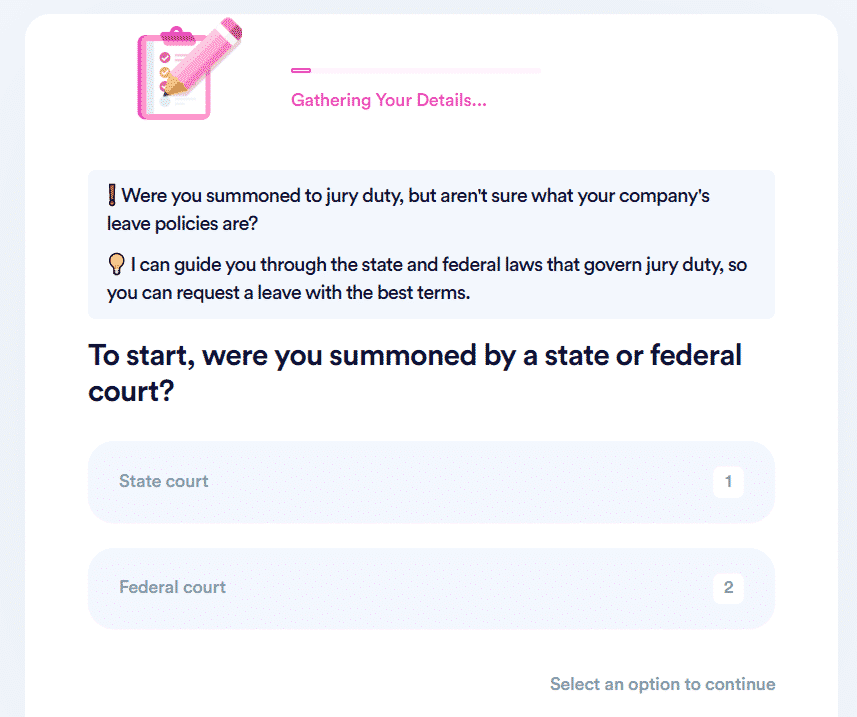 Here is how it works:
Call up the Request Jury Duty Leave tool
Key in the specific information about the court included in your summons letter
Select which days you will be absent from work
Upload a photo of your summons that your employers can verify
You can then choose to:
Print the letter and send it to your employers
Let DoNotPay email the letter on your behalf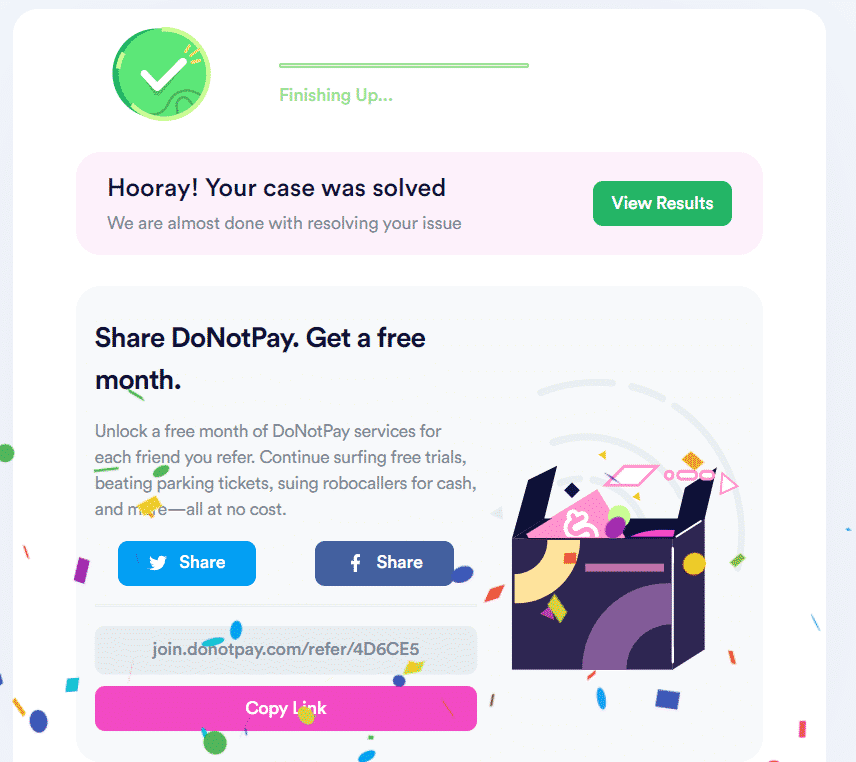 Put Greedy Companies in Their Place
If being on hold with customer service and requesting refunds and cancellations is your idea of the worst nightmare, we come to the rescue!
When you create a DoNotPay account, you'll be able to do the following with ease:
If worse comes to worst, we can guide you through suing any company in small claims court.
Use DoNotPay To Resolve Numerous Issues
The number of products we offer keeps growing. From simple chores to bureaucratic tasks and serious issues, there's not much DoNotPay won't be able to handle in a few clicks.
Would you like to search for unclaimed money you may not know about? Are you trying to save your work from copyright violations? Do you want to contact government representatives? Once you have a DoNotPay account, you will get everything done in a flash.
Even if you are a victim of stalking or harassment, violent crimes, or workplace discrimination, we can help you out! DoNotPay can also perform a sex offender search in your area and give you weekly updates.
If robocalls and spam are what's bothering you, our app will free you from such annoyances for good. Whether the spam is coming via email or text, we'll know what to do.