Jury Duty in Michigan, Wayne County—Explained
Jury duty is an important civic obligation of every United States citizen. Since jury laws and regulations differ from one state to another, you need to learn how jury duty works in your area.
This article will uncover everything you need to know about jury duty in Michigan's Wayne County to help you prepare for the service. Learn how to request time off from work in just a few clicks by .
What You Should Know About Jury Duty in Wayne County, Michigan
Trial by jury ensures defendants are impartially judged by their peers, which is why fulfilling jury duty is important for all American citizens. In Michigan, citizens are eligible to be jurors if they meet the following criteria:
Citizens of the United States who reside in Michigan
At least 18 years old
Able to speak, read, and write in English
Never been convicted of a felony
Physically and mentally able to fulfill jury duty
What Happens When You Receive a Summons?
If your name is drawn, you will receive a jury duty summons in the mail with the instructions for the next step, which is jury selection.
You will be interviewed by the judge, the prosecutor, and the defense attorney in charge of the case. They will ask you various questions about your background, beliefs, and similar to check whether you're the best choice for the trial in question.
What Are the Jury Duty Exemptions in Wayne County?
There are a number of excuses you can use to request exemption from or postponement of your jury duty, including:
| Situation | Excused From Jury Duty (Yes/No) |
| --- | --- |
| Military service | No |
| Breastfeeding mother | Yes (with proof from a doctor or a midwife) |
| Student | Yes (with class schedule as proof) |
| Old age | Yes (70 years old and above) |
| Disabled individual | Yes (with a doctor's note as evidence) |
| Medical service | No |
| Firefighter | No |
| Police | No |
| Elected official | No |
You can send a jury duty exemption letter to the court if you feel that:
Any of the above-mentioned circumstances applies to you
The jury duty would cause undue hardships
Postponement is allowed once every three months.
What Happens if You Skip Jury Duty in Wayne County?
Failure to appear in court within 14 days of the date specified in the summons without a valid notice will lead to a show-cause hearing where you will explain your reason and provide evidence.
You might end up in jail for a few days or be requested to pay a $250 fine as a punishment. If you also miss the show-cause proceeding, the judge will issue a bench warrant for your arrest.
How Much Is the Jury Duty Pay in Wayne County, Michigan?
Compensation for jurors varies depending on the state. In Michigan, the court pays $12.50 for the jury selection day and for every other day served as a juror. Typically, state trials last for three to four days.
If you are summoned as a juror in a federal court, you will be compensated $50 per day instead. The payment will increase to $60 per day if the trial lasts for more than ten days.
Can You Get Fired for Jury Duty in Wayne County?
No, it's illegal for employers to fire or punish employees for serving on a jury. While you can't be fired for your jury duty, you are obligated to inform your employer about your absence, and sending a letter is the best way to do so.
Avoid the Hassle—Send a Request for Jury Duty Leave With DoNotPay!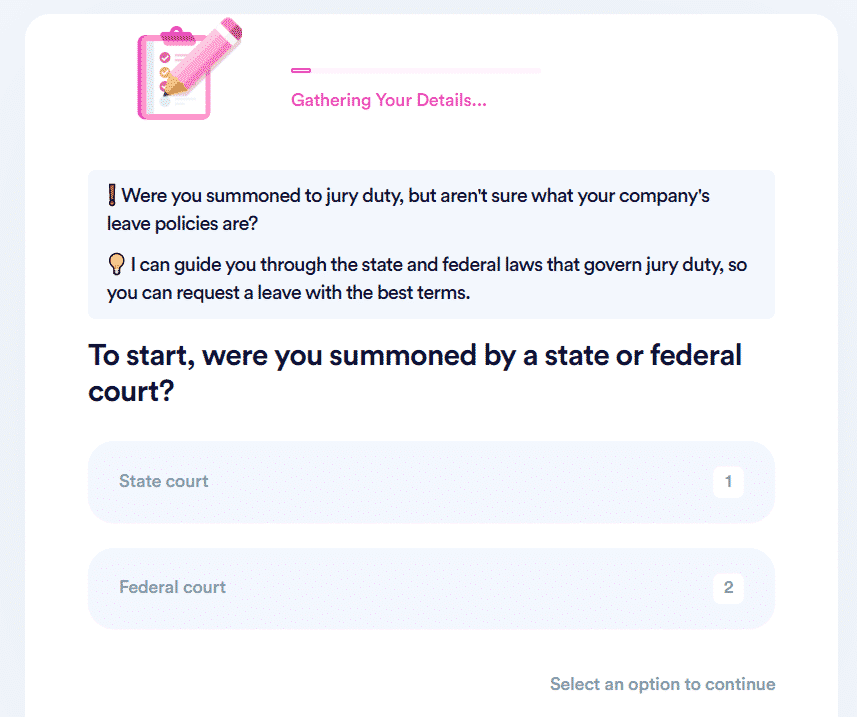 Our app can help you write a formal letter to request jury duty leave in just a few clicks. Here's what you need to do:
Find the Request Jury Duty Leave tool
Provide a few details about your workplace and your juror service schedule
Upload the summons and submit the form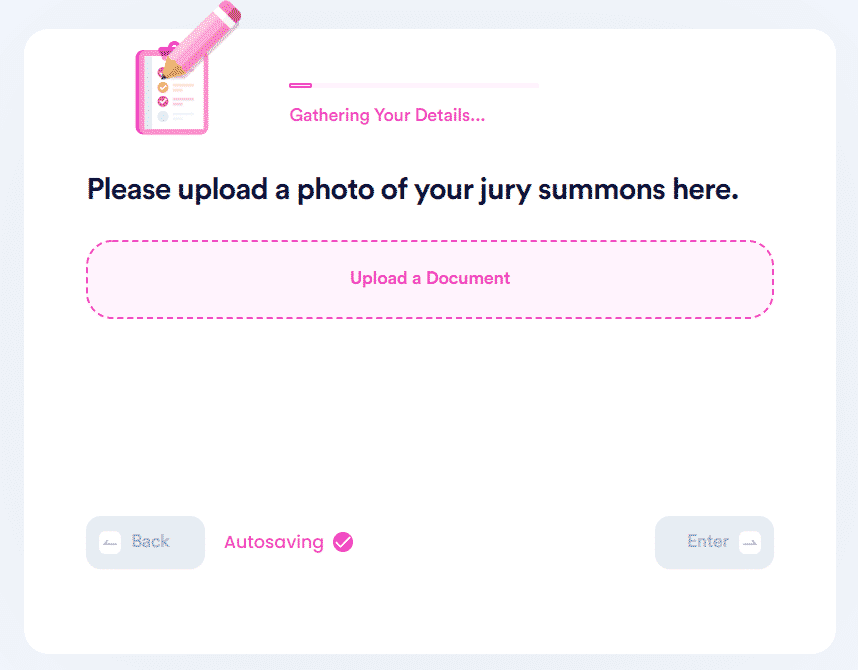 Our app will generate a letter that you can either:
Print and send by yourself
Email through our app
Make Your Money Troubles Go Away
If you want to join free trials and not worry about automatic renewals, our app is what you need. With DoNotPay's virtual credit card, you'll be able to avoid charges and keep your personal details to yourself.
We can also help you get a refund or request a cancellation.
Getting your money back is our field of expertise—Use DoNotPay to:
No Task Is Too Difficult for DoNotPay
Signing up for our app brings you an AI-powered assistant. Check out the benefits of having a DoNotPay account in the table below: