Jury Duty Idaho Rules You Need To Know
Being on jury duty may sound like fun initially, but it involves getting prepared, requesting time off work, and showing up in court for as long as the case lasts. Still, jury duty is an important element of the U.S. judicial system, and there are penalties for not attending.
Every state has specific jury duty regulations—in this article, we'll show you how jury duty in Idaho works. We'll also explain how to to notify your employer you need to go on a jury stress-free.
Who Can Serve on Jury Duty in Idaho?
The presiding court randomly selects 12 people from a pool of potential jurors—if you want to be on a jury, you need to wait to be called up.
To be eligible for jury duty in Idaho, you need to be:
18 years old or older
A U.S. citizen
Able to understand, read, and speak English
A resident of the county in which you're called
Pardoned for any potential felony conviction in a state or federal court
Since courts pick random people, it can happen that you get called up repeatedly. The Idaho jury duty law states that you can ask to be exempt if you receive another call within two years of your service.
Idaho Jury Duty Exemptions
Aside from receiving a summons again, you can be exempt from jury duty if you have a legally valid reason for not showing up. In Idaho, valid excuses are as follows:
Being 70 or older
Breastfeeding
Being a medical worker on active duty
Having a disability
Showing:

Extreme inconvenience
Undue hardship
Public necessity
If you can prove any of the above, you can send a formal letter to request an exemption, and you won't have to attend if the court approves it. Otherwise, you must show up or face a fine of $300 or three-day imprisonment for contempt of court.
How Idaho Jury Duty Works
When you receive a summons, you have to go through a selection process to see if you're capable of giving a fair and unbiased verdict—only then do you go on a jury.
Jury duty in Idaho consists of the following steps:
Appearing in court on the date indicated in the summons (you have to dress properly)
Filling out a questionnaire and showing you don't have any conflict of interest
Attending all court proceedings
Reaching a verdict
How Much Does Idaho Jury Duty Pay?
Jurors in Idaho receive money for their service. The pay amount you get depends on whether you serve in a federal court or a state one, as shown in the table below:
| Type of Court | Pay per Day | Travel Compensation per Mile |
| --- | --- | --- |
| State courts | $10 | $0.51 |
| Federal courts | $50 ($60 if it lasts longer) | $0 |
Jury Duty in Idaho for the Employed—How To Request Time Off Using DoNotPay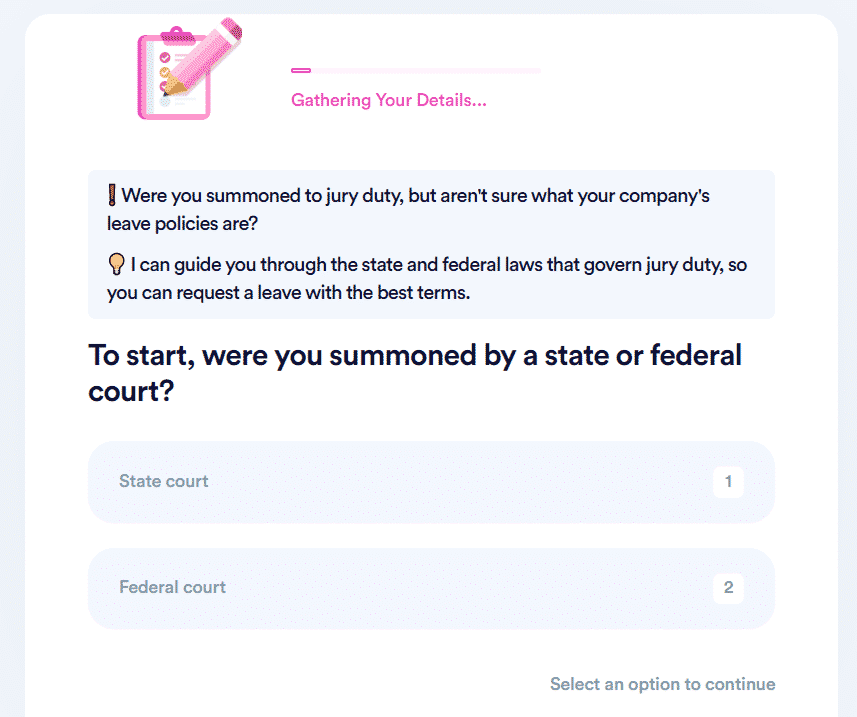 Unless you can prove your absence causes undue hardship to your employer, being employed is not a valid reason for getting off jury duty. You'll need to show up in court, and the law prohibits your employer from enforcing any repercussions—if they fire you, they face a potential jail sentence.
As an employee, you'll need to inform your employer about receiving a summons. The best way to do it is to submit a jury duty leave request letter, which DoNotPay can draft for you in no time. All you need to do is the following:
Select the Request Jury Duty Leave tool
Answer a few questions
Upload a photo of your jury summons
Once you're done, our app can send the letter to your employer directly, or you can download it for later use.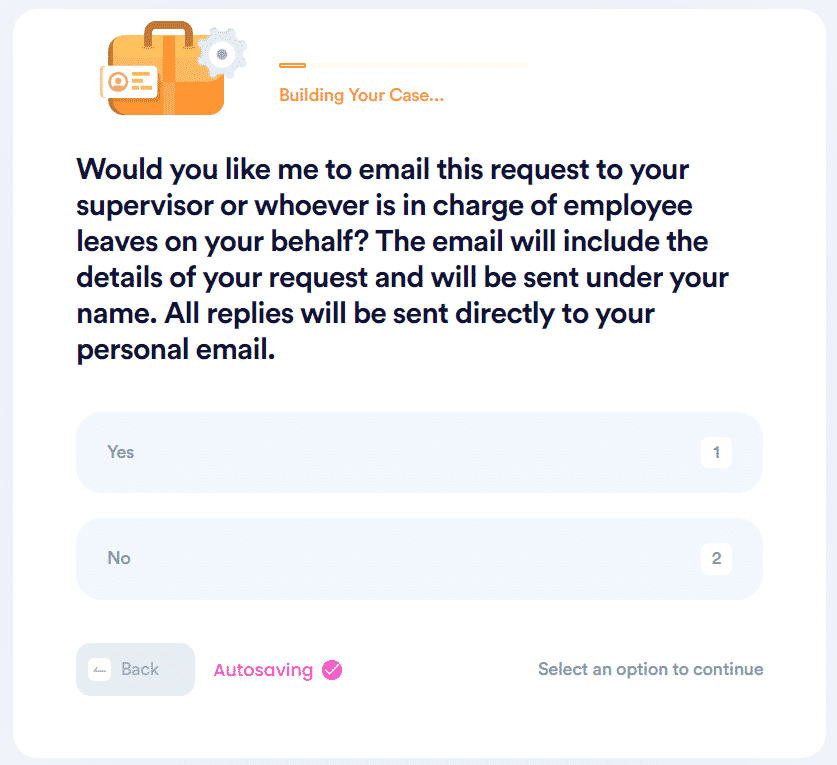 Solved Your Issue? Check Out More of Our Product Range
DoNotPay's forte is its versatility—you can use the app to resolve any problem of legal or bureaucratic nature!
As soon as you subscribe to our platform, you'll be able to:
Our App Helps You Both Save and Earn Money
Want to get more familiar with our extensive product range? Check out how, for one low monthly fee, we can help you both save and earn money by: