Can You Skip Jury Duty With a Jury Duty Excuse Letter From an Employer?
Serving on a jury is an essential duty of each citizen as trial by jury ensures everyone is treated fairly. But what if you can't serve as a juror because of work?
While you can't get out of jury duty because you're employed, sending a jury duty excuse letter from an employer might allow you to skip jury duty under special circumstances. Learn more about jury duty exemptions and find out .
What Work-Related Situations Allow You To Skip Jury Duty?
Employers are prohibited from firing or demoting employees who are reporting for jury duty, which is why it's extremely difficult to get an exemption for work-related situations.
You can still request an exemption in some states if your circumstances fall under any of the following categories:
| Situation | Description |
| --- | --- |
| Essential service | Police, medical workers, and firefighters can be exempt from jury duty if serving would cause disturbance in their line of work (for example, doctors during the pandemic) |
| Military service | In federal courts, active military personnel is allowed to be excused from jury duty, but this automatic exemption may not apply in some state courts |
| Financial hardships | If you keep getting called for jury duty and missing work causes a significant loss of income or financial difficulties, you can try requesting an exemption. Take into account the amount of compensation given by the state or federal court in question, and see whether this info can help you build your case |
| Severe inconvenience | Some courts may grant an exemption if it's impossible for you to delegate your tasks to someone else |
Requesting an Exemption From Jury Duty
If you think you can be exempt from jury duty for work-related reasons, you can send a postponement or excusal request to the court that issued your summons. You will need to do the following:
Prepare necessary documents—You need to provide various documents, including an excuse letter from your employer, income statements (if you are appealing for the financial hardship reason), and similar
Contact your district courthouse—The contact details should be included in your summons. Generally, you can get in touch with a jury commission office through the website, via email, or over the phone
The court will notify you about their decisions after they finish reviewing your request. Don't assume dismissal until you are notified. Otherwise, you risk facing legal repercussions for not showing up.
What Should a Jury Duty Excuse Letter From an Employer Cover?
A jury duty excuse letter from an employer should include:
The basic information about an employee's jury duty (juror number, contact details, summons date, and the issuing court information)
A detailed explanation about why serving on a jury will cause an employee a massive inconvenience at work
Your employer's signature
What To Do if Your Exemption Request Is Rejected?
If your request is rejected, you will need to appear in court for jury duty selection. Attorneys will ask you a few questions regarding your background, prejudices, beliefs, and relations to the case.
You may be dismissed from jury duty if you are:
Considered too biased to make impartial decisions
Mentally incapable of serving
Unable to communicate in English well enough to understand the case
Even if you're dismissed, your jury duty obligation will be considered complete.
Prepare a Jury Duty Leave Request With DoNotPay
If you pass the selection, you must prepare accordingly and request time off from work for the duration of your service. If you don't know where to start, DoNotPay can help you write a jury duty leave request letter in a few simple steps:
Locate the Request Jury Duty Leave product
Tell us a few details about your jury service
Upload the photo of your summons so the employer can verify your jury duty
You can print the letter or email it to your employer through DoNotPay. All responses will be forwarded straight to your inbox.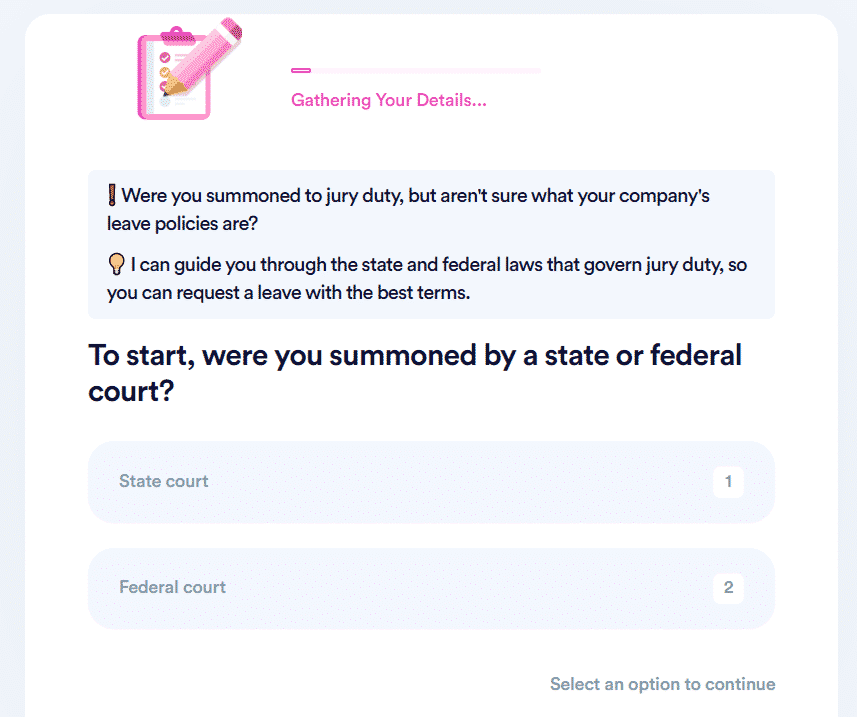 How Jury Duty Works in Each State
We have a myriad of articles explaining various jury duty laws in different states. If you need help, you can consult the following guides:
Check Out DoNotPay's Exhaustive Product Range
You can use our app to deal with any issue you could think of—from contesting parking tickets, applying for clinical trials, drafting an affidavit to homeschool, and sending defamation demand letters to contacting government representatives, applying for scholarships, appealing banned accounts, and getting in touch with embassies and consulates.
With DoNotPay by your side, you will never have to worry about how you'll cover your utility bills or property taxes again. Sign up now to discover all the ways in which we can assist you!
DoNotPay Puts Your Fears to Rest
Have you been dealing with workplace discrimination lately but don't know how to submit a complaint to your HR? Do you have a stalker or creepy neighbor who's a registered sex offender and who keeps you up at night? Do you want to put an end to robocalls and email and text spammers once and for all? DoNotPay can help you out!
If you're a victim of crime, we can help you get compensation as well. No matter the issue you're facing, you can count on us for swift and reliable assistance.