Legal Wardrobe Choices—Jury Duty Dress Code in California
Dressing inappropriately to avoid jury duty won't work in California—the court will usually send you home and order you to return at a future date.
So, what's the proper jury duty dress code in California? We'll explain this in detail and show you how to speed up your preparation for jury service using our AI app.
Tips for Choosing Proper Attire for Jury Duty
Many things that run through a person's mind when they receive a jury summons:
Thinking of what to wear isn't at the top of anyone's mental checklist when preparing for jury service. The work of a juror is important, so it's helpful not to fall foul of any jury code of conduct—this will slow down the judicial process.
Jury duty is a responsibility with respect and dignity, so the juror's appearance is expected to reflect the same. The official jury duty dress code in California is business casual. Here are a few tips to keep in mind while dressing for court:
Dress for comfort—You will likely be sitting for a long time every day, so choose clothes that you can wear for the duration of your jury service
Bring a sweater—Courtrooms can be cold, so a sweater, jacket, or blazer is a good idea
Little to no makeup or jewelry—Opt for light day-time makeup if you must, and minimize jewelry use because you'll have to go through a metal detector at the courthouse
What Can You Wear to Court for Jury Duty?
It is important to dress appropriately during the jury selection process, even if you do not make it on a jury panel. Overall, unacceptable clothing items include:
Sleeveless clothing
Cropped tops
T-shirts that have inappropriate wording or graphics
Tight-fitting clothes
Flip-flops and indoor footwear
Shorts
The table below includes a few outfit ideas that fit the jury duty dress code in California and a few that should be avoided:
Men
Women
Appropriate
Inappropriate
Appropriate
Inappropriate

A blazer, dress shirt, pair of chinos, and formal shoes
A bomber jacket, plain t-shirt, a pair of jeans, and boots
A simple plain suit, dress shirt, and formal shoes—no tie

Sleeveless and tight-fitting shirts and polos
Athletic wear
Jeans with rips and cuts
Hats or caps of any kind—excluding religious headgear
Shorts and tank tops
Sandals and flip-flops

A knee-length knot dress, denim jacket, scarf, stud earrings, and kitten heels or round-toe pumps
A turtleneck, blazer, chinos, and flats

Mini dresses and skirts
Rompers
Leggings
Athletic wear
Halter-necks
Items with plunging necklines
Ripped jeans
Open toe shoes
Tank tops or sleeveless tops
Large hoops or dangling earrings
Hats—excluding religious headgear
Use DoNotPay To Ask Your Employer for Jury Leave in Minutes
An employer cannot fire you for honoring a jury summons over your work obligations, but an exception may be made if you did not properly notify your employer of the summons. DoNotPay's Request Jury Duty Leave feature will provide you with a document that can be used to:
Notify your employer of your summons
Verify your summons—whether it is your first summons or you've been summoned several times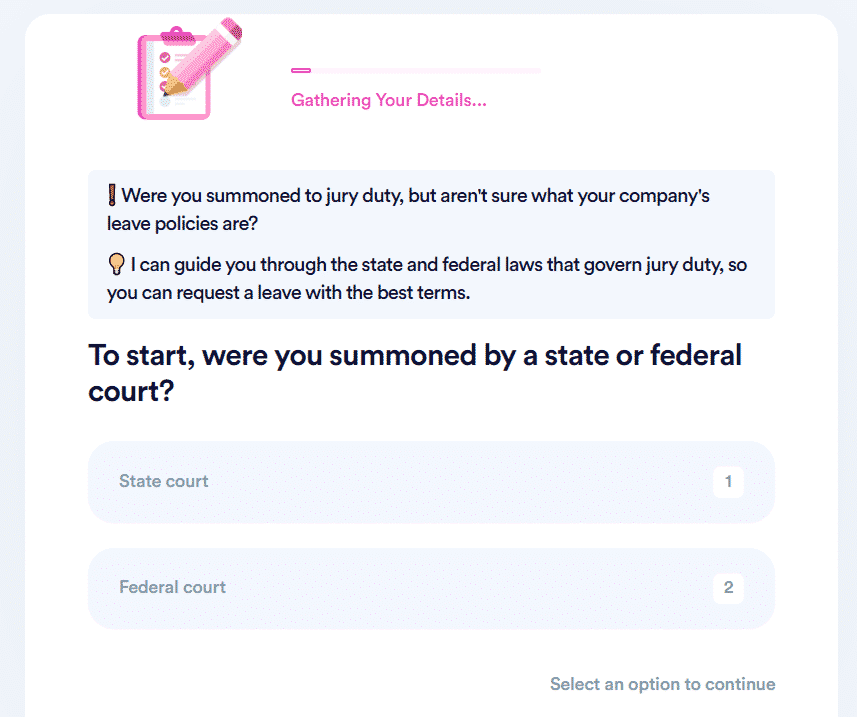 To get a letter for this dual purpose, follow these few steps:
Log in to your DoNotPay account and find the Request Jury Duty Leave feature
Indicate your summoning court—state or federal—and your state
Provide the jury service dates and upload a picture of your jury summons
Check if you would like DoNotPay to email the letter to your employer and verify your signature
You can always send the letter by yourself—to do that, use the Download button to get a copy of the letter.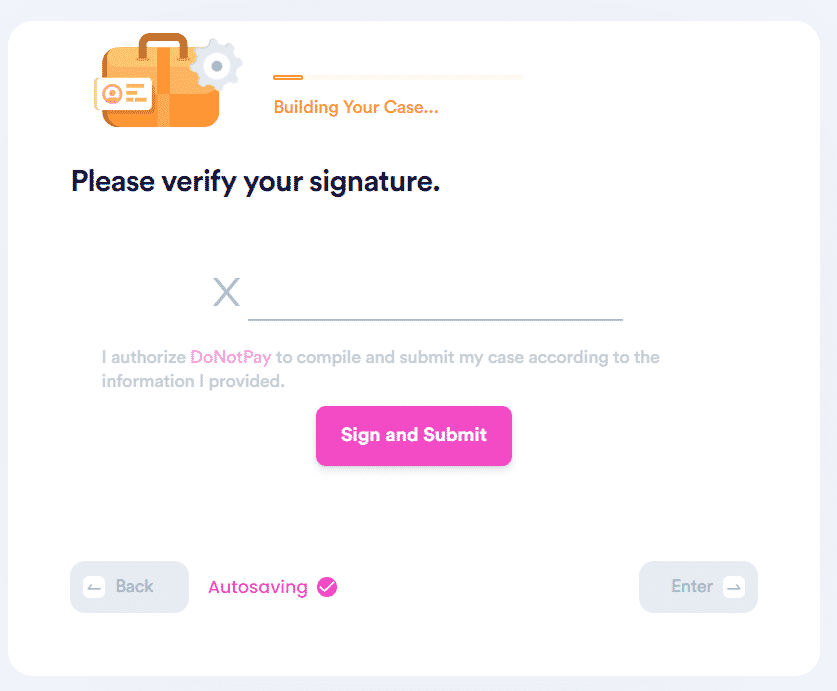 If you want to postpone jury duty in San Diego, Los Angeles, or Alameda County, check out more guides in our learning center, where you can also read about:
Get the Best Solutions for Everyday Tasks With Our App
DoNotPay has come up with multiple handy products whose purpose is to make your life simpler and more enjoyable! Don't hesitate to check out the features that will help you:
Complaints and Appeal Letters Have Never Been Easier To Draft With DoNotPay
Dissatisfied with a delivery? Use DoNotPay to file an item return request and get a refund from the merchant if the product didn't meet your expectations! We can also help you apply for a late delivery refund or help you claim your warranty or insurance if the product you purchased gets damaged or breaks down. Our multi-functional app also allows you to appeal potentially inaccurate property tax assessments, banned accounts, and seatbelt or parking tickets.
If you subscribe to our platform, you will have a chance to file anonymous HR complaints and prevent discrimination at work more effectively.