Jury Duty Delaware County, PA From A to Z
Getting called for jury duty can be an inconvenience, but it is an important civic responsibility that is mandatory for almost everyone. Jury duty may cause trouble at work because some employers wouldn't give time off if they weren't obligated by law.
If you were summoned for jury duty in Delaware County, PA, you'll need to know what you can expect. You'll also want to know how to tell your employer about it. , and we'll make sure that you inform your employer of your jury service properly.
Delaware County Jury Duty—Frequently Asked Questions
The table below provides answers to the most common questions about jury duty in Delaware County, PA:
Question
Answer
How are prospective jurors selected?
A master juror list is created annually from the following sources:

Department of Transportation
Department of State
Department of Revenue
Department of Human Services

Who qualifies for jury duty?
Delaware County residents qualify for jury duty if they:

Are U.S. citizens
Have not been convicted of a felony
Are at least 18 years old
Have not been sentenced to imprisonment for more than one year

How long does jury duty last?
If you're selected to hear a case, you will serve for the duration of the trial, which may last for several days or more
What happens if you skip jury duty?
If you skip jury duty, you may be punished for contempt of court and:

Fined with no more than $500
Imprisoned for not more than ten days

How much do you get paid for jury duty?
The first three days of jury service will pay $9 per day, unlike in some other states. Every subsequent day will pay $25 and transportation compensation of $0.17 per mile. Federal jurors are paid $50 a day
How frequently can you be called for jury duty?
If you served for one day, you will be exempt from jury service for one year. You will be excused from jury duty for three years if you served for three or more days
How To Prepare for Jury Duty in Delaware County
Being summoned for jury duty doesn't automatically mean that you will serve. You'll first need to go through the selection process, also called voir dire, during which the judge, attorneys, and prosecutors will ask you questions to determine whether you are objective enough.
If you get the summons, you will have to:
Appear in court properly dressed on the date of the summons
Go through voir dire
Attend all court proceedings (if you end up on a jury)
Give a fair and unbiased verdict
Can Your Employer Fire You for Serving Jury Duty?
Pennsylvania law doesn't allow your employer to fire, demote, or punish you in any way because you report for jury duty. They are required to give you unpaid time off. While the employers don't have to pay you for time spent in court, some do pay their employees. Check with your company's HR department whether they have a policy on that.
You should inform your employer with an official jury duty leave request letter that you'll be absent from work.
Create a Jury Duty Leave Request Letter With DoNotPay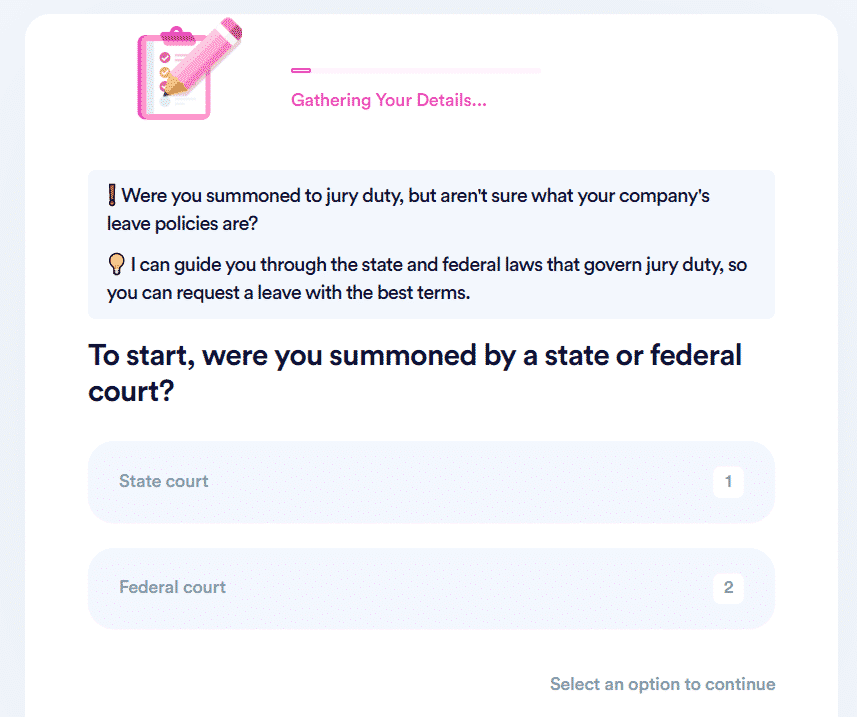 Preparing for jury duty includes informing your employer of your absence. If you don't know how to write a leave request letter, DoNotPay can help you. Our app knows all the employee protection laws, and we'll use them combined with the information you provide to create a professional leave request letter in a few minutes.
To get your letter, and do the following:
Select the Request Jury Duty Leave tool
Provide information about your company, the court that summoned you, and similar
Upload a picture of your summons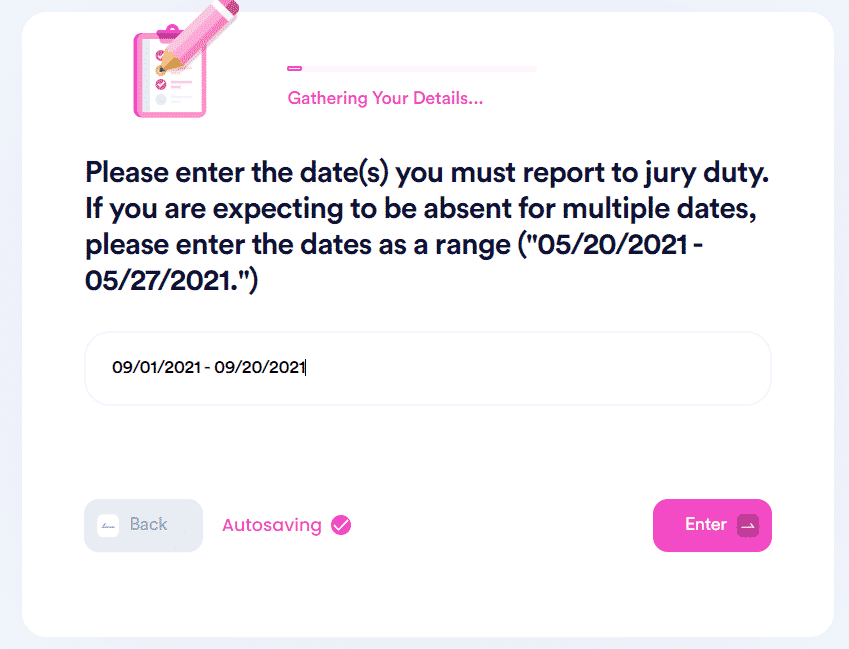 What About Other Perks Our App Offers?
DoNotPay offers valuable assistance with the following tasks:
DoNotPay Cares About Health Matters
Finding suitable and verified clinical trials you can participate in is often complicated and time-consuming. Still, with DoNotPay, it becomes a breeze! Our platform allows you to search through clinical trial databases and apply for the ones that seem acceptable to you.
If you want to make sure your health wishes are honored if you get too sick, we help you compose an advance health care directive based on your preferences. That's not all—you can also name a person who can decide on your finances and estate if you get incapacitated by creating a power of attorney in our app!