Making Sense of Jury Duty in Columbus, Ohio
Since Columbus is the county seat of Franklin County, the policies governing jury duty in Franklin County, Ohio, apply to jury service in Columbus.
The citizens who know that jury duty is mandatory and see it as an important civic responsibility will want to understand everything about it. They'll want to know how to prepare for jury duty in Columbus, Ohio, the time they'll spend in service, the amount they'll be paid, etc.
Those who can't serve will want to legally excuse themselves from service and not skip jury duty without a good reason. We lay out all the major elements of jury duty in Ohio and show you the best way to .
What To Do After Receiving a Jury Summons
How does jury duty work in Columbus, Ohio? Once you receive a jury summons, your first move is to respond to it via the Juror Web Portal on Franklin County's website. You'll provide your:
Date of birth
Juror ID barcode
This will give you access to an online juror questionnaire.
After this, you'll report to court only if you get an email instructing you to do so.
Jury duty in Columbus, Ohio, lasts for two weeks. You'll receive a notification every day containing information for the next day. This notification will reveal:
Whether you should report for service or not
What the time and date for reporting are
Whether you'll be placed back on call or not
Typically, your jury service will terminate on the Friday of your second week. If you were not impaneled after jury selection, you might be summoned again for future cases.
Can I Be Exempted From Jury Duty in Columbus, Ohio?
There are several reasons for seeking excusal from jury duty according to jury duty laws in Ohio. You may be eligible if you are:
A person younger than 18 or older than 75
Someone who is a non-citizen and non-resident of the U.S. or the summoning county
A sole caregiver to a sick or physically challenged family member
Child care personnel active during business hours without an alternative care solution
A person with an active felony conviction
Someone who is on active military assignment
A full-time student
A person who doesn't speak English
An individual who can't receive paid time off from their employer
A self-employed person that would experience undue hardship because of jury duty service
A person with a medical problem that affects their ability to serve
Someone who has already served jury duty within the last two years
People eligible for excusal need to fax or email required documentation no less than five days before their jury service.
What Else Should You Know About Jury Service in Columbus?
The table below answers other important questions about jury duty in Columbus, Ohio:
| Jury Service Questions | Answers |
| --- | --- |
| Do jurors get paid? | Jurors get $15 every day—this is different from federal jurors' pay in Ohio or payments in other states. The court will issue a check to you approximately ten days after your service |
| Are employers required to pay? | Employers decide to pay employees at their discretion |
| Can I get documentation proving my jury service? | If your employer wants proof of your jury service, the Jury Commissioner can provide a jury attendance sheet |
Getting Ready for Jury Service? Notify Your Employer With DoNotPay's Custom Jury Leave Request Letter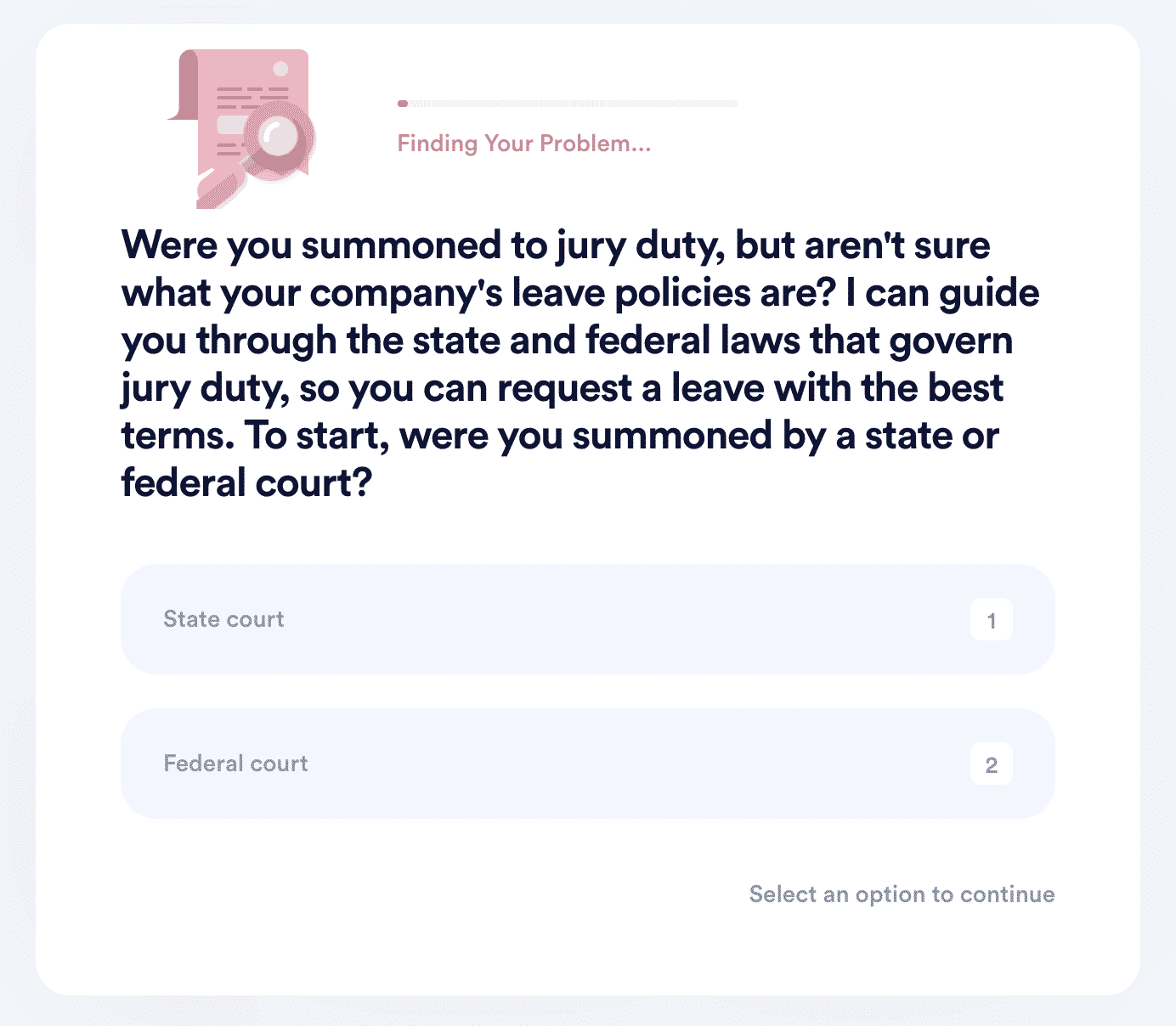 Your employer cannot penalize you for jury duty, but they should know your jury summons is real. DoNotPay's Request Jury Duty Leave tool will create a custom letter that will serve as notification and proof, so your employer can verify your summons before approving jury leave.
Get your letter by following these simple steps:
and find the Request Jury Duty Leave tool
Specify if your summons came from a state or federal court and indicate the summoning state
Select the days of jury service and upload a photo of your summons
Decide whether you want DoNotPay to email the letter to your employer on your behalf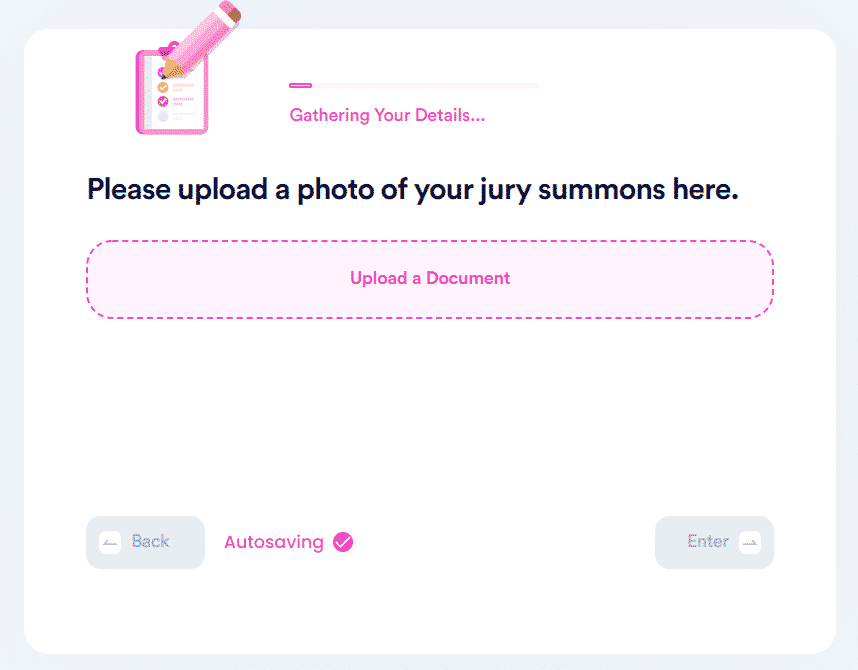 If you don't want DoNotPay to email the letter, you can download and send it yourself.
For more Ohio-related jury duty information, check out these articles in our learning center:
The specifics of jury duty in:
What Else Can DoNotPay Do for You?
Our vast collection of products simplifies various everyday tasks, including:
Various mailing issues by:
Applications for:
Traveling tasks, such as:

Getting tourist visas the easy way

Appeals of:
Other tasks, such as:
Get More Money the Easy Way With DoNotPay
Is a tight budget a constant problem in your household? DoNotPay is here to reduce your expenses and help you get the money others owe you. Our app helps you get refunds from companies, find unclaimed money, cash out old gift cards, and terminate unused subscriptions in a jiffy!
You can also request violent crime compensation, demand chargebacks from airline companies, or claim your warranty or insurance without paperwork.